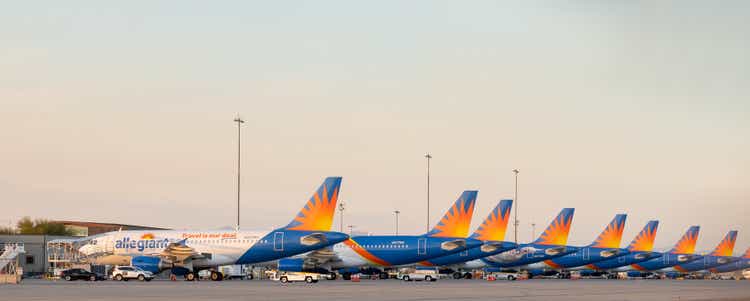 In a recent report, I had a first look at the order for 50 Boeing (NYSE:BA) 737 MAX aircraft with options for another 50 aircraft. In this report, I have a more detailed look at what enabled the order from Allegiant Air (NASDAQ:ALGT) to order the Boeing 737 MAX while it is currently an all-Airbus operator. As the airline has also provided a fleet update, while this report was being written, elements from the fleet update will also be used as supporting material in this report.
Boeing 737 MAX Order Mix Known
When I penned the initial article, the exact order mix was not yet known. Boeing only disclosed that the order included the smallest member of the Boeing 737 MAX family, the MAX 7, as well as the high-capacity variant of the Boeing 737 MAX 8, the MAX 8-200. It is now known that Allegiant Air has ordered 30 Boeing 737 MAX 7 aircraft and 20 Boeing 737 MAX 8-200s. With a list price of $99.7 million for the MAX 7 and $124.8 million for the MAX 8-200, this brings the list price to $5.49 billion, slightly lower than the $5.6 billion I estimated earlier. After the application of standard discounts, the price boils down to $2.35 billion slightly lower than the $2.7 billion estimated earlier. Depending on the mix, there is the potential for the value to more than double if the 50 options are exercised.
There often is an extremely binary view on the aircraft purchasing process, where it is assumed that one aircraft is better than the other or that there is one decisive factor, most often pricing, that determines which original equipment manufacturer will win the order. Reality, however, is that the aircraft purchasing process is not binary and more complex with factors such as pricing, discounts, sale-and-leaseback potential, capability, availability and commonality leading to an order decision.
Discounts and Availability
Boeing recently lost some key sales campaigns with Qantas and KLM/Transavia and that means that any slot that Airbus sold to Qantas and KLM/Transavia cannot be sold to Allegiant Air. It is known that the first aircraft for Qantas will arrive in the fleet by 2024 and KLM and Transavia will start accepting the first aircraft by the end of 2023. With an order book for the Airbus A320neo family that is filled well, Airbus likely was not able to provide early slots while competitor Boeing is looking to recover its production rate. For the US jet maker, orders it can get now will aid the jet maker in recovering production rates and increase efficiency in the production systems.
So, availability has played a role in the order decision. There are two ways to look at this. The first way is that since limited delivery slots were available at Airbus, it stabilized the prices for the Boeing 737 MAX aircraft in the agreement with Boeing. The second way to look at it is that Boeing has been eager to fill delivery slots and boost production rates, and therefore, was extremely willing to apply discounts to the jets it sold to Allegiant Air.
What should be noted is that the market values that I discusse earlier are what I consider best-case scenarios for Boeing and although sales prices are not disclosed, Allegiant Air Travel has marked this as an opportunistic purchase suggesting that significant discounts have been secured.
The following from the Boeing press release supports that:
Our approach to fleet has always been opportunistic, and this exciting transaction with Boeing is no exception.
Sale-and-leaseback Potential
What likely also plays a role next to discounts and availability is the potential to engage in favorable sale-and-leaseback transactions. With the aircraft seemingly being sold at relatively low prices or at least that is what one would expect if Allegiant marks the purchase as "opportunistic", there also is the potential for Allegiant Air Travel to use these vehicles to increase liquidity by selling the aircraft later on market prices, which should be higher as air travel demand picks up and leasing them back immediately.
Commonality
With high commonality between fleet members, costs and be better streamlined and the commonality was also highlighted in the press release:
With commonality and improved fuel efficiency, the 737 MAX family enables airlines to optimize their fleets across a broad range of missions. The 737-7 provides low-operating costs that enable carriers to open new routes with less economic risk, and the larger 737-8-200 offers added revenue potential and is right-sized for ULCC market expansion. Compared to Allegiant's current fleet, the new 737 models will reduce fuel use and carbon emissions by 20%.
So the Boeing 737 MAX members have an extremely high commonality and there is some commonality in the engines of the future MAX fleet and the Airbus A320ceo family flee of Allegiant as the MAX is exclusively powered by the CFM LEAP-1B turbofan while the Airbus A320ceo family fleet of Allegiant is powered by its predecessor, the CFM56.
That is not to say that the Airbus A319neo in combination with the Airbus A320neo wouldn't have been attractive, because those are also available with CFM LEAP-1A turbofans, also based on the CFM56. The selection of the Airbus A220 would have been less straightforward due to the geared turbofan being from Pratt & Whitney being the exclusive powerplant for that aircraft.
Capability
In terms of commonality, the Boeing 737 MAX is not the most suitable fit when we keep in mind the existing fleet of single aisle Airbus jets, but we likely are also looking at different capabilities that play a role. The Boeing 737 MAX 7 was given 173 seats in Allegiant Air's fleet consideration and this is higher than the 160 seats that the Airbus A319neo has been credited with. So there seems to be a sizeable difference in maximum seating capacities and maybe you could say that Boeing is now partially reaping the rewards from changing the Boeing 737 MAX 7 back in 2016 to become more competitive on two markets.
Similarly, with the MAX 8-200, Boeing offers a 200-seat aircraft likely at prices more similar to that of the MAX 8 than to the MAX 10 or the Airbus A321neo while the Airbus A320neo maximum one-class seating is 195.
So looking at both variants and their counterparts, there is a difference in capacity and also capabilities, and combined with attractive pricing, that makes for a compelling case for the Boeing 737 MAX.
Two Fleet Solution
Normally, quite a big consideration is commonality and many low-cost carriers opt for a single aircraft family solution. That makes the choice for the Boeing 737 MAX somewhat counterintuitive, as Allegiant Air currently operates aircraft from the Airbus A320ceo family. However, given Allegiant Air' pre-tax margin development, there seems to be little reason for concern. Over the years, the company seems to have managed to boost its pre-tax margins using opportunistic purchases.
So there is a strategic shift from at least temporarily operating a two-type fleet, but if history is an indicator, that should not go at the expense of the company's margins and in fact improve them.
Conclusion
What we are often seeing is that when airlines flip from one manufacturer to the other, the first thing that is being said is that "Manufacturer A must have given out huge discounts to win an order that would normally have gone to Manufacturer B". However, in this report, I have shown that there are other factors involved such as availability, sale-and-leaseback potential, product capability and a company's approach towards its fleet. That full picture has to match what the company is aiming for, else the given discount doesn't matter. With Allegiant Air, we are seeing that the airline has been able to successfully introduce second aircraft members and still deliver sustained growth. That is not just the effect of deciding to operate two aircraft types but also driven by aircraft age and maintenance cycles combined with a disciplined approach towards aircraft acquisition. So, in the end, price plays a huge role… but there are other decisive factors involved as well that are often overlooked, and Allegiant Air Travel is looking to use that in the benefit of its business.
Update 1/12/2022: An earlier version of this report did not sufficiently stress that quoted aircraft prices were conservative estimates by the author.