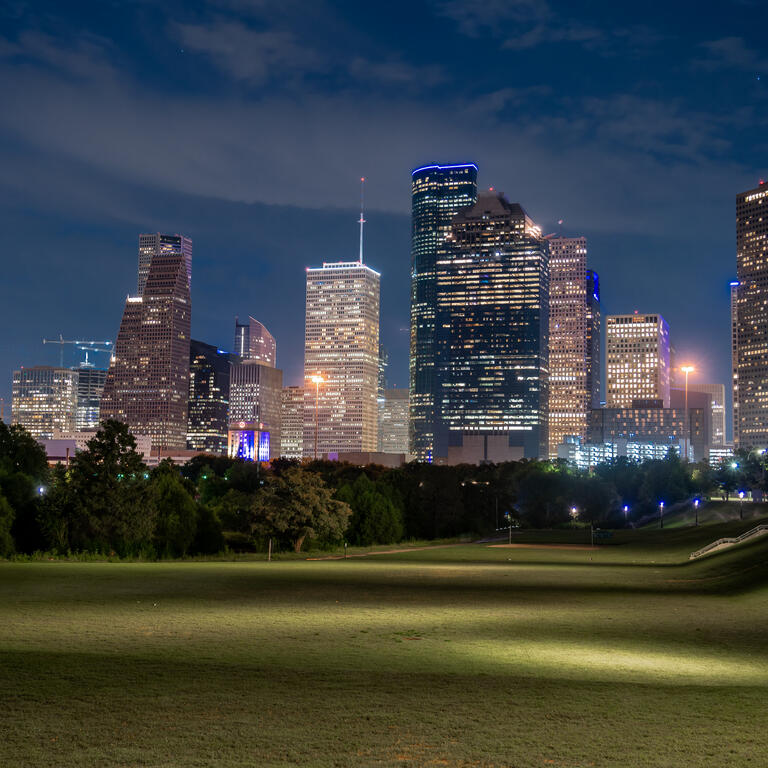 Energy Stocks in 2021
Oil & gas stocks were among the best performers in 2021 as the global economy rebounded. A little over one year ago, shortly after the coronavirus vaccine was approved, I wrote that buying Exxon Mobil (XOM) could be like buying banks in 2009– one of my most widely read pieces on Seeking Alpha of all time. With the current inflationary environment, energy remains cheap, although not overwhelmingly so. Where oil stocks shine is that they're a hedge against inflation and a weaker consumer. If you own the S&P 500, you're heavily exposed to the American consumer and to tech stocks, which have both been taken for big losses so far early in 2022. If you own energy stocks, you're not as exposed to these same risks, and may actually benefit from a rotation out of tech and consumer discretionary stocks. The political situation is setting up favorably for energy stocks to outperform, as government policies and certain misguided ESG directives have constrained energy supply while stimulus has increased demand and stirred inflation.
To illustrate the correlation between energy and other sectors, here's how energy stocks (XLE) have traded over the last year vs. the tech (XLK) and retail sectors (XRT).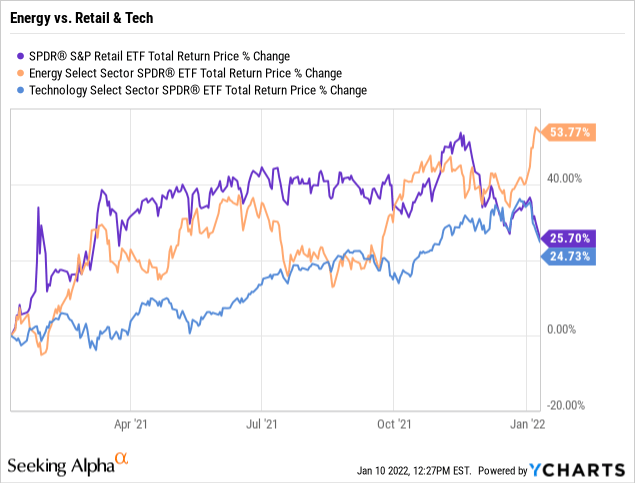 The energy sector is up 53% over the last year, crushing the gains from tech and retail.
Energy has developed a negative correlation (especially over the last month) with tech and consumer discretionary stocks, which may be a nice way to help hedge a further decline in the NASDAQ.
As I mentioned above, the fundamental picture for energy stocks is still quite good with supply constrained.
Looking ahead to 2022, let's take a quick dive into some of the best stocks in the sector.
Best Energy Stocks For 2022
1. Best all-around stock. Chevron (CVX).
The energy sector in the US is fairly concentrated, with Exxon Mobil and Chevron taking up around 40% of the sector by market cap. Of these two, I like them both, but a year after my Exxon pick, I now slightly prefer Chevron. My main reason for preferring Chevron is that they've done a better job of getting returns for shareholders over time than Exxon has. Chevron has been more disciplined with allocating capital, which is what you like to see with companies you invest in. With neither company trading for a bargain-basement price anymore, I think this advantage will become more important over time. Their forward valuations are similar going into 2022 at around 13-14x earnings.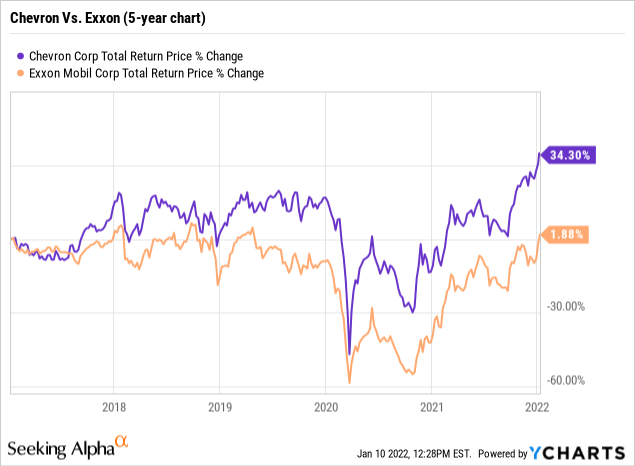 After the pandemic hit and oil stocks were crushed, I loved Exxon's valuation and its commitment to the dividend even in hard times. Yields have come down a bit because prices have come up, but Exxon currently yields 5.1%, while Chevron yields about 4.3%.
This said, Exxon has about 60% more employees, about 70% more in financial liabilities than Chevron, and a higher dividend to sustain relative to earnings, but only about 20% more market cap. Exxon is becoming nimbler after activists (Engine No 1 and others) have taken on the company's policies, but I think these factors are enough to prefer Chevron at the current price after the monster rally of 2021. Also, unlike many of its smaller peers, Chevron's business model is fully integrated, which takes a lot of the risk out of investing in the stock.
2. Best management team. ConocoPhillips (COP)
Conoco has been known for having a strong management team with a long-term focus, but they were harshly punished by income investors when they cut their dividend in 2016. They did better in 2020, holding the line on the dividend. Today, COP yields 2.3%. Why should you consider investing in COP stock? They're good risk-takers and they win more than they lose.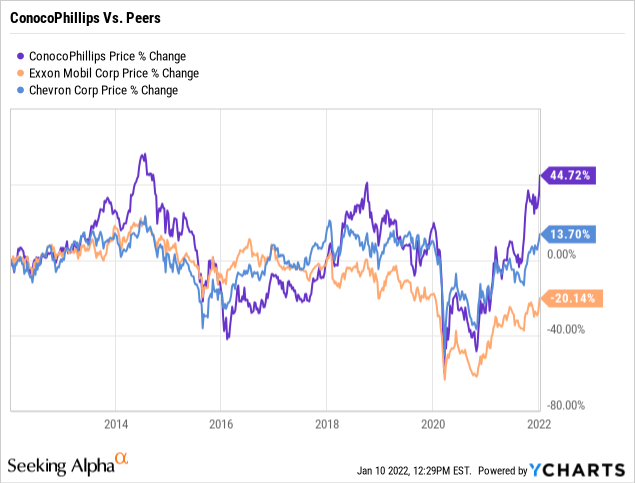 If it's not obvious from this graph, know that Conoco's historical volatility clocks in at roughly 33% since 2010, vs. Exxon and Chevron which are both around 23%. Conoco generally uses less hedging and takes more risk by being less integrated than its larger peers, but they don't take so much risk that they hurt the company's ability to compound. For a bigger dividend (4.5%), look at Phillips 66 (PSX), formerly part of Conoco. If you like Conoco, I'd buy some Chevron as well to hedge some of the risk and volatility you're likely to experience.
3. Best international stock. - PetroChina (PTR)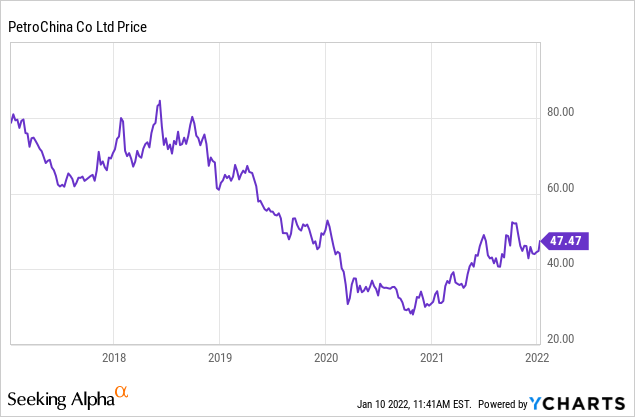 This stock was recommended to me by Pietros Maneos, a friend who has a great track record as a value investor and who's known for his monthly investment letters. There's a line of thinking right now in the market that value stocks are cheaper than growth and that international stocks are cheaper than US stocks. PetroChina combines both of these ideas and is showing up on a lot of value screens. PTR stock is highly rated by Seeking Alpha's quant ratings as well.
Pietros finds the most eclectic group of stocks on these value screens and buys dozens of them, and the frequency and magnitude that they have hit is frankly surprising. The value screens have honed in on companies like Canadian banks, Chinese tech companies, and Russian oil companies when they reached extreme bear market lows.
PetroChina in a nutshell.
The stock yields about 7%.
The PE is about 6.
The total return is about 10% annually since 2000 but -5% annually since 2010.
There's more geopolitical risk than investing in an American company.
Is PTR stock worth the headache of investing in China? It's tough to say for sure, but you are getting a lot of compensation in the form of a lower valuation by investing in PTR over an American company. Is it enough? I'd say the compensation is sufficient to justify the risk, but I encourage readers to feel free to share alternative points of view in the comment section.
4. Best dividend. ONEOK (OKE)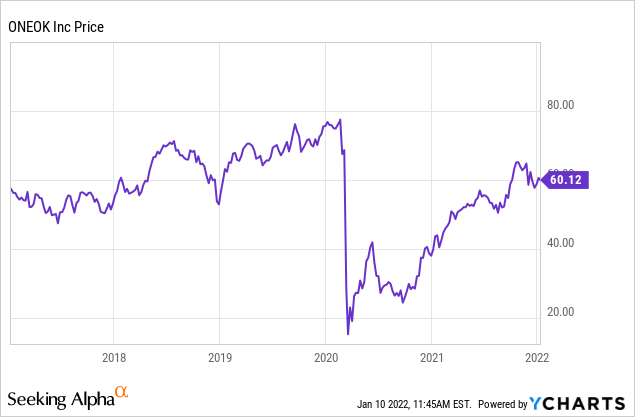 Pipeline companies like ONEOK and Kinder Morgan (KMI) have always been known for having high dividends. In recent years, they've also become known for being pretty risky stocks in a downturn. This said, both stocks yield roughly 6% and could be solid plays going forward. Note that I titled this section "best dividend" and not "safest dividend," because ONEOK uses a lot of leverage.
OKE is currently working its way through its debt load and froze the dividend, but with the sharp rise in general natural gas demand, I'd expect this to happen sooner than later. If you can forego a little current growth in the dividend, the long-term potential is as strong as ever. This investment is a similar play in principle to my top pick of 2021, CVS Health (CVS) which froze its dividend to pay down debt and now has begun to raise it. OKE stock is a long-time favorite of Sam Kovacs, who has been way ahead of the curve on inflation and rising energy costs.
5. Wildcard with upside. EOG Resources (EOG)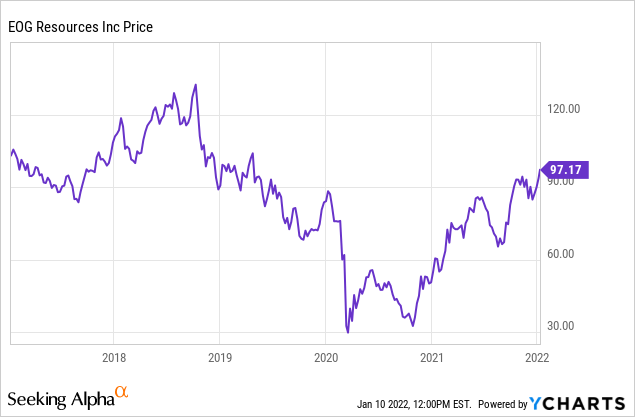 Most energy companies these days are at least giving lip service to prioritizing their highest ROI projects, shareholder return of capital, and ESG.
EOG sees this industry shift as a big opportunity to grab market share, and they told analysts so at the recent Goldman Sachs energy conference. This is perhaps the highest risk, highest reward strategy of all– a bet on higher energy prices over the next decade by making big investments ahead of demand growth now.
For what it's worth, EOG is on the opposite side of most of the industry with this, but if they're right, they stand to make some Texas-sized profits. Investors who think the oil industry has become too soft might find themselves at home with EOG, who recently paid a $2.00 special dividend on top of their regular quarterly dividend.
Bottom Line
After a torrid 2021, energy stocks are well-positioned again in 2022. Regardless of where you stand on the carbon debate, oil & gas will be needed for the world's energy transition over the coming decades, and the sector offers reasonable valuations, high yields, and the potential for big upside if supply remains tight. Have an energy stock you like better? Feel free to share your own favorites in the comment section!