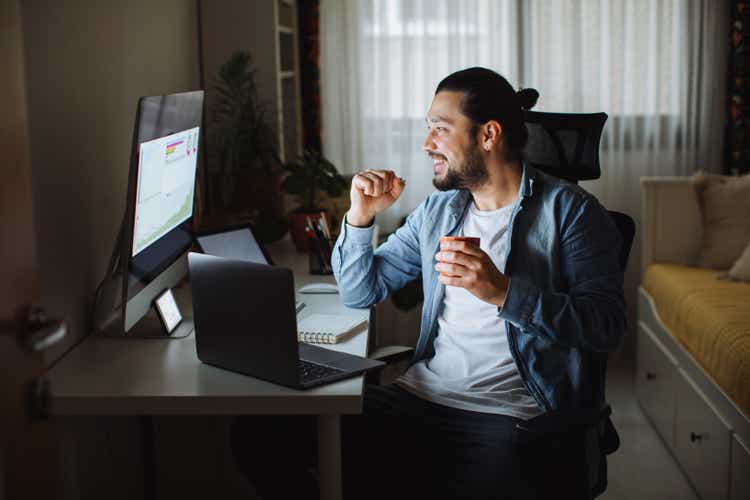 Investment Thesis
Sportradar Group (NASDAQ:SRAD) is, in my opinion, the best way to play the adoption of sports betting. The company has years of rapid growth ahead and a very favorable business model with high revenue visibility and a wide moat. It also has a very attractive financial profile with high margins and cash generation even at this early stage and it should get significantly better with scale. I believe that Sportradar will be quick to grow into its undemanding valuation. I'm a buyer of Sportradar stock.
US Betting Market is an Attractive One
The growth of sports betting is a secular theme in the US. More and more states are legalizing sports betting looking to harvest tax revenue. Bookmakers are investing more into the nascent legal market. This is resulting in very rapid growth in the market which more than doubled in size over the past years.
Readers who've spent time watching sports in Western Europe will know the potential here. Betting is an important part of sports in Europe where betting operators partner with leagues and broadcasters. They go as far as sponsoring sports teams. There is a lot of money to be made in betting and every stakeholder wants a share. Furthermore, betting significantly increases fan engagement. The growing adoption of betting will be one of the most important trends in sports.
There is a long way to go in the US as the legality of the industry is very new in most states. There are a lot of estimates to the size and growth of the industry which vary a lot but they all point towards very rapid growth and a very large eventual size. Sportradar, for example, expects it to grow 23x in 10 years.
Sportradar is a Great Way of Playing this Theme
Sportradar is looking to monetize this market with an attractive SaaS model. The company is essentially a data vendor serving leagues, broadcasters, and betting companies. It collects and/or licenses data from leagues and distributes it to betting companies and broadcasters as well as providing other value-added products. Sportradar will see increasing demand as sports betting grows.
In addition to its favorable business model, my preference for Sportradar as a play on the adoption of sports betting lies in my expectation of its above-industry growth. Sportradar will benefit from the industry growth driven by more sports betting by more people in wider geography but it will also be able to add products and services to generate new streams of revenues (more on this below).
It has the usual platform SaaS benefits of revenue visibility, high margins, and cash generation even at this early stage and like all SaaS businesses, I expect it to benefit from scale. The company is going through an initial investment phase which is weighing on current numbers. It's new to the US market and is investing to grow in it. It's also looking to add new products to increase differentiation. These upfront costs are investments in future growth and most likely will decrease as a percentage of revenue as revenue grows. EBITDA margin reaches above 40% even today without unallocated corporate expenses and the US operation.
I see significant upside to the current 26% EBITDA margins over the long term. I believe that this will surprise the Street as the consensus calls for <25% margins in 2026 (caveat here is that only one analyst is making long-term estimates).
Overall, I see Sportradar as a great way of investing in the space with its rapid growth and premium quality. Its highly visible earnings from a sticky product with a very favorable financial profile are likely to generate rewards for its shareholders.
Sportradar has a Wide Moat
Data collection and distribution is an easy business and practically anyone could do it. Sportradar still has a very wide moat, however, and competition is unlikely to disrupt it. The first-mover advantage is a big one in this space. The company's breadth of data is a key differentiator as it enables a wide distribution network with betting companies preferring its full offering. Its wide distribution, in turn, adds to its moat as it makes Sportradar the preferred partner for licensing. While a new entrant could choose to strategically lower its margins to gain share it'd be very difficult to break this flywheel.
Sportradar's size isn't its only moat. It offers a range of value-added services that benefit Sportradar in two ways of increased customer stickiness and a product offering that is difficult to replicate in full. It offers various outsourcing services for the betting industry. MTS (Managed Trading Solutions) is its full turnkey solution addressing almost all parts of bookmaking. Sportradar also offers live odds for bookmakers which is fully automated and integrated and is derived from Sportradar's mathematical live odds models. The growth of these segments will result in increased reliance on Sportradar's services.
Sportradar expands well beyond the typical betting value chain in ingenious ways. The company's AV (Audiovisual) segment is a testament to its innovativeness. AV segment distributes (mostly untelevised) sporting events for betting operators. Broadcasting is a great way of acquiring customers and increasing engagement for betting operators and I believe that the AV segment will see rapid growth as marketing budgets of betting operators increase. Sportradar is further betting on the growth of marketing spend in the industry with its ad:s product. ad:s leverages data and reach enabled by Sportradar's market position to help betting companies in their marketing.
Sportradar's scale and product breadth will enable best-in-class monetization rates and give it a structural advantage when it comes to acquiring exclusivity licenses for data.
The numerous services offered by Sportradar enable superior growth in terms of pace and quality. The company can cross/up-sell current customers to fund easy growth. Growing within a customer is much cheaper than onboarding a new one. Sportradar is executing well on this front with a 128% net revenue retention rate.
I see the past as a mirror of future performance and expect the continuation of past innovativeness to fuel the growth of the company's revenues and moat.
Sportradar has an Undemanding Valuation
We've come used to sky-high revenue multiples in today's world of easy money. Software companies with no paths to profitability in the foreseeable future garner billions of dollars in their valuations. Although I've invested (and profited) in several of these companies in the past, I'm very cautious on high-multiple names currently. I expect higher yields to be a major headwind for these names over the coming quarters.
This, however, is not the case with Sportradar. Sportradar combines high profitability with rapid growth. Forward multiples off of consensus estimates showcase Sportradar's difference. There is one analyst that is making far forward estimates for Sportradar and he/she is forecasting a ~20% revenue CAGR for the next 5 years and a >25% EBITDA margins in 2026. I'd say that both of these numbers are conservative with conviction but even these conservative numbers yield value in the stock. The stock trades at FY26 multiples of 3x revenue, 12x EBITDA, and 24x EPS. Sportradar should be quick to grow into its valuation.
I'm a buyer of Sportradar at today's prices. I see it as an overlooked high-quality software company and expect it to generate significant alpha with the growing adoption of sports betting in the US.