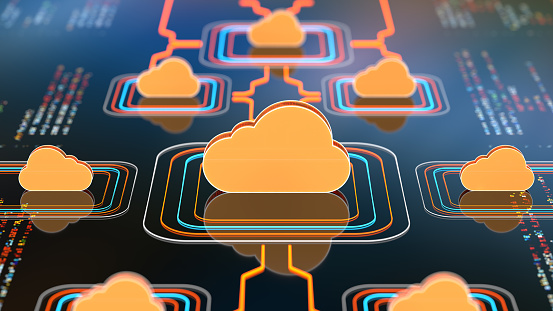 Investment Thesis
Datadog (NASDAQ:DDOG) has held its ground very well, even while the rest of tech has been demolished. In fact, it's held its ground so well, that investors are now forced to face a very difficult question. Is the stock already pricing in too much optimism?
While I recognize that Datadog is an impressive company, as well as noting that I've been a consistent bull of this company through several sell-offs in the past year, I believe that the risk-reward opportunity in Datadog isn't as attractive as it once was.
Simply put, I believe that investors all recognize that Datadog is an amazing company, and have reflected that insight into its current valuation.
Consequently, I declare that for new investors coming to the stock, paying 33x this year's revenues is probably starting to price in a lot of its future prospects.
Investor Sentiment Facing Datadog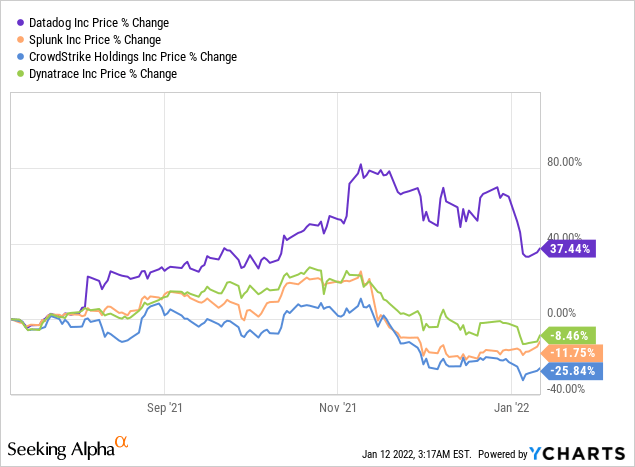 Above you can see how Datadog has fared against some of its peers. You may contend that CrowdStrike (CRWD), the cyber security company, isn't a direct peer to Datadog, but given Datadog's very recent push to offer cybersecurity products, I would posit that there's more similar than not between these two peers.
And what you can see in the graph above, and around tech more generally, is that there has been a meaningful sell-off in tech names. Why is this important?
Because no stock trades in isolation. Even though I'll be the first to acknowledge that there's a lot to like from Datadog, I have to take its prospects relative to what my hard-earned capital can earn elsewhere. Think about this from this perspective: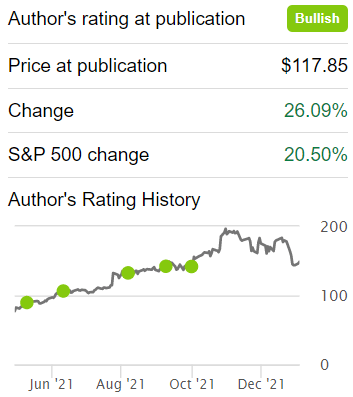 Over the past twelve months, I've been an unwavering bull behind Datadog. Even when everyone was writing to me, telling me that I was wrong, I stayed the course.
But now, the time has come for me to put the bullish thesis aside, and become neutral. To be absolutely clear, once again, this doesn't mean that Datadog isn't a terrific company, with very impressive execution, it is both of these.
The problem though is that I know this, you know this, and everyone else knows this too. And if you are right when everyone else is right too, your propensity to outperform is substantially reduced.
DDOG's Revenue Growth Rates Remain Sizzling

Datadog is growing at a really rapid rate. And what's most exciting to see is that its guidance for Q4 2021, is pointing to an impressive 65% y/y revenue growth rate.
In fact, its growth rate for Q4 2021 is expected to report approximately 1,000 basis point acceleration from the same period a year ago. Thereby showing that despite working off a larger revenue base, its revenue growth rates are not slowing down.
Why Datadog? What's the Opportunity?
Datadog is a data and analytics platform.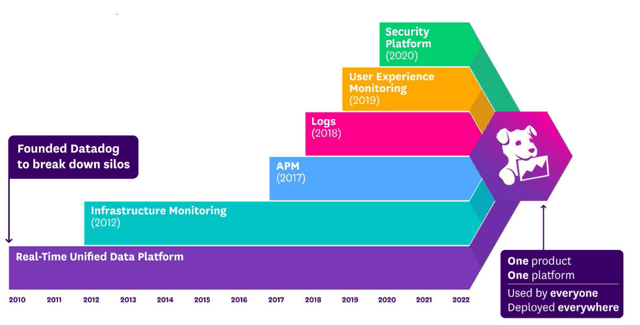 Datadog provides customers the ability to not only provide analytics, and to understand the data, but observability, data logs, and user experience monitoring too.
The ability to benefit from the underlying cloud migration and digital transformation provides Datadog with strong tailwinds.
Indeed, one aspect that we've seen since the pandemic is the ability to start enterprises today is easier than it has ever been. But at the same time, enterprises want to understand what they are seeing through their networks. And that's where application performance monitoring (''APM'') comes in.
Datadog provides enterprises with the infrastructure to reduce the time between problem detection and resolution. Datadog has one dashboard where enterprises can visualize any issues on their applications and create root cause analysis.
As you perhaps know from your own experience, the better the customer experience on a given website, the more revenues that website is able to drive. Further, the less time spent getting to the root cause of the technical trouble, the less maintenance expense for the customer too, which equates to more revenues and lower costs.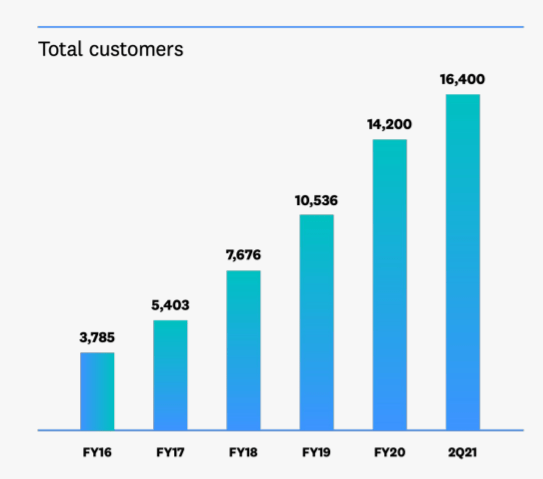 And that's why you can see such a fast uptake of customers. Accordingly, as of Q3 2021 (data not shown above), Datadog's total customers now approximates 17,500 customers, up 34% y/y.
And as you can see, there's clearly much to be bullish about Datadog, but once again, we are having to think about its valuation.
Valuation -- Not That Cheap
Right now, Datadog is priced at 33x forward sales. Now, I can acquiesce that Datadog is highly innovative and it should be expensively valued. In fact, Datadog rarely goes on sale.
But at the same time, paying 33x forward sales when many of your peers are priced substantially cheaper can cause a problem.
Allow me to pose you a question if you have new funds, not the funds that you are already committed to Datadog and are entrenched, but you are a new investor looking to buy something brand new, would you consider paying 33x forward sales for Datadog?
Or would you perhaps consider something like CrowdStrike that's got practically the same growth rate, is unquestionably the leader in cybersecurity, and is priced at 22x forward sales?
The Bottom Line
Throughout the analysis, I remarked that Datadog is an impressive company. The problem with investing though is that it's not good enough to be an impressive company. You must continue to deliver results substantially above expectations.
For instance, it is not all that challenging to see which companies have been the best companies to invest in in the past. One example which comes to mind is Apple (AAPL). Apple has grown through very strong returns on capital, buybacks, and throwing off dividends all the way.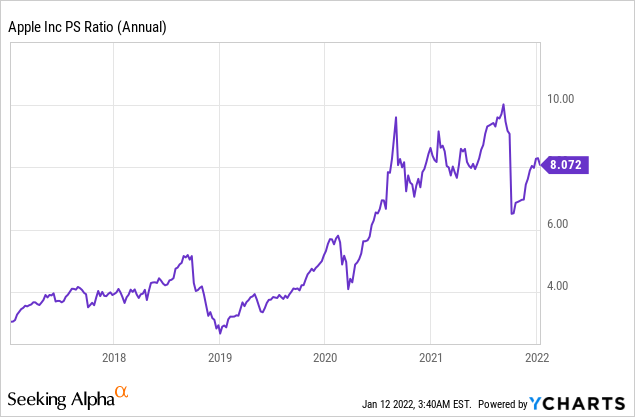 But anyone looking back at Apple over the past five years has to keep in mind that its multiple has doubled from approximately 4x sales to 8x sales. I'm not saying that this is right or wrong, I'm simply reminding investors that starting from 33x forward sales can be tough.
To summarise, finding a great investment by itself is not all that challenging a feat to accomplish. But finding a great investment that the market is not accurately pricing is very much more challenging. Furthermore, investing in Datadog when the risk-reward profile is not that favorable, makes this investment all the more challenging.