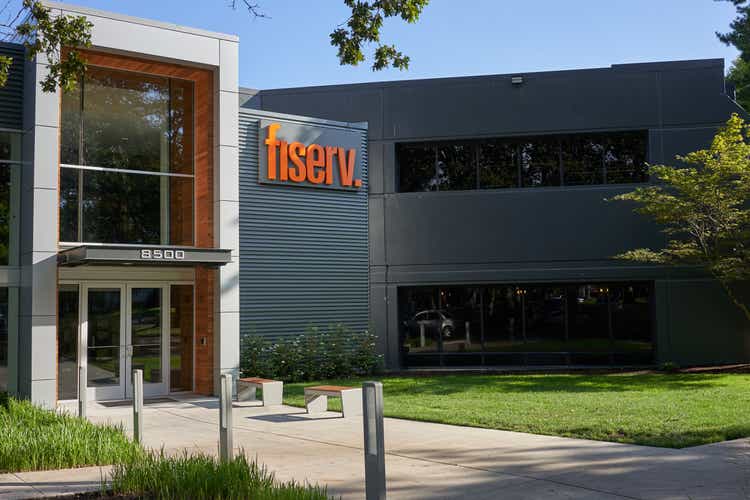 Investment thesis
At present, high-quality businesses that are also adapting to the disruptive technologies appear as a safer choice for long-term investors when compared to the highly-priced disruptors.
To begin with, lower-priced companies with highly profitable business models are at significantly lower risk of multiple contraction, if monetary policy does normalize. Although, this is a highly uncertain event, in recent months we witnessed just how powerful such a movement could be in supporting value stocks at the expense of the so-called disruptors.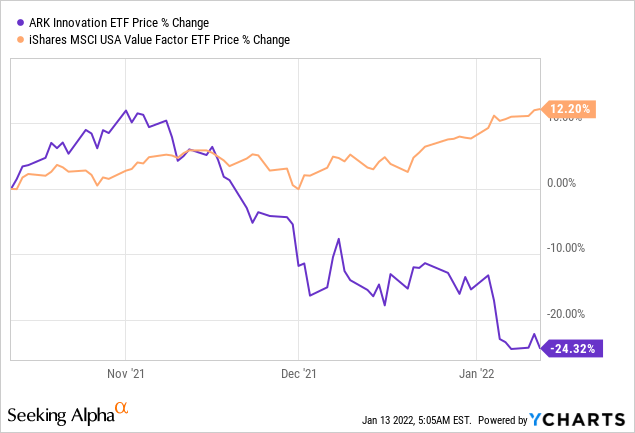 That is one of the major reasons why the relative performance between Fiserv (NASDAQ:FISV) and Block (SQ) is so similar to the one shown above.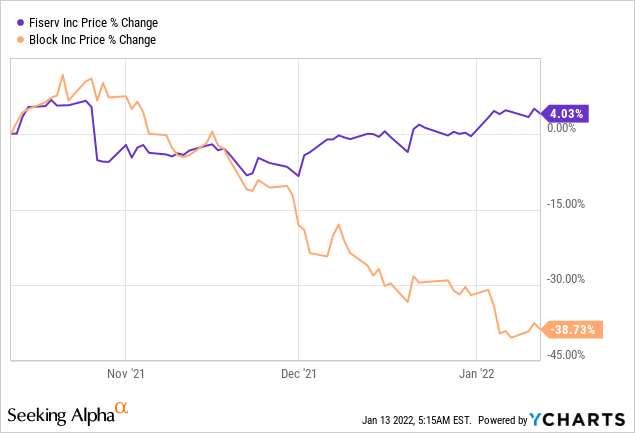 It goes without saying that one cannot simply buy the value players within an industry and expect to outperform the high-growth companies within the same space. There is a number of business characteristics that I am looking for in a business, in order to identify solid long-term opportunities:
a strong narrative of a slow-growth business that supports a relatively lower valuation, in spite of the company's strong competitive positioning;
a well-managed enterprise that is slowly adapting to the disruptive technologies, without sacrificing its highly profitable business model;
Such opportunities do not come without any inherent risks, however, in my view they have a far superior risk-reward profile than many of the high-growth stocks do. Down below I will show why I believe Fiserv ticks all of the boxes for such a company.
Why chasing transforming incumbents?
The word disruption has been prevalent for the better part of the past decade. The so-called disruptors have been the absolute winners in many large segments of the economy - from retail and automotive sectors to cloud computing, payments, media and software.
While technological progress in many areas of our lives has certainly allowed these companies to proliferate, their total hegemony has also been aided by the extraordinary amount of excess liquidity over the past decade. The latter also led to the astronomical valuations we are now so used to, the proliferation of unprofitable business models, and last but not least - increased centralization.
That is why, over the past few years, one could have easily outperformed the market, by simply buying the 10 largest companies in the S&P 500.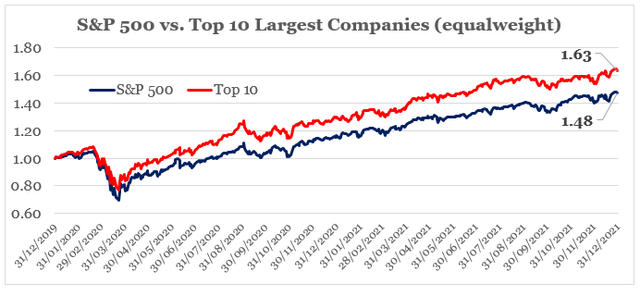 In the cloud and software space, for example, the extremely loose monetary regime has been great news for the high-growth companies circled in red in the graph below.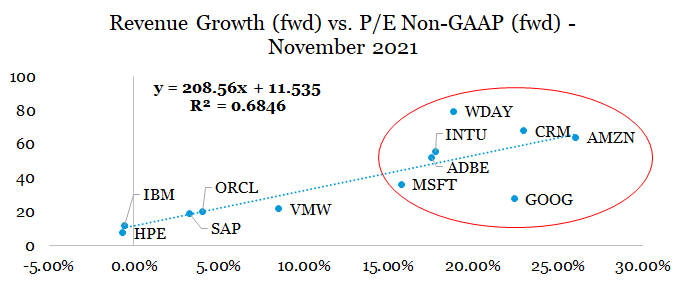 Profitability has become less relevant in the sector and thus expected topline growth rate is now one of the key valuation drivers. In addition, excess liquidity and near-zero interest rates have also resulted in a very steep trend line in the graph above or in other words higher price premium for growth.
However, as I have recently shown, the slope of this trend line above appears to be in a negative relationship with bond yields (see below). Or in other words, these high-growth disruptors are at risk of contracting multiples, should bond yields increase even by a small amount.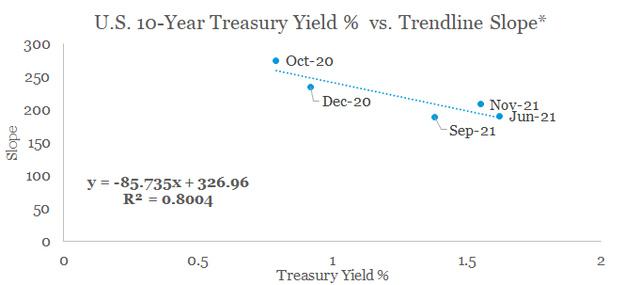 * slope of forward revenue growth rate vs forward Non-GAAP P/E ratio
On the other hand, certain high-quality and well-managed legacy leaders in each industry are slowly catching up with their high-flying peers, while at the same time are significantly less exposed to the risk of multiple contraction. Those legacy companies that manage to sustain their highly profitable business models, while catching up with the disruptors is where I am looking for long-term opportunities.
That is why, in my view, high-quality businesses in disrupted industries are far more attractive than the disruptors themselves. For example, I have been holding Oracle (ORCL) as one such company. In the semiconductors space, I highlighted why Texas Instruments (TXN) could outperform its peers in the coming years, and in the automotive sector, I am long General Motors (GM). In electronic payments and data processing, Fiserv (FISV) is where I currently see a similar opportunity.
The setup in electronic payments
In the sector, Return on Total Capital (ROTC) is the key driver of forward Non-GAAP Price-to-Earnings ratios.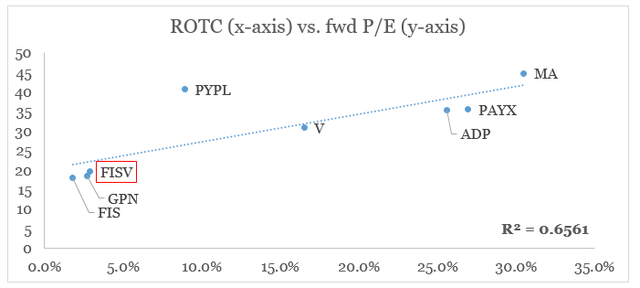 Block is excluded from the peer set above due to the company now trading at a forward P/E ratio of x83.7, while at the same time generating only 3% return on total capital. It appears to be the only company in the peer set that is emphasizing growth at any price which results in razor-thin margins and a much higher topline growth than the rest of its peers.
Block, Inc. (SQ)
As we see in the graph below, Fiserv is expected to be the slowest growth company within the peer set with a forward growth rate of below 3%.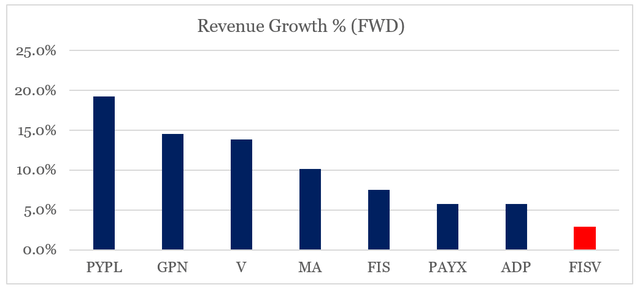 This in combination with the currently low Return on Total Capital makes Fiserv one of the most unloved names in the space.
Underneath the surface of the slow growth
Following the First Data deal, Fiserv is now divided into three major segments - Acceptance, Fintech and Payments which make 42%, 20%, and 38% of the company's total sales respectively.
Over the past nine months, Acceptance, the merchants solutions segment, was the fastest-growing one by 17%, while Fintech and Payments grew by 4% and 5% respectively.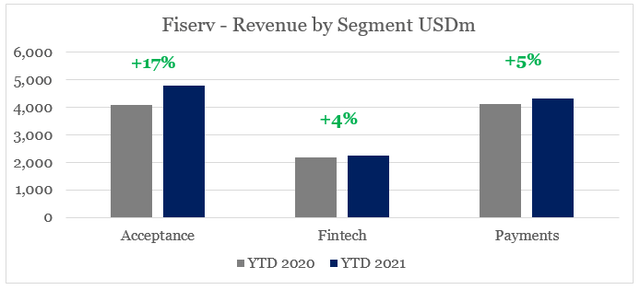 This is already in a stark contrast with the currently expected future growth rate of 2.9%, especially given Clover's success and the relatively stable nature of Payments and Fintech businesses in a non-recessionary environment.
Clover platform is by far the strongest growth engine within Fiserv. The cloud-based point-of-sale operating system, which includes a marketplace for proprietary and third-party business applications, grew its gross payment volume by 47% over the past quarter thus reaching $196bn on an annual basis.
Next, let's go deeper by platform, starting with Clover. GPV grew 47% year-over-year, or a 39% CAGR since 2019 to $196 billion on an annualized basis. In the SMB space, we remain focused in building vertical-specific solutions, offering an integrated suite of products that help merchants generate revenue and run their business.

Source: Fiserv Q3 2021 Earnings Transcript
For comparison, Square - one of the major competitors of Clover, reached $153bn GPV during the past twelve months.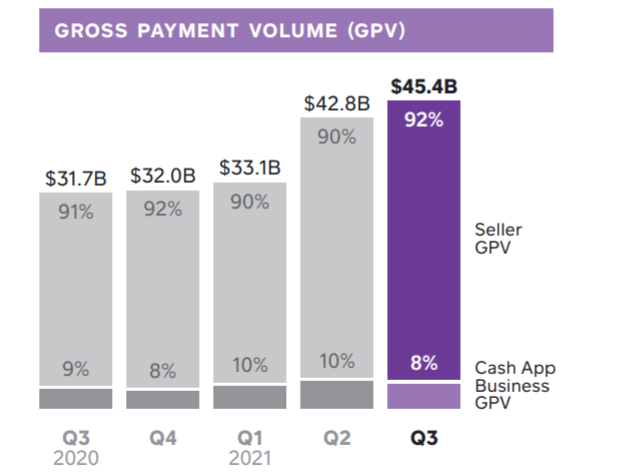 Shopify (SHOP) is yet another peer that is growing fast, even though it's still much smaller in size.
Gross Payments Volume3 ("GPV") grew to $20.5 billion, which accounted for 49% of GMV processed in the quarter, versus $14.0 billion, or 45%, for the third quarter of 2020.

Source: news.shopify.com
Clover's spectacular growth, however, is not yet visible on the surface of Fiserv due to the company's large legacy businesses. Moreover, Fiserv management is committed to expanding the business both organically and with the support of bolt-on acquisitions, such as the recent announcement of BentoBox.
What's more, Clover has a long runway of international growth, with a launch in Brazil expected next year.
Clover is already in market in Argentina, as expected to launch in Brazil next year, thereby covering the two largest markets in Latin America.

Source: Fiserv Q3 2021 Earnings Transcript
In Germany, Fiserv is teaming up with Deutsche Bank to combine Clover payment acceptance solutions with Deutsche Bank's integrated banking services.
The joint venture expects to serve several thousand clients from the start. Deutsche Bank, together with their Postbank and Fyrst brands, has around 800,000 SMEs who will benefit from the new solutions going forward.

Source: db.com
Where is profitability headed?
As we saw above, Fiserv has a very low return on total capital of 3%, which is barely enough to cover the company's cost of capital. At the same time, the margins are far from being the lowest within the industry.
The reason for this discrepancy is the current accounting standards, which require companies to record all intangible assets and goodwill on their balance sheets following M&A transactions, while at the same time they are not allowed to do so for internally created intangibles (with the exception of certain software assets). That is why, Fiserv's ratio of goodwill and intangible assets to total assets is one of the highest within the peer group, following the $22bn deal to acquire First Data.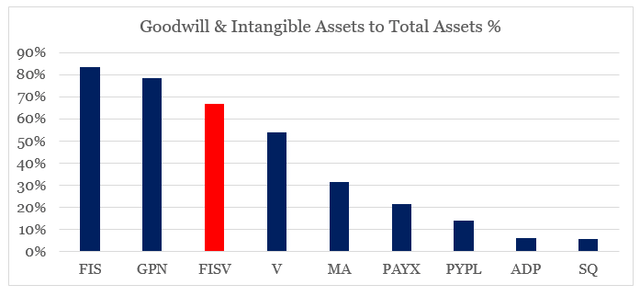 The deal also resulted in a much higher book value of capital employed, which results in Fiserv's artificially lower Return on Capital we saw above. That is why profitability is a better measure for quality of the business model.
In terms of profitability, payments is by far the most profitable and stable business unit, while margins in Fintech have also been steadily improving.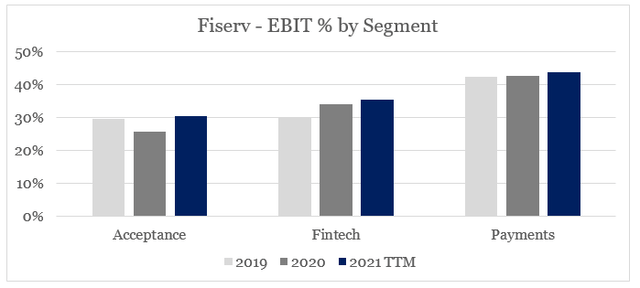 The Acceptance business is what used to be Global Business Solutions at First Data and includes retail point-of-sale merchant acquiring, eCommerce services and mobile payment services for SMEs. More importantly, the fast-growing Clover POS operating system and app marketplace are included within this segment.
The First Data merger

Similar to the Fiserv merger with First Data, Fidelity Information Services (FIS) acquired Worldpay in 2019 and thus created a strong conglomeration of merchant acquiring services and fintech capabilities. The $35bn deal was far larger than the merger between Fiserv and First Data which points to the benefits of integration within the sector.
Nevertheless, Fiserv paid a significantly lower multiple for First Data when compared to the FIS deal for Worldpay. To understand roughly how much Fiserv paid for First data, we will be using the following data for First Data:
transaction value of $22bn
net debt of $17bn as of FY 2018
operating income of $1,895m and depreciation and amortization expense of $1,009m as of FY 2018
Based on these numbers, we could estimate EV to EBITDA multiple of 13.4x, which is much lower than the 24.3x multiple of Worldpay at the time. It is also at the low end of the range of identified comparable transactions.

Following these two deals, Fiserv and FIS margin profiles on a segmented basis are as follows.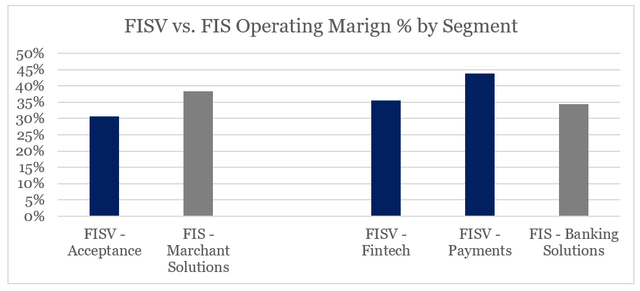 * excluding FIS Capital Market Solutions segment
Although both companies are at par in terms of overall profitability, on a segmented basis FIS' merchant solutions business unit is much more profitable, while Fiserv makes up for that in its payments segment. This, however, is changing fast as Fiserv is quickly expanding its cloud-based POS solution, which benefits heavily with scale.

Current risks
In addition to the intense competition in the sector, another major risk for Fiserv is the company's high debt load. Especially when considering the risk of retail sales cooling off, following the unprecedented fiscal stimulus over the past two years.
So far, Fiserv's annual interest expense appears manageable with the current interest coverage ratio of almost eight. This, however, is much lower than the historical average and when compared to that of FIS.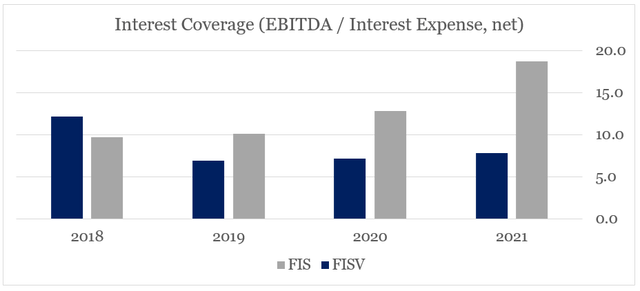 Having said all that, Fiserv could be a good addition to a portfolio more heavily exposed to consumer staple stocks, which usually do better during recessions.
Conclusion
Fiserv could easily be seen as a classic value trap that is not even priced as a value company with its forward Non-GAAP P/E ratio of 20 and return on capital that appears too low to compensate owners for their cost of capital. However, Fiserv is well-positioned to accelerate its topline growth in the coming years, provided there is not a significant downturn in economic activity. Moreover, profitability is also likely to improve in the coming years as cloud-based platforms scale up, synergies from the recent acquisition are fully realized and amortization of acquired intangibles diminishes.