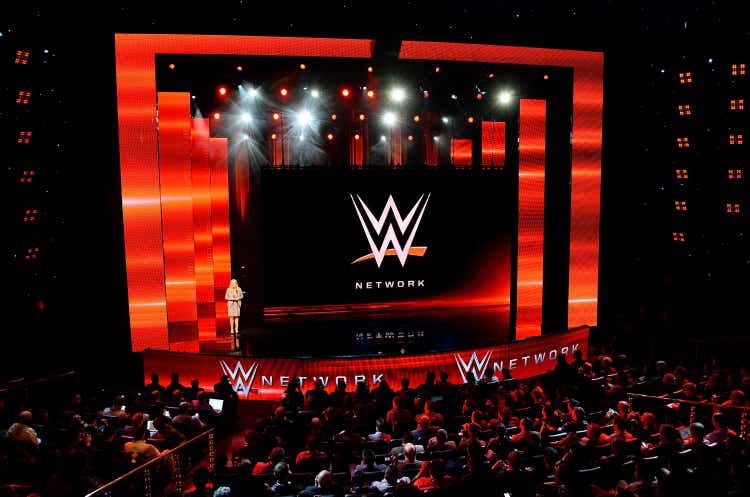 In today's world there are a handful of CEOs you just should not bet against – Vince McMahon is one of them.
And I'd venture the vast majority of you reading this, love him or hate him, know that and have for some time. The McMahon's in general always seem to find a way when it comes to their beloved World Wrestling Entertainment (NYSE:NYSE:WWE).
As a fan of the product, I can tell you that they always don't make it easy. The WWE at times has a love/hate relationship with its fanbase. The company knows it needs the audience, but doesn't always necessarily do what its base would like to see happen.
The secret to its success though is simple – the fans don't stop watching just because they are annoyed with the product. They may complain, they may threaten to walk away, but ultimately they don't leave… at least not for long.
Since the WWE went public, many analysts have been baffled by the stock because let's be real, this is not a traditional company and that's not a traditional result. And yet that is also why it seems to continue to be successful and why a company like Comcast (NASDAQ:CMCSA) continues to bet so heavily on it.
First as always, some background.
Let me start by saying this… if you don't understand how WWE works, you will struggle to understand its stock. And I'm not talking about knowing who is facing who this week or which talent holds one of its championship belts - I'm talking about the business of pro wrestling.
It is a rare type of business where the fans have all the power and yet at the same time have none of the power. So when WWE went OTT many had concerns about what would happen the first time (or next time) the fans didn't feel heard.
In the past it was easy because they'd just turn the channel, but now would fans go so far as to cancel an account? And would enough do it to the point that Wall Street would get spooked?
Long story short, despite various #CancelWWENetwork trending topics and crowd chants at live shows, it ended up being (as it always is) a very vocal minority. WWE would do fine with its over-the-top venture but it wasn't without some bumps in the road.
In streaming, where the rules are akin to the Wild West, everybody thinks they have the right (and often self-calculated) numbers to make their point. As a result, we saw a lot of "X" meets "Y" data that missed the larger point and that misinformation would impact the stock.
And it went on like this over and over until WWE again pulled off a swerve of its own that went beyond the mat and sold itself to Peacock.
The move was genius, for both parties.
The WWE Network was doing okay but at the same time had to constantly deal with the raft of problems I mentioned… and it took a toll internally. The vocal minority, while small, still began to get their message to seep into different areas of the business and it wasn't the best look for a company that prides itself on succeeding.
For Comcast, it was an "X Factor." Many remember that WWE's early success can largely be tied to the exposure and prime placement it had on the USA Network and across NBC's cable divisions, so why not extend that to streaming?
And it just so happened that Comcast had just launched its own OTT service and one that was coming into the game very late. Given content is king in streaming and this represented a BIG chunk of content that had a built-in fanbase – it was a mutually beneficial deal for both parties.
So here in the States the WWE Network would fold and its content – including its free with subscription LIVE events (that had previously cost $50 a month) - would migrate to Peacock. And to make matters more enticing to fans, the current $9.99 price tag that had become a staple of the network (and a catch-phrase for the fans), would be slashed in half AND now also includes all of Peacock's content (for the ad version).
If you were a fan of WWE, past or present, current subscriber or lapsed, this was a bargain.
But would it move the needle for Peacock and/or WWE because WWE is so niche in its own right?
Truthfully we had no way of knowing…we just had broad statements, impressive statements, but broad.
"WWE set WrestleMania Week viewership records with nearly 1.1 billion video views across digital and social platforms, representing a 14% increase from the prior year. A record of nearly 32 million hours of content was consumed during the week, an increase of 9% from the prior year." – Press Release
"More people watched Saturday's event live across Peacock and WWE Network than any other SummerSlam in the company's history. The seven-figure global audience marked a 55% increase over 2020 and a 29% increase over 2019." – Press Release
Remember we live in the Wild West when it comes to streaming.
Now though comes word those statements could be based on some interesting data. According to reports, Peacock and WWE have done VERY well together. For example, when the WWE Network switched over to Peacock it had been at 1.1 million subscribers and of those 1.1 million, nearly all of them (1 million) came over.
The report goes further though and says in total more than 3 million of Peacock's subscribers have watched WWE programming since it came over AND more than half of those subscribers indicated the WWE deal was why they signed up.
Now as a reminder this is not official but the conversion number alone (if accurate) is impressive and the reason people are getting excited is because Peacock has pulled back on the details it releases. The last count we had was 54 million total subs back in early August and during the last earnings report the company literally just said they were "way ahead of where we expected to be" and stopped there.
Again…Wild West rules.
Back to WWE though, we do know that it and The Office helped drive subs in the first part of the year as Peacock said they were responsible for most of the 9 million new adds at the time. So it stands to reason the content continued to perform strongly especially when it came to two (WrestleMania and SummerSlam) of the company's big four marquee events in that time frame.
Although here's the twist and one of the reasons why Peacock stopped strutting its numbers - Peacock's big differentiator was that it was free, but that's not entirely true. Yes, it does have free content in the base plan, but it also has two premium levels priced at $5 (with ads) and $10 (without ads) and it has never broken down the count by level.
With WWE some of its content is part of the free base plan but the crux is paywalled at the $5 level. And if those stats are correct then that means that while this influx of WWE content views could have been from free users, it more likely came from paying customers as the premium events (formally known as pay-per-views) are only available from the paid levels.
That's a big insight that shows how valuable the WWE content has been to Peacock and how engaged the WWE base still is to the core product. We have seen all the major (and next tier) type streamers attempt to add new content as a way to set themselves apart, but in this case it does seem to be working.
While in the grand scheme it may not seem like a huge influx of new subscribers, for an upstart like Peacock it is sizable. Peacock and WWE for that matter are not looking to meet or exceed Netflix, both are looking for additional revenue and ways to leverage its IP (catalog and future).
While Netflix's core business is streaming, Comcast and WWE's is not – once investors understand that some of the overall pieces may fall better into place.