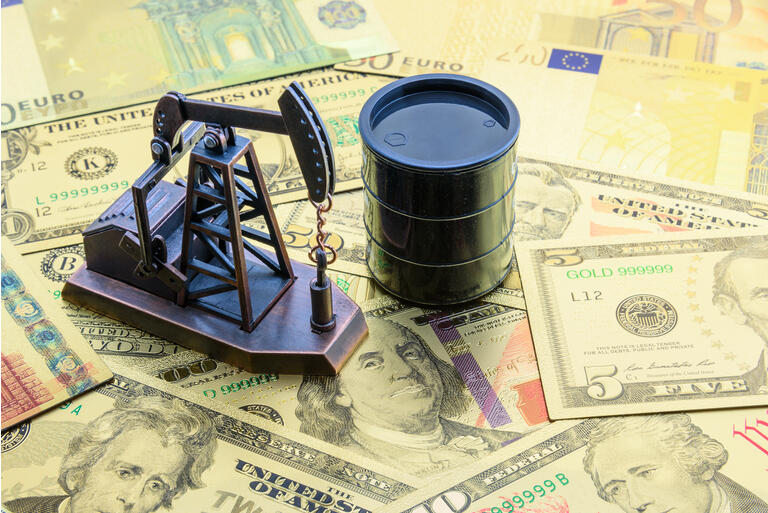 Introduction
I bought a new stock for my dividend (growth) portfolio. I decided to buy more energy exposure after all, as I am convinced that it's a safe source of high-quality yield. The company I added is Texas-based Pioneer Natural Resources (NYSE:PXD), which has qualities that make the company a top-tier oil play for years - maybe decades - to come. In this article, I will give you the details.
My Portfolio
Before we dive into the details, let me quickly show you my portfolio. I bought PXD at $203.40 per share. The company has a 3.6% weighting in my portfolio, which makes it the smallest energy company in my portfolio. That's not based on its quality but on the good performance of the other 3 (Exxon Mobil (XOM), Chevron (CVX), and Valero (VLO)).
I now have 18% energy exposure. The S&P 500 has roughly 3% energy exposure. This makes me massively overweight energy. Note that this is a personal choice. I feel comfortable owning this much energy given my own tolerance for risk and understanding of the companies that I own. This is not a call to do the same or to copy my portfolio. The main reason I'm on Seeking Alpha is to give you high-quality companies for your portfolio. Portfolio composition is an individual thing that I cannot get involved in - at least not in a detailed way.
Why I Like Oil
On December 30, I published an article on Seeking Alpha discussing why I like Exxon Mobil. I spent a lot of time explaining the fundamentals of oil for one big reason: I believe that people have underestimated the importance of affordable energy for decades. Now it's turning into a massive issue that is not only annoying people filling up their cars, but it's also ruining companies and households in, for e.g., Europe where natural gas prices have gone through the roof.
That said, like most people, I like the move towards sustainability. Clean energy is what we need to achieve in the future. I am a big fan of nuclear energy and green hydrogen production.
However, I am against pushing this trend. It is impossible to get rid of oil and gas (or coal) as it's the blood of our economies and still a source of both reliable and affordable energy. Developed western economies are built on coal and oil.
I always like to show the table below when I have these discussions about oil. OPEC estimates that oil will still account for 28.2% of global energy demand in 2040. That's down from 31.5% in 2018. Gas will be up to 25.2%. Coal will still be over a fifth. While the western world is reducing its needs, emerging markets will rely on oil to build the middle-class.
Meanwhile, big oil companies are reducing their capital expenditures as a result of divestitures and a focus on free cash flow. Before the pandemic, the "super-majors" did more than $14 billion in quarterly CapEx. Now it's down to roughly $9 billion.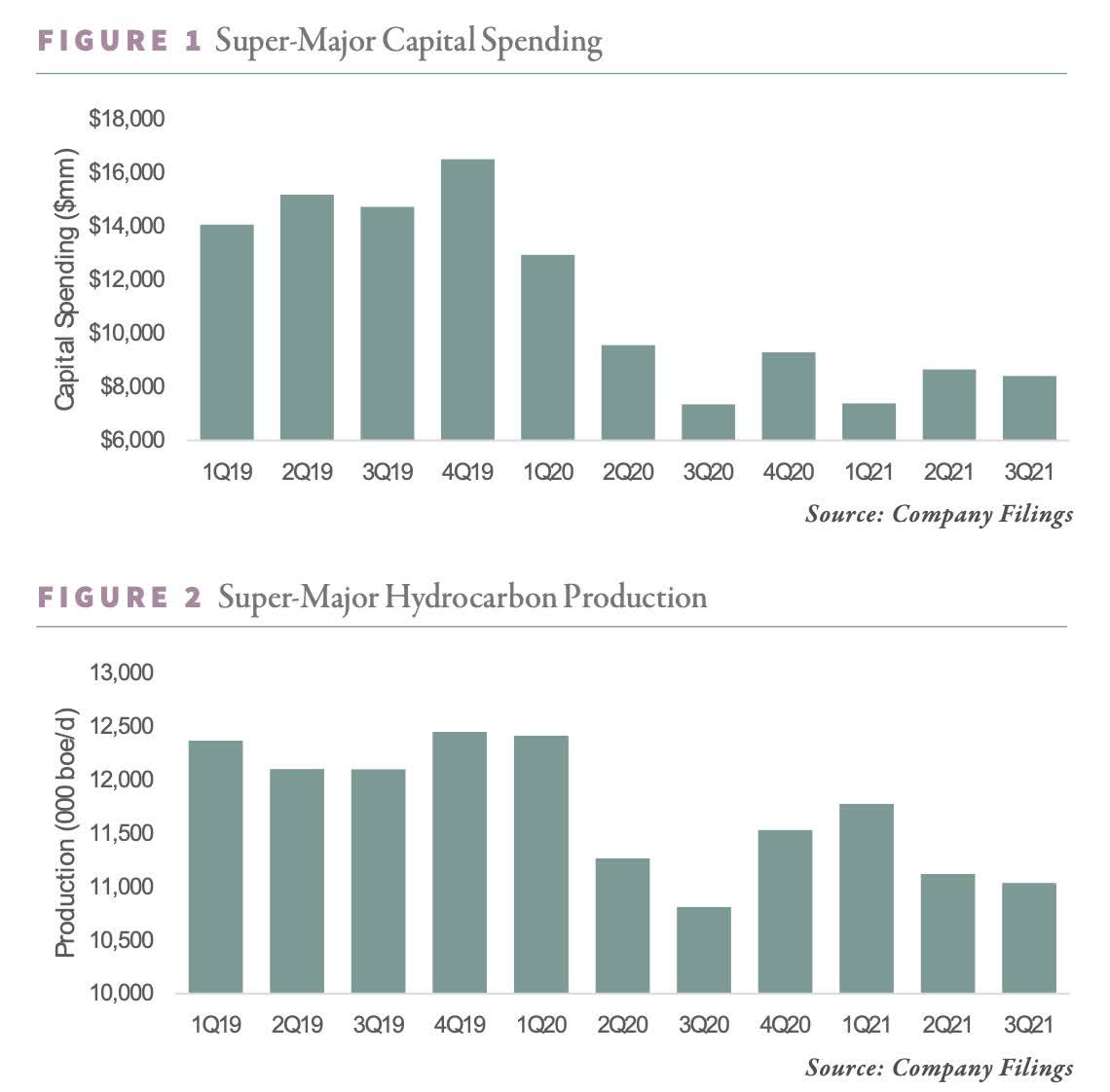 Pioneer CEO Scott Sheffield said something similar in an interview with CNBC on December 7. He made the case for much higher oil prices as demand will bounce back to 100-101 million barrels of oil per day while supply is subdued. OPEC isn't able to boost production and large American players are not willing to do it anymore. Why bother? Environmentalists want lower production and if this means more free cash flow for shareholders, why invest in production growth?
Moreover, what I like about Sheffield is that he puts his money where his mouth is. Pioneer will NOT hedge its 2022 oil production it revealed last week. This means more downside risk, but its balance sheet is healthy (stay tuned) and if the bull case for oil turns out to be correct, the company is looking at further accelerating free cash flow.
The only companies looking for growth are smaller non-stock listed companies that are not dependent on shareholders looking for free cash flow. These companies can exploit this situation very effectively - if they have access to supplies and quality labor, of course.
While I am writing this, WTI crude oil has made it to $84. I believe the uptrend will continue to $100 this year. I don't rule out an uptrend to $120 in 2023 and elevated prices on a long-term basis. Simply because supply will not bounce back hard enough to satisfy demand. And, given high stock market valuations, a return to "value" investments will benefit oil stocks that have underperformed for more than a decade.
With all of this said, let's look at the reason I'm writing this: Pioneer Natural Resources.
Pioneer = Best Of Breed
When I buy stocks for my dividend growth portfolio, I want companies that I can own for decades. This means that I will own PXD when oil goes down. I will even own it when the next recession crushes oil - assuming that is going to happen.
That's why I look beyond just the quality to benefit from higher oil prices. What I want is a company that lets me sleep well at night - despite operating in a very cyclical (volatile) industry.
Pioneer has a market cap of more than $50 billion. It was founded in 1997 by its current CEO Scott Sheffield and it produces oil and gas in the Permian Basin. The Permian Basin allows producers to produce oil at a relatively low cost. According to the Dallas Federal Reserve, the breakeven price of existing wells is somewhere between $26 and $33 WTI dependent on where the Permian operations are located. The Delaware Basin has a breakeven price of just $26 (located in the Permian). In the third quarter, the company produced roughly 676 thousand BOEPD (barrels of oil equivalent per day). 389 thousand BOEPD came from oil. The other barrels were provided by natural gas liquids and gas.
Pioneer has shifted its focus from production growth to free cash flow generation. The numbers I am about to show you indicate one thing: if oil prices remain high (or rise further) shareholders will benefit in a very big way.
If you were to look up PXD stock info online, you would find a 1.11% dividend yield. That's low and a reason why people ignore PXD. They go for Exxon, Chevron, or high-yield midstream companies. And that's OK. However, PXD is aiming to provide almost all of its payout using extra dividends. The company's base dividend yields 1.11%. Additional cash flow is paid using variable payout.
The beauty of it is that PXD is keeping it rather simple. The company's variable dividend (not total dividends) is roughly 75% of the previous quarter's free cash flow after deducting the base dividend. Free cash flow, in this case, is net income adjusted for non-cash items minus capital expenditures. In other words, the amount of cash after the company has maintained its operations (or invested in growth). Free cash flow can be used for debt reduction, dividends, buybacks, or just to boost the company's cash position.
The table below shows how the company calculated the variable dividend paid on December 14, 2021. 75% of free cash flow minus base dividend. That's $3.58 in dividends per share. Annualized, this gets us to $14.3, which translates to a yield of 6.7% using the current stock price.
Based on current oil prices, the company is on track to deliver an annualized dividend of at least 11%. This would exceed all peers.
The reason why the company is able to distribute high dividends is that it always had conservative financial management. The company has a beautiful, rock-solid balance sheet. As of September 30, 2021, the company has $6.3 billion in net debts and $2.0 billion available under an unsecured credit facility. The company's rates on debt are very low. For example, PXD has $1.0 billion in senior notes due in 2030. The yield on that is just 1.9%. On top of that, $6.3 billion in current net debt is just 0.6x 2022 expected EBITDA of $9.7 billion.
At this pace, the company can be net debt neutral in 2023, which means two things. First of all, the company will have room to pay a very high dividend if oil remains high. Second of all, when oil falls in the future (it's cyclical), the company will have no debt, which means it will continue to have access to cheap funding if needed and it will be able to pay a reasonable dividend thanks to low breakeven production prices.
So yes, if oil falls in the future, investors will see their investment go down in value. But I don't mind it as I see PXD as a tool that pays me very well when oil is high and still a decent dividend when oil is down. I would not have made this decision if the balance sheet was weak.
And, thanks to the company's long-term focus on low-cost production, balance sheet health, and dividend growth (when possible), the company has been a long-term wealth engine, albeit with a lot of volatility. The stock has outperformed the S&P 500, the energy ETF (XLE), and its oil & gas exploration and production (XOP) peers.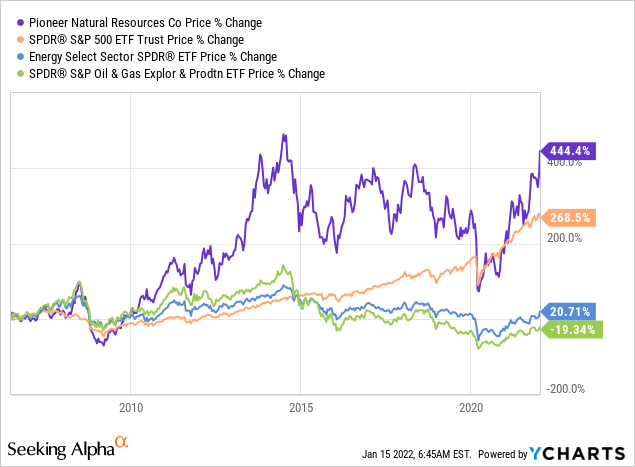 Valuation
I bought both Exxon and Chevron really cheap. Pioneer not so much as I bought above $200. But that's not an issue as I explained. The dividend could be between 10% and 15% this year depending on the price of oil. And, EV/EBITDA (forward) is at 6.0x. That's not deep value, but it's a good price. It did not prevent me from buying a full position - instead of buying in smaller intervals.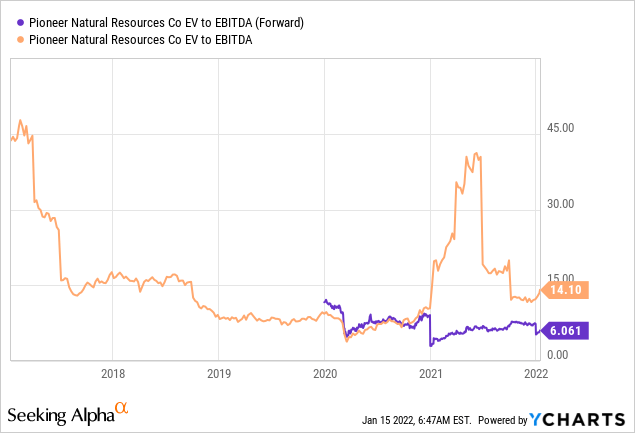 Pioneer has a lot of upside left if oil does rise to $100 - or higher. At that point, people will continue to go from "growth" stocks to value. Pioneer offers superior value in the oil & gas industry for all the reasons mentioned in this article. That's why it added another 14% year-to-date.
Takeaway
I only add companies to my long-term dividend (growth) portfolio that I believe are best-of-breed companies with the ability to generate value both in good and bad market conditions.
Right now, PXD is in a very good spot. The company is able to produce oil at a low cost, it has a very healthy balance sheet, no hedges for 2022, and a CEO that has been with the company since day one. Yet he does not own a position large enough to endanger the stock price if he ever decides to get rid of all of his PXD shares.
This year, the dividend yield could be somewhere between 11% and 15% based on the current stock price if oil prices move between $80 and $100 WTI. That's a terrific payout.
When oil falls in the future, the dividend will be lower. Yet, because the company is likely to be debt-free, it can continue to pay 80% of its free cash flow in dividends. That's a good reason for me to hold it long-term and the main reason why the stock has outperformed the S&P 500 despite very steep sell-offs.
If you decide to join me in buying PXD, please be aware that oil is cyclical. Holding energy stocks is not fun when oil is in a longer-term downtrend. That's where most get annoyed and sell their shares.
If you take that into account, I think you're looking at a wonderful long-term opportunity in an industry that is far from dead.
(Dis)agree? Let me know in the comments!