Bondholders received a real wake-up call this past week. The interest rate on the ten-year U. S. Treasury has drifted up by over 50 basis points over the last 8 trading days. It is the worst bond sell-off since 2006.
If you are wondering how that translates to bond values, let's take a look at some closed-end bond funds. Let's begin with (NYSEARCA:IEF), an exchange traded fund that corresponds to the 7-10 year U. S. Treasury Bond index.
This fund is already down 4.2% since late January of this year. When you consider that the yield was mostly under 2.0% when people were buying it, this is not a pretty picture. Why would anyone be buying these bonds for a current yield of just 2.35%?
Also consider how crowded this trade is! Treasuries were up 32% in 2008 as money rushed into this so-called "safe harbor." The exit from this harbor could get real tight as money continues to flow out of the bond market.
Consider also that over the last five years, bond funds have been taking in money at a 5:1 ratio over stock funds!
Let's next look at a PIMCO corporate bond closed-end fund (NYSE:PCN).
Over the last ten years, the bond market has clobbered the performance of the stock market. This fund has delivered an average annual total return of 10.8% per year over the last ten years, while the S&P 500 has delivered just 1.9% per year.
Even coming out of the 2008 market bottom, bonds have outperformed the stock market. This fund has averaged 42.8% per year over the last three years, while the market has delivered an average of 21.6%.
The last twelve months have been a different story, however. The stock market has taken charge once again and is up 10.2%, while bonds have gone nowhere.
Now let's look at a current chart of :
PCN is down almost 8% over the last 8 trading days. That sure takes a bite out of an annual yield of just over 8%! Now if you are buying individual bonds and holding them to maturity, that is a different story.
It is my observation that most investors are buying bonds through closed-end funds, exchange traded funds, and mutual funds, however. These investors may not even be aware of the precipitous drop in the bond market over the last week or two.
I have my own relative ranking system that ranks over 2,800 different stocks, etf's, and closed-end funds on a daily basis. I focus on the top 200 overall. These top 200 can remain at the top for weeks, months, even years.
Right now, variuous bond investments are ranked very low, and I just can't see having very much exposure to bonds at all right now. Obviously, back in 2008, U. S. Treasuries were at the top of the heap, and putting up positive returns in a brutal equities market.
Here is where a proxy fund for U.S. Treasuries (NYSEARCA:TLT) is ranked overall right now: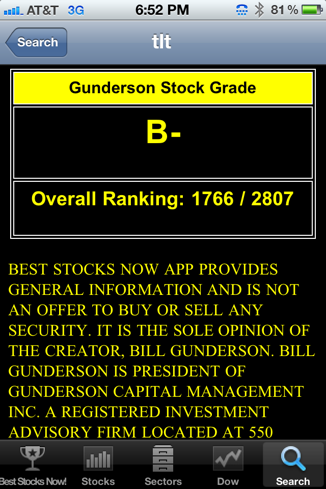 At number 1,766, I can't see why anyone would own U.S. Treasuries right now. I don't care what your asset allocation says, this is not a good environment for bonds.
Conservative Income and Growth investors should be looking at bond alternatives instead right now. Bonds are not the only investments that pay income. I also like a little growth with my income. For that to happen in the bond market, interest rates would have to continue dropping. That is hard for me to imagine right now.
Here are a few examples of some bond alternatives: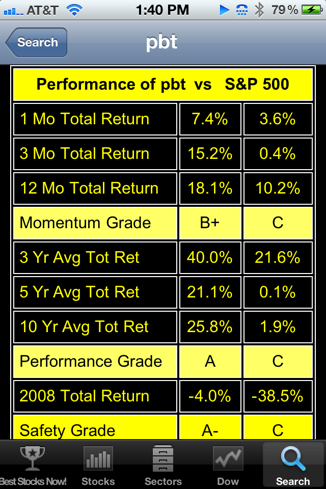 The Permian Basis of Texas is bubbling with oil once again. The Permian Basin Royalty Trust (NYSE:PBT) is currently yielding 8.7% and check out the total returns listed above for the last 1, 3, 5, and 10 years. Also notice how well held up in the year 2008.
Permian Basin Trust is currently ranked number #34 overall in my ranking system.
Admin Fondos Pension Adr (NYSE:PVD) may be hard to pronounce, but it sure has racked up the returns for investors over the years. It currently sports a yield of 7% and check out the total returns over the years.
is currently ranked at number #49 overall.
Here is one more example: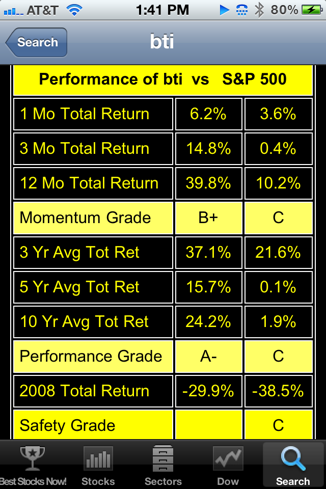 British Tobacco (NYSEMKT:BTI) currently offers yield of 3.9% and it has turned in some terrific overall performance for investors over the years! Who would not be happy with an average annual total return of 25.8% per year over the last ten years?
I realize that investing is all about the future and not the past. That is why value is a big part of my overall grading and ranking system. I have a five year target price of $165 on , which still gives it considerable upside potential along with its dividend.
The stock is currently ranked at number 102 overall. I could use a lot more examples, but the bottom-line is this. Why stay the course in an asset class that has more than likely entered into a long-term bear market?