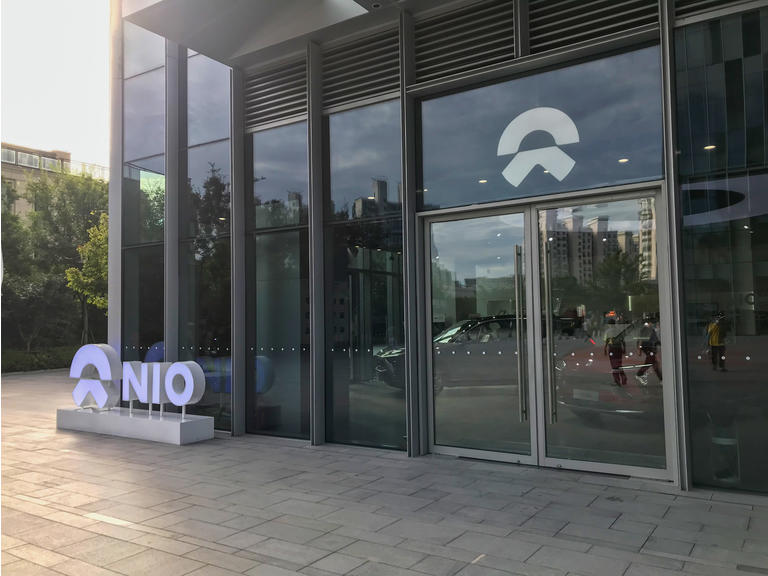 Since the 1990s, China's rapid economic development has depended fundamentally upon the symbiotic ties between China's private sector and local government , underwritten by an annual flood of foreign direct investment (FDI) that projects to exceed $157 billion in 2021. For much of the period, local governments lowered taxes rates, going so far as to give land away, in hopes of landing internet start-ups in their jurisdictions. Deng Xiaoping's Open Door Policy was tantalizingly simple: enrichez-vous—a startling premise for an avowed socialist country. More than 130,000 private companies sprung forth joint ventures with state owned companies through the end of 2019, up from 45,000 at the turn of the century. Western investors have ridden shotgun over every bump along the way in chase of that once-in-a-lifetime foothold at the ground floor of a Chinese market headed toward the heavens. Then suddenly, the goalposts were uprooted.
Common Prosperity With a Retrospective Socialist Twist
Fast forward a number of years. Xi Jinping becomes general secretary of the Chinese Communist Party (CCP) at the 18th party congress in November 2012. Reelected for a second five-term at the 19th party congress five years later, Xi's political dexterity managed to remove the Deng Xiaoping-inspired presidential term limit in 2018. He also worked hard to consolidate his position among the red aristocracy of the CCP. Without a known rival for the top party position, President Xi is now poised to walk away with a third five-year term at the 20th Party Congress in November 2022—and quite possibly a lifetime appointment thereafter.
The market impact on US shareholders of Chinese stocks appears singular. Under President Xi's common prosperity, AKA unbridled laissez-faire market expansion, appears destined for the proverbial dustbins of history. Gone is the so-called 996 work schedule of 9 AM to 9 PM six days a week that defined the hourly Chinese technology space. Now wages and benefits are on the rise. Data-rich technology companies are being forced to delist from offshore exchanges and forego lucrative foreign capital infusions. While Beijing has tightened overseas listing rules, the SEC under the Hold Foreign Companies Accountable Act (HFCAA) (2020) appears destined to accelerate the delisting of foreign firms not cooperating with the SEC's Public Company Accounting Oversight Board (PCAOB). Since 2002, two foreign jurisdictions have steadfastly refused to cooperate with the PCAOB audit requirements - China and Hong Kong. With its final rules in place as of December 2020, the three-year SEC clock is now ticking. Many China's largest US listings have already secured special homecoming listings in Hong Kong. Since July, Chinese tech giants and rock-star entrepreneurs continue to fall over themselves in pledging outsized donations to charity and pledging their loyalty to the Xi regime. Some have resigned under scorching heat of increased government scrutiny. Local governments have swallowed the same religion, implementing ideological calisthenics and forgetting about cutting taxes and gifting land to internet start-ups. CCP ideologues are now in hot demand on Chinese technology boards as governance is rediscovering more socialist development strictures. Losing public money has taken a clear back seat to outward ideological conformity. Luxury brands have been forced to publicly apologize for offending Chinese culture. Educational companies such as New Oriental lost billions in market value while furloughing an estimated 60,000 workers to Beijing's regulatory turn against profit making in the educational tutoring space. Last month, Alvin Chau, chairman of Suncity Group, was arrested in Macau along with 10 other suspects over alleged cross-border gambling offences. Many of China's online shipping celebrities, some with 13 million online fans, have vanished from online platforms costing sponsoring companies billions in lost sales revenue. China's ban on cryptocurrency mining has seen upwards of 2 million machines moved to more friendly environs such as Canada, Kazakhstan and Russia. Even state-owned Cinda Asset Management recently pulled out of buying a 20% stake in Chongqing Ant Group's lending arm, controlled by Jack Ma. The pullout exudes the political toxicity, even at the state level, to the private sector now thwarting yet another attempt at restructuring Ant's online lending and bringing the group into compliance with augmented government banking rules. Cinda will be difficult to replace as the updated regulatory threshold defining qualified investors is now quite high.
Meanwhile, Beijing has come down hard on the Chinese technology and service sectors garnering outsized foreign capital. The government continues to send strong market signals in support of manufacturing, now just over 26% of China's annualized GDP through the end of 2020. The percentage fastly exceeds the 16.5% global average over the same period. Rising wages in Chinese manufacturing and a conscious effort by supply chains and end users to diversify raw material and good sourcing away from China will likely bring Chinese manufacturing as a percent of total GDP more in line with US (11.1%), the UK (8.7%), or Germany, an advanced economy outlier at 18.7%. moving forward. At same time, the government continues to downplay the services and software spaces where common prosperity initiatives now concentrate. Interestingly, about 80% of FDI coming into China in the first 10 months of 2021 went to service enterprises while high technology FDI rose 28%, while manufacturing FDI receipts were largely tepid. China's percentage of FDI flows is poised to slow as the true breadth of common prosperity wafts through the economy moving forward.
Since July, Beijing has nixed nearly all offshore listings by data infused Chinese issues. Those that have already listed are more than likely to be forced to relist on Chinese mainland exchanges or in Hong Kong. June marked DiDi Chuxing (DIDI) ill-fated IPO on the NASDAQ, the reversal of which could cost US shareholders tens of billions of dollars. Unsurprisingly, Didi's peak and slide (orange line, Figure 1, below) in July marks almost carbon copy market slides by Tencent (cyan line), Alibaba (BABA) (brown line), as well as NIO (NYSE:NIO) (red/green line), all now wallowing in serious bear territory from 2021 highs with little relief in the foreseeable future. It is worth remembering, common prosperity with a decided socialist twist has taken root only in the past few months. The full impact of the initiative on China growth metrics is still in the future.
NIO's US Lament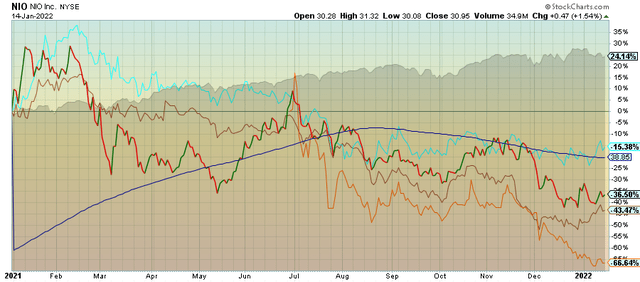 For US listing purposes, NIO works out of a shell company incorporated in the Cayman Islands, operating under the murky Chinese legal structure known as a variable interest entity (VIE). So does Alibaba and Tencent, not to mention Didi Chuxing, the latter providing July's cyclonic skirr of US-listed Chinese issues (see Figure 1, above). Through the end of May 2021, about 248 Chinese companies are listed on US exchanges for a market value in excess of $2 trillion. VIEs neither convey ownership nor voting rights for foreign investors, falling well short of western notions even minimal corporate governance. Worse, VIEs have never been endorsed by Beijing regulators. Now, with the Didi delisting pending and the SEC, heightened political risk is now on glaring display as Beijing's common prosperity agenda unleashes a kaleidoscope of seemingly random governmental initiatives and market interventions. Big data has now become a strategic resource.
Beginning in 2021, if the PACOB determines the companies' audit reports, all prepared by Chinese-based auditors, are out of compliance with HFCAA, the SEC now has the legal power to prohibit the trading of impacted ADR shares on all US exchanges and begin the delisting process as early as January 2024. Barring some unforeseen future breakthrough on governance issues with the SEC, NIO's shares appear poised to delist as early as January 2024.
Back in China
Arguably, NIO's market position in China is as bright as it is foreboding here in the US—at least for the moment. NIO delivered 43,728 ES8, ES6, and EC6 through the end of 2020. By the 3rd quarter, the company had delivered 66,395, with the 3rd quarter total of 24,439, putting up a whopping growth measure of 100.2% YOY. With the 4th quarter estimate projecting another 23,500 to 25,500 delivered cars, NIO's sales growth has an upside potential of from 105% to 110% over 2020 delivery levels. Third quarter gross vehicle margin came to 18% exclusive of the sale of regulatory credits, which pushed overall sale margins to just north of 23% through the end of the 3rd quarter. Daimler also logged a 23% while Toyota came in at 21% and Hyundai posted a 19% margin through the end of the 2nd quarter. Tesla came in at a record setting 30%, with 3.2% being regulatory credit sales through the end of the 3rd quarter. The average costs of producing Models 3 and Y in China have decreased significantly due to the lower material, manufacturing, procurement, freight and duty costs, not to mention beneficial tax rates of 15% on both the Shanghai and gigafactory manufacturing facilities. With the ET7 and ET5 being released this year and the joint venture with state-owned Jianghuai Automobile Group (JAC), NIO is expanding its product line, its manufacturing capability and well as its sales network in China and now Norway, the world's second biggest market for EVs and hybrid cars by sales. The JAC arrangement was first inked in May of 2016 and was to run through the end of 2021. That contract has been renewed for another three years through May 2024. JAC will be manufacturing the ES8, the ES6, the EC6, ET7 any likely any other NIO product that materializes in the company's forward pipeline.
Importantly, the company continues to attract a growing array of state sponsors while incorporating crucial state financial support into its growth equation. JAC owns a 51% share in the NIO-JAC venture. In Heifei province, NIO is constructing a manufacturing facility in conjunction with the Heifei municipal government, with production slated to begin in the 3rd quarter. And most recently, NIO formed a strategic partnership with state-owned Baoshan Iron & Steel. The two companies will work jointly on new product lines, material and zero carbon applications, technology innovation as well as rationalizing existing and future supply chains links. NIO is also in an alliance with China Petroleum & Chemical in rolling out battery swapping and charging infrastructure throughout China. Forward vehicular sales growth should grow north of 42% CAGR in 2022. Further, the company could turn profitable by the close of 2022 or shortly thereafter.
A Premium Brand in a Socialist Land
Curiously, NIO occupies a solid, high-end placing in the Chinese market as a premium brand where electric and hybrid cars are currently occupy a world-leading 15% of the overall passenger sales market through the end of last year. Through the end of 2020, China's per capita household income stood at $10,143. Since 2010, China has made great strides in bringing down the country's poverty rate. The country's Gini coefficient has been falling from a high of 43.7 in 2010 to 38.5 through the end of 2020. Yet in a country where per capita income hovers around $10,000, NIO's MSRP for the full-size ES8 SUV came to Rmb468K or $73,721 at current exchange rates. NIO's ES6, a mid-size SUV came to Rmb358K or $56,393. The EC6 coupe SUV sold for Rmb368,000 or $57,969, while the ET7 sedan is slated to sell for Rmb448K or $70,571. All of these MSRPs range from five to seven times China's per capita income through the end of 2020. The contradiction is as glaring as it is specious. As President Xi's common prosperity blankets the broader Chinese economy, the rich, famous and powerful are all politically vulnerable to disgrace, disappearance—or worse. Yet it is precisely to these personae non gratae that both common prosperity and NIO, supported by copious levels of state financial inputs and beneficial tax rates, target--for very different reasons. Outside of China's well-entrenched red aristocracy, it is an open question as to just how sustainable such a dichotomy will be as President Xi unplugs Deng Xaoping's open door policy moving forward.
NIO's premium branding further sets it apart from more down-market Chinese car companies like XPeng (XPEV), Li Auto (LI) and BYD (OTCPK:BYDDY). NIO's closest competition comes not from Chinese EV/hybrid car manufacturers, but from US-based Tesla in both quality as well as performance. In this realm, aerodynamics, performance, design and gaining a sustaining foothold at the high end of the market is all the buzz. The yet-to-be-released ET7 has a drag coefficient of 0.208, which equals that of Tesla's Model S, exceeding that of Tesla's Model 3 at 0.23. Lucid's (LCID) Air posts a drag coefficient of 0.21. Acceleration to 100km/hr has the ES8 clocking in at 4.9 seconds, followed by the ES6 at 4.7 seconds. The EC6 betters both at 4.5 seconds while the yet-to-be released ET7 clocks in at 3.9 seconds. Tesla Model S Plaid was independently rated at 2.1 seconds, while the Model 3 is 4.6 seconds. Tesla's yet-to-be released Roadster claims 1.9 seconds. NIO still has some manufacturing wizardry to do but clearly is going down the right performance path.
It's all about Range
NIO has now deployed 608 battery swap facilities in 153 Chinese cities, completing an estimated 4.74 million battery swaps since the introduction of the ES8 in 2018. It is a unique, and world-class technology that clearly differentiates the NIO brand in the Chinese marketplace, perhaps beyond someday. The company markets the swap through its monthly fee program, battery as a service (BaaS), first launched in 2020. The company's first Power Swap station launched in April 2021, now with over 700 stations in operation through the end of 2021. BaaS effectively decouples the cost of the battery from the purchase of the vehicle, a clear market advantage in the EV space. Through the end of the 2nd quarter 2021, just about half of NIO orders opted for BaaS. In addition, NIO has built over 460 super charging stations and 3,155 destination, or level 2, charging stations across China through the end of September. NIO's swap stations have just started operation in Norway after setting up its first showroom, or NIO House, in September. The company has plans to enter five European markets in 2022.
Nota Bene
NIO has done a good job in soliciting broad governmental support and financial incentives to sustain its home based operations into the foreseeable future. Interestingly, the JAC alliance carries a three-year, presumably renewable, tenure. The alliance structures with state entities such as Baoshan and Sinopec most likely also carry term, but renewable, limits. Nio has no guarantee to future renewals from these alliance structures. Further, these arrangements could end at any time for whatever reason—the sine qua non of political risk. President Xi's common prosperity will take time to seep into the bureaucratic mindset across the vast Chinese landscape, and take even longer in terms of policy implementation and enforcement. Still, as noted, the speed in which policy has already been implemented and enforced to date has been nothing short of stunning. NIO's high-end positioning and the gist of common prosperity has all the potential to undermine NIO as an ongoing concern moving forward. How this policy conflict works out moving forward falls into the realms of pure speculation. US markets are clearly demanding steep discounts on Chinese shares--across the board.
With the door to the vast US car market fast closing due to regulatory issues beyond company's control, Europe's large and well-heeled car consuming market appears to be a ripe alternative. Using Norway, the second largest global EV market, as an entrepôt, NIO hopes to expand its presence not only in the Norwegian market, but into five unspecified European countries in 2022. Logistically, the task is enormous and it will happen, if at all, without the long arms of Chinese state-owned entities support on the ground. For a company used to tapping state resources for its expansion needs, the logistics of foreign expansion appears daunting.
That said, the question of big data remains a sensitive topic for Chinese regulators. Expansion into Norway and beyond means NIO's collection of vast quantities of data in the operation of its autonomous driving capabilities should, like Didi Chuxing before it, push NIO into regulatory purgatory. Clearly, these issues have not been worked out by Chinese regulators at this writing. NIO might well be getting ahead of its Chinese sponsors and regulatory arms. If so, NIO's European initiative might not work out as currently planned. Stay tuned.