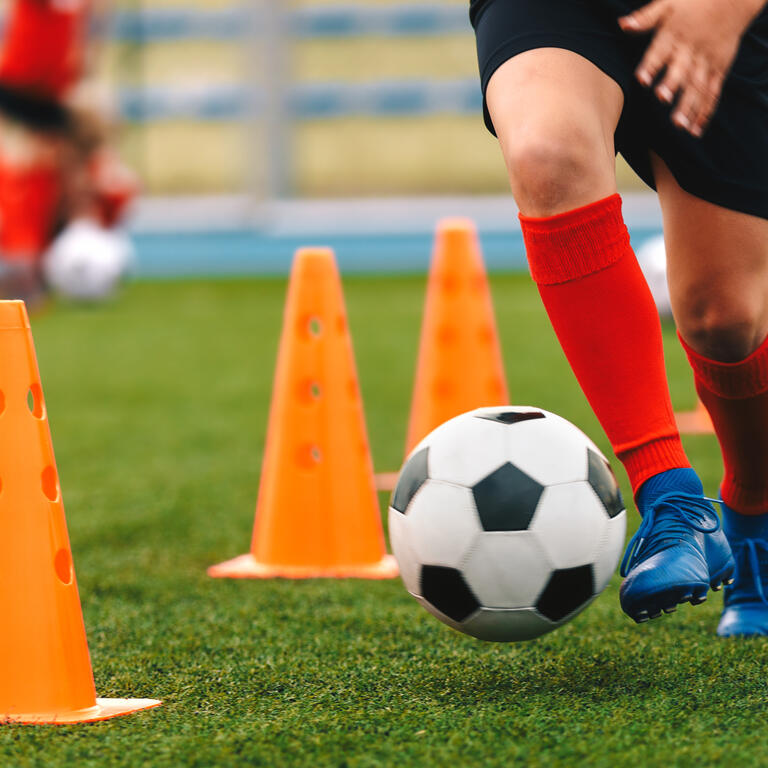 A Quick Take On Academy Sports and Outdoors
Academy Sports and Outdoors (NASDAQ:ASO) went public in October 2020, raising approximately $203 million in gross proceeds in an IPO that priced at $13.00 per share.
The firm sells outdoor and sporting goods via its network of retail stores and online e-commerce properties.
ASO is exposed to the negative effects of inflation, so if it persists, the stock could move lower.
For the near term and until we get more data on the trajectory of U.S. inflation, my outlook on ASO is Neutral.
Company
Katy, Texas-based Academy was founded in 1938 as a family business to sell outdoors goods and sporting products to consumers in the U.S.
Management is headed by President, CEO and Chairman Ken Hicks, who has been with the firm since May 2017 and was previously President and CEO of Foot Locker (FL) and has held senior roles in several consumer goods retailers.
ASO has over 260 stores in 16 contiguous states in the Southern region of the U.S.
Its retail locations range from 40,000 to 130,000 square feet in size, with an average size of 70,000 square feet. Stores are not located in malls.
Notably, the firm's stores remained open during the Covid-19 pandemic.
Academy also operates three distribution centers and also sells online via its e-commerce platform, which contributed 11% of the company's sales in the first half of 2020.
The company markets its stores via offline and online media as well as local events specific to each area, including supporting local sports teams, programs, and civic organizations.
The firm also has invested in its e-commerce capabilities as part of an omnichannel approach.
ASO's Market & Competition
According to a 2016 market research report by Grand View Research, the global sports equipment market was an estimated $66 billion in 2016.
The market is expected to grow at a CAGR of 3.5% from 2017 to 2025.
The main drivers for this expected growth are rising awareness of the health benefits from consistent physical activity and improvements in sports equipment materials and technologies.
Also, below is a chart showing the historical and future forecast growth trajectories of various subcategories in the North American sports equipment market:
Major competitive or other industry participants include:
Walmart (WMT)

Target (TGT)

DICK'S Sporting Goods (DKS)

Camping World (CWH)

Bass Pro Shops

Big 5 Sporting Goods (BGFV) (Slight geo overlap)

Numerous smaller retailers

Online retailers

Manufacturer direct sellers
ASO's Recent Financial Performance
Top line revenue by quarter has grown markedly since the firm's IPO: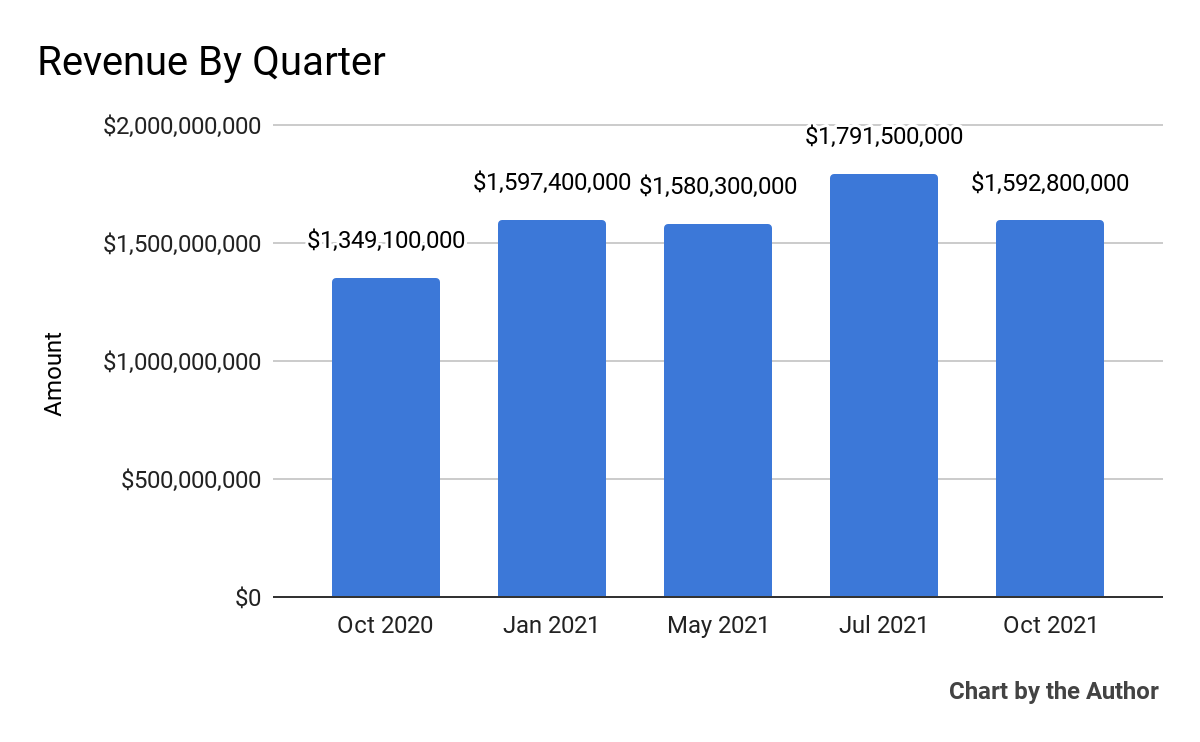 Gross profit by quarter has followed a similar trajectory as top line revenue: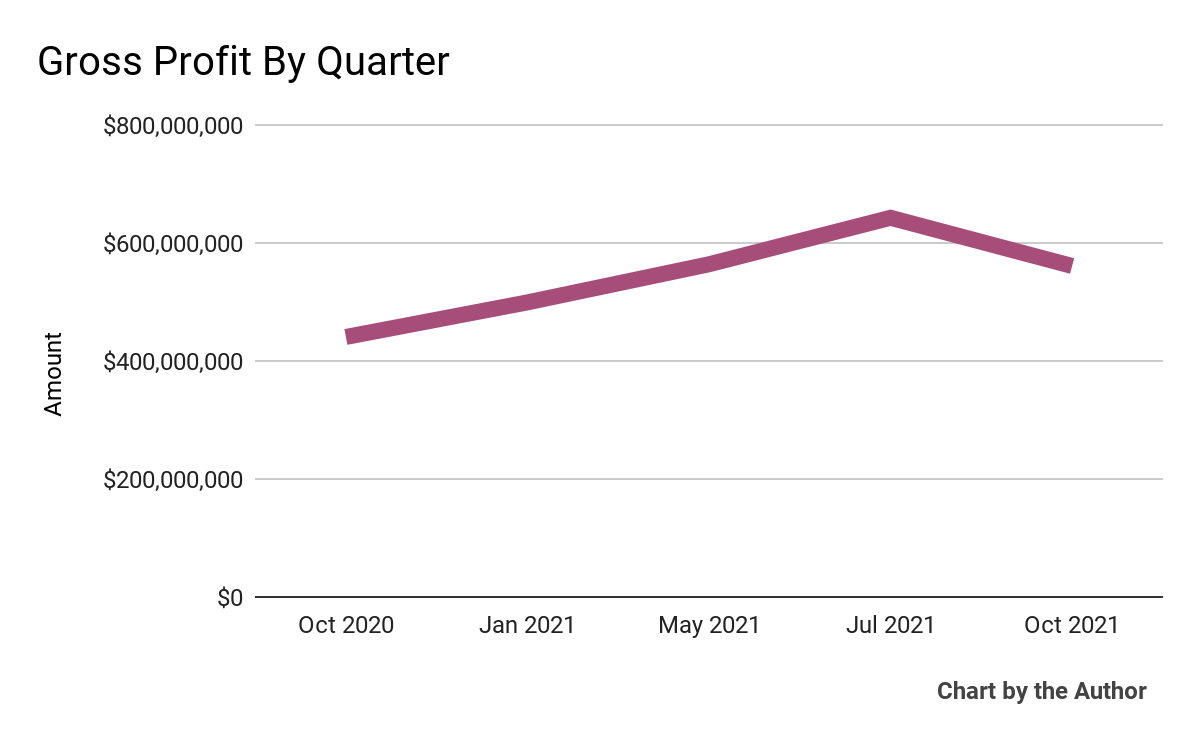 Operating income by quarter has also grown substantially: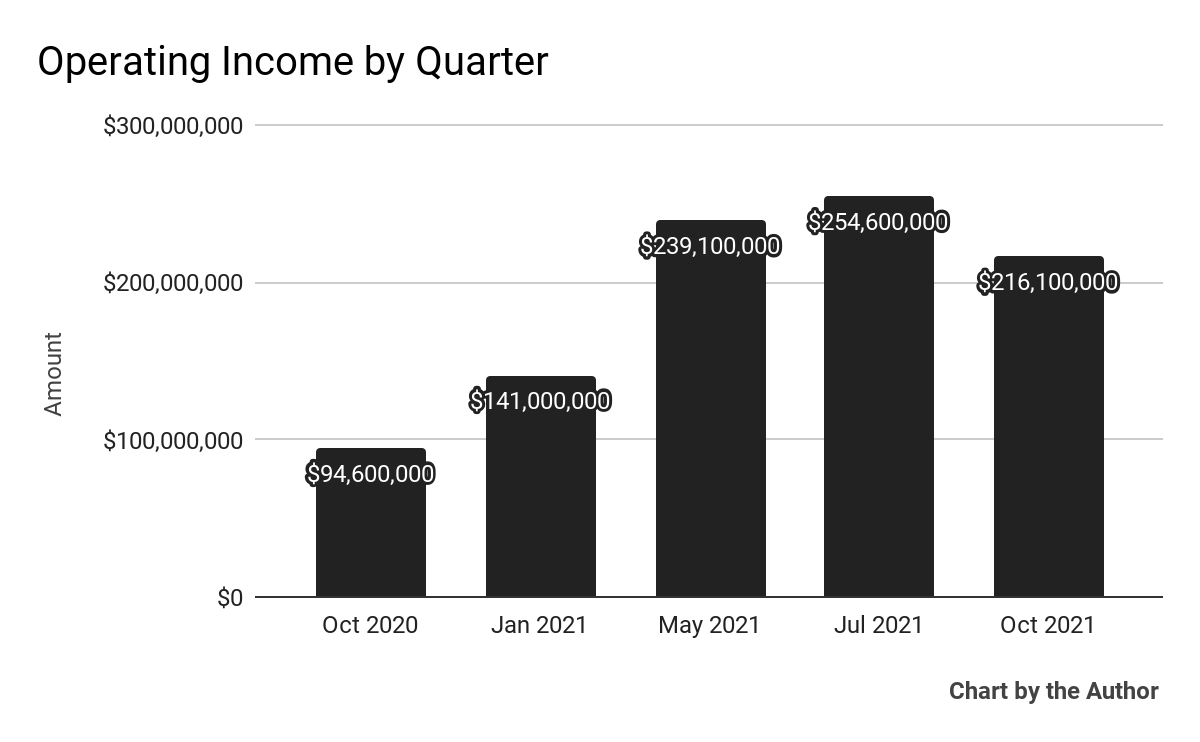 Earnings per share (diluted) have increased significantly over the past five quarters: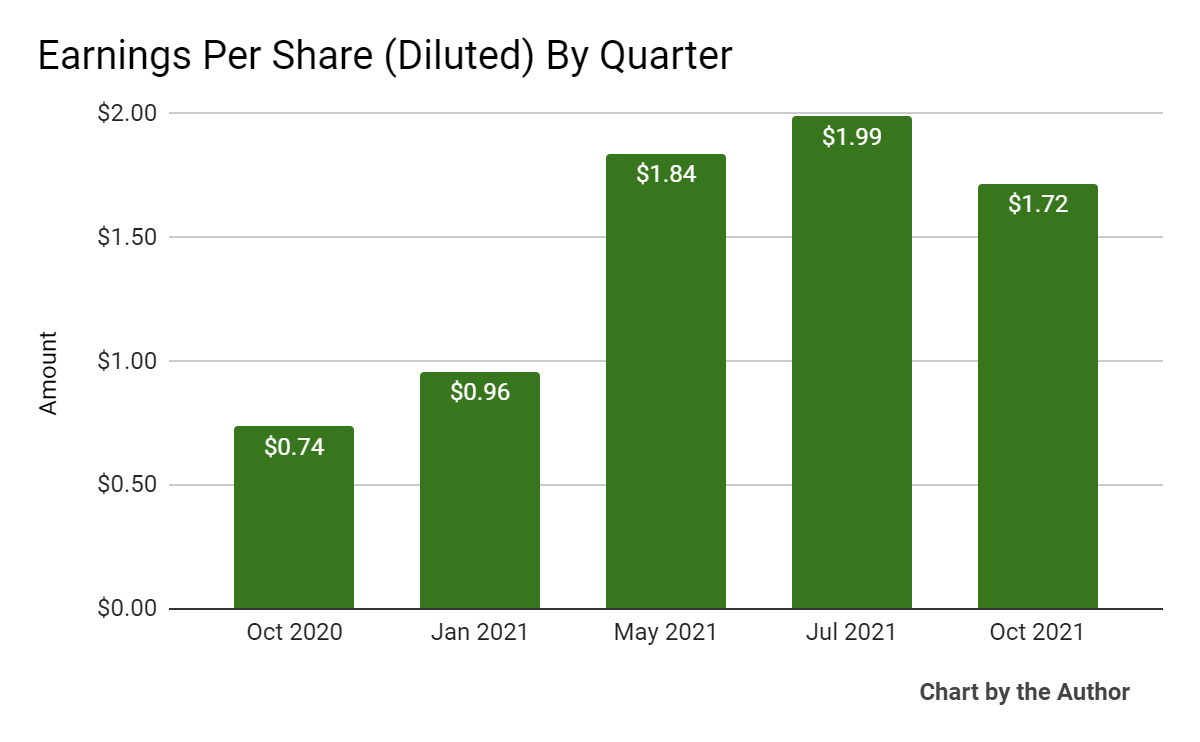 (Source data for above GAAP financial charts)
In the past 12 months, ASO's stock price has risen 70.2 percent vs. the U.S. S&P 500 index' rise of 23.8 percent, as the chart below indicates:
Valuation Metrics For ASO
Below is a table of relevant capitalization and valuation figures for the company:
| | |
| --- | --- |
| Measure | Amount |
| Market Capitalization | $3,400,000,000 |
| Enterprise Value | $4,860,000,000 |
| Price / Sales | 0.54 |
| Enterprise Value / Sales | 0.74 |
| Enterprise Value / EBITDA | 5.09 |
| Free Cash Flow [TTM] | $393,250,000 |
| Revenue Growth Rate [TTM] | 20.13% |
| Earnings Per Share | $6.51 |
(Source)
As a reference, a relevant public comparable to ASO would be DICK'S Sporting Goods; shown below is a comparison of their primary valuation metrics:
| | | | |
| --- | --- | --- | --- |
| Metric | DICK'S Sporting Goods (DKS) | Academy Sports (ASO) | Variance |
| Price / Sales | 0.78 | 0.54 | -30.8% |
| Enterprise Value / Sales | 0.94 | 0.74 | -21.3% |
| Enterprise Value / EBITDA | 5.08 | 5.09 | 0.2% |
| Free Cash Flow [TTM] | $1,210,000,000 | $393,250,000 | -67.5% |
| Revenue Growth Rate | 33.1% | 20.1% | -39.1% |
(Source)
Commentary On ASO
In its last earnings call, covering Q3 2021's results, management highlighted sales growth despite supply chain constraints and transportation slowdowns.
Notably, the firm is seeing increasing customer shopping frequency across more categories and spending more on each trip into the store.
Also, ASO is continuing to invest in its omnichannel approach and as a result, e-commerce revenues have grown 25.9% year-over-year, outpacing retail store growth substantially.
CEO Ken Hicks also said that through the end of Q3, ASO had 'repurchased and retired 8.9 million shares to approximately $350 million.'
As to its financial results, net sales grew by 18.1% year-over-year and SG&A expenses dropped as a percentage of sales.
The company ended Q3 with more than enough liquidity between cash and available credit facility capacity.
Looking ahead, management felt that the company was well-positioned with ample inventory for a robust Q4 holiday season and raised its full-year sales and earnings guidance accordingly.
Regarding valuation, compared to partial competitor DICK'S Sporting Goods, ASO is trading at a discount for major revenue metrics but equal to DKS for its EV/EBITDA multiple.
Significantly, revenue growth has been lower than that of DKS', so a lower multiple in that regard appears reasonable.
The primary risk to the company's outlook is the continued impact of inflation and labor shortages impacting costs and customer experiences in stores.
So far, the impact of inflation has been minimal, but if it continues at relatively high levels, then watch out as consumers vote with their pocket books and spend less.
Recently, ASO stock is down 20% from its mid-November 2021 high of $50.00 to its current level of around $38.50.
With current inflation running at an annual rate of 7%, the jury is out on the impact of this environment on its sales and profitability six months from now.
Given that uncertain environment, my outlook on ASO for the near term is Neutral until we get more inflation data.