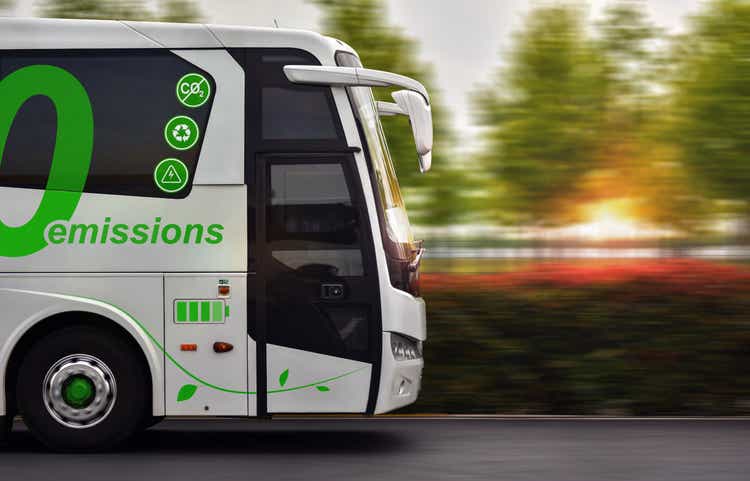 Investment Thesis
Ideanomics (NASDAQ:IDEX) is made up of five companies that generate revenues from the full electric car ecosystem - from the vehicle and battery sales to financing, leasing, and insurance, as well as charging and energy services. The electric vehicle market is growing rapidly, and the company is receiving increasing number of orders from its partners, which creates a positive outlook for the company in the long term.
An Overview
Ideanomics was founded in the year 2004 and is headquartered in New York. The company operates in two divisions: Mobility and Capital. The Mobility division supports the adoption of electric vehicles by commercial fleet operators. The division offers services such as vehicle procurement, finance and leasing, and energy management solutions to commercial fleet operators. Ideanomics Capital provides fintech solutions for the financial services industry.
Notably, Ideanomics has changed its business several times in the past to something completely different. Till 2017, Ideanomics was providing video-on-demand services. It closed this business in 2019. In 2017, it started trading of petroleum products and electronic components. It disposed-off this business also in 2019. In short, the company's management doesn't have a deep expertise in its current EV business.
Products Overview
In the Mobility segment, the company supports commercial fleets operators to electrify their fleets. It assists from vehicle procurement, charging infrastructure, to energy management.
The company provides electrification solutions which include fleet inventory benchmarking, estimation, and TCO (total cost of ownership) forecasting. It helps operators to understand various charging technologies and help in choosing the best infrastructure.
The company closely monitors developments in EV availability and provides or procures vehicles that meet the operational needs of the operators. The vehicle categories include scooters & motorcycles, trucks and vans, agricultural tractors, drayage and tractors, yard trucks / off-road terminal tractors, and buses and coaches.
The company also provides charging infrastructure solutions, which include solar and storage solutions.
The second segment, Capital, leverages technology and innovation to improve efficiency, transparency, and profitability for the financial services industry. It also offers Charging-as-a-Service for all deployments where consumers can pay by the month or by the e-mile.
Industry Factors
Federal and provincial regulations relating to clean air and government's incentives to assist owners of commercial fleets in converting from combustion engines to EVs are the important drivers for the development of the electric commercial fleet market.
Further, the rate of electrification of commercial fleet is dependent on advances in battery and charging systems; deployment of charging infrastructure; and the development of new financing and lending structures that address the different collateral and resale values of battery vehicles versus ICE vehicles.
Competitive Advantages and Close Collaborations
Ideanomics offers services to commercial EV fleet operators as an end-to-end solution provider for purchasing, financing, charging, and energy solutions. Ideanomics Mobility's core focus is on commercial EVs and not personal passenger EVs, as the commercial EV adoption is expected to be faster than consumer EV adoption, which is estimated to take ten to fifteen years.
Ideanomics owns the following companies:
Medici Motor Works is one of Ideanomics' companies. It sells its own cars in the United States, Latin America, and Europe. It is currently developing trucks, buses, and closed-area vehicles for mining, airports, and seaports in collaboration with Chinese manufacturers.
Treeletrik, is another company it owns. It sells electric bicycles, scooters, and batteries throughout Southeast Asia. Treeletrik EV bikes are imported into the U.S. by Ideanomics.
Ideanomics fully owns Solectrac, which creates, assembles, and sells battery-powered electric tractors.
Ideanomics completely owns WAVE. WAVE provides wireless charging solutions for medium and heavy-duty electric vehicles.
The company owns 70% of Energica, an Italian manufacturer of electric motorcycles that has also developed proprietary EV batteries and DC fast-charging applications.
It purchased 100% of US Hybrid, a company that specializes in the designing and manufacturing of components for medium and heavy-duty municipal vehicles, commercial trucks, buses, and specialty vehicles all over the world.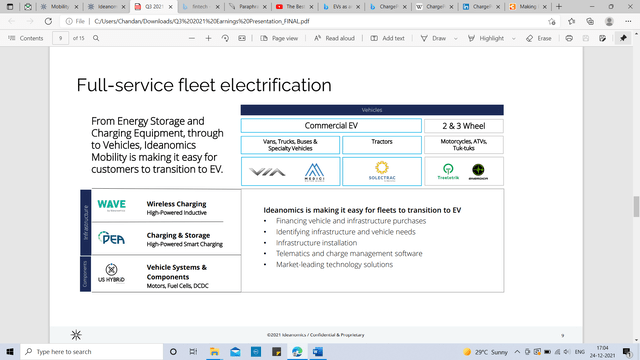 The integration of VIA Motors and Energica equips Ideanomics with full OEM capabilities across vehicle class, positioning Ideanomics as one of the only full-service, turnkey, offerings in the market.
Recent Developments
In November 2021, Ideanomics launched a new JUSTLY markets platform for ESG-based investing and fundraising for the financial services industry.
The company's subsidiary WAVE received a purchase order for 28 additional wireless charging systems from Antelope Valley Transit Authority in September 2021.
In November 2021, Energica Motors expanded its network to 20 dealers from its existing size of 14 dealers in the U.S. It is also expecting to double its dealer network by 2022. Ideanomics is in the process of increasing its ownership stake to approximately 70% from its existing 20% in Energica.
Growth Prospects
To support its operations, Ideanomics recently signed a lease for a 48,000 square foot facility in New Jersey that will promote education and advocacy of electric and hydrogen-powered vehicles to commercial fleet operators. The facility, which the company is expecting to open in 2022, will showcase the Company's Mobility products and services for the U.S. East Coast.
The company's subsidiary WAVE collaborated with the U.S. Department of Energy in September 2021 to develop a 1-megawatt wireless charging system for Class 8 electric trucks for DOE's electrified powertrain project. The chargers are planned for each end of a 400-mile delivery route between Portland and Seattle. The installation is expected to complete in the first half of 2022.
In November 2021, WAVE received an order of $280k from Antelope Valley Transit Authority for a depo charger.
WAVE has made substantial progress for the completion of final testing of 125kW and 500kW wireless charging systems, which will broaden WAVE's market reach to include additional applications.
Ideanomics China delivered 652 vehicles and entered into agreements to secure first access to thousands of new electric vehicles, despite a large order backlog due to supply chain constraints.
The company's subsidiary, US Hybrid, received $5.5 million purchase order from Global Environmental Products in December 2021 for battery powertrain kits for electric street sweepers, whose delivery is expected in 2022.
All the above developments are positive for Ideanomics' growth in the near term.
Financial Performance
Revenue for Q3 2021 was $27 million, an increase of $16.4 million when compared to the previous year quarter. The increase was primarily the result of the company's acquisition of Timios, which generated $15.5 million in revenue for Q3 2021.
Net loss for Q3 2021 was $51.54 million compared to a loss of $11.99 million in Q3 2020. Ideanomics reported accumulated losses of $411.4 million as of September 30, 2021. The company reported liquidity of $256.9 million as of September 30, 2021.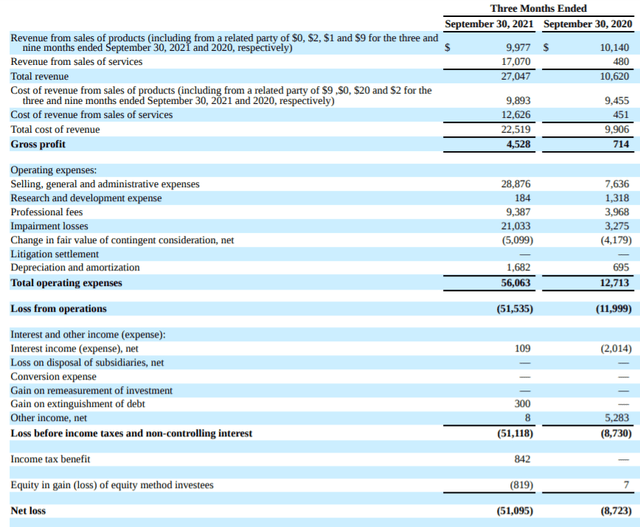 Notably, Ideanomics has managed to grow its revenue in the EV business that it is into since late 2019.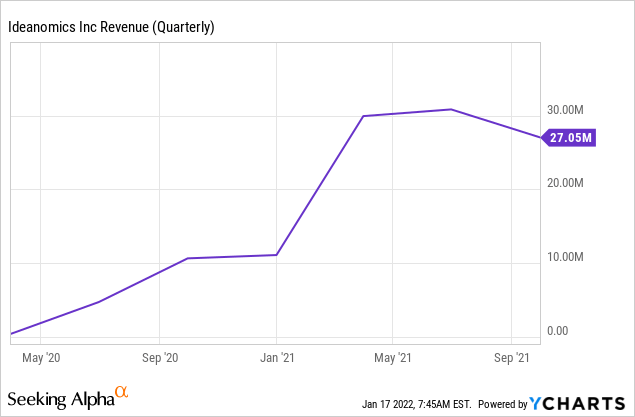 Risks
Ideanomics has a history of switching its businesses. The company's founder, Shane McMahon, does not have an experience in the EV sector.
Ideanomics has been diluting its shareholders by issuing equity at a very high rate.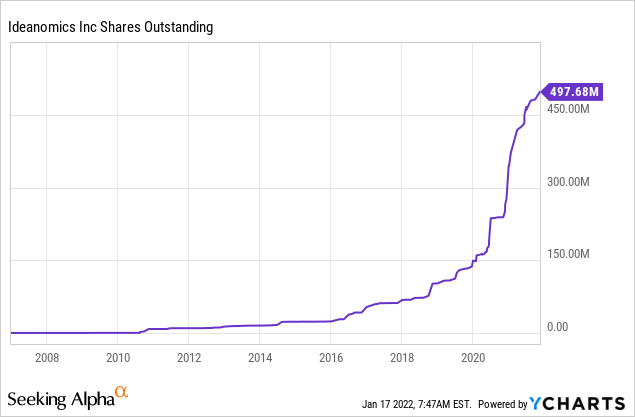 That could continue until the company becomes profitable.
The company's business is dependent on fleet operators switching to EVs. Regulations relating to clean air and incentives to assist owners of commercial fleets in converting from ICEs to EVs are the most important drivers for the development of commercial EV fleet market. If government agencies change regulations, or incentives, the rate at which fleet operators convert their vehicles to EVs may slow, resulting in lower revenues for the company.
The company's EV business operates in the market for fleet commercial vehicles, which is still in its early stages of development. Other companies that develop and operate a similar integrated platform for the procurement, purchase, financing, charging, and energy management needs of fleet EV operators may compete with the company.
Ideanomics' technology, products, and services may contain errors or defects because they are complex and use a variety of computer hardware, software, and databases, both developed in-house and acquired from third-party vendors. These errors and defects may cause unanticipated downtime or failure, resulting in financial loss and harm to the reputation and business.
Seeking Alpha's proprietary quant ratings rate Ideanomics stock as "bearish." The stock has got low ratings on profitability, momentum, and revision factors. As discussed above, the company isn't profitable, but that may change over time. Again, the stock has fallen significantly in the last one year, attracting an "F" rating on momentum. That could change as the company grows. The stock has got positive rating on valuation and growth factors.
Conclusion
Ideanomics' offerings are in the rapidly growing EV sector. Federal and provincial regulations relating to zero emissions are influencing fleet operators to switch to EVs, which could accelerate the company's growth. Ideanomics is positioned for long-term growth as it is planning to expand its networks by 2022 and is also receiving increased orders which should translate into profits. However, it is still an unproven company and the stock entails significant risks.