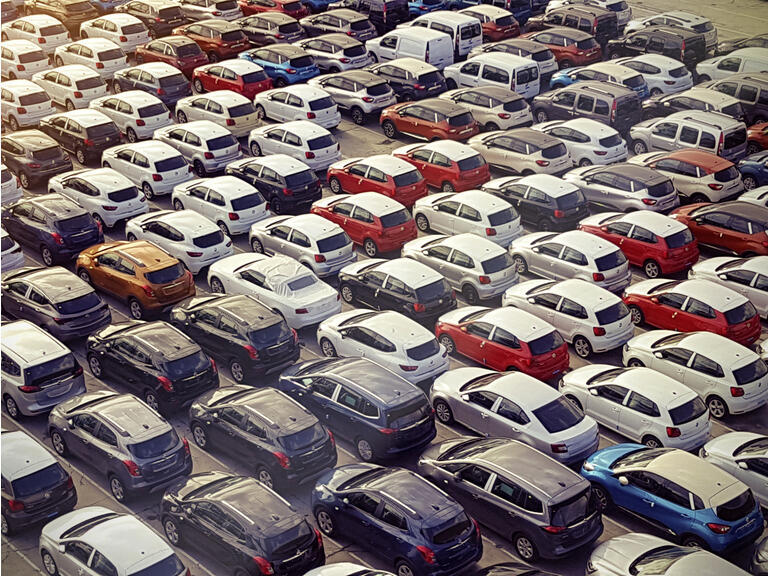 In my view, there has never been a better time to put emphasis on value. Over the past few months, investors have shed tech stocks at a faster pace than since the last Great Recession. The major threat here is interest rates, of course: when the Fed under Jerome Powell signaled that it would raise rates at a faster pace than the market had previously anticipated, high-valued growth stocks were put under the microscope and could no longer maintain their valuations.
CarGurus (NASDAQ:CARG), then, stands in nice contrast to some of its higher-flying peers. This internet platform may not be entirely sexy as a used-car platform that dealerships use as a primary source of advertising, and it's had its fair share of troubles: during the pandemic, when many dealerships shuttered their businesses, CarGurus took heavy hits on revenue and shared in the pain with its dealerships and a bid to help them survive. But now that car sales are hot again and that CarGurus is back in growth mode, the power is back in CarGurus' court.
The recent dip in CarGurus' stock, down roughly 10% since the start of January (corresponding with the fall in the broader markets), gives us a good opportunity to buy into this rebound play at a great valuation.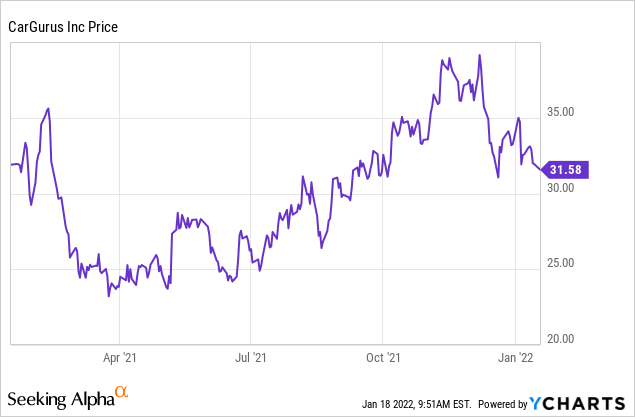 A look at the bullish thesis for CarGurus amid a still-cheap valuation
As a refresher for investors who are newer to this company, here are the chief reasons to be long on CarGurus:
CarGurus generates the kind of recurring revenue from dealers that Wall Street prizes. As the car dealership industry continues to heal, CarGurus will continue to enjoy a steady stream of fee income from these customers.
CarGurus remains the #1 site for used-car research in the U.S. By default, car dealerships (or any business, really) will go where the eyeballs are, and CarGurus has cemented its place as the leading site to do research before buying a used car.
The used-car market is still red hot. Consumer demand for cars is still at historic highs, and a general inflation spike in all things including cars has driven up used-car prices and dealer fortunes as well.
CarOffer opportunity. In 2021, CarGurus bought a platform called CarOffer that lets car dealerships bid on inventory in the private market from other car dealerships. This platform is scaling quickly and has immense synergies with CarGurus' existing product portfolio.
In spite of these strengths, meanwhile, CarGurus still trades at a very attractive valuation. At current share prices near $31, CarGurus trades at a market cap of just $3.72 billion. After we net off the $321.1 million of cash on the company's most recent balance sheet (another reason to like CarGurus is its decent chunk of cash on the balance sheet, unencumbered by debt), its resulting enterprise value is $3.40 billion.
For the current fiscal year FY22, meanwhile, Wall Street analysts are expecting CarGurus to generate $1.27 billion in revenue, at a 43% y/y growth pace (data from Yahoo Finance). This also already contemplates comping a nearly full year of the CarOffer acquisition, which is currently making up roughly one-quarter of CarGurus' revenue. At this revenue estimate, CarGurus trades at just 2.7x EV/FY22 revenue - which is a baffling multiple for >40% revenue growth and mid-70s gross margins.
Despite CarGurus' recent outperformance versus highly valued momentum stocks in recent months, the stock still remains incredibly undervalued with a huge dislocation between its expected results and its current enterprise value. Take advantage of the recent dip to buy this category-leading internet stock at a steep discount.
Q3 download
CarGurus' most recent quarterly results, posted in early November, were also another recent driver to bring some enthusiasm back into the name. Take a look at the results in the snapshot below:
CarGurus grew its revenue at a 51% y/y pace to $222.9 million in the quarter, beating Wall Street's expectations of $217.8 million (+48% y/y) by a respectable three-point margin. At the moment, CarGurus' revenue comps are murky for a number of reasons. The first thing to note is that revenue, however, is back to reaching all-time records as shown in the chart below:
Sequentially speaking, revenue growth did decelerate from last quarter's 130% y/y growth pace - though largely due to easier pandemic-era comps fading. Adjusting for one-time fee reductions that CarGurus had made for its key dealerships partners in Q2 of 2020, its Q2 growth rate this year would have been roughly 54% y/y.
The second driver of growth is CarGurus' recent acquisition of CarOffer, which as previously mentioned is a dealership-to-dealership car sales platform. In Q3, CarOffer (only acquired this year) contributed $63.0 million, or 28% of CarGurus' total.
This subsidiary is growing quickly. CarOffer now has over 7,000 "dealership roofs" registered for the platform, which represents substantial growth versus 5,500 as of the end of Q2, representing roughly 27% sequential growth. The fast pace of dealership growth illustrates the synergies that CarGurus brought to CarOffer, quickly bringing its established base of dealerships into the fold and offering quick cross-sell opportunities.
The company additionally noted that October (which falls into Q4) marked a "record month" for CarOffer in terms of transaction counts, signaling strength continuing into Q4.
Here's some further anecdotal commentary from CarGurus' CEO Jason Trevisan on the quarter's outperformance, made during his prepared remarks on the Q3 earnings call:
We are thrilled to have exceeded our guidance for the quarter. Performance this quarter was driven by three key factors: our ongoing evolution from a listings business to an end-to-end transaction-enabled marketplace, our partnership with dealers to develop innovative digitally initiated solutions and finally our ability to provide consumers a self-selective digital retail journey when buying or selling a vehicle. With these three areas driving our performance during the third quarter, we were pleased to see strong dealer penetration of our CarOffer platform, swift execution and rapid expansion of CarGurus' Instant Max cash Offer and continued innovation as we bring digitally initiated capabilities to our consumer audience and dealer partners."
From a profitability standpoint, as shown in the chart above, CarGurus still also grew adjusted EBITDA at a 10% y/y pace to $62.5 million. Though on a margin basis, adjusted EBITDA margins fell to 28% (versus 39% in the year-ago quarter), this is because CarOffer is still a relatively new and faster-growing platform operating at a roughly ~14% pro forma operating margin (versus the company consolidated margin of 28%). Over time, CarOffer should be able to expand its margin profile with added scale.
Key takeaways
CarGurus still hasn't gotten up to a fair valuation level, in spite of recent underlying strength in the business. Stabilization in paid dealership counts in the post-pandemic era, continued increases in average revenue per dealership, and the growth of CarOffer will continue to propel CarGurus forward. Stay long here.