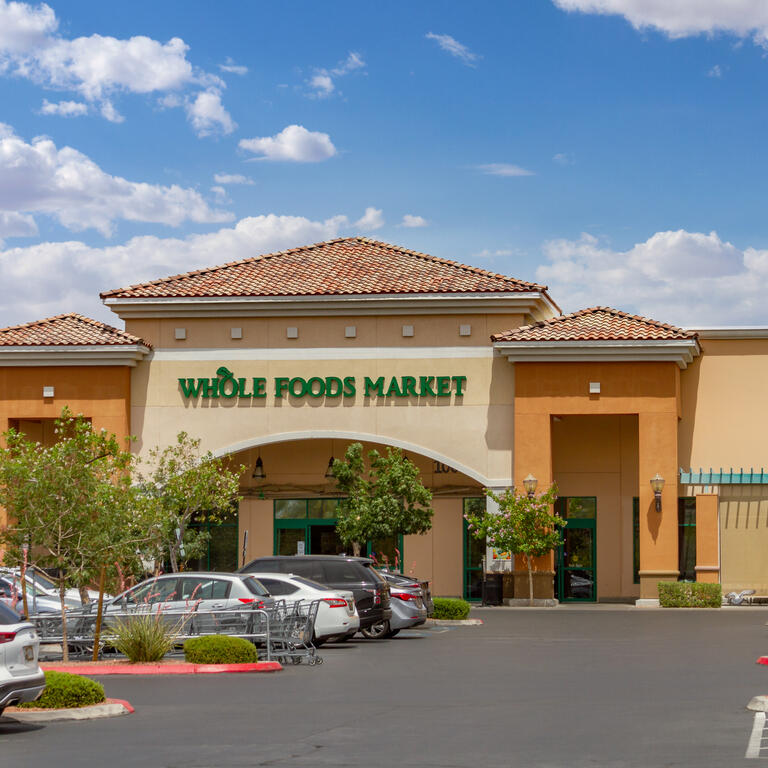 Co-produced by Austin Rogers
A Great Year For Retail Real Estate
In our recent Market Update, we gave an overview of the current retail landscape, especially as it pertains to online versus brick-and-mortar shopping. In that report, we ask the crucial question for retail real estate investors:
"Is e-commerce winning the war for Black Friday dominance? More pertinently for REIT investors, is the "retail apocalypse" destined to make physical retail real estate a poor investment?"
The answer is NO, brick-and-mortar retail real estate is not dead or dying. It is simply being forced to adapt to an evolving environment. And with the help of forward-thinking REIT management teams, retailers are doing just that.
In fact, as we explain in the report, for the strongest and fastest-growing retailers, there is a symbiotic relationship between physical and online stores. The presence of one tends to spur increased sales for the other. This is called the "halo effect," and it is why digitally native retailers like Amazon are opening physical stores while physically native retailers like Walmart are investing heavily in their online channels.
Hence we find that, as the Wall Street Journal recently reported, this year, for the first time since 2017, more retail stores are expected to open than close.
In the first three quarters of 2021, retailers announced twice as many store openings as closings — 5,725 openings versus 2,890 closings.
Another strength of multi-tenant, shopping center real estate pertains to the high consumer inflation we are currently experiencing.
Unlike net lease properties with long lease terms (10+ years) and contractually fixed rent escalations typically around 1-2%, multi-tenant retail centers tend to have much shorter lease terms lasting 3-7 years. This allows rents to adjust to the market rate more frequently, thereby keeping pace with inflation more easily.
Currently, we still have Buy ratings on three different shopping center REITs, and in today's article, we review their third-quarter results and end the article with a discussion of what's our Top Pick for 2022:
Federal Realty Trust (FRT): We are reporting no change to our Buy rating, but we are increasing our Buy Under Price to $140 (from $130). FRT's best-of-breed, high-end shopping center, and mixed-use center portfolio has performed remarkably well coming out of COVID-19 after suffering worse than the average retail REIT during the pandemic due to its concentration in dense, urban areas of coastal states. FRT is also unique in that its mixed-use centers also have office space and apartments (22% of total rent). In Q3, FFO per share soared 18% above the consensus estimate to come in at $1.51, and revenue surged 18.8% year-over-year as rent collections improved to near-pre-pandemic levels (96% of contractual rent). Leasing activity was quite pronounced during the quarter, with 124 retail leases signed at a blended leasing spread of 6.8% and 19 office leases totaling 224,000 square feet signed. Despite this, FRT's portfolio remains "only" 90.2% occupied, up from 89.6% at the end of Q2, although 92.8% of the portfolio is leased. FRT also recently announced plans to convert into an umbrella partnership REIT, or UPREIT, which will allow it to issue operating units for acquisitions in order to grow faster. In Q3, management increased 2021 FFO per share guidance by 7.4% to $5.48 at the midpoint and 2022 FFO per share guidance by 4.5% to $5.75 at the midpoint. With a 78% payout ratio based on 2021 FFO and 74% based on 2022 FFO, the 53-year dividend growth streak has many more years ahead of it.
Brixmor Property Group (BRX): We are reporting no change to our Buy rating or our Buy Under Price. Much the same story could be told about BRX as its larger and more coastal-concentrated peer, FRT. Unlike FRT, BRX suspended its dividend during the pandemic only to reinstate it at the beginning of 2021 at a ~25% lower level. But like REG, BRX has rebounded remarkably well coming out of the pandemic. Revenue surged 14.3% YoY, same-property NOI rose 14.5%, and management raised SPNOI guidance to a range of 7.5% to 8.5% from 4.5% to 6%. These metrics were supported by continued improvement in rent collection from the 94% from Q2-Q4 2020 to 97% in Q3 2021. And leasing spreads for new tenants are particularly high. For example, in Q3, rent growth for all new leases averaged 26%, while for anchor spaces it was 34%. Moreover, like its peers, BRX has ample redevelopment projects in the works. In Q3, it completed and stabilized $52.5 million of redevelopment projects at an NOI yield of 10%, and the REIT is in the process of redeveloping another $396.3 million of projects for an expected NOI yield of 9%. The portfolio is now 91.5% leased, leaving room for further lease-up. What's more, the midpoint of FFO per share guidance of $1.74 gives the current annualized dividend of $0.96 a mere 55% payout ratio, leaving plenty of room for further dividend hikes.
Whitestone REIT (WSR): Of the four open-air shopping center REITs in HYL's portfolios, WSR admittedly has the weakest balance sheet. But more important than a snapshot in time is the trajectory. WSR's net debt to EBITDA of 8.1x sounds quite high, and it is, but it is down significantly from the 9.4x where it stood a year ago. Moreover, debt to gross real estate assets of 51% is down from 55% a year ago. And the REIT's acquisition of a ~90,000 square foot center in Austin, TX should further lower WSR's leverage ratio. After years of trying to deleverage, WSR is finally managing to lower its leverage ratio while continuing to grow. In Q3, revenue rose 8.4% YoY while same-property NOI rose 7%. This is lower SPNOI than its peers, which may signify that many of WSR's properties are not in the absolute best, prime locations. Even so, the REIT's concentration in the Sun Belt, especially Texas and Phoenix, should serve it well going forward. Portfolio occupancy of 89.9% leaves lots of room for upside from lease-up. What's more, the annualized dividend of $0.43 represents a mere 43% payout ratio based on the $1.00 per share of core FFO WSR is expected to generate for 2021. That not only renders an attractive 4.5% dividend yield, it also promises to provide plenty of dividend growth in the years ahead.
What To Buy Today
In the retail sector, we continue to like Whitestone REIT (WSR). While it certainly doesn't have the strongest balance sheet, its properties are located in particularly strong markets and its valuation is simply too enticing to pass up. Especially considering the fact that its portfolio is performing well and its leverage ratio is dropping.
We view WSR as a classic case of buying a good asset for 50-60 cents on the dollar. The stock remains ~30% below its pre-pandemic price, despite now being in a stronger position and with a lower leverage ratio.
WSR's price-to-core FFO of 9.5x is dirt cheap, especially considering the improvements that are already being made.
What's more, the REIT's positioning in Texas and Phoenix, Arizona should provide tailwinds to same-property NOI growth for years to come.
WSR has at least 30% upside to fair value, if not more. And while you wait for that upside, you get to enjoy a safely covered 4.5% dividend yield.