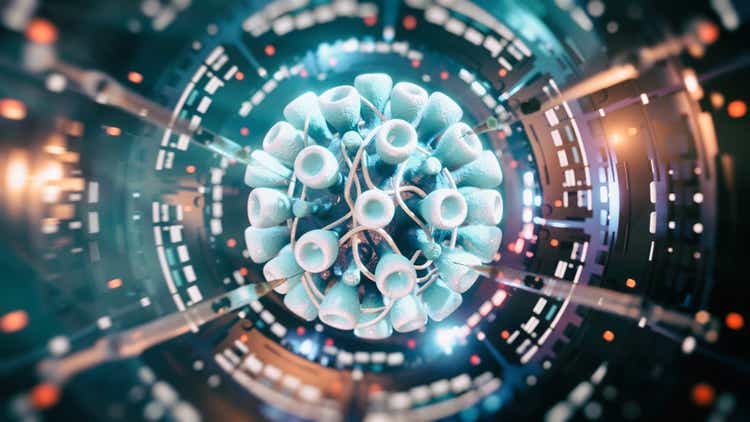 Vera Therapeutics (NASDAQ:VERA) is a speculative biotech that you should monitor closely. The reason why I bring this up now is because it has three advanced target indications in the pipeline, using two different drugs. The furthest along of all 3 of these programs would be the use of atacicept for the treatment of patients with lupus nephritis (LN). That's because the recent news is that it received clearance from the FDA to initiate a phase 3 study for this patient population. Atacicept is not a one-hit wonder, meaning that it is also being used to treat another kidney disease known as IgA Nephropathy (IgAN). A catalyst is coming for this indication by the end of this year. That's because it is expected that results from the ongoing phase 2b study, using atacicept to treat this patient population, will be released by Q4 of 2022. There is another catalyst opportunity for investors as well, which is expected even earlier than this one. It is expected that results from a phase 2 study, using another drug in the pipeline known as MAU868 for BK virus (also known as BK viremia) will be released by mid-2022. It is a latent disease, but normally comes about when an immune system is compromised. In this case, Vera is helping kidney transplant patients who may be susceptible to getting this virus with a weakened immune system. The last reason why I believe it may offer a good opportunity is how beat down the stock is. It reached a high of $35.80 back on November 30, 2021 and had traded lower since. With the latest news of the phase 3 trial initiation, it gained back roughly 25%, but I believe with two sets of results expected in 2022, there is room for the stock to potentially trade higher.
Atacicept For Treatment Of Patients With Lupus Nephritis
The program that is furthest along in the pipeline would be the use of atacicept for the treatment of patients with lupus nephritis. This can be somewhat debated depending on how the IgA Nephropathy program goes. With this going well, there is potential for accelerated approval pathway, but more about that below. Vera Therapeutics just got the go-ahead to initiate a phase 3 study using the drug atacicept for the treatment of patients with LN. Lupus nephritis is an autoimmune disease. There are two types of lupus, however, LN is when the kidneys are affected. That's because the small blood vessels that filter your wastes glomeruli and the kidney itself has inflammation. As you can see, this disease is not good on your kidneys at all. These are some of the symptoms that are associated with the disease:
Proteins in the urine
Blood in the urine
Edema - fluid that kidneys can't remove from the body
weight gain from excess fluid
High blood pressure
The worst part of all is that eventually the disease can lead to kidney failure. That's bad because the only options are a kidney transplant or constant dialysis. The global lupus nephritis market is estimated to be worth $3.1 billion by 2027. The phase 3 study is a randomized double-blinded placebo-controlled study, which will look to see if once-weekly subcutaneous injections of atacicept can beat placebo when it comes to the primary endpoint. The primary endpoint will be renal response at 52 weeks. This will take care of the randomized portion of this study, which has been agreed upon with the FDA. This primary endpoint is the standard now for LN trials. A good thing is that the company is willing to keep the study going for an additional 104 weeks. This will be done as an open-label period for this amount of time, followed by a safety period that will last 26 weeks. The basis for running this phase 3 study was due to the positive data obtained from the phase 2 study known as ADDRESS II. It was shown that patients given atacicept achieved a 26.1% increase from baseline in a measurement known as SRI-6 response. This is from the SLE (Systemic Lupus Erythematosus) Responder Index. The final p-value for this study was p<0.005. This body of evidence doesn't guarantee success of the primary endpoint of renal response at 52 weeks, but it provides that the drug is active in improving patients with this disease.
Atacicept For Treatment Of Patients With IgA Nephropathy
The next program that Vera Therapeutics has is the use of atacicept for the treatment of patients with IgA Nephropathy. IgA Nephropathy is characterized as a rare disease whereby tiny filters inside the kidneys become damaged. It is also known as Berger's disease. Symptoms of the disease may include:
Blood in the urine
Protein in the urine (urine looks foamy or bubbly)
Swollen hands or feet
To understand this disease, you have to know exactly what it entails. IgA itself is a protein that helps your body fight off infections. The problem is that in IgA Nephropathy, these proteins cluster up (build-up) inside the kidneys' tiny filters. These tiny filters in the kidneys are known as glomeruli. What's the problem with these proteins building up on these glomeruli? The problem is that too many build up start to cause massive damage in the organ. This damage leads to either chronic kidney disease (CKD) or kidney failure/end-stage renal disease (ESRD). This means patients either must eventually have dialysis or have a kidney transplant done. There is no current therapy that targets Gd-IgA1, which causes bad deposits into the kidneys. About 50% of IgAN patients progress to end-stage renal disease.
Vera Therapeutics is a speculative biotech that has great potential. That's because it is currently running a phase 2b study known as ORIGIN. This is a double-blind placebo-controlled study, which intends to recruit a total of 105 patients. The patients will be split up into 4 different dose groups for the randomized portion of the study as follows:
30 patients 150 mg atacicept
30 patients 75 mg atacicept
15 patients 25 mg atacicept
30 patients placebo
The way this phase 2b study is set up is that there is a total of 3 endpoints that are being looked at. The first two endpoints deal with the "primary" and "secondary" endpoint respectively. The primary endpoint is a change from baseline in urine protein to creatinine ratio (UPCR) in 24 weeks. What does this mean? The bottom line is that the primary endpoint is looking at how much protein is spotted in the urine at the time the sample is collected at the time of the 24th week. The less protein found in the urine, the better chance of the primary endpoint being successful compared to placebo. It is expected that this phase 2b ORIGIN study will be recruited by mid-2022. This means that results from this study should be released by Q4 of 2022. Results from the phase 2a JANUS study were released back in November of 2021. That is when it noted that patients given atacicept had shown the first evidence in a study for these patients. This first piece of evidence was that those given this drug achieved a substantial reduction of Gd-IgA1. What is Gd-IgA1? It's a molecule that is involved with progression of IgA Nephropathy. In other words, high levels of this biomarker are highly indicative of disease advancement in these patients. The ability for atacicept to achieve such first type of result in a randomized trial of this caliber with respect to Gd-IgA1 bodes well for clinical data coming up by mid-year.
Adding To Pipeline With Drug Obtained From Big Pharma
Vera Therapeutics has added to its pipeline by acquiring a drug, known as MAU868, from Pfizer (PFE) wholly-owned subsidiary Amplyx. This drug is in the process of being investigated in a phase 2 study for the treatment of patients with BK virus (BKV). Believe it or not but it is said that it is found in up to 90% of healthy adults. However, most of these people have a healthy immune system and this virus doesn't affect them. In the case of several kidney transplant patients, reactivation occurs which causes issues to flare up. When it flares up, patients experience loss such as the absence of kidney function or injury/death. But why this specific drug and target indication? Well, that's quite simple really. It is because as of now there are no FDA-approved drugs to treat BKV in the United States. In the ongoing phase 2 study, MAU868 is being given to transplant recipients who have BKV.
The good news is that some data was released so far. It was shown at a preliminary analysis that there was a decrease in BK plasma levels in cohort 1 and cohort 2 from the phase 2 study. This was achieved by comparing MAU868 to placebo. The thing is that investors have a catalyst to look forward to, which is very good. It is said that interim results from the phase 2 study will be submitted at a medical conference by mid-2022. Hopefully, this treatment can be successful, especially since there are no currently approved treatment options. You might ask though, is such a drug like MAU868 important for transplant recipients? Yes, especially for them. The reason why is because they have to take antirejection medicines, which are also known as immunosuppressants. Such immunosuppressants might be: Prednisone, cyclosporine, or mycophenolate mofetil. These are important since they are given after a transplant, so that your body doesn't think the new transplant is a foreign invader. They act to suppress the immune system from attacking the new organ, which is a good thing. The problem is that by suppressing the immune system, the BK virus which is supposed to be latent may pop up as a result. BK virus is a leading cause of kidney transplant loss and morbidity that may occur. If MAU868 is able to resolve this virus by blocking attachment of it to host cells, then it would be huge news for these patients.
The acquisition of MAU868 is good news, but there are a few drawbacks to obtaining it. The first is that it had to obtain financing through a credit facility with Oxford Finance for being able to borrow up to $50 million. It received $5 million upon closing this agreement and can draw upon a minimum of $5 million when it needs to for up to $45 million remaining. It may do this until the end of 2022. The second drawback is that it paid $5 million to Amplyx, pay $7 million in regulatory milestones, and payout low-single-digit percentage royalties based on net sales on the drug. Lastly, Amplyx had already made an agreement with Novartis (NVS) before making this deal. That means Vera will be obligated to pay Novartis mid- to high-single-digit percentage royalties based on net sales.
Financials
According to the 10-Q SEC Filing, Vera Therapeutics had cash and cash equivalents of $86.2 million as of September 30, 2021. However, as I noted above, it was able to develop a credit facility agreement with Oxford Finance, so that it could borrow up to $50 million to obtain the new MAU868 drug and fund its pipeline. Besides this recent credit facility, it did an IPO where it raised around $47.9 million in cash. It sold 4.35 million shares of its common stock at $11 per share. With the recent Credit Facility with Oxford Financing, I don't believe it will need to raise any additional cash in 2022. The only way I think it may choose to raise cash is if it released positive results either from the BK virus study with expected results mid-2022 or from the IgA Nephropathy study with expected results by Q4 of 2022. If the stock gaps higher on the back of positive data from one of these studies, then I believe it may take advantage of such a move and raise cash almost immediately.
Risks To Business
The thing is that there are several risks associated with Vera Therapeutics. While preliminary data for the use of atacicept in the phase 2 ADDRESS study in patients with lupus nephritis showed some good preliminary data, there can be no assurance that the primary endpoint of renal response at 52 weeks will be met. Even the phase 2a JANUS study showed that IgA Nephropathy patients who took atacicept saw improvements in the biomarker of Gd-IgA1. This bodes well that it was the first study to achieve this biomarker for this patient population, however, the phase 2b ORIGIN study isn't going to be successful or unsuccessful based on this biomarker. Instead, the primary endpoint of change from baseline in urine protein to creatinine ratio in 24 weeks. There is no guarantee that this primary endpoint will be met upon data release.
Conclusion
The conclusion is that Vera Therapeutics is a good speculative stock to look into. The reason why I say this is because thus far the company has delivered some promising preliminary results in using its drug atacicept. It has done this in treating patients with both lupus nephritis and IgA Nephropathy. The good thing about this biotech is that it has two major catalysts that investors can look forward to this year. The first would be the release of the phase 2 results using MAU868 for the treatment of patients with BKV. These results are expected to be released by mid-2022. The other catalyst would be the release of results from the phase 2b ORIGIN study, using atacicept for the treatment of patients with IgAN. This data is expected to be released by Q4 of 2022. With these catalysts, plus the fact that the stock used to trade much higher at around a high of $35.80 per share, I believe it has room to trade higher. Of course, this is not guaranteed to happen. It highly depends upon how good the results are (if primary endpoints are met) and how the market perceives such data. Regardless, I view Vera Therapeutics as a good speculative biotech to look into.