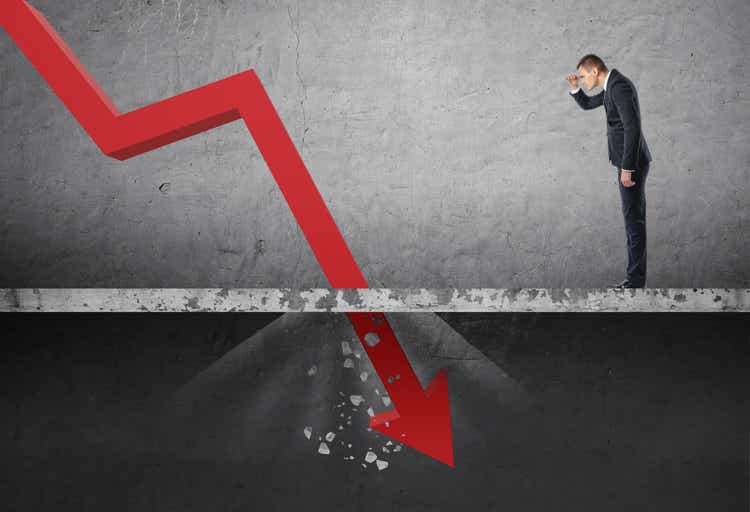 In late November, I wrote about the coming "drop" around the top in the tech market. Here we are, several weeks later, and declines have been epic in some names. From peak to trough, Nvidia (NVDA) was down by 25%, Advanced Micro Devices (AMD) 24%, Tesla (TSLA) 28%, Meta (FB) 17%, Amazon (AMZN) 16%, and Microsoft (MSFT) 14%. These are only several examples, but many top tech stocks and other growth names are down by similar margins, worse in many cases. While most major stock averages are still down by fewer than 10%, declines could continue and accelerate moving forward.
Invesco QQQ Trust/Nasdaq 100 ETF (QQQ) 1-Year Chart
After QQQ's blow-off top in late November, things have gone downhill. We witnessed some sideways price action for a couple of months, but then the tech-heavy ETF broke below $380 support and is now on the verge of breaking down below the critical support level at $370 (10% correction mark) as well. If this breakdown occurs, it could send prices down to $350 support next, possibly lower after that.
The Problem?
The Fed taper has started, earnings have been disappointing to start the year, momentum and technical conditions continue to weaken, and possibly the most significant factor is that valuations are still very high. There are other elements responsible for plaguing the stock market lately, but I will stick to the core reasons in this analysis.
Valuations are Still a Big Problem
In my late-November article, I spoke about stocks like Nvidia and other high-flyers trading at extremely high multiples.
Nvidia 1-Year Chart
Nvidia's stock has declined by 25% since its blow-off top. However, its shares are still expensive. Consensus EPS estimates illustrate that Nvidia should earn about $5 this year, putting its forward P/E ratio at a frothy 52. Moreover, the company should deliver approximately $31 billion in revenues in 2022, putting its price to sales ratio at a sky-high 22. Nvidia will likely see relatively modest revenue and EPS growth (15-20%) starting in H2 2022. Therefore, this stock still looks overvalued here, even after a 25% decline.
Nvidia is Not Alone
The problem is that Nvidia is not alone. Back in my cautious mid-November macro article, I picked on Nvidia and other "usual suspects" for being overvalued, but I also called out Apple (AAPL) and Microsoft shares. Apple and Microsoft are by far the biggest S&P 500/SPX (SP500) components, and the top seven tech-titans account for a whopping 26% of the index's total weight. While sector rotation has prevented the S&P 500 from experiencing sharp declines, more weakness in the big-tech sector could drag the major average down notably lower as well.
The S&P 500 1-Year Chart
After the tech-top in November, the SPX made a modestly higher high due to sector rotation. However, the tech sector has grown so big that other sectors are unlikely to make up for future tech losses as we advance. If the big tech selloff continues, it will likely drag the broader market lower as well. SPX fell below initial support at 4,600 and is now in danger of cascading below critical support around 4,500. If this technical level fails, we could see 4,300 or lower in the S&P 500 before this selloff ends.
S&P 500 Shiller P/E Ratio
The S&P 500's Shiller/cyclically adjusted P/E ratio is still very high. At about 38, the valuation is more than twice as high as the historical mean and is the second-highest we've seen in history. While ultra-high valuations may have gotten a pass due to rock bottom interest rates and highly loose monetary policy in recent years, the Fed is on a tightening path, and interest rates are heading higher now.
10-Year Treasury
Just look at the 10-year Treasury. We are around 1.9% now, the highest yield since the coronavirus crisis began, and probably moving higher from here. Higher interest rates are not what the stock market needs. On the contrary, the economy and stock prices expand much better when interest rates are low and heading lower. Unfortunately, we may see the opposite effect with interest rates running higher now.
The Fed is Tightening, and Rates are Rising
The Federal Reserve is winding down its long-running QE program, and it is scaring markets. We see increasing pressure on stock prices because the proposed Fed policy is perceived as aggressive and likely detrimental to stocks. The Fed is not only rolling back its QE plan now, but the agency will likely start to increase the benchmark rate soon.
There is now an overwhelming probability (97%) that the Fed will begin increasing rates at the March meeting. There is even about an 8% probability that the Fed will raise the benchmark rate by 50 basis points instead of 25. When we looked at these exact probabilities several months ago, the chances of a rate increase this early in the year were minimal. Moreover, the Fed is now discussing QT, an assets sales program designed to unload its cluttered $9 trillion balance sheet. The Fed is moving quickly to fight rising inflation. However, the switch in policy may be too swift for overvalued stocks in the near term.
Apple 1-Year Chart
Many market participants may view Apple as a safe bet, but the stock is relatively expensive up here, in my view. Consensus EPS estimates for 2022 are $5.80. This projection places Apple's forward P/E multiple at more than 29, remarkably high for a company with a relatively limited growth outlook for future quarters. Analysts even expect the company to show a couple of quarters with YoY EPS declines in 2022, which could further weaken Apple's share price. The stock looks like it is developing a bearish head and shoulders pattern and could drop notably if 50-day MA support gets breached decisively in future sessions.
Microsoft 1-Year Chart
We're seeing similar technical issues developing in Microsoft's stock. It looks like we went through a topping pattern, and now the stock is in danger of heading lower from here. Like Apple, Microsoft is still very far from cheap these days. The company should earn approximately $9.70 in EPS this year, putting its forward P/E ratio at a highly elevated 31.2 right now. Moreover, Microsoft is still trading at more than 11 times anticipated sales, a P/S valuation you would typically see on a small-cap high, growth tech stock.
Amazon 1-Year Chart
Amazon has been trading sideways for about a year and a half but is at risk of moving lower here. Consensus EPS estimates are for $48.73 in Amazon now. This estimate places its forward P/E ratio at about 65, exceptionally high for a mega-cap tech firm in Amazon's position. While Amazon has a fantastic business, the market may reprice Amazon and other highly valued companies due to the tightening monetary and higher interest rate environment. Combined, Amazon, Microsoft, and Apple account for approximately 15% of the S&P 500's entire weight.
The VIX 1-Year Chart
Despite the recent volatility increase, the VIX is still relatively low, around the 22-23 level. Therefore, we may see more volatility before this wave is over. We see the full stochastic moving higher, and other technical gages suggest that the VIX could get hotter, and there could be more room for the fear index to run higher in the near term. A spike to the 30-40 level would likely equate to another 5-8% drop in the SPX. A decline of this magnitude would bring the S&P 500 down to around the 4,250-4,350 critical support range. If we see the correction run this deep, stock valuations will become much more attractive, and it will likely set the stock market up for a solid rally in H1 2022.
Earnings Could be Another Soft Spot
I expected more from the start of this earnings season. I know, earnings are just getting started, but we're seeing quite a bit of red, as specific bell-weather names fail to meet market expectations.
Earnings Report Card
I counted on earnings season to push stock prices higher in Q1, but if results like these persist, earnings season may have the opposite effect on equities. Significant earnings (EPS/revenue) misses include JPMorgan (JPM.PK), BlackRock (BLK), Charles Schwab (SCHW), Goldman Sachs (GS.PK), and others. We are seeing a trend of higher costs and rising expenses amongst financials. One of the more troubling elements is that compensation is essentially going through the roof once again. Last year, Goldman Sachs paid its 43,900 bankers a whopping $17 billion in compensation, bringing the average pay and bonus check to more than $400K for the year, a 33% increase over last year.
Why are Goldman and other big banks boosting compensation packages when they can't even hit consensus estimate EPS/revenue targets? This phenomenon could be another warning sign that things are about to head further south in the near term. Typically, big banks' earnings are a prelude to the entire earnings season, but if big-tech and other sectors show similar misses and cost troubles, we will likely see quite a rock ride this earnings season.
The Bottom Line
While the tech and high growth market decline began in November, the S&P 500 and other major stock market averages have held up relatively well due to sector rotation and higher demand for value-oriented equities. However, despite some substantial declines, many mega-cap tech names still seem expensive and may decline more due to the Fed's tightening monetary policy and other elements. Moreover, the technical setup in many top stocks appears damaged now, and we could see further downside in many big names and major stock market averages. Additionally, earnings season is off to a rocky start, and the VIX illustrates that volatility could potentially spike in the near term. If SPX 4,500 and QQQ $370 break down, we could see a notable leg lower in the stock market. If this technical breakdown occurs, we will likely see a decline to at least SPX 4,300, a textbook 10% (or greater) correction from the recent ATH. Moreover, a high-volume washout to SPX 4,300 will probably create a compelling buying opportunity and should set stocks up for a robust rally in H1.