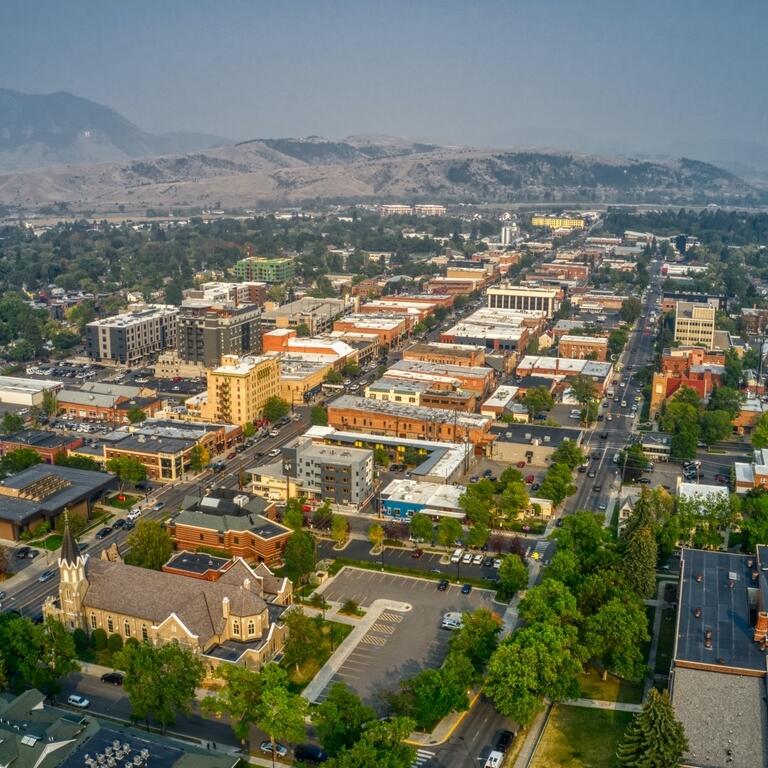 We like utilities. While some see them as boring, we feel they offer one of the better valuation opportunities in the market today. That said, even within the space, one has to be careful to not chase stocks too high. We go over one pick today and tell you why we like it and why we might not actually land up owning it.
NorthWestern Corporation (NASDAQ:NWE) is a utility serving three quarters of a million customers across the northwest US. You probably thought there was no way that any utility company could get even more boring but NWE achieved that by marrying that snooze sector with the pulse-pounding excitement of South Dakota.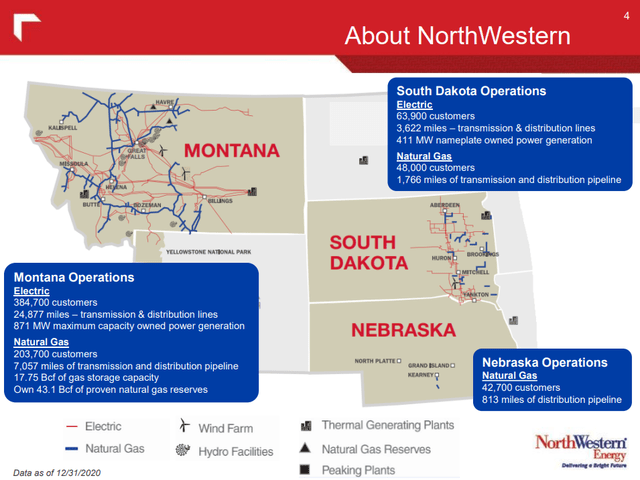 The bulk of the base rate is derived from Montana and Nebraska is almost a rounding error on the revenue stream.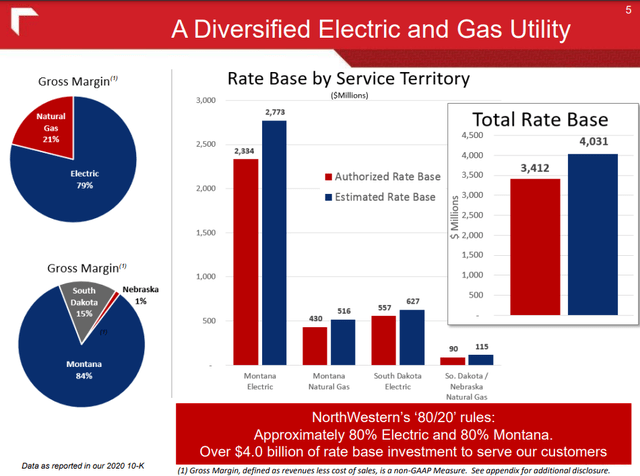 The company is a well-known name in those states though and has over a century of operating history.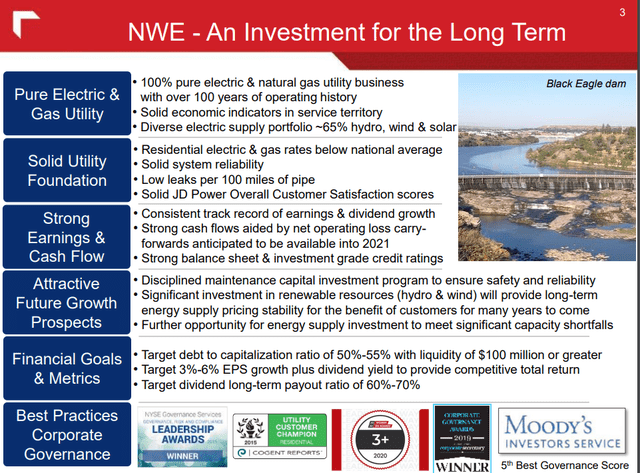 More importantly for investors, it has a track record of consistent earnings alongside dividend raises for 15 years straight.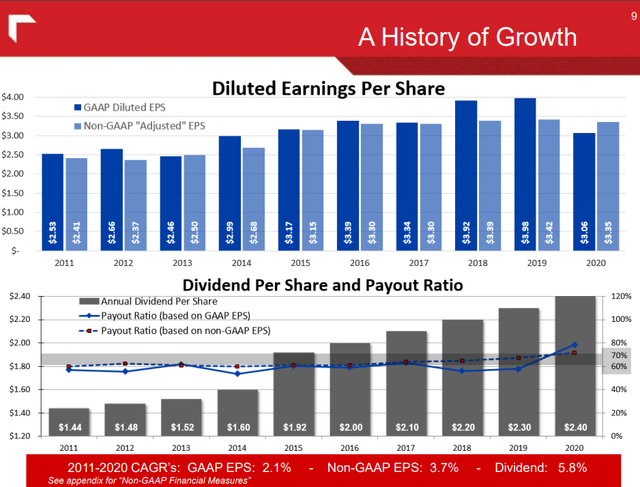 Strong expected population growth alongside a low unemployment rate means that NWE will likely continue its streak.

This was on our radar, for some time but it was always in the category of "why bother." The valuation generally had not become very appealing outside of the COVID-19 crash, where of course, it was hardly the only belle of the ball. But we did get a chance to throw our hat in the ring to buy this and we tell you the why and the how on that.
Debt Gets A Bit Ahead Of Itself
NWE has made a ton of investments into reducing its carbon footprint.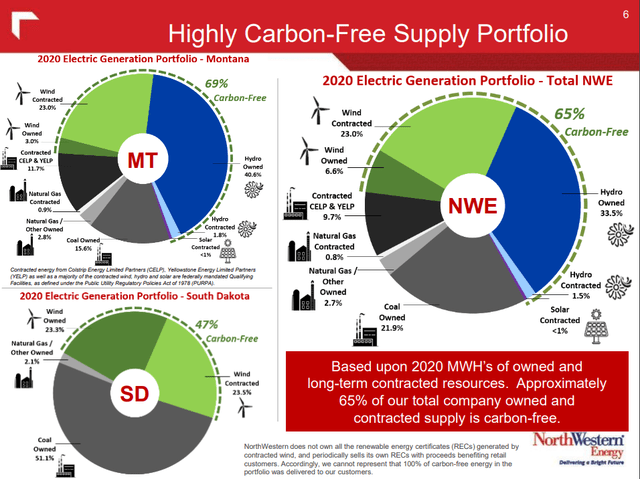 Those investments have not come cheap. While utilities do recover their costs over time, how they finance that does impact the picture. NWE's capex and costs were running a little ahead of schedule and its debt to equity ratios were moving up just outside the comfort zone. Moody's (MCO) changed their tone in March 2021 and warned that the company was getting a little high on the risk in relation to their credit rating.
The rating agency said the negative outlook reflects the potential for "sustained financial metric deterioration" owing to a high reliance on debt to fund an increased capital expenditure program and little to no anticipated revenue increases from rate cases.

"NorthWestern's financial profile is likely to be pressured by rising debt to help fund higher capital expenditures and no substantive revenue increase over the next [two to three years], despite $200 million of equity issuance earmarked through 2023," Ryan Wobbrock, Moody's vice president and senior credit officer, said in the rating action. "During this time, our estimated cash flow production is expected to be about 13% of debt, which is a decline from historical results, a level that is under what we have established as a threshold for a possible downgrade and well below the Baa2 peer average of about 17%."
Source: S&P Global
NWE stock peaked a little after that and started moving lower.
The Corrective Action and The Opportunity
As it happens with almost all utilities, the credit rating is generally protected at all costs. We saw that recently in the case of South Jersey Industries (SJI) where the company did a large equity issuance to bolster the balance sheet. With NWE, the company continued issuing small amounts of equity as they reminded us during the Q3-2021 conference call.
During the quarter, we issued just over 1 million shares of our common stock under our equity distribution agreement that was at an average price of $63.13 for net proceeds of $64.8 million. We had $121 million net proceeds received in total under the announced $200 million program.
Source: Q3-2021 Transcript
The amounts though were on the low side and we knew the big one was coming. It did come in the form of a $325 million equity offering which caused panic among the investor base. Ironically, that panic actually gave us the first chance to try and buy this at a great price. At the time we wrote this in our trade alert.
At $50 though, you are buying this at 14X-15X forward multiples and that is very reasonable in this market for a company with a high degree of predictability. This same company traded at over 20X earnings just before the pandemic. Our net price here is also very close to the COVID-19 lows.
Source: Trade Alert 218
We would note here that the stock had not (and did not) reach $50, but that's the beauty of options.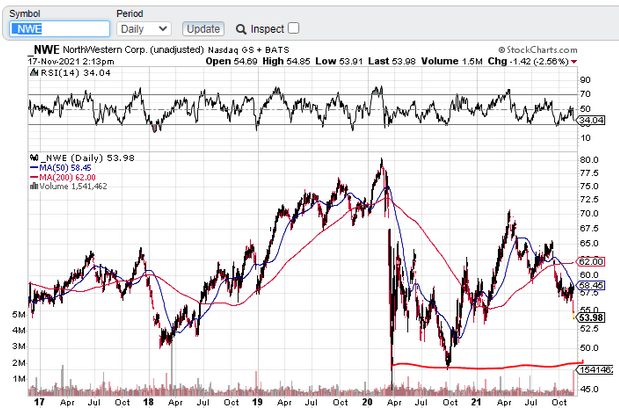 We were able to sell the $50 Cash Secured Puts for a rather strong yield.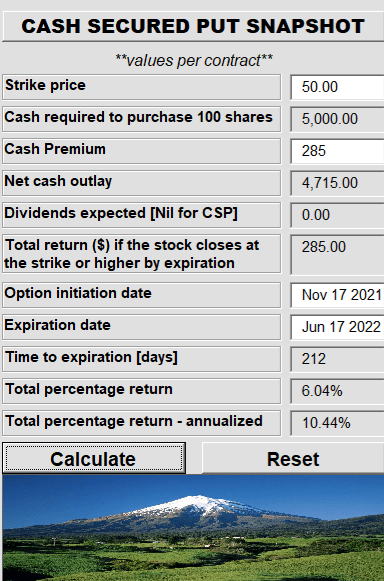 In other words, we chose the price we liked and got paid a 10.42% annualized yield to buy it at that price. Of course NWE has run higher, so chances are that we might not get it. But in all cases, we maintain extreme discipline on our entry price. We only generate income by selling puts for stocks we like, at prices we would love to own them.
Outlook and Verdict
The large equity offering has reduced the earnings per share potential for all years ahead.

That of course will happen when you replace low yield debt with high cost of equity. The credit ratings have been saved though and the credit rating agencies can go back to worrying about something else. NWE still has a decent buffer to continue raising its dividend unlike some other utilities we follow that are running out of leg room. At the current price, the company trades at 17X 2022 earnings with a 4.27% dividend yield and falls back in the "meh" zone. We give it a neutral rating here but would love to own it if it moves under $50 and the stock is put to us.
Please note that this is not financial advice. It may seem like it, sound like it, but surprisingly, it is not. Investors are expected to do their own due diligence and consult with a professional who knows their objectives and constraints.