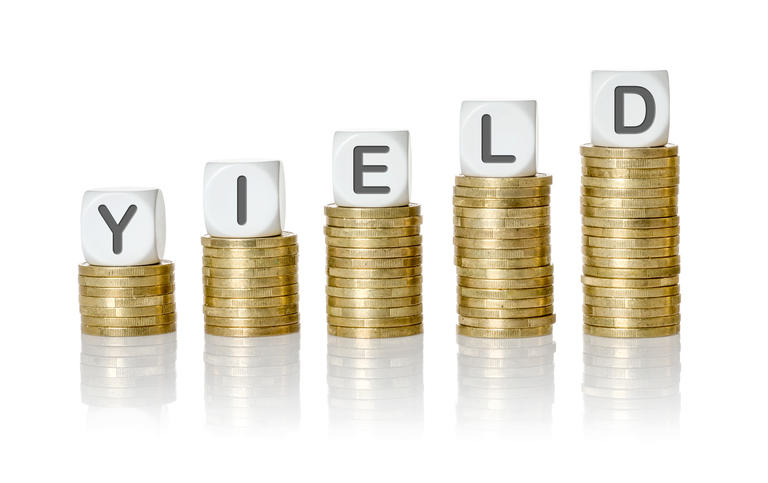 (This report was issued to members of Yield Hunting on Jan 7th. All data herein is from that date.)
We rounded out 2021 on a bit of a high note with closed-end funds rallying into the end of the year recouping some of the losses from the fourth quarter. Valuations bumped back up into the top 20% of all observations over the last 25 years. Those numbers were top 33% just a week ago which demonstrates how fast some discounts closed once tax-loss harvesting ended.
In an upcoming report, I detail the Investing Conundrum of 2022 that's before us. With markets frothy (though I've said that a few times in the last few years) and interest rates heading higher, I do think the returns of last year could be fantasy for this year.
While we focus on CEFs in this report, I do want to reiterate that getting some exposure to value and cyclical names in your portfolio is a must to perhaps buffer some of the risk. Thus, we will focus a bit on some of those sectors and categories in the CEF space.
Focus On The Macro
Interest rates are on the rise again. Not sure what's driving it at the moment as inflation has been higher for three quarters now and stimulus is starting to roll off, not get added. In fact, once Build Back Better died, I figured we would see rates back into the 1.40s or even 1.30s. Instead, we continue to creep up due to the Fed tapering.
Not sure why the market didn't believe the Fed earlier when it became clear that the taper was coming. Perhaps Omicron delayed rate increases when otherwise it would have been at 1.7% in early December.
From the Fed Minutes out on Wednesday:
Minutes from the U.S. central bank's Dec. 14-15 meeting show that many policymakers believe they will reach their employment goal soon if economic conditions continue to improve, opening the door to the Fed's first interest rate hike in three years. The Fed slashed rates to near zero in March 2020 as the nation confronted an unprecedented pandemic that froze economic activity and plunged the country into its steepest recession in almost a century.

Some participants also noted that it could be appropriate to begin to reduce the size of the Federal Reserve's balance sheet relatively soon after beginning to raise the federal funds rate.
Fed officials now project rates to stand at 0.9% at the end of 2022, 1.6% at the end of 2023 and 2.1% at the end of 2024. With at least two hikes baked in for next year (and closing in on three), that marks a considerable shift from this summer when we didn't even have one hike baked into the markets.
This is very important for income investors and especially for CEF focused portfolios.
With discounts so tight and the prospect of higher rates (even if they do not come to fruition), I think we're likely to see some significant volatility in the markets. In CEFs, that could mean considerably wider discounts from here.
We've harped on this a lot and I went through it in the Monthly Newsletter extensively. With the prospect of rates going higher, investors will get scared and start to sell.
I will be commenting on this almost every day in my morning notes to keep members up to date on what's happening.
CEF Thoughts And Recommendations
For starters, we would want to be careful with duration here. Loans remain my favorite sector for CEF allocations and will continue to add here where I can. Some multisector funds can be decent here as well as they're often cross-asset class funds - meaning that they will have allocations to loans and other sub-sectors like CLOs and asset-backed securities that are more floating rate in nature.
Again, I'm not in the camp that rates will rise substantially from here. Perhaps 2% could be reached on the 10-yr, maybe a bit higher. However, they are two factors that could cause some pain for CEF investors: 1) short-term rates rising causing borrowing rates to increase which will certainly lead to more and deeper distribution cuts. 2) The psychological issues that the move will cause and the likely violent rotation in some areas of the market.
Both of these issues will cause differing effects. Short-term rates are the worst possible thing for CEFs given the leverage. That leverage or borrowing of capital to invest in more securities costs the fund net investment income or the income produced by the yield on the bond held in the portfolio. Any additional costs borne by the fund, including interest expensive for leverage, will detract from the total investment income leaving less for the shareholders.
Recall back in 2018, the last time the Fed raised rates by any meaningful amount in a relatively short period of time, the market hiccup'd in the fourth quarter. But they were doing a steady climb for most of the 2017-2018 period before they started cutting again in mid-2019.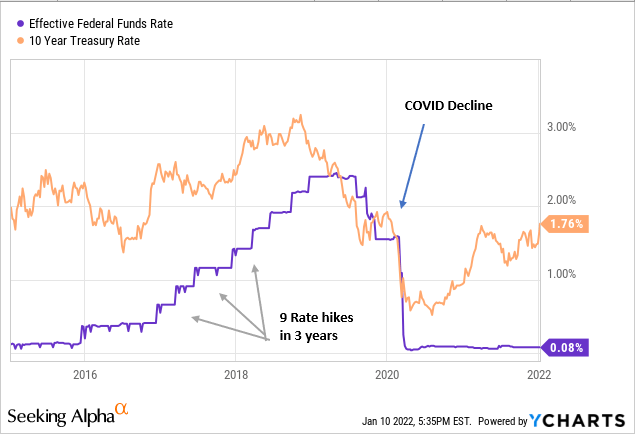 The key here is the 10-year yield. While it's unknown just what it will do as the true correlation between Fed funds, while positive, is fairly weak. Pundits just assume it will rise. In the chart above you can see that it does rise with the Fed Funds but peaks well before the last hike, indicating they pushed too far.
The question is what will happen this time around.
Let's see what bonds and CEFs did during that time frame. It's a bit busy but I plotted the Fed Funds rate and the 10-year Treasury rate, against the VanEck CEF Municipal Income ETF (XMPT) and the Invesco CEF Income Composite ETF (PCEF). Those two ETFs would give us a sense of what the NAVs did during that period but since they are ETFs, no sense of what discounts did can be assessed.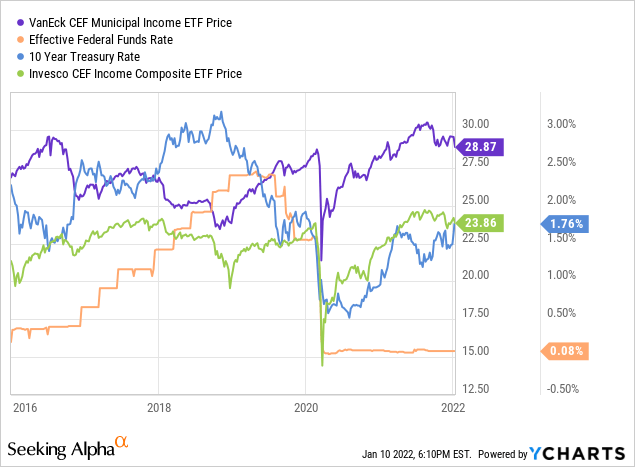 You can see that the purple line, PCEF, was fairly stable with what I would consider traditional volatility during the period (except in March 2020). The green line, XMPT, was even more stable.
The one thing I would point out is the green line is fairly flat during 2017 and 2018. Only in late 2018 did it really roll over and fall significantly as rates peaked and the market was falling.
Takeaways And Concluding Thoughts
The question you have to ask yourself is what kind of investor are you and how tactical do you want to be? While I don't think the 10-yr has a whole lot more to run (maybe 30-50 bps) which shouldn't cause too much pain, the Fed may raise rates 3-4 times this year starting as early as March.
In 2018, NAVs on muni open-end funds (ETFs and mutual funds) did OK. The chart below shows a bunch of the largest muni mutual funds for all of 2018. You can see returns were not far from zero. More importantly, it was not linear rising for most of the first part of the year (after a weak start) and peaking in September and then falling before rising again in the latter half of December.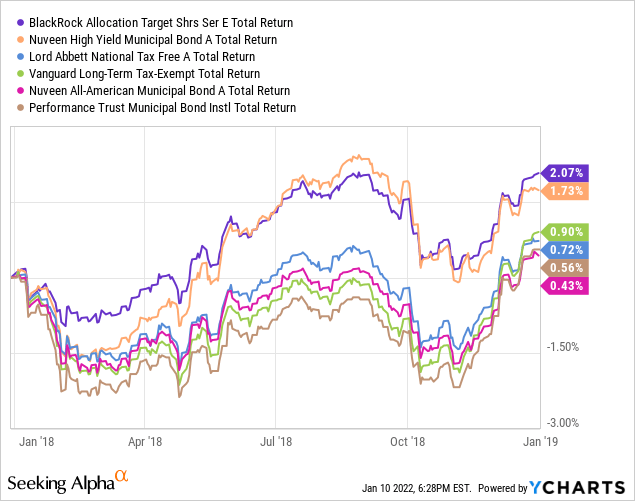 High yield didn't fare as well giving up small gains generated in the first three quarters of the year and ending the year down. We saw significant credit spread widening for a non-event (no recession or COVID or other catalyst) which caused NAVs to fall. But that didn't have much to do with rising rates outside of the fact that the market embedded a small recessionary forecast into it because they believed that the Fed acted too aggressively.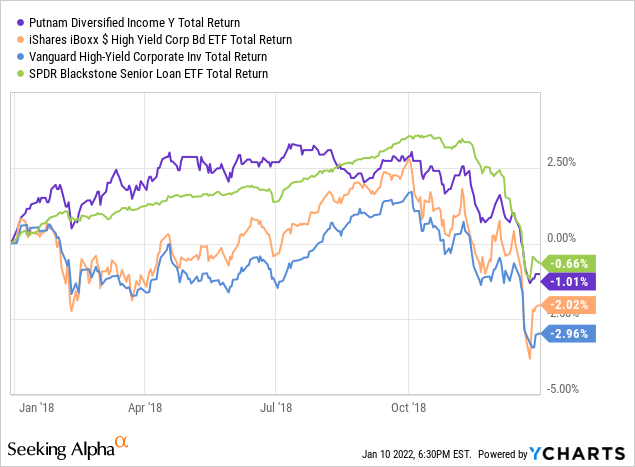 So, I don't fear taxable bond CEF NAVs collapsing this time around. I think Powell will be more aggressive in stopping the rate hike regiment earlier than it did in 2018. In any event, there was no permanent scaring from that event to the taxable side as well.
Remember, this is all about NAVs, and we have so far ignored discounts.
Back to munis where I think the bulk of the pain could be. NAVs could decline a bit as rates rise but only if it helps push up the long-end of the curve (the 10-year yield). If that doesn't happen, we won't see any NAV decline.
The worry is two-fold: First on distributions which we discussed earlier because higher short-term rates will reduce net investment income and the amount of yield left for shareholders. With coverage ratios in a fairly weak state today, we could see a significant amount of cuts spread out over a long period of time.
Second, and perhaps more importantly, is discounts. Remember earlier how I wrote about there being two factors that would cause pain for CEF investors. The first was higher short-term rates which would lead to distribution cuts and lower income yields for investors. The second was the psychological effect on higher rates.
The second one is significant as CEF investors can be a fickle bunch. If CEF investors perceive there being a risk of much higher short-term rates, which would lead to distribution cuts, the warranted fair value of CEFs (i.e. the discount level) will be wider.
I still think CEF discounts are poised to be much wider by the middle to latter part of this year. This simply stems from the fact that we are sitting at fairly tight levels and really have only one way to go. While we still think some January Effect will be realized, shortly thereafter we could see some significant loosening.
Portfolio Implications: Buys And Sells
I would be cautious here. While mutual funds have little in the way of upside in both taxable bonds and tax-free bonds, I think the upside/downside risk in CEFs is much more skewed to the downside.
You have a combination of relatively tight discounts and the potential for distribution cuts which could push you into the bottom 25% of discount observations, potentially. Obviously nothing is set in stone and this time could be different, but my best guess is that muni discounts could be out in the high single digits again.
While NAVs could be down (or up) depending on what the 10-year does, income could be cut. Since most investors are in these for the income, that is far more critical than small market value changes over time.
We would be cautious here and more tactical (unless you are a staunch buy-and-holder). You can make sure there are no good swaps left to make (and I would be more aggressive here too taking less tax burden into account) and start rotating out of muni CEFs come February.
In taxables, I would be a bit less aggressive but wouldn't be taking too much in the way of tactical action. I still think the PIMCO suite of funds represent good deals. In the last month, they have had nice NAV gains though more recently have rolled over a bit.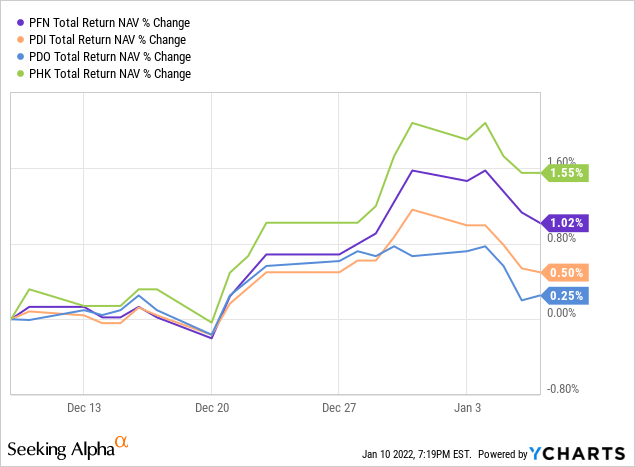 We would continue to focus on the leveraged loan space and make them plus the PIMCOs a central part of your CEF portfolio. The following are our top picks from that space and others that we think are decent to hold here if rates are heading higher (so in addition to PDO, PFN, and PDI):
(1) Apollo Tactical Income (NYSE:AIF): 7.0% distribution rate, -6.9% discount. Zero duration.
(2) DoubleLine Yield Opps (DLY): 7.5% distribution rate, -5.1% discount. Duration of just 1.8 years.
(3) Western Asset Diversified Income (WDI): 7.6% distribution rate, -6.1% discount, duration of 3.4 years.
On watch (meaning I like the fund but not at this valuation):
These funds are solid one's but they've zoomed in the last few weeks.
(1) Ares Dynamic Credit Allocation (ARDC): 7.2% distribution rate. -2.2% discount. Buy under -5% discount.
(2) Barings Global Short Duration (BGH): 7.4% distribution rate, -4.2% discount. Buy under -6% discount.
(3) Saba Capital Income & Opps (BRW): 12.5% distribution rate, -3.6% discount. Buy under -8.5% discount.