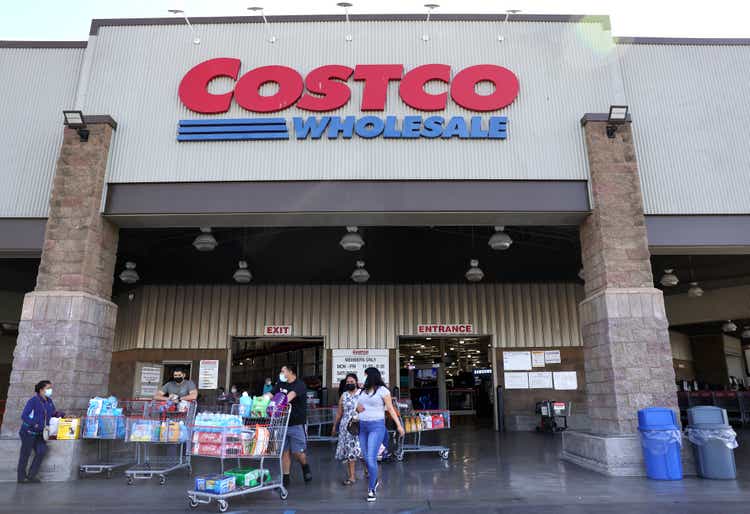 Full disclosure: I absolute love Costco (NASDAQ:COST). Even though my wife and I don't have kids (unless you count dogs), we still buy in bulk there pretty regularly. I'm normally the one leaving with a cart full of stuff.
Investment thesis
Despite a solid fundamental picture, the stock is currently correcting. Wait for the sell-off to end and for the stock to form a bottoming pattern before buying.
Costco is a discount retailer:
Costco Wholesale Corporation, together with its subsidiaries, engages in the operation of membership warehouses in the United States, Puerto Rico, Canada, the United Kingdom, Mexico, Japan, Korea, Australia, Spain, France, Iceland, China, and Taiwan. It offers branded and private-label products in a range of merchandise categories. The company offers sundries, dry groceries, candies, coolers, freezers, liquor, and tobacco and deli products; appliances, electronics, health and beauty aids, hardware, garden and patio products, sporting goods, tires, toys and seasonal products, office supplies, automotive care products, postages, tickets, apparel, small appliances, furniture, domestics, housewares, special order kiosks, and jewelry; and meat, produce, service deli, and bakery products. It also operates pharmacies, opticals, food courts, hearing-aid centers, and tire installation centers, as well as 636 gas stations; and offers business delivery, travel, same-day grocery, and various other services online in various countries. As of August 29, 2021, the company operated 815 membership warehouses, including 564 in the United States and Puerto Rico, 105 in Canada, 39 in Mexico, 30 in Japan, 29 in the United Kingdom, 16 in South Korea, 14 in Taiwan, 12 in Australia, 3 in Spain, 1 in Iceland, 1 in France, and 1 in China.
It is the second-largest company by market capitalization in this market segment behind Wal-Mart.
Let's begin with the macroeconomic backdrop, which is positive.
The total number of establishment jobs (left) continues to grow. This has helped to lower the unemployment rate (right).
Strong jobs growth and low unemployment are supporting wage growth:
Personal income less transfer payments (left) has surpassed pre-recession levels, although the pace of increase has declined. The Y/Y percent change in average hourly earnings (right) is just below 5%.
As a result, consumers are purchasing goods:
Purchases of durable goods (left) and non-durable goods (right) are at strong levels.
Another measure of consumer activity is retail sales, which peaked at the end of last year but are still at strong levels.
All of these support Costco's growth, which has been stunning:
The company's top-line revenue growth has been growing since 2012 -- a remarkable achievement for a company of Costco's size.
The company has tight controls on cost. The gross, operating, and net income margins have been incredibly consistent during the last 10 years. More impressive is that operating and new margins have increased modestly, which is a great achievement for retail.
The debt/asset ratios are well under control.
The above table combines data from the cash flow and income statement. The third row is the difference between operating and investing cash flow. Like practically all large companies, Costco is self-funding. The line third from the bottom shows that after paying interest and dividends, the company still has sufficient cash. Finally, the bottom line subtracts dividend and interest payments from EBIT, which is simply another way of seeing how well the company manages its interest and dividend payments. This is well under control.
Despite a solid macroeconomic and fundamental picture, the stock is not a buy. This is due to its chart:
Recently, the stock broke an uptrend that started last October. Prices are now below the 10, 20, and 50-day EMA. They are also right at longer-term support.
Costco's stock is in a correction, which isn't surprising, considering the stock rallied from just over 300 in March of 2021 to 571 at the end of last year. This is a very natural spate of profit taking. Wait for the selling to end and the stock to form a solid bottoming pattern before adding it to your portfolio.