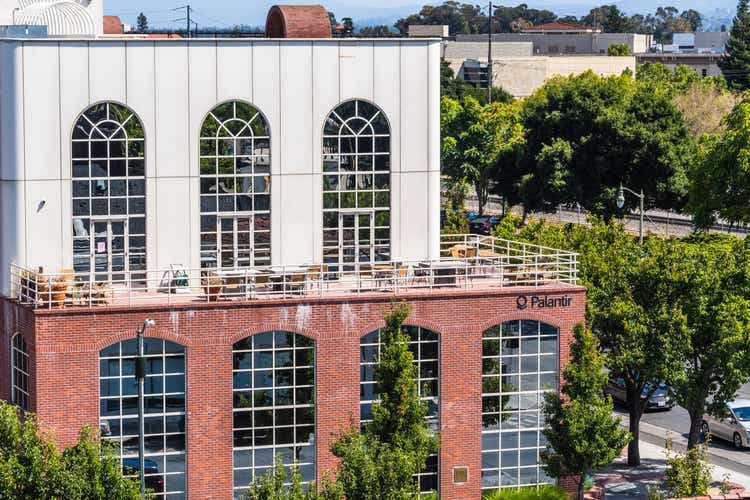 Palantir (NYSE: NYSE:PLTR) continues to be caught in the broader market rout these days, with the stock's value declining more than 12% since the year opened. The current macro backdrop has not made a favourable environment for high-growth segment stocks. The recent release of meeting minutes from the FOMC's policy meeting in December, paired with increasing consumer price pressures at record-setting levels have triggered hawkish sentiments supporting faster and sooner rate hikes beginning as early as March to curb runaway inflation. The hastened withdrawal of pandemic-era stimulus, coupled with the impending return of rate hikes have caused investors to turn risk averse on high-growth, high-valuation stocks. This is largely due to uncertainties over how the upcoming rate hikes might erode the value of future gains or stall business growth due to rising costs of capital.
While the imminent tightening of monetary policy has stoked fear amongst equity investors as they mull on how to price the upcoming rate hike impacts into asset valuations, we believe Palantir will emerge favourably in both the near- and long-term. On one hand, the inflation-resistant nature of Palantir's business, paired with its high-growth prospects and ability to generate robust cash flows from operations should make it an attractive stock within the near-term amidst mounting macro pressures. Meanwhile, in the longer term, Palantir's technology will continue to play a critical role in supporting key digital trends like AI, which will soon become a necessity instead of novelty in the data-driven era. On these considerations, we believe Palantir's stock will soon resume its upward momentum, with the upcoming earnings report being a potential catalyst to jumpstart its performance.
Near-Term Considerations for Palantir
In line with the broader market, Palantir's stock rallied on the first trading session of the year, with intraday gains of as much as 4%. However, the momentum was short-lived and has since been overtaken by an extended market rout triggered by increasingly hawkish narratives from Fed representatives. The rising urgency for faster and sooner rate hikes to combat the hottest inflation in close to four decades has sent market benchmarks like the S&P 500 on a rundown of close to 5%. Meanwhile, the tech-heavy Nasdaq 100 plunged by more than 8% since the year opened due to souring sentiment for high-growth, high-valuation stocks that have largely outperformed in the past 20 months. Instead, mature tech companies like Dell (NYSE: DELL) and HP (HPQ) have been resilient due to their low debt, high cash flow, and stable-growth businesses, which provides a strong hedge against the impending rate hikes.
However, Palantir's upcoming earnings report will likely jumpstart the stock toward a similar trend as the mature tech companies. The company boasts a promising growth outlook built on continued innovation, with high visibility into future cash flows thanks to a robust contracted revenue base. Palantir also operates on a strong balance sheet, which is currently debt-free and boasts a robust cash-on-hand balance of more than $2.3 billion to support continued growth.
While the impending rate hikes have put investors at the edge of their seats about potentially stalled growth and development in next-generation tech companies due to rising costs of capital in coming years, the fact that Palantir's operations are already self-sufficient should not be overlooked. In the first nine months of 2021, Palantir generated more than $240 million in cash from operating activities alone, despite year-to-date net losses of $364 million. Much of the losses were driven by share-based compensation expenses, which will likely continue to put pressure on its profit margins in the near-term as the company prioritizes the retention of talent to support ongoing expansion of the business. However, these expenses are non-cash in nature, and when that is taken into account, Palantir is actually profitable on a cash-basis and have continued to demonstrate strength in generating significant free cash flows to fund its growth roadmap. This accordingly provides it with partial immunity against hemorrhaging valuation prospects due to rising costs of capital from the upcoming rate hikes.
The company's near-term growth trajectory also remains intact. As of the third quarter period ended September 2021, Palantir's total unrealized deal value grew by 50% year-over-year to $3.6 billion with an average duration of at least four years. Palantir has continued to exhibit strength in both its commercial and government segments. Recent contract wins and extensions have been a testament to the effectiveness of Palantir's software solutions, as well as accelerated adoption from both the private and public sectors as operations become increasingly digital, generating vast troves of data that will need to be integrated, processed and analyzed to drive key decision-making processes. In addition to the new and renewed contracts during the last three months of 2021, which have been discussed in our most recent coverage, Palantir has rung into the new year with a notable partnership forged with Hyundai Heavy Industries. The $25 million multi-year deal is a symbol of Palantir's growing presence across the West's APAC allies, and represents an extension of Palantir's success in growing its commercial segment over the past year. Under the arrangement, Hyundai Heavy will leverage Palantir's commercial software, likely Foundry, to create tools for breaking down the siloed data fields across its affiliate groups, which range from shipbuilding to industrial machinery processes, and facilitate better-integrated operations. The two companies intend to create a joint venture to commercialize the new tools built on Palantir's platform, which will create greater exposure for Palantir's technological capabilities to the global commercial sector, and further fortify the company's growth prospects.
Long-Term Considerations for Palantir
Over the longer-term, we foresee Palantir's technologies to evolve from a novelty into a necessity. AI-driven analytical tools like Palantir's Gotham and Foundry will remain critical functions across both the public and private sectors to ensuring the seamless integration of data platforms and improving decision-making in the increasingly digital world. And Palantir is already in the works of pushing its software towards the mainstream by offering a wide range of solutions for organizations across both the private and public sectors to choose from on an as-needed basis.
The introduction of "Foundry for Builders" in July is one of Palantir's earliest strategies in opening up its offerings to the mass market. Foundry for Builders is offered under a subscription-based model and breaks down the traditional cost barriers that have hindered access to Palantir's software solution for smaller commercial customers like Day One start-ups. The new offering enables Palantir to extend its Foundry capabilities to support all types of organizations, ranging from multinational corporations with complex data compilations to small- and medium-sized businesses with limited resources looking for a cost-effective data analytical tool. The strategy is expected to encourage mass market adoption of Palantir's commercial segment offerings, and ensure further penetration into a total addressable market that is expected to grow from $400 billion today into $500 billion by 2025 and $1.6 trillion by the end of the decade. While the new offering is still in beta phase with availability offered to only a small cohort of start-ups, the positive reception received to date indicates significant potential for wider adoption once introduced to the broader market.
The recent introduction of industry-specific modular solutions built on Foundry, such as "Carbon Emissions Management" and "Anti-Money Laundering/Know Your Client for Crypto" ("AML / KYC for Crypto"), will also appeal to both government agencies and private businesses looking to tackle some of today's most challenging problems. With increasing global calls for cutting pollution and combating climate change, Palantir's Carbon Emissions Management tool can add value by helping its corporate clients integrate emissions data, such as daily pollution volumes across the supply chain and emissions reduction targets, with planned revenues and margins to determine the best trade-off based on their respective business plans and objectives. For instance, the Carbon Emissions Management tool can consolidate emissions data collected from disparate sources in real-time and simulate related impacts under different scenarios to drive the decision-making process on business changes required. The modular offering enables Palantir to capitalize on opportunities arising from growing ESG needs in the private sector, while also helping its clients better manage their emissions impacts and "develop a competitive edge to beat competition and win the market".
The AML/KYC for Crypto solution is also deployed at an opportune time. Securities regulators have made it a priority to rein in the fast-growing cryptocurrency market with new rules, while cryptocurrency exchanges look for solutions to ensure compliance with the changing regulatory landscape. The new AML/KYC for Crypto tool is built on Palantir's years of expertise in helping both regulators and private financial institutions address AML/KYC compliance considerations, and can be deployed in a time- and cost-effective manner for both sides of the equation across. AML/KYC for Crypto enables a large variety of use-cases ranging from real-time compliance tracking across disparate sources for cryptocurrency exchanges, to potentially regulatory simulations for securities regulators. This makes Palantir well-positioned to capitalize on the rising crypto momentum in coming years – the global blockchain market is expected to grow into a $67 billion opportunity by 2026, with proper management of AML/KYC considerations encouraging adoption. And North America, Palantir's key market, will maintain the largest share, underpinning robust demand for the new industry-specific solution in coming years.
Palantir is also making steady progress towards its ultimate goal of becoming "the U.S. government's central operating system". In addition to Palantir's continued push for its software solutions to be implemented across government agencies ranging from defense to healthcare, the public sector has also become increasingly receptive of reliance on technology and innovation. While the $778 billion annual defense spending budget authorized by the Senate in December remains flat compared to the prior year's after adjusting for inflation, funding allocated towards R&D and procurement of emerging technologies like AI systems have increased by more than $3 billion. The Pentagon has also welcomed the development and utilization of innovative technologies in defense and combat in recent years, as they work on breaking the high barriers of entry that the giant defense contractors have historically built. In 2020, the agency allocated $1.5 billion in direct funding to more than 1,600 software-as-a-service start-ups, and set aside a number of defense contracts valued at up to $3 million each for early-stage software providers. Frontline healthcare workers in the U.S. have also indicated technology as one of the top three items that can "help reduce their stress and become more effective". Specifically, tools that can help "automate tasks, provide remote assistance and help communicate with colleagues" are seen as the most helpful. This signals that a greater market of opportunities from the U.S. government is coming Palantir's way, underpinning additional multi-year growth in the foreseeable future.
Where Might PLTR Stock be Headed?

Considering Palantir's growth outlook remains intact for both the near- and longer-term despite mounting macro headwinds, we are maintaining our 12-month price target for the stock at $25.45. Consistent with our previous analysis on potentially better-than-expected FY 2021 financial performance, we believe the upcoming earnings call will be a catalyst to jumpstarting the stock from its recent declines and bolster investors' confidence on Palantir's valuation prospects ahead of the upcoming rate hikes.
i. Base Case Valuation Analysis: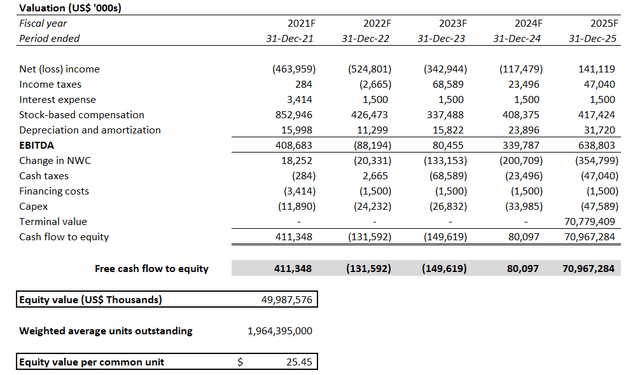 ii. Sensitivity Analysis:

iii. Base Case Financial Forecast:

While Palantir's mounting share-based compensation balance has been a sign of deterrence for many investors due to added pressure to profit margins and share dilution risks in the long-run, we believe the company's strong fundamentals and growth prospects ahead will be more than enough to offset related impacts. Recall from our discussion in earlier sections that share-based compensation expenses are non-cash in nature, thus from a fundamental perspective, Palantir's free cash flows continue to reflect the underlying business' high-growth nature. In short, the company continues to be increasingly self-sufficient with a robust cash runway to fund growth in coming years.
And from a valuation perspective, the share-based compensation issued today cannot be exercised or sold until they vest, which could still be a few years out. Although many senior executives, including CEO Alex Karp, had offloaded a significant volume of shares last year causing stock price pressures, it was part of a long-term compensation-realization scheme, in which share-based compensation issued at the earlier days of Palantir were nearing expiry in December. As such, we are not expecting similar high-volume sell-offs within the foreseeable future.
As we mentioned on prior earnings calls, Karp was granted options a decade ago which we set to expire on December 3rd of this year. Specifically, as a report equity yields 60.9 million options that were set to expire this December. The taxes from the exercise of the options are more than $0.5 billion. And so we've been selling shares along the way to generate funds to pay those taxes. Of the 16.9 million expiring options, he has now exercised 94% of the total. Of the remaining 6%, roughly half or 1.9 million of them will be sold by the expiration date, the other half exercised and as a result, all the near-term expiring options will be exercised.

Source: Q3 2021 Earnings Call Transcript
This is further corroborated by the fact that insider selling activity has since calmed according to recent SEC filings, with only one instance earlier this year by Alex Moore, a Palantir veteran. Similar to other insider share-selling activities observed in the past year, the offloaded shares were done in compliance with Rule 10b5-1, meaning it had been planned in advance and not based on any immediate insider information on the company's performance. From a fundamental standpoint, the latest share-selling activity also does not imply any adverse impacts to the company's growth outlook.
Going forward, we expect share dilutions related to share-based compensation to occur at a much more mild rate, similar to other tech stocks that have very much relied on the non-cash compensation strategy to acquire top talent needed to facilitate growth. And robust fundamental growth in years ahead is expected to compensate for said dilution impacts. Palantir is expected to start realizing nominal profits of $141.1 million by 2025, with further growth towards $1.5 billion by the end of the decade based on our current base case forecast, which is also consistent with anticipated long-term top-line growth that management has guided. The returns are expected to far exceed the anticipated rate of share dilution at 4% per year resulting from the share-based compensation program.
We also expect share-based compensation expenses to scale back and represent a smaller portion of annual revenues in coming years. Strategically, Palantir's extension of generous share-based compensation packages for its employees will continue to provide them with an incentive to remain committed to the company's growth. But to ensure the incentive is useful, it is unlikely that Palantir will do it at the expense of over-diluting the company's share price over the longer-term. While the current share-based compensation expenses represent a large portion of annual revenues, we expect similar spending will scale back in coming years as the company continues to grow to ensure a balance and alignment of interest between employees and shareholders.
Conclusion
Palantir remains on a robust growth trajectory as global digitization trends in coming years continue to underpin demand for data management and analytics software like Foundry and Gotham. While government contracts, especially those associated with defense, remain Palantir's priority, the company has made significant progress in strategically capitalizing on growth opportunities from the commercial segment. The resulting fundamental performance is also expected to compensate for any potential share-sale dilutions related to the share-based compensation program over the longer-term. With the stock now trading at a discount of more than 60% from its peak in early 2021 with no material changes to its growth outlook, we consider the recent pullback a reasonable entry point with potential upside momentum to resume going into the upcoming earnings season and as mounting macro headwinds abate.