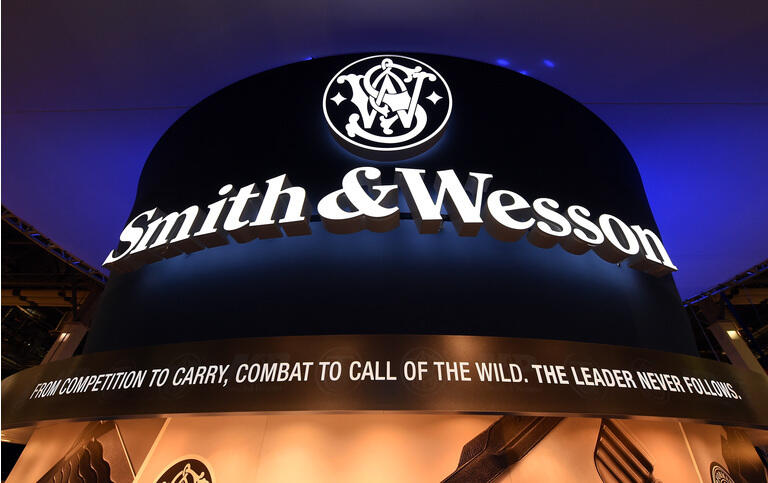 Summary
Smith & Wesson (NASDAQ:SWBI) has struggled to garner much attention from investors lately following its breakout performance dating back to early 2020 when demand for firearms began to skyrocket to record highs. Although investors were already anticipating demand to subside during the last quarter of 2021, its latest earnings report released on December 2nd was widely considered a debacle as shares slumped nearly 30% due to lower than expected revenue and earnings. This single-day decline cut Smith & Wesson's enterprise value down to roughly $700 million and its share price has been relatively stagnant since then.
This recent sell-off appears overdone at this point in my opinion. Based on its forward price-to-earnings (P/E), Smith & Wesson is only trading at a P/E of 4x its fiscal year 2022 earnings and 6x its fiscal year 2023 earnings estimates. Compared to the S&P 500 historical P/E averages which are closer to 20x (currently at 27x right now) and competitors such as Sturm, Ruger (RGR) trading at 11x 2023 earnings, Smith & Wesson appears to be a bargain. This recent sell-off back to a mid-single-digit P/E reflects a valuation that is very rare for a company that still has a lot of positive catalysts, including elevated firearm demand and a new headquarters that is expected to increase its EPS through a more streamlined manufacturing process. While firearm demand has subsided from 2021's high, it's still historically very high compared to pre-pandemic levels and Smith & Wesson has benefited from it. Free cash flows and operating margins have improved significantly, and they are still expected to remain higher over the next few years. My target price of $23/share, or 38% upside from its current price, reflects a conservative P/E of 8x 2023's expected earnings. With Smith & Wesson's debt problems now resolved, management can continue buying back shares with its higher cash flows at these low prices relative to historical market averages. I expect this trend to continue over the next few years and eventually, going private might be an option due to its small market cap.
Smith & Wesson's Recent Struggles Appear Overblown
After what Wall Street considered a disastrous earnings report at the beginning of December, Smith & Wesson has been under a lot of selling pressure and is nowhere near its pre-earnings share price. Revenues for Q2 2022 (fiscal year) came in at $231 million while earnings were at $51 million or an EPS of $1.13, slightly below estimates. As a result, shares plunged more than 30% off their highs and have been relatively unchanged over the last month.
Figure 1: SWBI's Recent Share Price Performance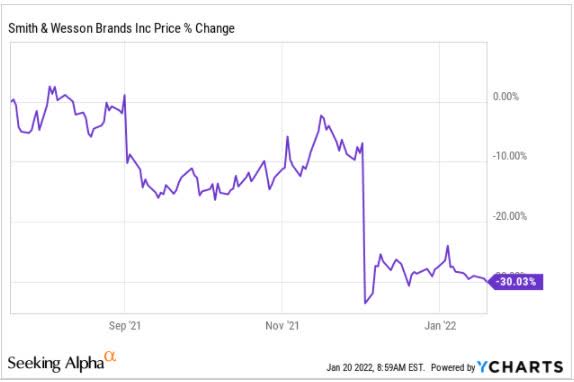 Despite the recent decline, Smith & Wesson is still well above its lows from 2019 due to a significant increase in demand for firearms. As many of you already know, a leading indicator for the financial performance of firearm manufacturers such as Smith & Wesson is the NICS firearm background checks released each month. Figure 3 shows a monthly breakdown over the last twenty years:
Figure 2: NICS Firearm Background Checks
In 2020, there was a record of 39.7 million background checks, up more than 40% from 2019. In 2021, background checks were down slightly to 38.8 million but still well above 2016-2019 levels which were typically in the 20-27 million range. What I find odd is that Smith & Wesson is currently trading an enterprise value that is actually below where it was trading during most of the last decade:
Figure 3: SWBI Enterprise Value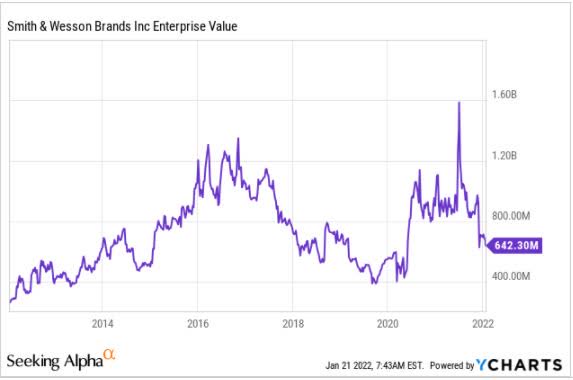 With demand still very elevated based on NICS firearm background checks, it does not make sense why Smith & Wesson would still have a valuation so low. Investors are pricing the company as if there will be a significant decline in revenue in 2022, but background checks for the last quarter of 2021 are telling a different story.
With that being said, Smith & Wesson took advantage of this growth over the last two years and proved to Wall Street its business model works under these stronger demand circumstances. The higher operating cash flows allowed the company to significantly reduce its debt which contributed to higher profit margins over the past year:
Figure 4: SWBI Interest Expense And Profit Margins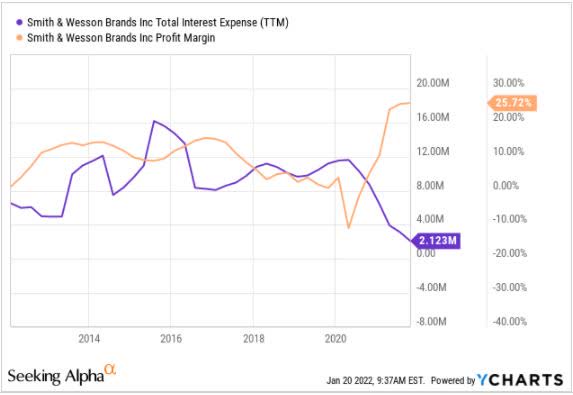 Additionally, margins are expected to remain higher after the company builds its new manufacturing plant. Last September, Smith & Wesson announced it would be relocating its headquarters from Springfield, Massachusetts to Maryville, Tennessee. Although the move will not begin until 2023, management expects the new location will streamline its business operations more efficiently, and add about $0.10-0.12 to its EPS in the long run.
Higher Annual Cash Flows Gives Management Options, Including Going Private
One of Smith & Wesson's biggest issues over the last few years was its inability to generate any meaningful cash flows. Its business model forced management to constantly reinvest any profits it made back into new inventories or to pay down interest on its debt, and that was reflected in the low free cash flows which had not exceeded $100 million in years. As firearm demand began to surge in 2020, Smith & Wesson capitalized. The impressive increase in free cash flow proved to Wall Street that this business model works under the right circumstances and gave management a chance to change the company's future outlook.
Figure 4: SWBI's Increasing Free Cash Flow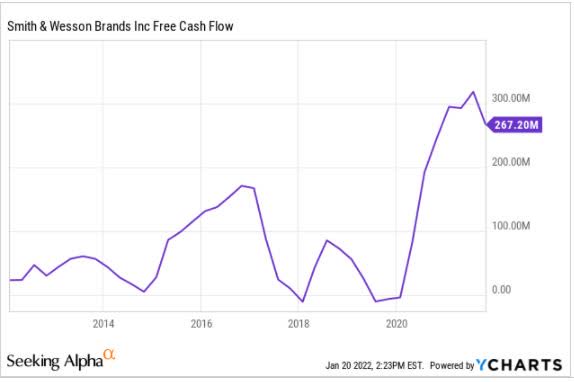 The significant increase in free cash flows as a result of this unprecedented demand for firearms left management with a few choices:
1) debt reduction
2) share buybacks
3) Issue a dividend
Unsurprisingly, Smith & Wesson first reduced its debt load from $210 million down to zero net debt, a position the company has not been in since 2013. A dividend was then issued to shareholders beginning in September 2020, which currently yields about 1.75% on an annual basis. Lastly, management was able to increase its share buybacks, which have surged since the start of 2020.
Figure 5: SWBI's Share Buybacks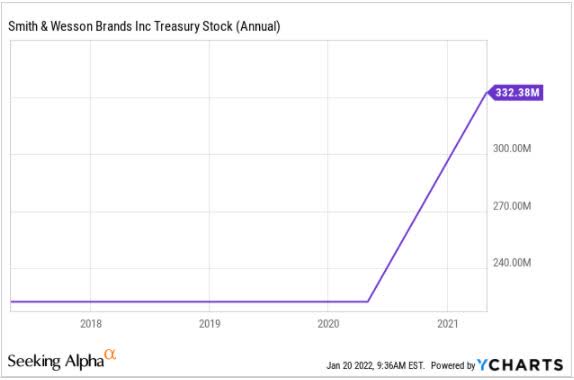 As of October 31, 2021, the company has bought back 26,252,218 shares at a value of roughly $372 million. Currently, there are still about 48.3 million shares outstanding that are publicly traded worth about $800 million using January 20th's closing price of $16.60/share. When factoring in the net cash position of $115 million, Smith & Wesson is worth about $675-700 million using an enterprise value. For a company that has improved net income margins to over 20% with demand expected to remain high over the next few years relative to pre-pandemic levels, it appears very cheap. Smith & Wesson should continue seeing higher free cash flows (around $200 million annually) to a point where it could purchase the remaining shares outstanding or be taken private through some type of leveraged buyout. Either of these circumstances would be great for shareholders. At this point, it's clear that Wall Street will not value the company at levels that reflect typical financial metrics we see across other sectors.
Conclusion
Most investors already know Smith & Wesson has historically traded at a low P/E, even at peak demand cycles that have occurred over the last decade. In the past, I believe it was justified for investors to be hesitant about buying this stock during peak demand years as the high debt load coupled with lower margins was a looming issue once revenue growth subsided. However, I do not think it is fair to value Smith & Wesson at levels lower than 2016-2019 when firearm demand is clearly still very elevated compared to previous years. It does not match up. If monthly NICS data for the first quarter of 2022 continues to remain elevated compared to pre-pandemic levels, I believe Wall Street may begin to re-evaluate Smith & Wesson's current share price towards the upside and reflect multiples that much its competitors. Even at a conservative 8x P/E, the company would trade at $23/share, implying 38% above its current value.