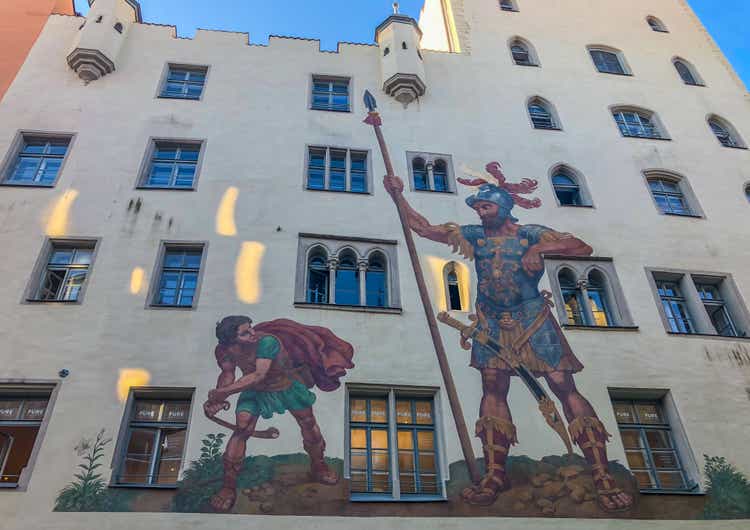 I haven't written on fuboTV (NYSE:FUBO) since the early part of last year, but as I've been on a bit of a media industry writing binge lately, I wanted to put to (digital) paper something I've been thinking about more and more the last few months. As probably every investor and their great-great-grandmother has heard by now, AT&T (NYSE:T) is unwinding the last of its (recent) big merger bets and selling WarnerMedia, the old TimeWarner, to Discovery (DISCA) (DISCK) (DISCB) for about $20 billion or so less than they bought it for, depending on how exactly you do the math.
I'm starting to wonder if fuboTV isn't, probably inadvertently, sending up a giant warning flare that WarnerMedia might not be worth as much as everyone thinks. That has major implications for AT&T, which owns 71% of WarnerMedia even if the deal goes through and 100% of the division if the deal gets blocked by the DOJ. But meanwhile, the mere fact that we're even having this discussion at all means that fuboTV is showing progress on its most important initiative to become profitable - which definitely isn't sports gambling, and probably isn't even advertising.
WarnerMedia's Forgotten Jewel
WarnerMedia consists of essentially three pieces. The two that everyone loves to talk about are HBO and Warner Brothers, the movie and television studio that produces all of WarnerMedia's scripted content - including most all of what appears on HBO.
Almost forgotten in the shuffle is the Turner networks, consisting of all the networks with Turner in their name (TNT and TBS are the most famous) as well as a few others like CNN and Cartoon Network. Despite the lack of hype it gets, Turner is in many ways AT&T's most important division in WarnerMedia, reporting more operating income in 2019 and 2020 than the other two put together.
So it's a big deal when a company at the forefront of the streaming revolution, like fuboTV, does something to suggest that the fundamentals of Turner might be declining.
What A Difference A Year Makes
It's hard to remember now, but in the summer of 2020, fuboTV was actually in a bit of trouble, despite the COVID boost that most streamers were getting. As the second quarter ended, the company would report that it was currently at a level of 286,000 subscribers. True, that was up 47% Y/Y, but it was actually down from 316,000 at the close of 2019. And without COVID giving a boost to streaming it might have been even worse. It was barely one-third the size of AT&T TV Now, the next smallest vMVPD which was itself hemorrhaging subscribers and widely considered a failure.
Some seasonality could perhaps be excused, but at this rate it would take three years just to get to 1 million subscribers, and multiples of years longer to get to the 5 million CEO David Gandler has said is his goal.
For years management had believed that adding Disney's (DIS) suite of channels would considerably broaden their appeal and make them more competitive against other vMVPDs such as market leader Alphabet's (GOOG) (GOOGL) YouTube TV. But they also feared the price hikes that such an addition would require, since vMVPD viewers also seem to expect to find something cheaper than cable if they go to the trouble of cutting the cord.
On July 1st, the company executed, if not a complete strategy overhaul, then at least a substantial pivot. Disney networks, including the crown jewel EPSN, would indeed come to fuboTV. But to keep the price increase to a reasonable $5, the company would also drop some networks, and not just any networks: WarnerMedia's Turner networks were the ones to get the boot.
The results speak for themselves. Last week, fuboTV announced preliminary Q4 2021 results. A mere 18 months after their content overhaul, they've cleared 1 million subscribers with room to spare, hitting 1.1 million. Actually they'd already announced they hit 1 million back in November. But that was an addendum announcement to Q3 results ending in September that still had them just short, so this is the first official quarterly result with the good news in the numbers themselves. And they've picked up another 100,000 for good measure.
Where's The Outrage?
I have to admit, if you had told me a year ago that this was going to play out this way, I wouldn't have believed it. Don't get me wrong, I'm not surprised at all that adding Disney's ESPN and other sports cable channels has had a profound impact on fuboTV; because it markets itself as a sports-oriented service, the omission of ESPN was always questionable. I am actually a big believer that omitting Disney's networks can be very useful to a service that markets itself primarily to non-sports customers, but obviously to sports fans, excluding ESPN can be a potentially fatal omission.
More surprising, to me, has been the apparent lack of backlash against the removal of the Turner networks. By rights, Turner nets - owned by WarnerMedia, now owned by AT&T for at least a little while longer before they become owned by Discovery - should be some of the most broadly appealing channels in the bundle. Unlike certain other sports channels that have strong positions in a few sports but weak positions in others, Turner was careful to secure positions pretty much across the board. It has major contracts with Major League Baseball, the National Collegiate Athletic Association (what is colloquially known as March Madness) and now even the National Hockey League, though that last wasn't on the books yet when fuboTV dropped them. Its biggest property is a co-equal status with ESPN as the pre-eminent national broadcaster of the National Basketball Association.
It also has substantial non-sports, scripted entertainment content deals, including one for cable rerun rights to Big Bang Theory on TBS, long the top comedy show on TV during its run on Viacom's (VIAC) (VIACA) CBS. Even sports fans, after all, spend half their TV time or more watching other things. Speaking of CBS, they're also Turner's partner on the NCAA March Madness tournament, as well.
By rights, this should have been a very hard channel group to drop. Turner's portfolio is considerably broader than even ESPN's, which has only marginal entries in the baseball and college basketball worlds in order to focus on professional basketball and the veritable cornucopia of different football leagues, both professional and collegiate. It's impossible to drop Turner without fans of almost every sport noticing you've got a hole in your lineup.
Finding An Answer
So what's going on?
Is It Just A Mirage?
One possibility is that there has been a significant backlash and we simply lack the data to see it. Alphabet does not disclose the number regularly, but we think Google's YouTube TV is the leading vMVPD provider in the US. Without their subscriber number to compare fuboTV's to, we don't know for a fact that fuboTV's growth is industry leading. Perhaps YouTube TV, which kept Turner's networks, is doing even better. The fact that fuboTV is growing does not prove that it is growing as fast as it could be.
But it seems unlikely that fuboTV's outperformance is simply a mirage. Hulu Live and DISH Network's (DISH) Sling TV do regularly report subscriber metrics, and neither is doing nearly as well as fuboTV. In fact, both are actually down from their peak subscription levels. Meanwhile, fuboTV is still setting records for subscribers. And YouTube TV hasn't said anything about a sudden surge in subscribers to match fuboTV's.
Too Small A Slice?
A second possibility is that the lack of consumer reaction has less to do with the specific content and more to do with that content's proportionate share of the total. As I said, the biggest loss for fuboTV with dropping Turner is probably the NBA. With Turner out of fubo's bundle almost half of the national NBA content slate is missing. But with the NBA playing 82 games per team as opposed to the NFL's 17, dropping almost half of the national games would still leave almost three times as many NBA games on the service even if a particular team's games were completely covered by the national contracts. Which of course they are not - the vast majority of NBA games, like MLB and NHL games, are covered by the Regional Sports Networks in each city, which were not affected by the Turner decision, either. So maybe people value the NBA but Turner simply doesn't have enough of it to be that noticeable?
The problem with this theory (actually there's several, but we'll just pick one) is that while fuboTV didn't drop the RSNs at the same time that it dropped Turner, it did eventually drop them, or at least a lot of them: Sinclair's Bally Sports Nets (half of teams alone) and Altitude RSNs are both off the service, although AT&T's four RSNs and Comcast's NBC Sports Regional Nets are still on the service. And fuboTV doesn't seem to have lost any significant number of subscribers for doing so. So between dropping Sinclair's Bally Sports, and Altitude, and Turner, fuboTV has dropped well over half of all NBA games…and hasn't missed a beat. In fact, none of the many services who dropped the RSNs seem to have lost for doing so, and that list is now getting very long.
Don't Make It Complicated
After further consideration, I think perhaps I'm making this more complicated than it needs to be.
Turner's one glaring hole in their sports lineup is football: it has no contracts with the National Football League or any collegiate football conferences. The NFL has long been recognized as the preeminent sports property in the United States, and college football is no slouch, either. So the real explanation might simply be this:
The US isn't full of sports fans, it's full of football fans; other sports are more negotiable. And because dropping Turner didn't remove any football, and adding ESPN's family networks of networks added a ton of football, fuboTV benefited immensely, even with the $5 price hike.
If this last is true, it has significant implications for the entire pay-TV system and the new streaming revolution. But the most immediate impact will be on Turner itself, and its owner, AT&T's WarnerMedia. And it potentially says something pivotal about fuboTV as well.
Is Turner In Trouble?
Let's just get Turner out of the way. Turner is apparently a channel (group) that can be dropped without producing a massive loss of subscribership.
"Big deal," some might say. "Turner is the most profitable division the company has. Even if the shine is coming off a little, it's still plenty valuable and Discovery or anyone would be lucky to have it." Maybe, or maybe not.
Turner is indeed the most profitable division inside WarnerMedia. As I said, it delivers more profit than the other two parts of the company put together. But Turner is able to do this because unlike HBO, which operates in the highly competitive DTC (Direct-to-Consumer) streaming market, and Warner Brothers which operates in the semi-competitive movie market, Turner sits right in the middle of one of the most lucrative monopolies of 20th century America, pay-TV cable/satellite TV. And like most of the other lucrative players in that industry, Turner delivers its profit in large part by being a key player in major (expensive) sports contracts.
As I and many others have noted repeatedly, the key thing about sports contracts is that they are long-term fixed. The NBA and the NHL and everyone else do not get a bonus payment when Turner revenue rises, even if it rises because of their sports content; and those same leagues do not suddenly take half-price on Turner's obligations to them when revenue goes down. Sports contracts in pay-TV are inherently highly leveraged instruments.
By itself this is neither good nor bad. It simply is. TV shows are far more flexible because they can be cancelled if they do poorly, but that also means stars demand big raises when they do well, which limits upside. Leveraged and non-leveraged can both be either positive or negative attributes.
When an investment is declining, however, leverage is unquestionably a bad thing. On sports contracts, losses from reduced subscribership pass almost straight to the bottom line.
Doing The Math
Turner generated around $12.6 billion in revenue in 2020, meanwhile operating profit came to $5.33 billion. That compares to just $2.7 billion in operating profits that same year for Warner Brothers/HBO.
But from this we have to deduct the 'Eliminations' category reflecting inter-segment sales between Warner's three divisions, as well as Turner's share of the $43 billion in new merger debt that interest must be paid on. I'll give it two-thirds share of those expenses because it's currently two-thirds of operating income. Assuming 5% interest, Turner would be looking at around $1.4 billion in interest expense and another $1.4 billion in eliminations. So its actual profit is around $2.5 billion.
By itself, fuboTV still represents only about 1.5% of the total pay-TV market - fuboTV dropping them is disappointing but far from fatal for Turner. More serious is if other services see that it's safe to drop Turner and begin emulating fuboTV's behavior. When DISH Network dropped Sinclair's RSNs from its DISH TV and Sling TV services, it wasn't long before fuboTV, YouTube TV and Hulu Live all rushed to follow them. Collectively, those services represent some 25% of the total TV market. That's far more serious for Turner when its 20% profit margin has to absorb almost the entire hit, owing to its fixed-cost sports contracts. If they all dropped Turner it might barely break even.
Does This Validate Fubo's Curation Capability?
All of this has to be very worrying for AT&T. But meanwhile, fuboTV investors are rejoicing, and not just because CEO Gandler's gamble - on which it might be no exaggeration to say he bet the company - worked so well.
I said at the outset that gambling is definitely not fuboTV's path to profit, and almost certainly targeted advertising isn't either, although both might help on the margins. You can read why I think so in my previous articles, but if those aren't the answer, does fuboTV have any realistic path to profit?
It has one, and that is content curation. Some of the more forgotten pivotal moments in Netflix's (NFLX) rise to dominance have been the decision to walk away from various content deals that outsiders insisted were absolutely vital, from its Starz sub licensing deal to its Epix licensing deal, to a major Viacom syndication pact, and the 'Black May Day' when thousands of titles from multiple studios disappeared all at once. Each time, Netflix repeated that it wanted to be "an expert programmer" of content and offer value by identifying what consumers wanted most and cutting out underperforming content. It never tried to have everything.
If fuboTV can do the same, it can potentially outperform other services which are maybe having trouble letting go of even underperforming content. I've long believed this is the only way that fubo can really make it. But so far, it's merely emulated content curation done by others. Remember DISH dropped Sinclair RSNs before fuboTV did. Gandler kept insisting that fuboTV had great data, that it could make insightful decisions, but the proof was always lacking.
Here, finally, is such a move. If in fact this decision sticks - there are always rumors that Turner is coming back - and if in fact fuboTV's growth continues, Gandler and fuboTV will have seen something in their data that every other streaming service, with ten times the subscribers that fuboTV had at the time, missed. That is not talk, that is the proof that is pudding.
Risks For Fubo Remain
This doesn't put fuboTV free and clear on the road to profit, I'm afraid. While Turner is large, it alone probably isn't large enough. When YouTube TV added Turner to their lineup - they didn't carry them at first - they only needed to raise prices by $5, and that was with a few other sports channels added as well.
Doubtless rates have risen since then, but dropping Turner probably still isn't enough on its own to facilitate a meaningful price differential with competitors. As of now, fuboTV continues to charge prices that are almost indistinguishable from competitors Hulu Live, YouTube TV and - if you combine Orange and Blue - Sling TV. It will need probably two to four more victories like this to be able to offer a price meaningfully below these levels and perhaps lure away existing subscribers to its service.
Investment Summary
This is a promising sign for fuboTV, but risks remain. Meanwhile, AT&T faces a very familiar conundrum yet again: another division tied closely to pay-TV, historically very valuable, for which it paid top dollar but is now showing some early signs of cord-cutting disease. It's always possible no one else drops Turner and the problem ends here. Then again, AT&T management used to wave away my concerns about DIRECTV as well, insisting it was ridiculous to say that DIRECTV could threaten the dividend...
For now, I am leaving a Neutral rating on both companies. But that doesn't make this development meaningless. If this trend continues, the implications could be substantial.