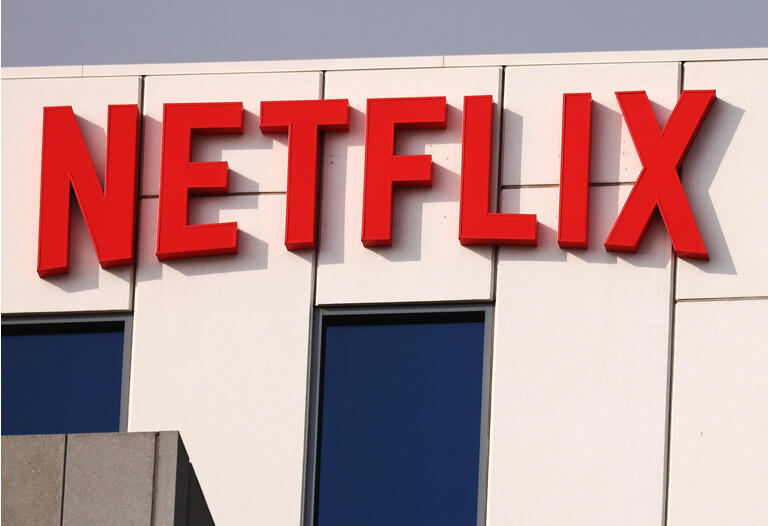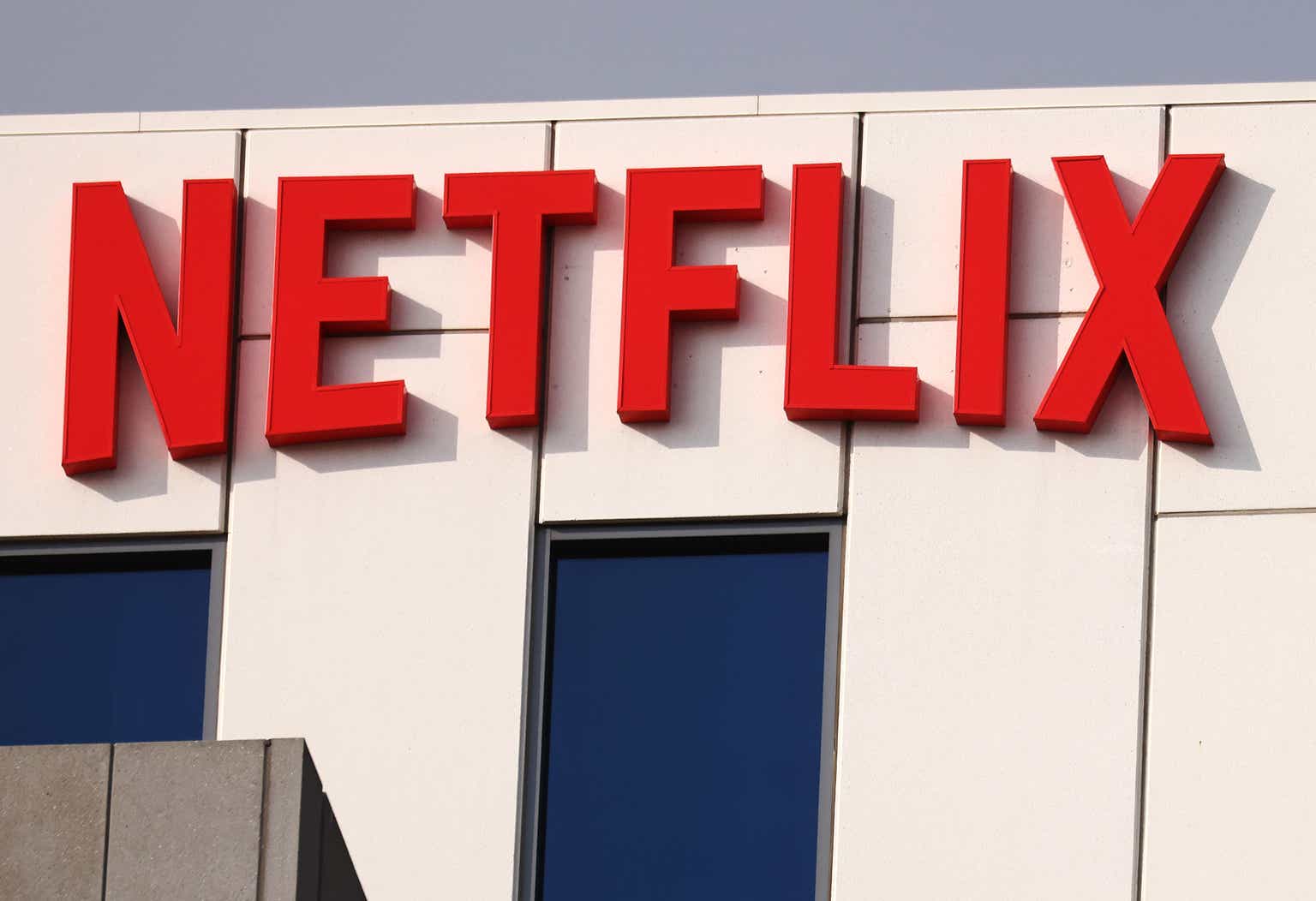 Introduction
Per the Netflix (NASDAQ:NFLX) 4Q21 shareholder letter, only 2.5 million paid subs are expected to be added in 1Q22 which is even lower than the 3.8 million that were added in 1Q21. Putting things in perspective, 15.8 million paid subs were added back in 1Q20. 1Q22 revenue is expected to be $7.9 billion which implies year-over-year growth of just 10.3%. This is terrible relative to 1Q21 which had year-over-year revenue growth of 24.2%. The operating margin has been climbing about 3% per year and that isn't expected to happen in 2022. My thesis is that Netflix is still a wonderful company despite the fact that this guidance from the 4Q21 shareholder letter is disappointing.
Operating Margin
Foreign exchange [FX] explanations mollify our concerns with respect to operating income. The 4Q21 letter explains that they don't hedge and FX movements are expected to be costly in 2022. FX headwinds should lower the annual 2022 operating margin by 2 percentage points: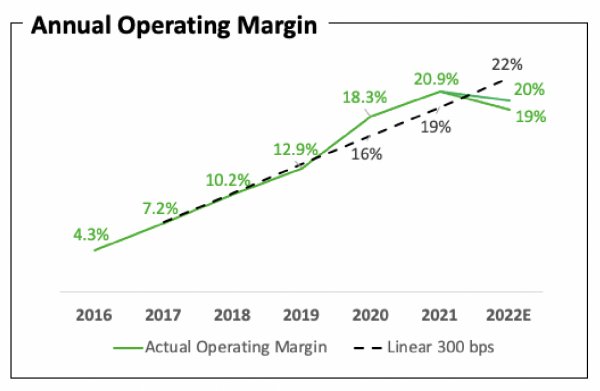 Image Source: 4Q21 letter to shareholders
CFO Neumann makes statements in the 4Q21 call that put the above graph in perspective. He says they are still committed to 3% operating margin growth over a 2 year period such that they will eventually catch up to the rate of 3% improvement per year. I think this means we'll be near 25% by the end of 2023:
No, it's really just FX, Nidhi. So as we said in the letter, we lost about $1 billion of expected revenue in '22 through FX. That's about 2 points of margin. So if you just kind of look at our guide and add that back on, we're right on our pace of adding about 3 points of margin per year. And I can't forget we were over delivering on margin in the last couple of years. So that's really all that's happening here. And the FX move happened in really the last 6 months of last year. So what we've always said is we don't want to swing the business unnecessarily fast. We want to be able to invest in a healthy way into our growth opportunities. And over time, we will then rightsize our -- appropriately our investment levels, our cost structure, our pricing in order to rightsize for where the currencies are coming in. And so this gives us some time to do it. So it gives us a little time, but we will catch back up. We're still committed to roughly 3 -- 3, average of 3 points of margin increase over any two year period. But there's no change there. We've been factoring in our content investment, our game investment all along.
Revenue
The 4Q21 letter says that FX challenges are costing them roughly $1 billion in expected 2022 revenue. CFO Neumann says the 10% expected year-over-year revenue growth for 1Q22 isn't as bad as it appears due to FX concerns and a tough comparison with 1Q21:
What I would argue [is that] FX adjusted constant currency for Q1 year-over-year is about 14% growth. It's also a tough comp year-over-year in Q1 because you may remember, we increased prices in the U.S. [at the end of] Q4 of '20, which flowed through to Q1 of '21 is when it was really materialized. So the year-over-year comp is tough. So the underlying organic revenue growth in the business is, right now, at least in Q1, more like 15% plus, 16%, 17%.
Competitive Landscape
The world has room for Netflix, Disney+ (DIS) and HBO. We've seen pull-forward issues with Netflix subs but if we look at the combined total for 2020 and 2021, then things are fine. Revenue has also been going up nicely for Netflix during this period and operating income growth has been phenomenal as margins have improved. All this happened while Disney+ subscribers skyrocketed and HBO saw some growth; there is plenty of room for all these content providers: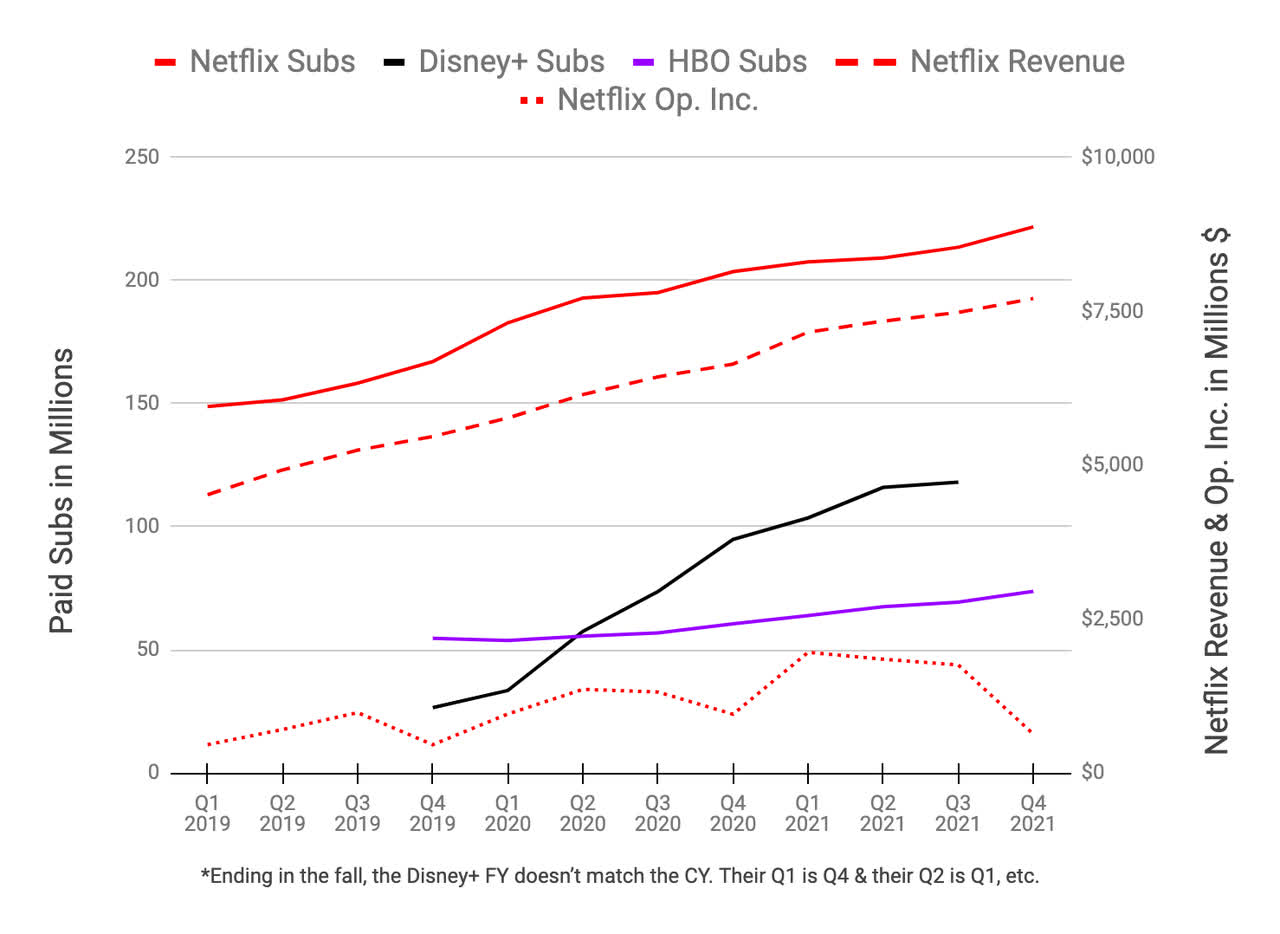 The Netflix paid subs line above in red is well ahead of the Disney+ paid subs line in black and both are ahead of the HBO paid subs line in purple. The difference is even more pronounced when we consider that HBO has a wholesale problem and Disney+ has an average revenue per user [ARPU] problem.
HBO's purple line above is apples and oranges because most of their subs are wholesale. The AT&T 3Q21 Financial and Operational Trends document shows that only 12.6 million of HBO's 45.2 million domestic subscribers are direct. There are another 24.2 million international subs bringing the HBO total sub count to 69.4 million for 3Q21. A January 5th release says HBO's sub count climbed to 73.8 million for 4Q21.
We have to remember that Disney+ has a long way to go in terms of catching up to Netflix with respect to revenue. This is because Disney+ has not shown pricing power; their ARPU is tepid compared to what we see from Netflix. Blending geographies, the Disney+ ARPU is going down while the Netflix ARPU is going up: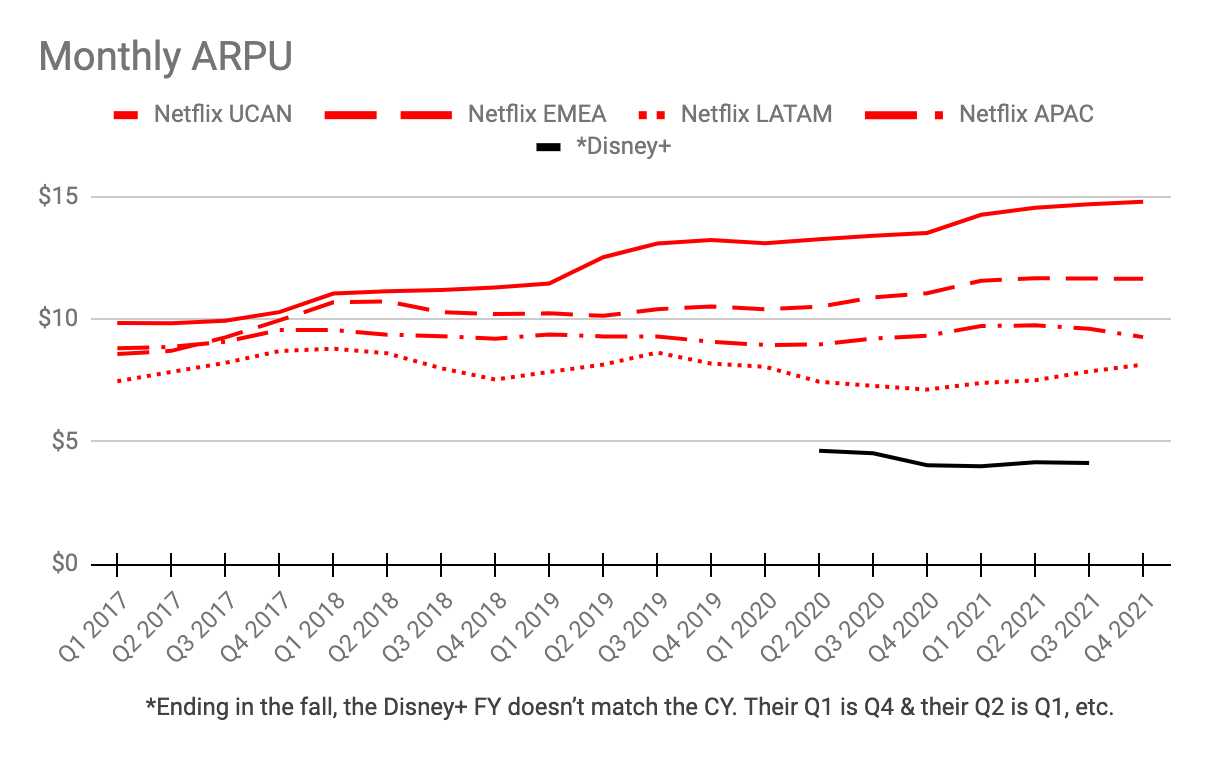 Valuation
Looking at the last few years, subscriber growth has been nice in Asia-Pacific [APAC] and Europe, Middle East, and Africa [EMEA]. Management said ongoing Covid overhang and macro-economic hardships may explain why we haven't seen much growth in Latin America [LATAM]. I believe the US & Canada [UCAN] market is flat because it is mature: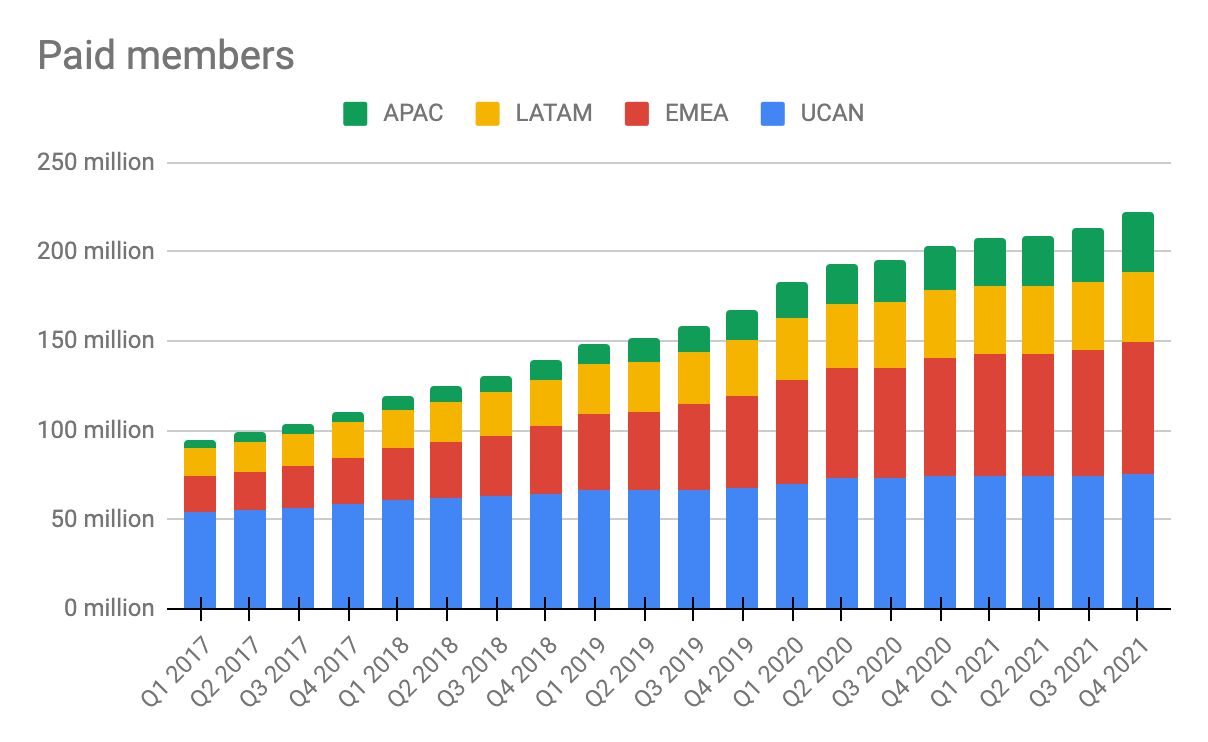 The 4Q21 call started out with Fidelity Portfolio Manager Nidhi Gupta asking about the net additions being short of the guidance number and Co-CEO Reed Hastings replied by implying that the difference between 8.3 million and 8.5 million is relatively small. Co-CEO Ted Sarandos then chimed in noting that this estimate was all the more closer because it's on a subscriber level of 222 million. This shows the complexity of making estimates; net additions are based on gross additions minus losses from churn. CFO Spencer Neumann put the small difference in perspective noting it was only off by about 1/1,000th:
We delivered 8.3 million paid net adds. So it was just a bit shy about 0.1% on roughly 222 million paying members.
Being off by 200,000 subs in 4Q21 wasn't the end of the world but the guidance of just 2.5 million net adds for 1Q22 is unfortunate. It means we might see even fewer net additions in 2022 than we saw in 2021: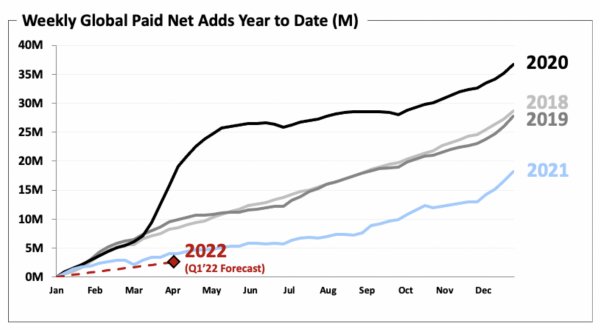 My valuation thoughts have decreased since my January 2021 article as it will take longer than I thought for Netflix to get to 400 million paid subs. Still, I thought the share price drop of more than 20% on Friday was an overreaction.