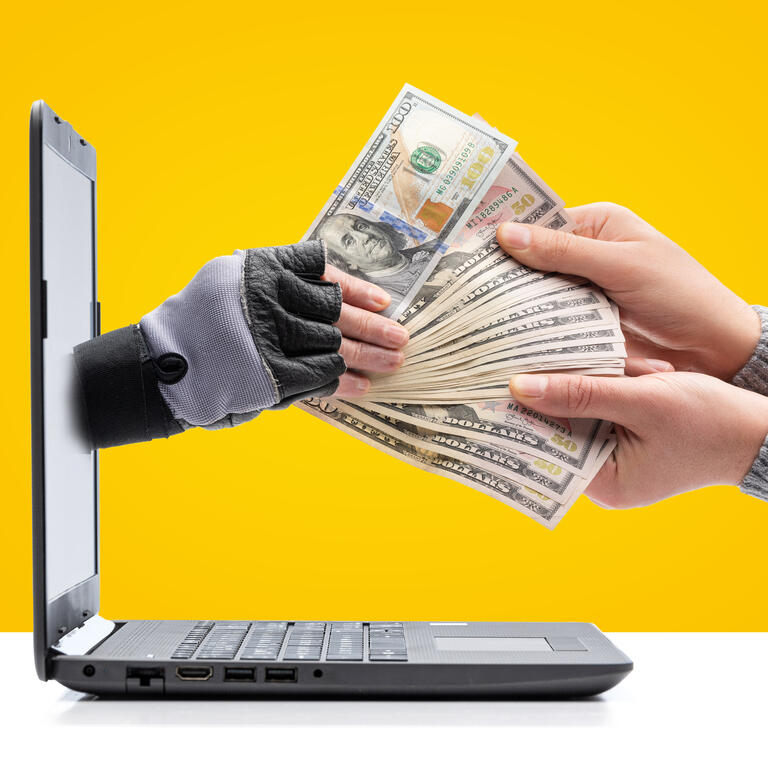 Price is what you pay and value is what you get. That saying is easy to apply in theory but becomes hard for most investors at most times. During bull and bear markets it is easy to become enamored with "this time is different". We saw the same happening on the three PIMCO funds we cover.
PIMCO Corporate & Income Opportunity Fund (NYSE:PTY), PIMCO Income Strategy Fund (NYSE:NYSE:PFL), and PIMCO Income Strategy Fund II (NYSE:PFN) are funds that we have written about over the last year. This started off with a bearish call on all three and moved to a neutral stance on both PFN and PFL when we last wrote about it.
What Has Happened Since?
The three funds lagged our benchmark for this sector, SPDR Bloomberg Barclays High Yield Bond ETF (JNK). PTY was particularly hard hit and lost 11.43%, vindicating our stance to keep a sell rating on this one.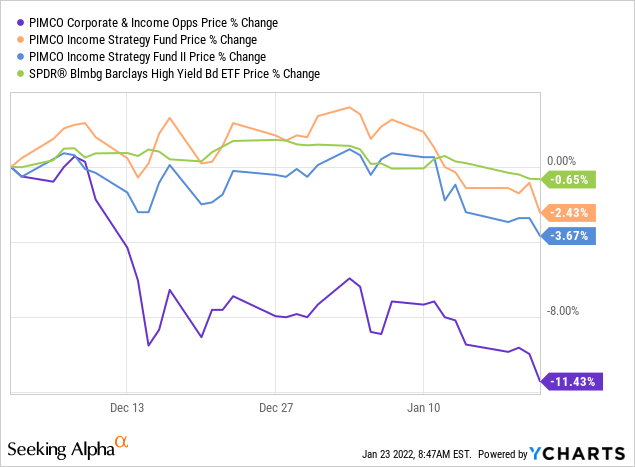 Price though is one part of the equation for closed end funds. The key rating comes from premium to NAV and fundamentals for the funds. Let's look at those next.
Premiums
PTY's July exuberance is rapidly creating whiplash for everyone that bought at that point. The premium to NAV reduced and was the cause of the bulk of the price drop.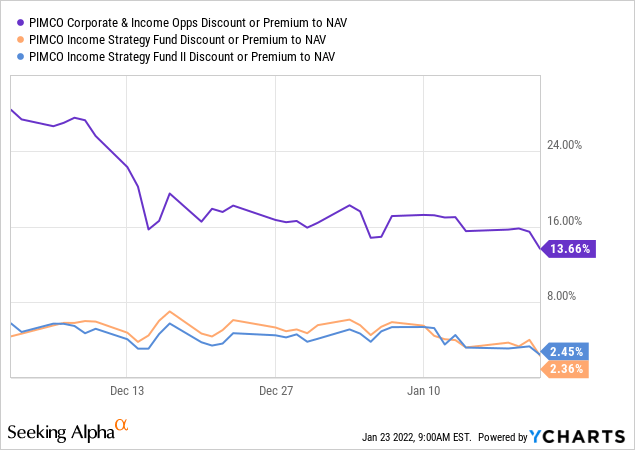 At 13.66%, this is nowhere near as extreme as where our stern warnings originated. A longer term history shows that PTY's premium is now close to the average of what it has held.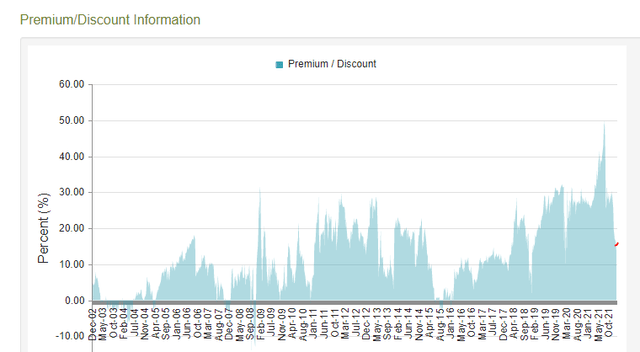 The premium is now less of a headwind for returns and a positive factor in our opinion as we look at a rating for this fund.
PFL and PFN premiums to NAV have dropped as well, though far less than what PTY experienced. PFL and PFN's premium are a bit lower than their longer term averages (only PFL shown below).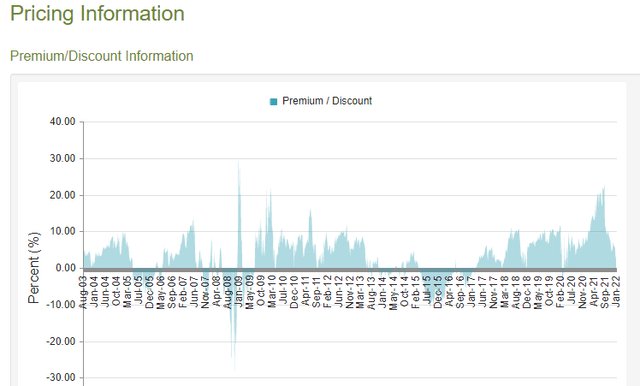 Fundamentals
While pricing continues to improve on a relative basis, fundamentals are far from optimal. The Federal Reserve's liquidity withdrawal has obliterated the fourth tier junk.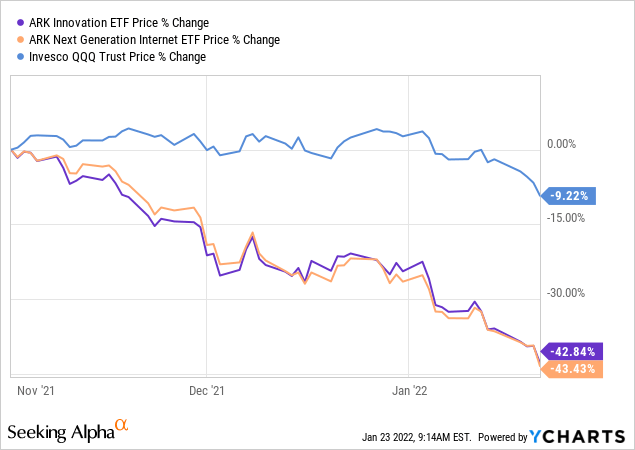 Bond markets though, have still to fully price in an environment of 4% inflation. A tightening Federal Reserve alongside much wider credit spreads are additional headwinds. Historically, JNK yielded at least 4% above inflation. Today we are getting 2.77% below inflation.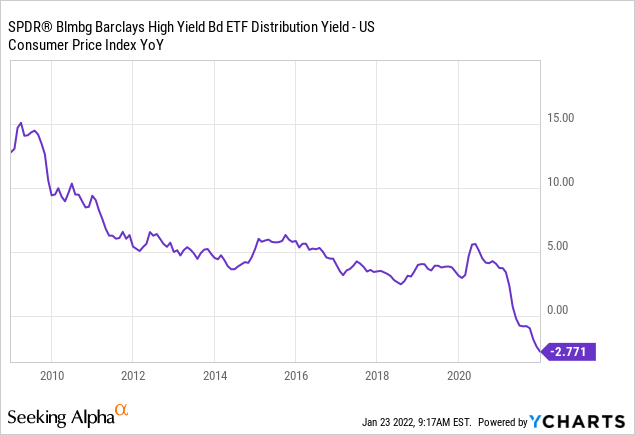 Even accounting for a moderating of inflation to 4%, alongside a 3% premium, JNK remains extremely expensive. US high Yield CCC or below, option adjusted spread has awoken from its slumber but remains incredibly cheap.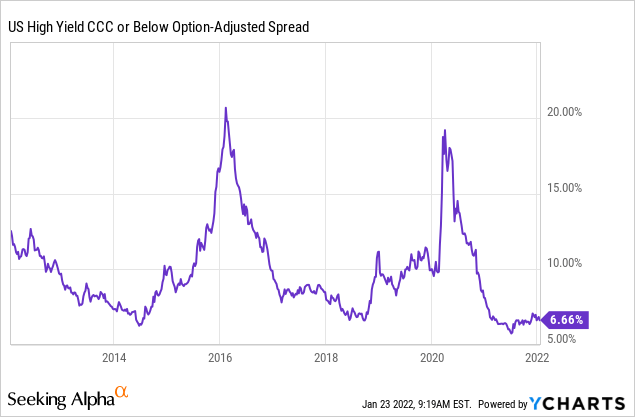 As we have shown before, the best times to buy these three funds is when we get a spike in this metric. We are nowhere near that point and one is coming, whether it be in 2022 or 2023.
Outlook & Verdict
The three funds use heavy leverage (40%). They also have a good history of successfully using that to generate returns. A key differentiator here is that it is far harder to generate great returns when the baseline yields on an asset have compressed. This is a point investors tend to miss when they extrapolate past results on the future. Future results have to be weaker when junk bond yields are so low. That is the end of that story based on math.
The three funds can generate 5-8% annualized total returns on NAV. But the lower returns mean that investors should be careful in picking buy points and not rushing to buy at every tiny drop. If the low end of our outlook materializes, you will see multiple distribution cuts down the line. Investors who paid a 52% premium for PTY will struggle to generate positive total returns 7 years out.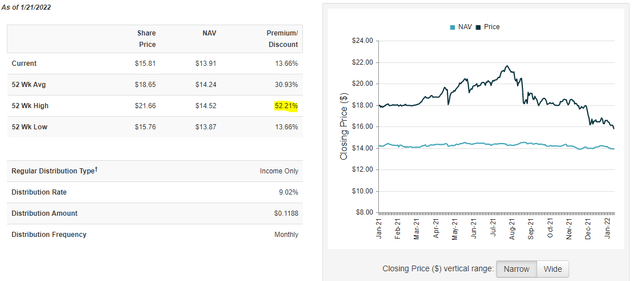 One interesting observation here is that since that 52 week high in NAV, PTY has not generated positive total returns even on NAV. The move from $14.52 to today's NAV of $13.91 (61 cents of drop) was accompanied by 59.4 cents of distributions including the latest ex-distribution date of January 12.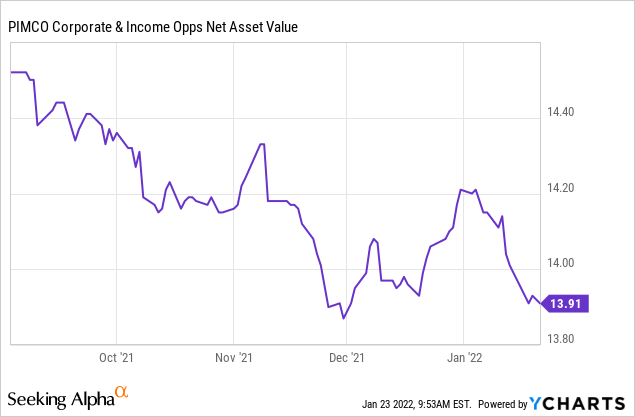 Keep in mind that this is happening before our CCC indicator has really blown up. So this will be a tough environment to navigate and we remain cautious on the outlook for heavily leveraged funds. That said, PTY's long standing reputation and performance compel us to use this opportunity to upgrade this to a neutral rating. After a similar amount of consideration, we are still leaving PFL and PFN at neutral and we would give a green light once we see our indicators suggest that the crowd is actually in full panic mode.
Please note that this is not financial advice. It may seem like it, sound like it, but surprisingly, it is not. Investors are expected to do their own due diligence and consult with a professional who knows their objectives and constraints.