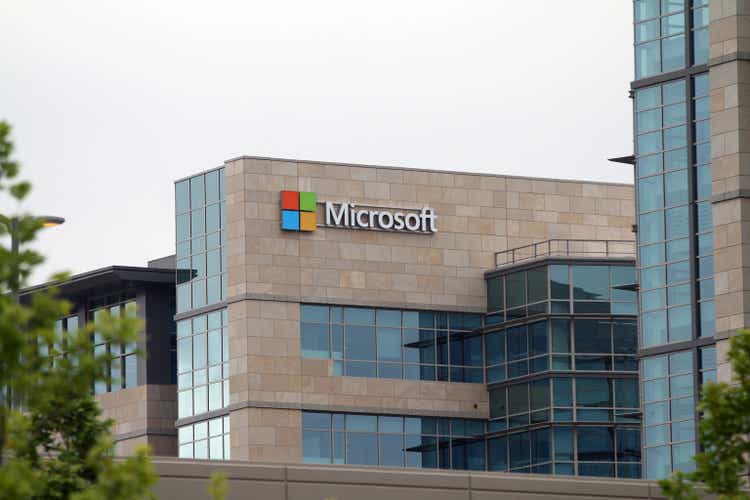 Microsoft (NASDAQ:MSFT) is a great business, and the stock has been the sleeper hit of the 2010s with steady cash flow and powerful growth (in cloud computing and now in gaming). The rating agencies give Microsoft a AAA credit rating, on par with well-run sovereign governments. The main problem? Everyone else knows this about MSFT too, so the valuation on the stock has risen sharply over the last few years, even faster than business profits. Ten years ago, Microsoft traded around 10x earnings. This became 20x, which now has become over 30x, even with the pullback in the stock. Microsoft earnings tend to zig-zag rather than show pure exponential growth, leading analysts to question whether the multiple is sustainable. In June, I issued a five-year stock forecast for MSFT, arguing that it was a great business trading for a premium price, but that as a result of the valuation investors could only expect about 7% annual returns going forward. Since then, from a valuation perspective, Microsoft has taken a round-trip journey to the stratosphere and back.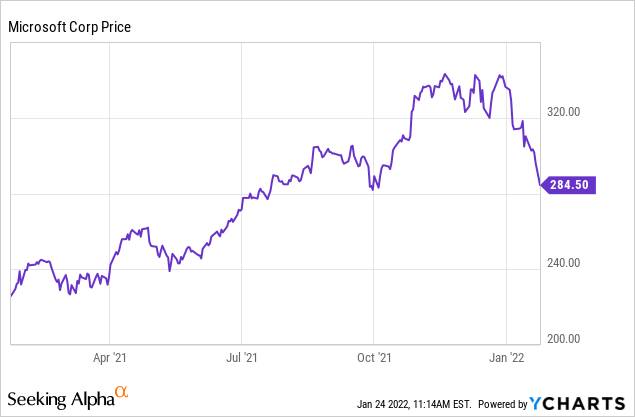 But now, there are some interesting new developments. For one, the markets have entered correction territory as of my writing this, and if they continue to fall sharply, blue-chip companies like Microsoft are great to pick up for discount prices. Second, Microsoft revealed their intentions for a big expansion in gaming with the announced $68.7 billion acquisition of Activision Blizzard (ATVI), expected to close in FY 2023 (i.e. after June but my guess is in roughly a year, depending on antitrust approval). If the deal closes, it should boost Microsoft's EPS numbers.
Microsoft Earnings: Key Stock Catalysts
The first thing investors should know is that Microsoft is clearly valued as a growth stock, so the most important thing in their earnings report is whether the company's overall guidance shows enough growth to satisfy investors. Readers should note that Microsoft's guidance and analyst questions will be in the quarterly conference call, and transcripts are posted to Seeking Alpha's news feed on the Microsoft ticker page. Microsoft is expected to earn $2.32 per share by analysts, but they're going to need to beat that by a good margin to see a pop in the stock. Good may not be good enough – given just how baked-in expectations are for the stock. Microsoft likely needs to be able to sustain the 15% annual earnings growth that analysts expect for the next few years and to sustain double-digit EPS growth rates for over a decade to avoid the multiple contracting to 20x or less. So far, they've been awesome at achieving this, but the nature of exponential growth makes it hard to sustain for long periods of time.
To this point, the second thing investors are going to want to look for is Microsoft's forecast of cloud computing growth. Microsoft Office and traditional products have performed well, but the big growth over the last 10 years for Microsoft – and Amazon (AMZN) as well – has been contributed in large part by cloud computing. One question that I would have is whether the pandemic changed the growth trajectory for Microsoft's cloud or whether companies going to work-from-home simply pulled forward demand. I actually don't have a strong opinion either way on this question, but if it's the latter, this fact alone means Microsoft is likely to see returns at least capped to the upside over the next few years.
The third thing investors should look out for is management's thoughts on the Activision Blizzard acquisition.
Some thoughts on the ATVI acquisition:
Microsoft is paying all-cash for ATVI, which is unique because who else has almost $69 billion laying around? Not many companies. Paying cash means the deal will almost certainly be accretive to Microsoft's earnings per share.
This said, from the reaction immediately post-announcement, I got the sense that the market is tolerating the deal but probably would have preferred a more conservative play like buying back stock or a large dividend boost. Still, Microsoft's cost of capital is among the lowest in the business. Paying a little over 20x next year's earnings for ATVI means that if they can realize significant synergies from combining the company and some organic growth in gaming, then Microsoft will win big from an earnings standpoint.
The deal might not close. Microsoft offered $95 per share, but ATVI is trading for about $81 per share. Rarely will you be offered a premium of nearly 20% to hold a stock that's offered a friendly acquisition by a mega-cap company. Some analysts think this is because while Microsoft has the legal standing to close the deal (most deals regulators block are horizontal rather than vertical), it's politically tone-deaf and will be hotly contested by US and EU regulators. My guess is that the premium here is a good deal more than the risk of the deal not closing.
I wouldn't necessarily characterize the risk of ATVI closing or not closing as a risk to Microsoft's stock since the market didn't love the deal to begin with and Microsoft fell after the announcement. This is obviously a risk to ATVI stock, however.
Since the premium looks attractive and offers a 20% return if the deal closes, investors may want to consider using the merger arb opportunity as something that could diversify their portfolio. All you have to do is buy ATVI and wait for the deal to close. If it takes longer than 12 months to close, you get long-term capital gains tax treatment on it too, which blunts the impact of the time value of money. I'm going to look into this more and may take a long position in the coming weeks.
Bottom Line
Microsoft is a great business, but the stock has risen faster than the profits of the business. Some of this is normal because the starting PE 10 years ago was low and the market underestimated Microsoft's ability to deliver huge growth in cloud, but some of this is investors paying more and more for the same dollar of earnings. If MSFT were to trade back down to 20x earnings, I would have minimal concerns with Microsoft growing into its valuation and would expect 10%+ annual returns with ease. This implies a buy price of about $211 assuming next year's earnings estimates. If you pay more than this for Microsoft, you'll make money over the long run. However, I'm not sure you'll make more than the market at the current market price since the secret of Microsoft's great business is now well-known and the valuation is still high. Since the Nasdaq is in a correction and prices are falling, investors just might find they can get a good deal on MSFT. $211 is the price I would add Microsoft to my own personal shopping list.