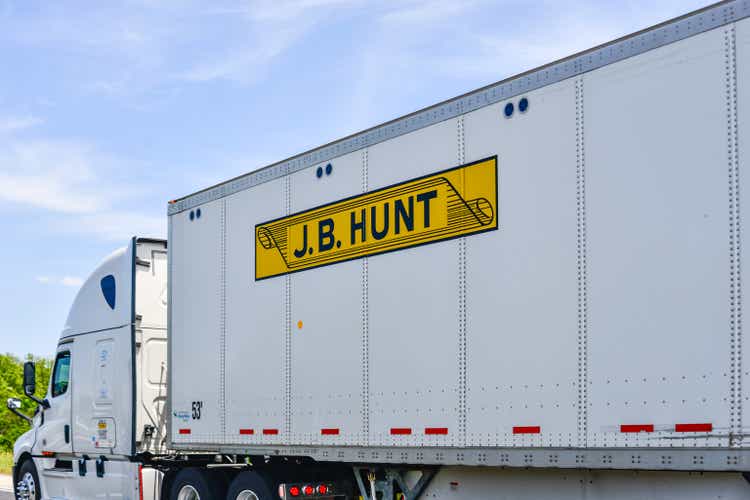 We monitor dividend changes of stocks in Dividend Radar, a weekly automatically generated spreadsheet listing stocks with dividend streaks of five years or more. The Dividend Radar spreadsheet separates stocks into three categories: Champions (with increase streaks of 25+ years), Contenders (10-24 years), and Challengers (5-9 years).
In the past week, eleven companies in Dividend Radar decided to increase their dividends. Note there were no dividend cuts or suspensions announced for Dividend Radar stocks during this period.
The following table presents a summary of the dividend increases. The table is sorted into sections for Champions, Contenders, and Challengers, and then by the percentage increase, (%Incr). Dividends are annualized and in US$, unless otherwise indicated. Yield is the new dividend yield for a recent price and Yrs are years of consecutive dividend increases.
The following dividend increase data are sorted alphabetically by ticker.
Company descriptions are the author's summary of company descriptions sourced from Finviz.
Sierra Bancorp (BSRR)
BSRR operates as the bank holding company for Bank of the Sierra that provides retail and commercial banking services to individuals and businesses in California. The company offers various deposit, loan, and financial management products and services. BSRR was founded in 1977 and is headquartered in Porterville, California.
Delek Logistics Partners, LP (DKL)
DKL owns and operates logistics and marketing assets for crude oil, as well as intermediate and refined products in the United States. The company operates in two segments, Pipelines and Transportation, and Wholesale Marketing and Terminalling. DKL was founded in 2012 and is headquartered in Brentwood, Tennessee.
Enterprise Bancorp, Inc. (EBTC)
EBTC operates as the holding company for Enterprise Bank and Trust Company, which provides banking products and services primarily in Massachusetts and New Hampshire. The company offers various deposit and loan products, as well as a variety of financial management services and insurance products. EBTC was founded in 1989 and is headquartered in Lowell, Massachusetts.
Consolidated Edison, Inc. (ED)
ED delivers electricity, gas, and steam. The company provides electric services to customers in New York City and Westchester County; gas to customers in Manhattan, the Bronx, and parts of Queens and Westchester County; and steam to customers in parts of Manhattan. ED was founded in 1884 and is based in New York, New York.
Fastenal Company (FAST)
FAST sells industrial and construction supplies, including threaded fasteners such as bolts, nuts, screws, studs, and related washers, in the United States, Canada, and internationally. The company distributes the supplies through a network of company-owned stores. Customers are in the manufacturing and non-residential construction markets. FAST was founded in 1967 and is headquartered in Winona, Minnesota.
Graham Holdings Company (GHC)
Formerly known as The Washington Post Company, GHC operates as a diversified education and media company. The company provides various test preparation services and materials. It also operates three colleges, seven television stations, and thirteen restaurants, and publishes Slate, an online magazine. GHC was founded in 1877 and is based in Arlington, Virginia.
J.B. Hunt Transport Services, Inc. (JBHT)
JBHT, together with its subsidiaries, provides surface transportation and delivery services in the continental United States, Canada, and Mexico. It operates through four segments: Intermodal, Dedicated Contract Services, Integrated Capacity Solutions, and Truckload. The company also transports or arranges for the transportation of freight. JBHT was founded in 1961 and is headquartered in Lowell, Arkansas.
Alliant Energy Corporation (LNT)
LNT operates as a regulated investor-owned public utility holding company. LNT provides electricity and natural gas services to customers in the U.S. Midwest through two subsidiaries, Interstate Power and Light Company and Wisconsin Power and Light Company. LNT was founded in 1917 and is headquartered in Madison, Wisconsin.
Mercantile Bank Corporation (MBWM)
MBWM operates as the bank holding company for Mercantile Bank of Michigan, which provides commercial and retail banking services for small- to medium-sized businesses and individuals in the United States. The company offers various deposit, loan, and insurance products. MBWM was founded in 1997 and is headquartered in Grand Rapids, Michigan.
National Bank Holdings Corporation (NBHC)
NBHC operates as the bank holding company for NBH Bank, N.A. that provides various banking products and financial services to commercial, business, and consumer clients in the states of Colorado, Missouri, New Mexico, and Texas. NBHC was incorporated in 2009 and is headquartered in Greenwood Village, Colorado.
Union Bankshares, Inc. (UNB)
Founded in 1891 and headquartered in Morrisville, Vermont, UNB operates as the bank holding company for Union Bank. UNB offers retail banking services to individuals; and commercial banking services to small and medium-sized corporations, partnerships, and sole proprietorships, as well as nonprofit organizations, local municipalities, and school districts in Vermont and New Hampshire.
Please note that we're not recommending any of these stocks. Readers should do their own research on these companies before buying shares.
Dividend Cuts and Suspensions
Following requests from readers, we've added this section to our weekly article series. Please note that we're only covering dividend cuts and suspensions announced by companies in Dividend Radar's spreadsheet.
There were no dividend cuts or suspensions announced for stocks in Dividend Radar during this period.
An Interesting Candidate
In this section, we highlight one of the stocks that announced a dividend increase. We provide a quality assessment and present performance, earnings, and valuation charts.
Our objective is to identify high-quality dividend growth [DG] stocks trading at reasonable valuations. That's a tough task, though, as high-quality DG stocks often trade at premium valuations. If we can't find a worthy candidate, we'll suggest a stock to add to your watchlist and a suitable target price.
To start, we use DVK Quality Snapshots to do a quick quality assessment, screening our list of DG stocks based on quality scores. Below is a shortlist of stocks with quality scores in the range 19-25:

Three stocks made the shortlist this week, all rated Fine.
JBHT is by far the best performer over the past 20 years, so let's look at this Dividend Contender this week!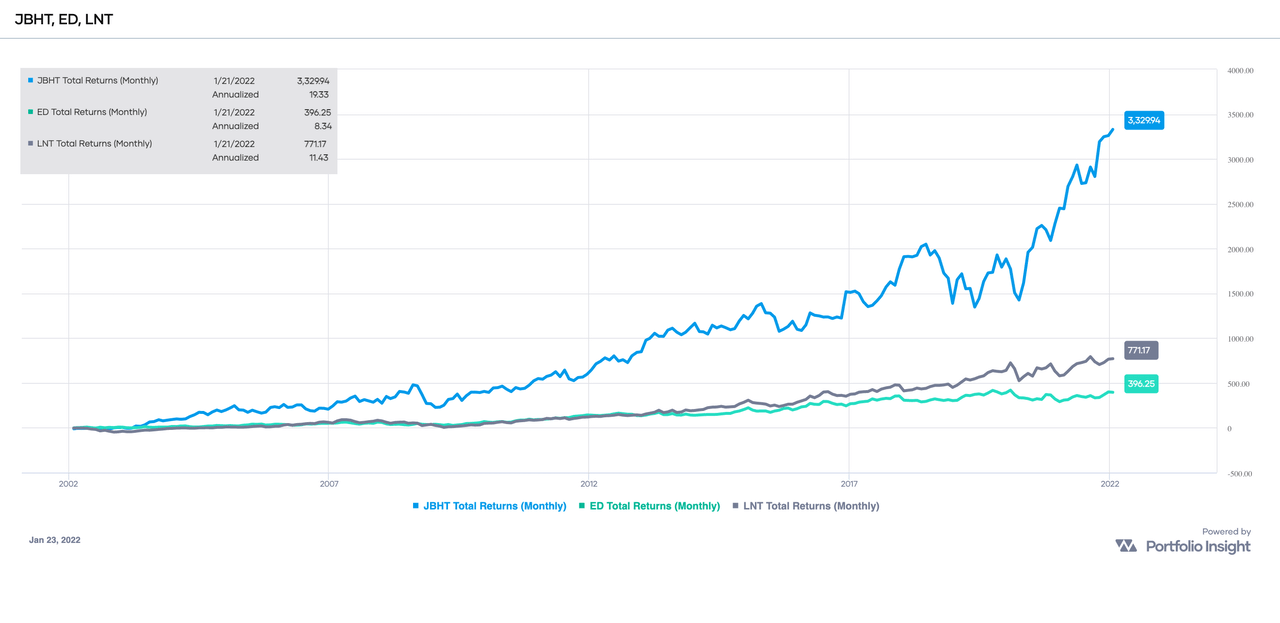 JBHT yields only 0.80% at $198.95 per share and offers a modest 5-year DGR of 6.1%.
JBHT is rated Fine (quality score: 19-22):

Over the past ten years, JBHT slightly outperformed the SPDR S&P 500 ETF (SPY), an ETF designed to track the 500 companies in the S&P 500 index: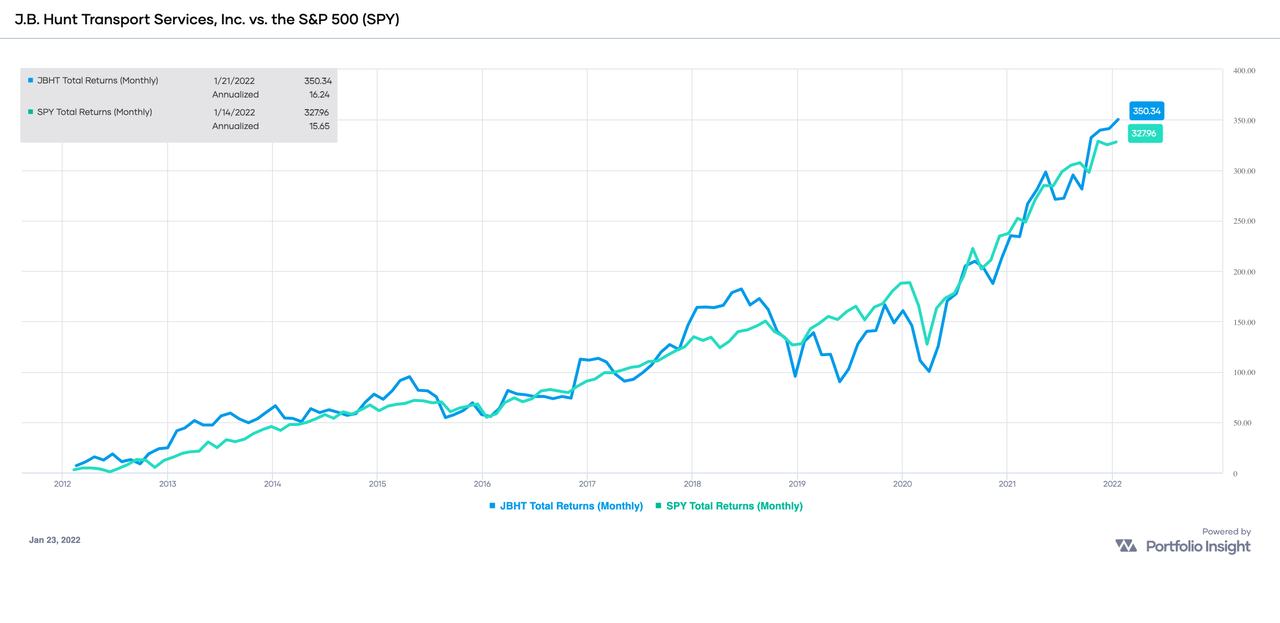 Over this time frame, JBHT delivered total returns of 350% versus SPY's 328%, a margin of 1.07-to-1.
If we extend the period of comparison to the past twenty years, JBHT absolutely crushed SPY, with total returns of 3,330% versus SPY's 502% (a margin of 6.63-to-1)!
JBHT has a solid dividend growth history: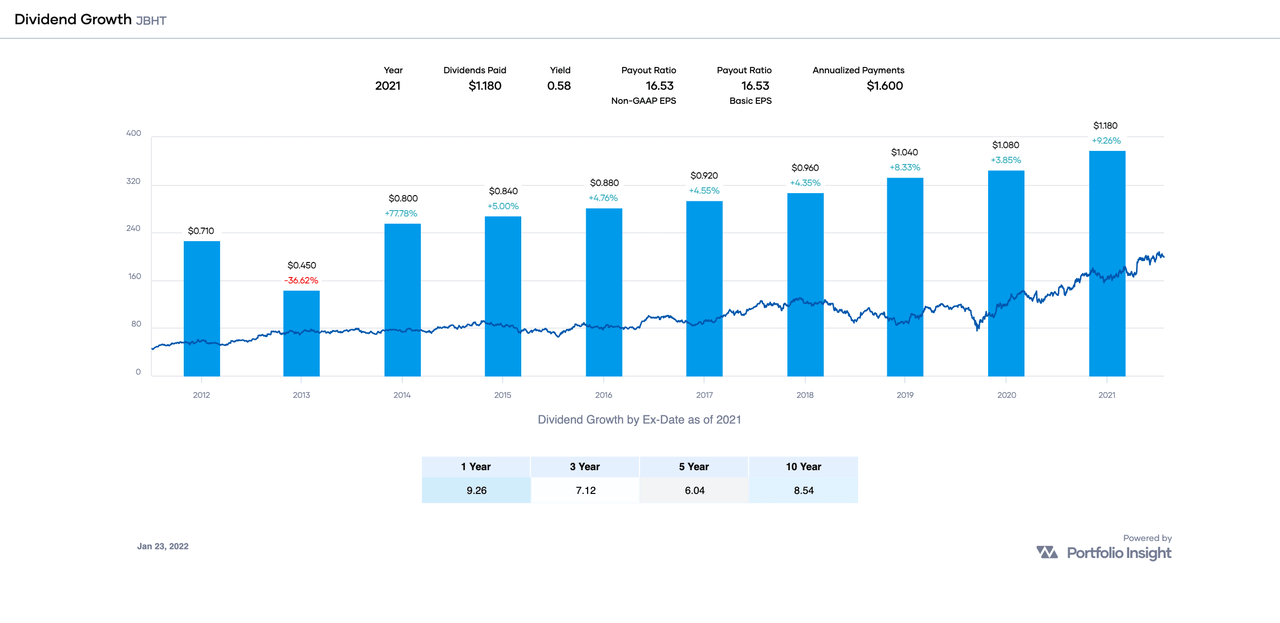 As mentioned earlier, JBHT is a Dividend Contender with 18 consecutive years of dividend increases. The chart above appears to show otherwise, with an apparent decrease in 2013. Like many US companies, JBHT paid its first dividend of 2013 in December 2012 to beat a scheduled increase in the dividend tax:
We count that increase as if it was paid in 2013 when determining JBHT's dividend increase streak.
While JBHT's earnings have been growing impressively over the past decade, the growth is somewhat inconsistent with several down years: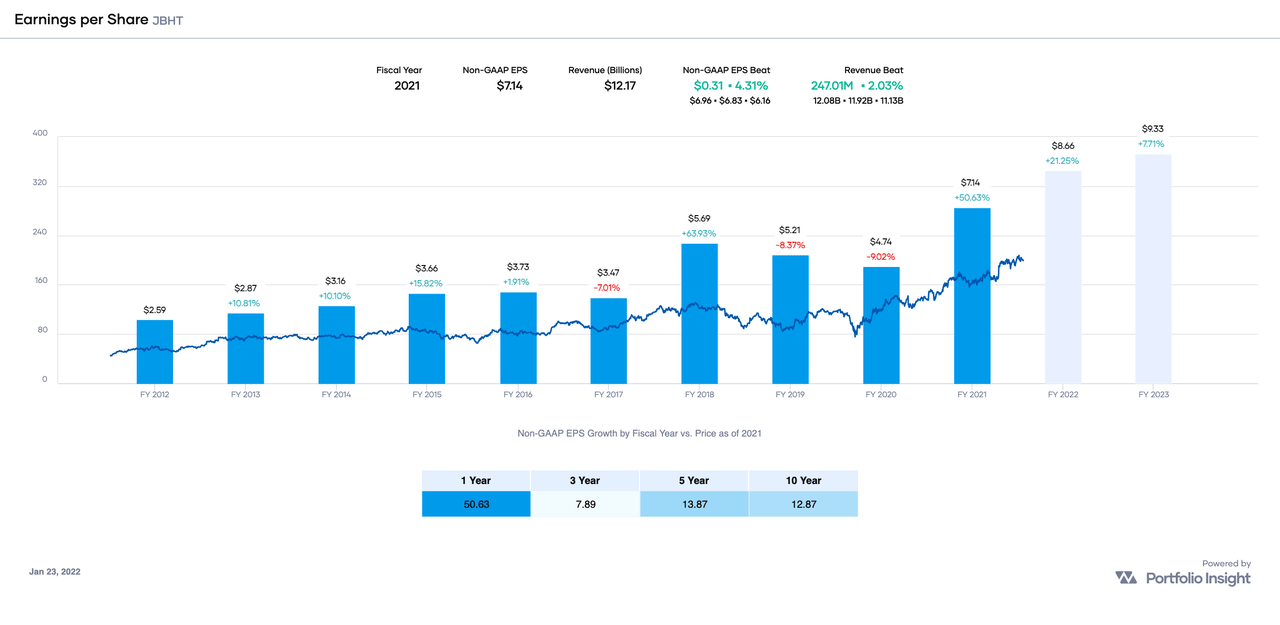 On the other hand, EPS estimates for FY 2022 and FY 2023 look impressive!
At 16%, JBHT's earnings payout ratio is "very low for most companies", according to Simply Safe Dividends: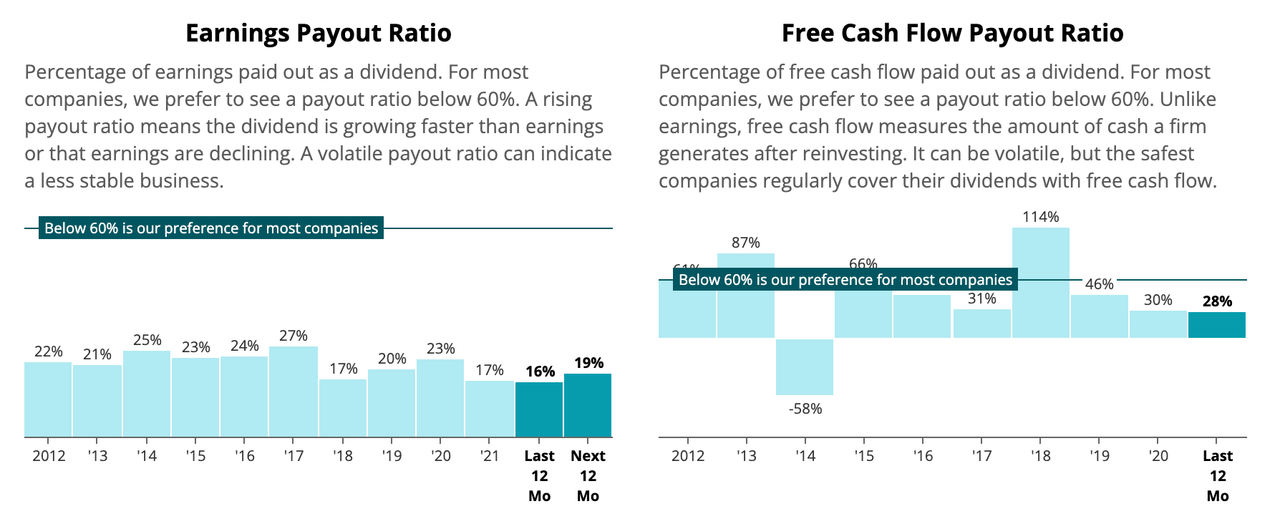 This means JBHT has plenty of room to grow its dividend!
Next, let's now consider JBHT's valuation. We could estimate fair value by dividing the stock's annualized dividend ($1.60) by its 5-year average yield (0.87%). This results in a fair value [FV] estimate of $184. Given JBHT's current price of $198.95, the stock is trading at a premium relative to its past dividend yield history.
For reference, Simply Wall St's FV is $100, Morningstar's FV is $144, CFRA's FV is $174, and Finbox.com's FV is $211. The average of these fair value estimates is $157, also indicating that JBHT's may be overvalued.
My own FV estimate of JBHT is $181, so I believe the stock is trading at a premium of about 9.9%.
Here are the most recent Seeking Alpha articles covering JBHT, all rated Hold:
Conclusion
JBHT is a high-quality DG stock rated Fine. For stocks rated Fine, I require a discounted valuation relative to my FV estimate. Therefore, my Buy Below price for JBHT is $181. For conservative investors, look to buy below $163 per share.
Please note that we're not recommending JBHT or any of the stocks listed in this article. Readers should do their own research on these companies before buying shares.
Thanks for reading and happy investing!