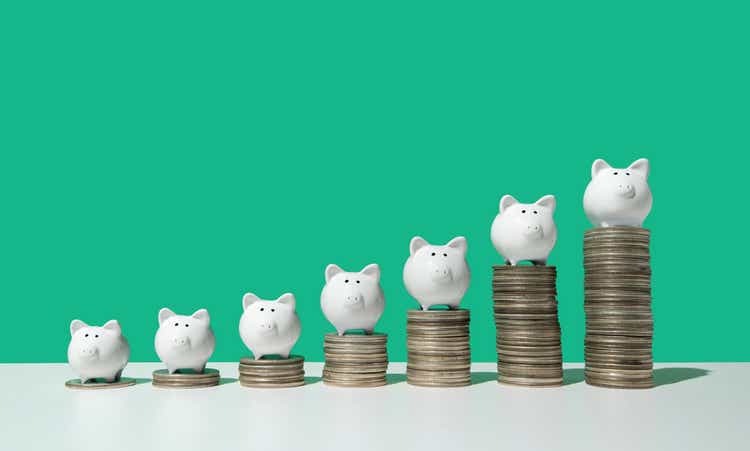 It feels like a different investment era than it did just two months ago. Markets reached all-time highs, and multiple firms said the S&P 500 would finish in the 5,000s for 2022. Goldman Sachs (GS) gave a 5,100 target, Wells Fargo (WFC) provided a range between 5,100 – 5,300, RBC's target was 5,050, Credit Suisse (CS) indicated a 5,200 close, and Citigroup (NYSE:C) came in with the same target as GS, 5,100. The past two months have been nothing but carnage, and just when you think things are looking better, the Fed Minutes come out and indicate something drastically different than what Jerome Powell outlined in his address to the nation. Since their highs, the Dow has declined by 2,687.28 (-7.27%), the S&P 500 is down by 426.68 (-8.85%), and the Nasdaq has taken the largest blow, sinking by 2,443.31 (-15.07%). There are only two types of people who are happy right now, bears and investors who have decades until retirement who mainly invest in index funds. Many of the companies that couldn't miss in 2020 declined throughout 2021 and have gone into freefall over the past several weeks. For instance, PYPL has declined by -45.81% in the past six months, SQ has declined by -54,09%, and Zoom Video (ZM) has declined by -58.17%.
As an investor in the overall markets, big tech, and innovative companies, the past several months haven't been fun. This is why diversification is critical to any portfolio. When some segments of my overall portfolio have taken a hit, I'm buying more shares of the index fund I invest in at a lower price, and my income-producing investments have been doing well. I believe the markets will end higher for the year and that we are seeing a sharp decline due to several reasons, which include people buying on margin and getting margin calls, sell limits being triggered due to stop losses, trading algorithms being triggered to sell, and the uncertainty around the Fed. On the bright side for this series, the Dividend Harvesting portfolio has remained in the black each week since the market decline started.
Many comments have criticized the number of positions I have in this portfolio. In the past 47 weeks, the Dividend Harvesting portfolio has had a 97.87% record of finishing the week positive. Only one out of the 47 weeks did it close in the red, and that hasn't occurred since the markets decline over the past two months. Two of the main factors the Dividend Harvesting portfolio remains positive each week are its diversification and the cash flow it produces from dividends. I can't tell you how often I have heard that this strategy is boring or investing as if I'm approaching retirement age. The comments don't bother me one bit because the Dividend Harvesting portfolio is achieving its investment objectives of mitigating downside risk and navigating uncertainty in the markets while generating a stable stream of dividend income.
This series has never been about hitting a target yield, generating a certain amount of profit, or beating the market. I had two specific goals with this series. The first was to create a blueprint for constructing a dividend portfolio by documenting the journey starting from the beginning. The second goal was to illustrate how allocating capital each week toward investing regardless of the amount would be beneficial in the long run. Too many people are under the illusion that you need tens of thousands or even hundreds of thousands to benefit from investing. Instead of using my real dividend portfolio as an example, I decided to start a new account, fund it with $100, and add $100 weekly, providing a step-by-step guide to dividend investing. This methodology doesn't have to be used for dividend investing, and it could be as simple as an S&P index fund or a Total Market fund. Hopefully, this series is inspiring people to invest in their future to attain financial freedom.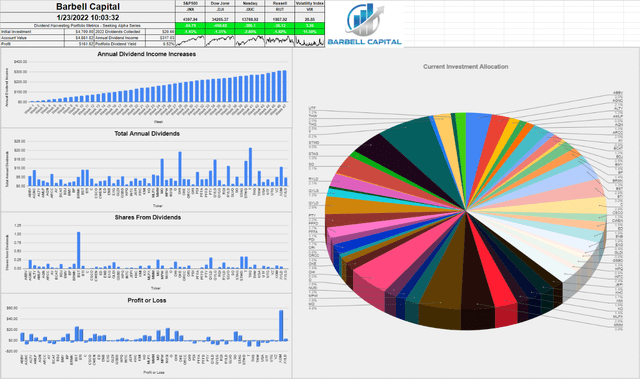 The Dividend Harvesting Portfolio Dividend Section
The annual dividend income for the Dividend Harvesting portfolio has grown substantially by making weekly investments and reinvesting every dividend payment that had a DRIP option. In week 1, I utilized the original $100 to make three investments which generated $7.44 in annual dividend income prior to compounding. Over the next 46 weeks, I have added 57 positions, and my annual dividend income has increased by $309.59 (4,161.16%). After 47 weeks, I am now generating $317.03 in dividend income before the powers of compounding come into effect.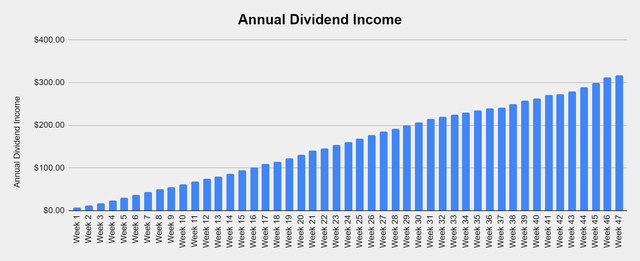 Here's a look at where my dividend income is generated from.
Equities $123.04 (38.8%)
ETFs $65.08 (20.5%)
REITs $55.57 (17.5%)
CEFs $52.28 (16.5%)
BDC $16.06 (5.1%)
ETNs $5.01 (1.6%)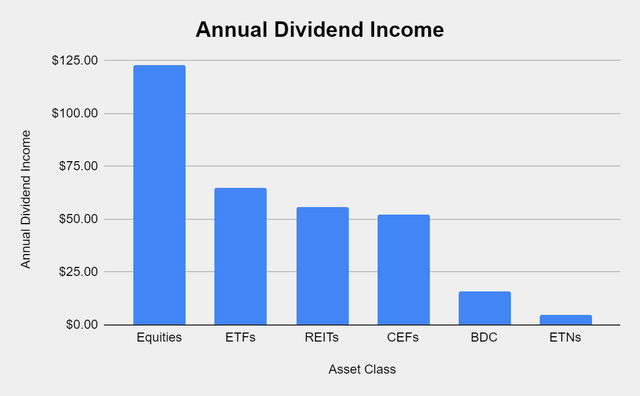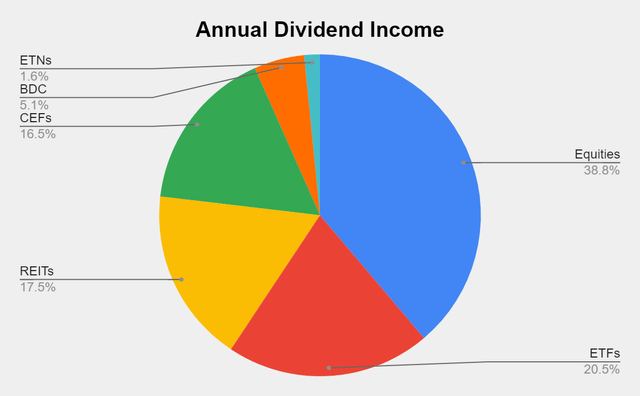 In the first three weeks of 2022, I have collected $20.60 in dividend income. As the year goes on, I will change how I display the graphic below due to space, but I intend to keep the bar graph below. In future articles, I may add a monthly bar graph as well and only display the individual dividends for the current month. This will be interesting to track as the year progresses.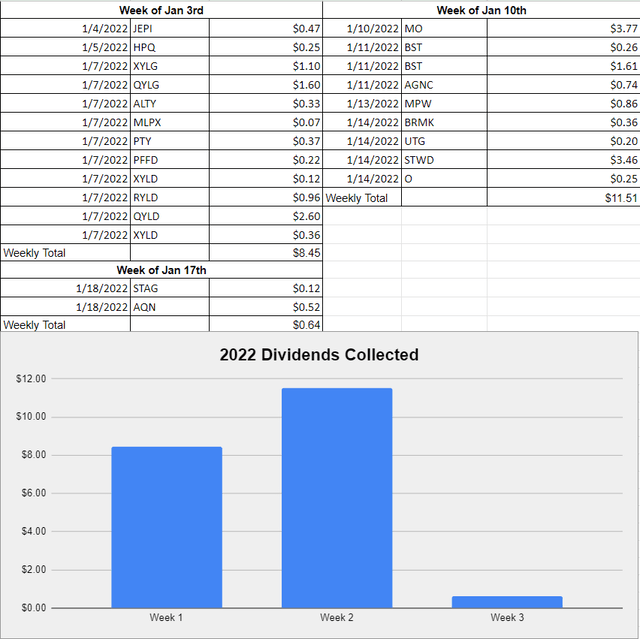 I didn't add any new positions in week 47. As the markets declined, I found opportunities to allocate additional capital to some of my current positions. There are several new investments I have lined up for the future, which will add to the 456 annual dividends generated across 50 weeks throughout the year.

The goal of generating enough income from the dividends to purchase an additional share per year has been the never-ending project of this portfolio. Slow and steady progress is being made.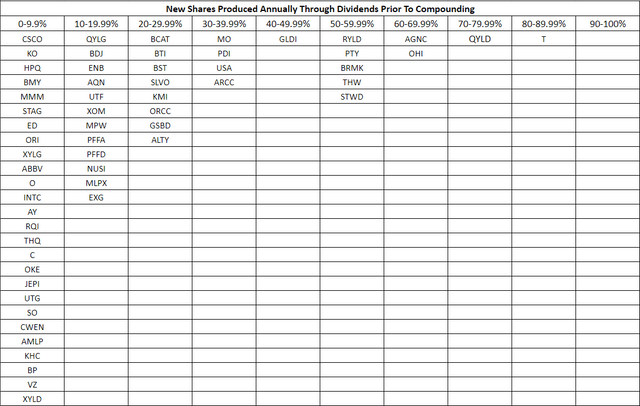 The Dividend Harvesting Portfolio Composition
ETFs remain the largest segment of the Dividend Harvesting portfolio. I have a 20% maximum sector weight, so when a singular sector gets close to that level, I make sure capital is allocated away from that area to balance things out. In 2022, I will make an effort to even out these portfolio percentages. As more capital is deployed, the bottom half of the portfolio weighting will increase. I wish I could continuously add to many of my investments, but when you're investing on a fixed weekly amount, you need to pick and choose your spots. Currently, individual equities make up 50.43% of the portfolio, and they generate 38.81% of the dividend income being generated. ETFs, CEFs, REITs, BDC, and ETNs represent 49.55% of the portfolio and generate 61.19% of the dividend income.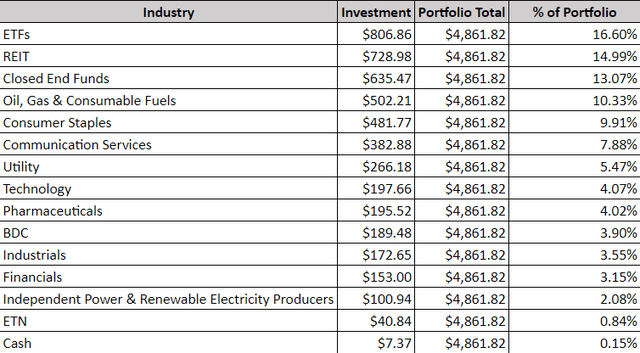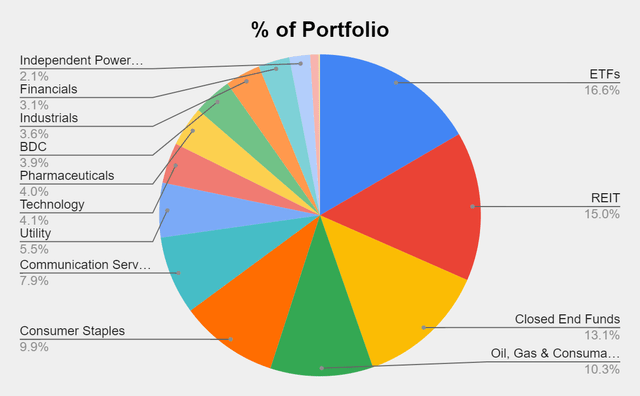 My top ten holdings changed in week 47 as British American Tobacco (BTI) and the BlackRock Science and Technology Trust (BST) replaced Citibank (C) and the Global X Nasdaq 100 Covered Call ETF (QYLD).

Week 47 Portfolio Additions
With the markets continuing to decline, I decided to allocate this week's capital to BST, Nationwide Risk-Managed Income ETF (NUSI), PIMCO Corporate & Income Opportunity Fund (PTY), and Global X SuperDividend Alternatives ETF (ALTY). Last week I indicated that I wouldn't hesitate to direct capital to PTY, and I ended up buying more in week 47. I continue to believe that high-yield credit could continue to perform well in 2022, which will benefit many of the positions within this CEF.
BST has been a nightmare, especially with tech selling off. BST has declined from $55 in the middle of November to roughly $42.36. We're heading right into big tech's earnings over the next two weeks, and I believe many of these firms will set the tone for their best year ever. BST currently trades at a -6.01 discount to its NAV and its distribution has grown past 7%. I have been cost averaging down and believe this will be a winner later on in 2022.
The other two additions were NUSI and ALTY. NUSI has fallen a bit, and I like its blended covered call strategy. Unlike QYLD, NUSI utilizes an options collar strategy to simultaneously offer investors a high income with the possibility of some downside protection among volatile Nasdaq-100 stocks. I like the covered call strategy for income, and NUSI is one of the only ones that offer downside protection that I know of. ALTY has been treading water lately, which is fine with me since it generates a 7% dividend yield. I was about even on this but decided to pick up an additional share as its diversified holdings should offer a steady stream of income during the market turbulence.
Week 48 Game Plan
I came across FS KKR Capital Corp (FSK), and this is an interesting BDC with a market cap that exceeds $6 billion with a dividend that currently exceeds 11%. FSK provides customized credit solutions to private middle market U.S. companies. On the recent earnings call, Michael Forman, FSK's CEO, discussed their target 9% annualized dividend yield. I have been reading up on FSK, and it's interesting. I'm going to do some more research, but this could be a week 48 addition. I have also been looking at regional banks, and New York Community Bancorp (NYCB) is at the top of my list. In week 48, I may add both FSK and NYCB to the Dividend Harvesting portfolio.
Conclusion
Thank you to everyone who continues to read this series. Creating a passive income fund isn't an investment approach that everyone believes in, but it's one of my investment cornerstones. I have a comprehensive investment approach where I invest in growth companies, value companies, and dividend companies/funds. I also utilize an indexing approach with funds for my retirement accounts. Income generation is just one aspect that I focus on when planning for the future. The passive income I'm generating will act as additional income in retirement. I look at this as a Barbell approach because I utilize several aspects of investing in my overall approach. With week 50 approaching, I am looking for some additional suggestions as I will use the capital allocation to invest in positions suggested by the readers of this series.