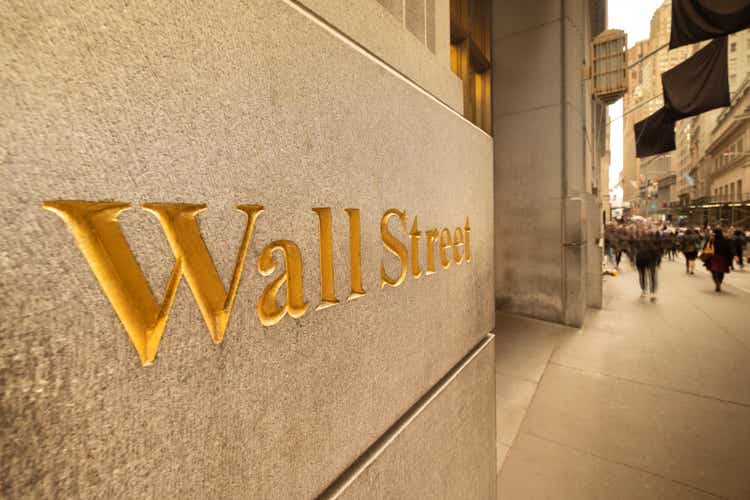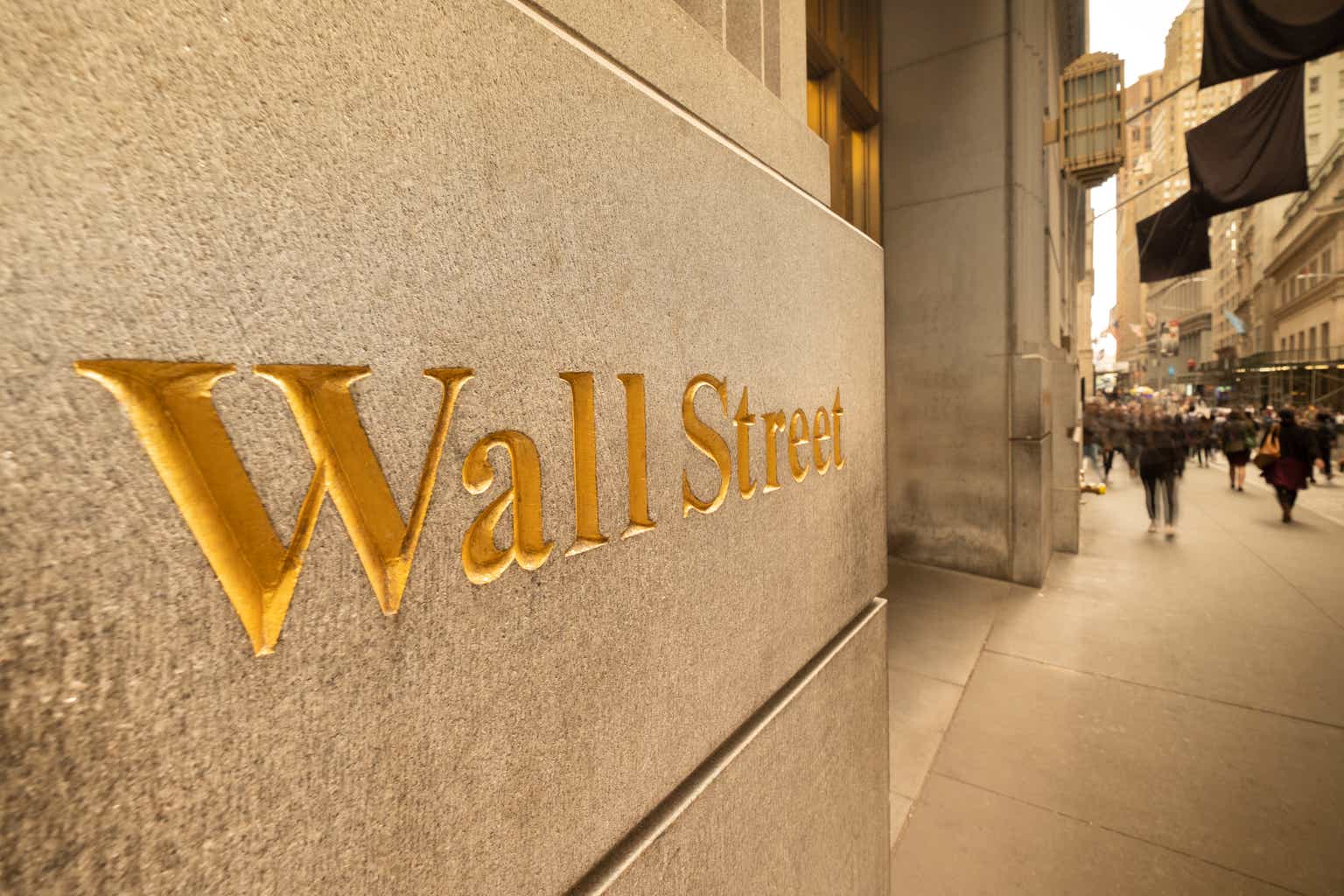 Overview
Stock Yards Bancorp (NASDAQ:SYBT) is a mid-west regional bank with operations in Louisville, central, eastern and northern Kentucky, Indianapolis and Cincinnati metropolitan areas. In addition to the banking operations, Stock Yards runs a Wealth Management and Trust group with $4.5 billion in assets under management. Based upon revenue contribution, Stock Yards' wealth management practice is one of the top 150 largest advisors nationwide.
Before looking at the bank's performance, it is important to review historical major corporate events. On May 31, 2021, Stock Yards completed the acquisition of Kentucky Bancshares, adding $1.3 billion in assets, ~$740 million in the loan portfolio and $1.0 billion in deposits. The acquisition allows the bank to enter into attractive central and eastern Kentucky markets, including Lexington. With this acquisition, SYBT becomes the 7th largest by deposits in the state of Kentucky. The acquisition leads to ~13% earnings accretion and the tangible book value payback period is approximately 2.5 years. This acquisition will allow SYBT to significantly reduce operating costs as the scaled entity. Post-closing, Stock Yards shareholders own ~86% of the combined bank.
On August 3, 2021, Stock Yards announced the acquisition of Commonwealth Bancshares, a Louisville KY operation with more than $1.2 billion in total assets, $1.1 billion in deposits, and ~$730 million in the total loan book. Commonwealth Bancshares is the largest privately-held bank headquartered in Louisville MSA and operates with $2.6 billion in trust and assets under management. Stock Yards acquires Commonwealth at $153 million, with 80% shares and 20% cash. On a pro-forma basis, Stock Yards shareholders will own ~91% of shares and Commonwealth will own ~9% of shares. Although we like stock deals more given it is a more effective currency, the cash portion of the deal is likely used to allow the seller family to gain some liquidity, a practice that is widely used in the world of mergers and acquisitions.
Shortly after the closing of the Kentucky Bancshares, Stock Yards went back into the market with the intention to acquire Commonwealth Bancshares. If the deal comes through successfully, Stock Yards will become a much larger operation and will become a respected bank in the Kentucky market. Stock Yards' successful acquisition integration will not only make it a highly attractive acquirer but also a target given its size within the Kentucky market.
Review of Operations
From a profitability perspective, the bank's ROA is industry-leading. The industry-leading ROA is largely driven by higher revenue contribution from fee income; more specifically, the bank's wealth management practice.
SYBT has been working to improve its efficiency ratio over time. As the bank gains scale via acquisitions, investors should expect additional efficiency gain via cost rationalization.
The Bank's credit quality remains robust. The cost of financing is on par with its peers. With the acquisitions of the Commonwealth, the bank is poised to gain access to low-cost funding, which will be an advantage going forward.

Valuation
The bank is priced at 22.8x P/E and 3.3x P/TBV. The market clearly rewards Stock Yards' ability to generate significant fee income and the capability to acquire banks within its core market successfully. With multiple growth drivers, the bank will likely to continue to maintain its premium valuation.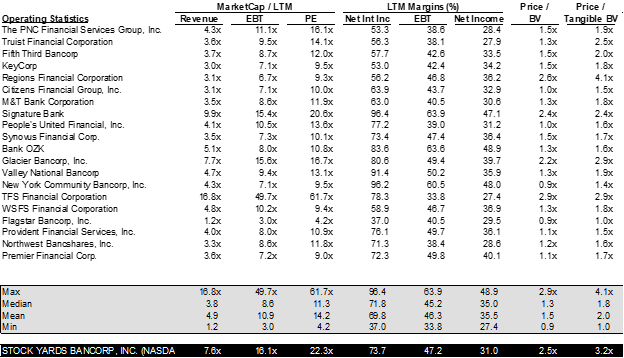 Risk/Reward
From a risk perspective, the bank needs to ensure successful integration of the two latest acquisitions and realize the targeted cost rationalization.
From a reward perspective, Stock Yards can both be an acquirer or a target. The size of deposits within the Kentucky market is large enough to make an acquirer interested in taking over Stock Yards. However, the relatively expensive P/TBV will likely give buyers pause. On the other side of the equation, Stock Yards' expensive currency can be used as an acquisition currency to swap for cheaper, higher quality, but smaller-scale franchises. Owning a strong franchise with a robust fee generating capabilities can be exciting for a seller in the M&A space.
Conclusion
To sum up, Stock Yards is a well-run operation with significant scale in the Kentucky market. It can be a target and an acquirer, which will likely create shareholder value in both scenarios. Our evaluation is that being an acquirer is more likely at this stage, given the relatively expensive shares will likely cause an acquirer of Stock Yards to re-think. The premium valuation of Stock Yards is likely to persist given its strength in the wealth management practice that generates significant fee income over time. We continue to like the positioning of the bank, but as a potential shareholder, we would like to see the management successfully integrate the two deals before putting chips in. We believe if the management team can integrate the acquisition properly, there are more adjacent regions that the bank can explore in terms of acquisitions. We are on the sideline at this point in time. Once the management proves the cost synergies rationalization is real, then the bank will have multiple growth levers in both fee generations and bank growth, making it a much more dynamic operation.