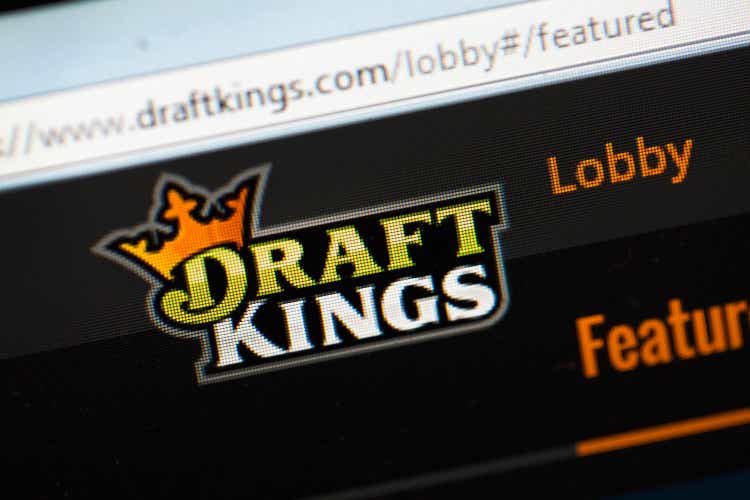 A snapshot
DraftKings (NASDAQ:NASDAQ:DKNG) shares have lost 61% of their value in the past six months following a massive selloff in high growth tech names. Investors are transitioning to value-oriented stocks as fear of rising interest rates in response to inflation seizes control of the equity market. As a result of the selloff, DraftKings has experienced significant multiple contraction, which begs the question of whether or not investors should consider buying the stock today. I do think there are several elements to like about DraftKings. I also believe there is a lot to question about the company's current business model and financial state. On that account, I believe today's market environment presents better buying opportunities than the online gambling juggernaut. Still, let's discuss the good and the bad of DraftKings, and why investors should keep the company on their radar moving forward.

Reasons to buy
DraftKings has sustained strong growth in recent years, with revenue increasing at a three-year compound annual growth rate of 47%. Wall Street analysts are forecasting revenue of $1.3 billion for the fiscal year 2021, translating to 106% growth year-over-year. In the third quarter of 2021, DraftKings increased revenue by 60% up to $213 million. The company also experienced monthly unique players (MUPs) and average revenue per monthly unique player (ARPMUP) growth of 31% and 38%, respectively. Enjoying a strong balance sheet as well, DraftKings has $2.4 billion in cash and only $1.3 billion in debt. The company's current annual cash burn rate is $488 million, but given DraftKings' $2.4 billion cash position, the firm could burn cash at its current speed for five more years before exhausting the asset. As a growth company that is still years away from profitability, a stable balance sheet should be an important piece of criteria for investors.
The robust growth experienced by DraftKings over the past several years is predominantly a result of being a participant in a rapidly expanding market. Still in its early innings, the online gambling market is forecasted to grow at a compound annual growth rate of 10% to $140 billion by 2028. DraftKings struts a current market share of 33% in the online sports betting market, ensuring the company is well-positioned for future success if it can continue to ward off competitors. DraftKings recently launched its online sports betting platform in Arizona, Wyoming, Connecticut, and New York. Even so, online sports betting is live in only 29% of the country. And iGaming, which involves digital casinos, is even less evolved than online sports betting, being live in only 11% of the United States. Online gambling is a state-by-state issue, and recent trends in legislation demonstrate positive signs. In 2021, 25 state legislatures have instituted legislation to legalize mobile sports betting, and four states have introduced iGaming legislation. The continual mainstream acceptance of online gambling will present an enormous opportunity for DraftKings in the years ahead. Since the beginning of the NFL season and ensuing the company's migration to its new in-house technology, DraftKings' market share increased by 2% for both online sports betting and iGaming.
Provided its participation in a fast developing industry, DraftKings is involved in several innovative and unaccustomed projects. Most recently, the company launched its DraftKings Marketplace, a digital collectibles ecosystem with a focus on the NFT arena. Early adoption of the marketplace shows promise, with primary and secondary transactions totaling 120,000 and over $20 million of gross merchandise volume in the most recent quarter. The global NFT market is forecasted to grow at a compound annual growth rate of 185% through 2026. Thus, success from DraftKings Marketplace could have a significant impact on the company's top-line in the long run.
Reasons to stay away
Growth - albeit impressive up to this point - is forecasted to decelerate in the years ahead. On average, analysts expect revenue in the company's fiscal year 2025 to reach $3.68 billion, indicating an average annualized growth of 24%. This is not bad, but it is significantly lower than what we have seen in the past three years. Increased competition - which is the next reason to stay away from DraftKings - could lead to even slower growth in future years. Per the American Gaming Association (AGA), there are nearly 3,000 online gambling sites. Becoming an increasingly crowded industry will likely impose pressure on many companies' margins. As one of the few online gambling juggernauts, DraftKings has several operational advantages. Still, a rise in competition will likely place DraftKings under additional duress as it continues on its voyage to profitability. Perhaps the primary reason I am staying away from DraftKings stock today is the company's inability to showcase a clear path to profitability. In an absolutely flawless scenario, DraftKings could report its first full year of profitability in its fiscal year 2024. Most analysts are forecasting that the company becomes profitable in the fiscal year 2025, and even then, the median estimate for EPS in 2025 is only $0.34. I have no problem exercising patience, but DraftKings has not shown positive trends relating to profitability. Wall Street is forecasting an EPS of -$3.63 in the upcoming fiscal year, 32% lower than the company's -$2.76 in 2020. I understand DraftKings is investing a shedload of money into sales & marketing to grow its business, but it is difficult to watch operating expenses and free cash flow move in opposite directions. This is especially the case when there is a constant inflow of new competition, putting pressure on margins and potentially squeezing DraftKings' market share. Some investors might believe that the company's aggressive sales & marketing strategy will pay off. I am not willing to accept this risk today, and I need to see a clearer path to profitability before I buy shares of DraftKings.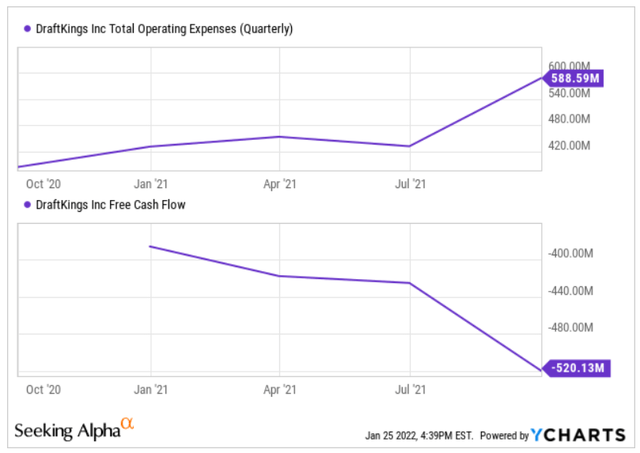 How about valuation?
DraftKings has experienced significant multiple contraction in the past several months. Once trading above 30 times sales, the company now holds a price/sales multiple of 7x. That is certainly low for DraftKings' standards, but comparing its price/sales multiple to its closest competitors tells a different story. Per the chart below, you will notice that - even after a major drop - DraftKings is still much more expensive than its industry counterparts. The company's price/sales multiple of 7x is well above its peer average and median of 3.1x and 2.6x, respectively. This is not a perfect 1:1 comparison because many of the companies illustrated in the chart comprise of other business segments outside of online gambling. Nevertheless, it still adds additional context to the current state of DraftKings' valuation.

Final thoughts
The recent decline in DraftKings shares may be viewed as an enticing buying opportunity for investors. After all, it is always great to buy oversold companies that have promising futures ahead. The online gambling industry is an exciting space, and there will surely be many stock winners that come about in the subsequent years. I like a lot about DraftKings and its potential, but I think there are superior buying opportunities in today's market. In the end, only time will tell whether DraftKings was worth the risk.