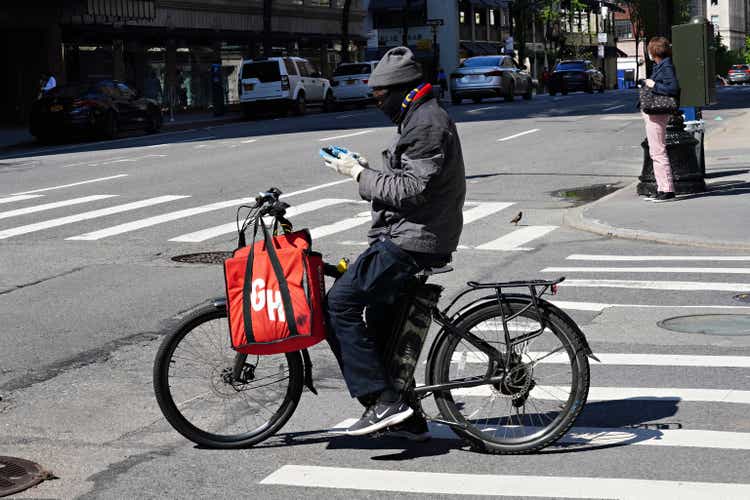 The current stock price of Just Eat Takeaway (GRUB) makes a takeover bid a high probability event.
I believe that the high strategic value of its food delivery platforms, the strong underlying profitability of the marketplaces, combined with its incredibly low valuation makes a takeover bid a very legitimate probability - and in my opinion, nearly a CERTAINTY if the stock price stays where it is. JET's stock has significantly depreciated while the market has appreciated. PE-valuations of platforms like iFood, SkipTheDishes, Lieferando, Menulog, Takeaway.com and Thuisbezorgd have significantly appreciated. The consequence is that the more uncertain platforms like Just Eat and Grubhub add nothing to the SOTP valuation while they still carry significant strategic value to any acquirer.
I think that multiple companies may be currently considering a bid on Just Eat Takeaway based on the simple premise - that acquiring this company at even a 100% or 150% premium to current stock prices yields the acquirer significant strategic benefits, underlying profitability and high expected internal rate of returns.
Appealing valuation
When valuing iFood at a reasonable €3 billion, the remaining EV is €7 billion, then the EV/GMV of JET's enterprise is just 0.2. Even after DoorDash's stock declined by 60+% its EV/GMV is sitting at 1. The big joke is that some of JET's revenues are highly profitable. JET's Dutch and German food delivery platforms are currently producing €300 million in adjusted EBITDA per year. I believe in the Netherlands already a big portion of the EBITDA is EBIT. The joke: due to network effects JET is even increasing market share in this market. Even if you value Netherlands + Germany at 15 EV/adjusted EBITDA you get half of the enterprise value.
Skip The Dishes is another hidden gem in JET that operates with €3+ billion annual gross merchandise value, leading market share(be it competitive), nearly 100% logistics and is incredibly similar in terms of business model and growth to DoorDash. Even at half of DoorDash's multiple Skip The Dishes is worth €1.5 billion+. I do not need to do more math, JET's valuation is absurd. I have already come to JET's enterprise value with my conservative valuations while not even considering Just Eat, Menulog and Grubhub... which is a vast majority of the gross merchandise value....
JET's valuation is crazy and makes a takeover bid a high probability event.
Shareholder structure
JET has no special voting shares and no built-in defense mechanism against hostile takeovers. The only thing is the Dutch law related to hostile takeovers. If the board of directors approves management is able to postpone the takeover talks for a maximum of 250 days. I believe the consequence is that any potential suitor can only be successful with a blow-out bid, which at this stock price is not difficult.
Now I will shortly discuss the companies I believe are most likely to bid.
Amazon
Amazon. The benefits to Amazon are obvious. By acquiring JET Amazon suddenly operates a food delivery and same-day delivery platform in all of its core markets excluding China, India and some minor countries in the Americas and Asia. JET is either a market leader or a strong competitor in Amazon's most important markets. The synergy is obvious. And I believe the significant undervaluation makes JET a prime takeover candidate. Amazon and JET sell at similar gross profit multiples while JET has a much bigger relative TAM. The only uncertainty is the regulatory environment but I think this uncertainty is overestimated by the market.
Uber
Uber. For Uber, it is not about entering a market but winning multiple local markets. By acquiring JET Uber can consolidate food delivery and same-day delivery in a significant amount of its core regions. Uber's stock will be significantly derisked which I believe will lead to an appreciation of the stock. Uber Eats will become the strong market leader in Oceania, Canada and most European countries where previously it was either a strong competitor but most often a suboptimal competitor. And most importantly in the US Uber Eats will be a strong competitor against DoorDash. Uber needs to acquire JET to gain confidence from its shareholders. Uber Eats is hitting adjusted EBITDA breakeven in delivery - I note Uber is publicly focusing on profitability. But in this metric, I believe Uber deducts voucher costs from adjusted EBITDA and uses the entire revenue which includes the voucher. Which is an absolute joke. My point is. Compared to JET Uber is much further away from profitability, JET's marketplace revenues in Western Europe are serious high EBITDA margin revenues. I see only one way for Uber to deliver on its promises of profitability in delivery...
Since trying to acquire Grubhub, Uber stock is literally up 0%. Since that moment JET is down 50%. Consequence: Uber can acquire Grubhub for cheaper than two years ago with a premium of 60-70%. Consequence: If so, Uber also gets JET at a significantly discounted valuation. Through one acquisition Uber can significantly derisk their investments.
Uber MUST acquire JET to achieve any sustained long-term profitability in a big portion of its markets, including maybe even the US. And so I believe a bid is imminent.
PE
A PE firm may also make a blow-out bid on JET. They can split up the company in pieces - since food delivery has local network effects - and sell some pieces to other firms, and operate other pieces like Just Eat.
Wildcards
There are also multiple firms that may also be interested. I name a few: Prosus, Booking Holdings, Facebook and Meituan.
Takeaway
My conclusion is simple: Just Eat Takeaway shares provide the best risk/reward I have ever seen in the market. Either management disposes some stakes and launches a buyback program or JET gets bought out by a suitor. To be continued...