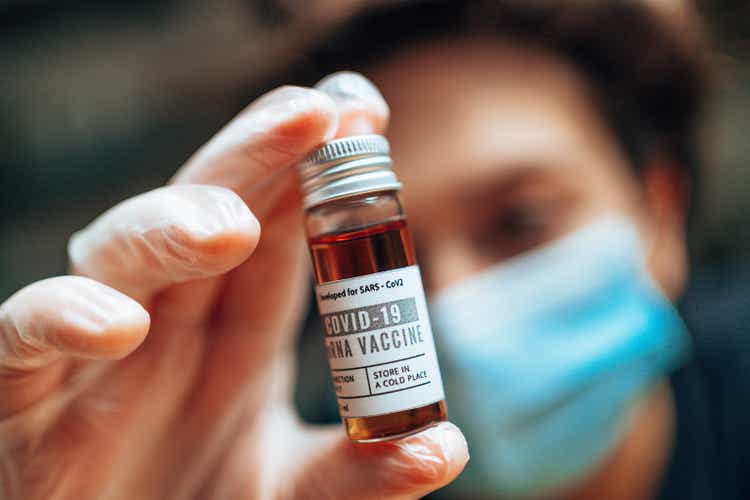 A Quick Take On Maravai LifeSciences
Maravai LifeSciences (NASDAQ:MRVI) went public in November 2020, raising approximately $1.62 billion in gross proceeds in an IPO that priced at $27.00 per share.
The firm is a holding company providing a range of products and services to pharmaceutical and biotech firms worldwide.
MRVI may not be able to reproduce its historic growth rate in the coming quarters, so my near-term outlook is a Hold due to uncertain demand for its leading revenue-producing products.
Company
San Diego, California,-based Maravai was founded to develop and sell nucleic acids, provide biologics safety testing services and protein detection reagents.
Management is headed by Chief Executive Officer Carl Hull, who has been with the firm since 2014 and was previously CEO of Gen-Probe, a medical diagnostics company.
The firm's products and services are sold to more than 5,000 customers, including the top 20 global biopharmaceutical firms.
The company's products serve to provide nucleic acids "for diagnostic and therapeutics applications,' biologic antibody products 'to detect impurities during the production of biopharmaceuticals products," and protein expression detection in tissues of various species.
Maravai's product lines are shown in the graphic below:
Maravai pursues customers among biopharma firms and academic research organizations via direct sales and marketing outreach efforts.
The firm has built its business through both organic growth and via acquisitions and management says that acquisitions "remain core to our strategy."
Market and Competition
According to a 2020 market research report by MarketsAndMarkets, the global gene therapy market was an estimated $3.8 billion in 2019 and is expected to reach $13.0 billion by 2024.
This represents an extremely high forecast CAGR of 27.8% from 2019 to 2024.
The main drivers for this expected growth are the continuing high incidence of cancer, the availability of significant reimbursements from payors and more investment in innovation and treatment options.
However, the high cost of gene therapies may reduce growth of adoption within the market as well as a slow and conservative regulatory approval process for these groundbreaking but powerful treatment options.
Management expects a combined market growth rate [CAGR] of 15% from 2019 to 2023, with a total market size in 2019 of $8.4 billion and an addressable market size of $3.6 billion in 2019.
Major competitive or other industry participants include:
Thermo Fisher Scientific

Hongene Biotech

Aldevron

Bio-synthesis

System Biosciences

Integrated DNA Technologies

EMD Millipore

TriLink BioTechnologies

LGC Biosearch Technologies

GenScript Biotech
MRVI's Recent Financial Performance
Topline revenue by quarter has grown dramatically since the firm's IPO: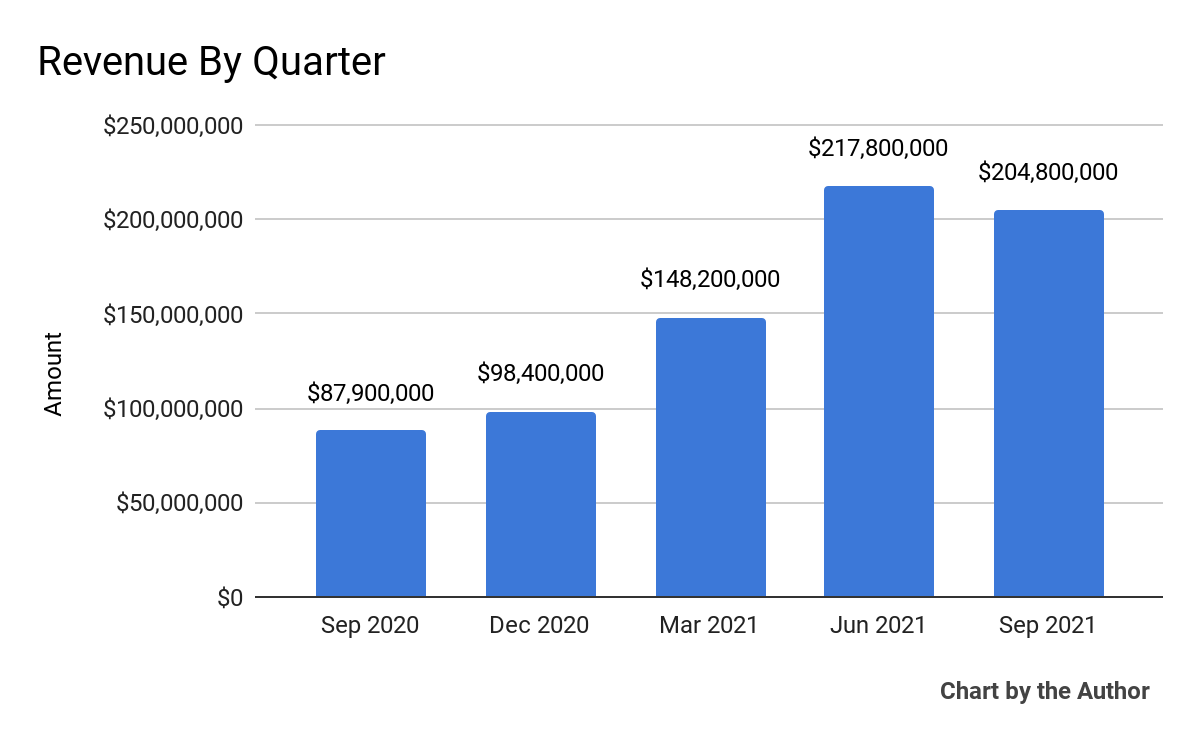 Gross profit by quarter has followed a similar trajectory as that of topline revenue: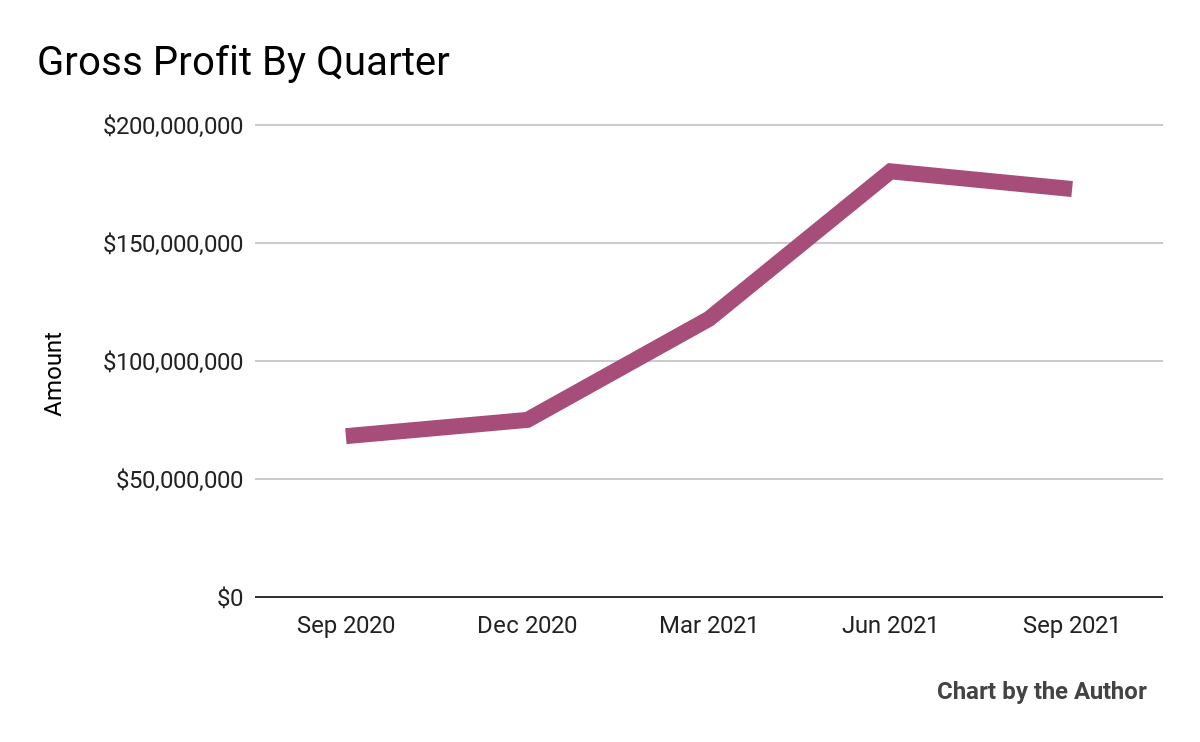 Operating income by quarter has also grown substantially over the past five quarters: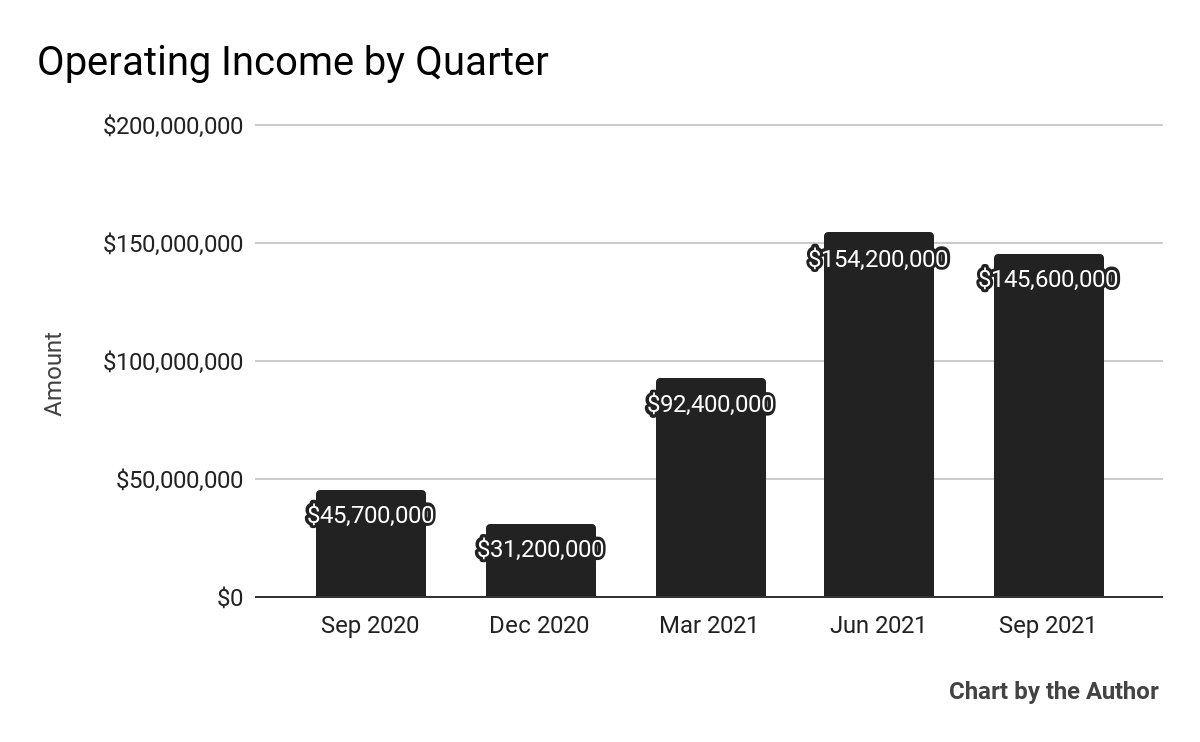 Earnings per share (Diluted) have risen sharply so far in 2021: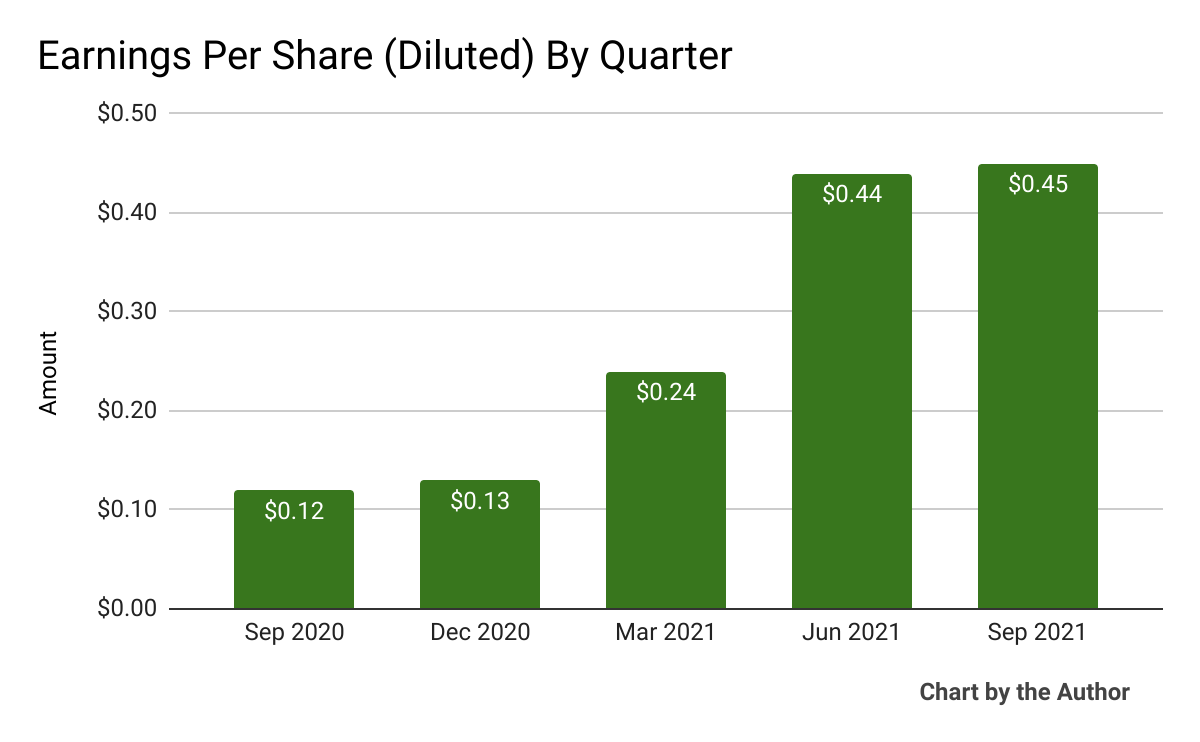 (Source data for above GAAP financial charts)
In the past 12 months, MRVI's stock price has dropped 19.2 percent vs. the U.S. S&P 500 index' rise of 15.37 percent, as the chart below indicates:
Valuation Metrics For MRVI
Below is a table of relevant capitalization and valuation figures for the company:
| | |
| --- | --- |
| Measure | Amount |
| Market Capitalization | $6,780,000,000 |
| Enterprise Value | $3,660,000 |
| Price / Sales | 1.22 |
| Enterprise Value / Sales | 5.47 |
| Enterprise Value / EBITDA | 8.13 |
| Free Cash Flow [TTM] | $389,830,000 |
| Revenue Growth Rate [TTM] | 98.48% |
| Earnings Per Share | $1.26 |
(Source)
As a reference, a relevant partial public comparable would be Thermo Fisher Scientific (TMO). Shown below is a comparison of their primary valuation metrics:
| | | | |
| --- | --- | --- | --- |
| Metric | Thermo Fisher (TMO) | Maravai LifeSciences (MRVI) | Variance |
| Price / Sales | 5.69 | 1.22 | -78.6% |
| Enterprise Value / Sales | 5.98 | 5.47 | -8.5% |
| Enterprise Value / EBITDA | 17.57 | 8.13 | -53.7% |
| Free Cash Flow [TTM] | $6,360,000,000 | $389,830,000 | -93.9% |
| Revenue Growth Rate | 37.1% | 98.5% | 165.7% |
(Source)
Commentary On MRVI
In its last earnings call, covering Q3 2021's results, management highlighted the growth in its primary segment of Nucleic Acid Production as mRNA research and development continues to grow in importance as a result of the COVID-19 pandemic.
Notably, CEO Hull said the firm believes that it will "continue to see durable demand for CleanCap for the foreseeable future…" CleanCap is its mRNA translation system for the production of biologically active mRNA.
He went on to state he sees a disconnect between stock "market activity" relating to doubts about vaccine revenue durability and their forward purchase order activity.
Since that selloff, which brought MRVI share price down to $35.00, the stock has further sold off and is down to $25.35 at press time.
As to its financial results, topline revenue growth since its IPO has been dramatic, as has the growth in its operating income and earnings.
Management has gone out of its way to highlight that its mRNA development customers "are working on non-COVID-19 programs" that represent potential cross- and up-selling opportunities for products and services.
Looking ahead, management raised full year topline revenue guidance by about 2.3% based on continued growth from its CleanCap system.
Regarding valuation, despite the firm's high trailing twelve month growth, it appears investors are marking down its future growth rate on expectations of software demand for its flagship CleanCap offering.
While management appears to object to this apparent characterization, I'm in a wait-and-see mode with MRVI.
We can't discount the emergence of additional virus variants, but their severity appears to be waning as they become more transmissible, following a similar pattern for other viruses.
MRVI may not be able to reproduce its historic growth rate in the coming quarters, so my near-term outlook is Hold due to uncertain future demand for its leading revenue-producing products.