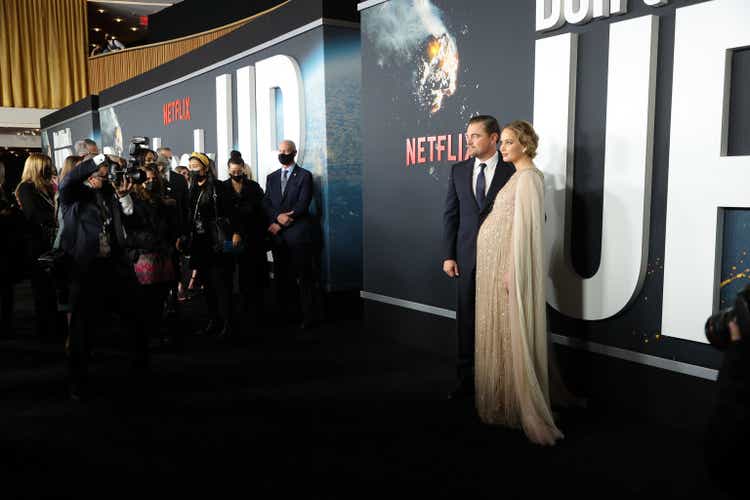 By now you likely heard about Netflix's (NASDAQ:NASDAQ:NFLX) bad day.
And bad may be an understatement.
It got pummeled.
It wasn't so much the miss on subscriber count, but that paired with the lower expectations tied to Q1 guidance. Combined it sent the stock tumbling in ways we hadn't seen in a while. If that seems familiar to you, it probably is as Disney (NYSE:NYSE:DIS) had similar problems with their last earnings report (granted not to the same level).
So while the streaming model is on fire (and not in a good way) now seemed like a good time to attempt to dial the fear and panic down a notch… or at least try to.
Yes, right now things don't look good if you invest in streaming, but here's what investors have keep in mind. If you're looking to subscriber counts as the only metric of success, you're looking in the wrong place.
First as always, some background.
It goes without saying that with the stock market it's incredibly easy to get bogged down in numbers. That's part of why I write this column, because you have to be able to go beyond the balance sheet to understand why a company will or will not succeed.
And that type of information is easy to overlook as this is the nature of the business and especially when you are playing at such a high level.
It's not as always as simple as they gained X subscribers or made Y in revenue.
So let's start with Netflix.
In 2021 Netflix had disappointing metrics in Q1 and Q2 before rebounding in Q3 and with those first two reports the stock fell. Incidentally when it then beat expectations in Q3 the stock was STILL down after the bell. It may not have been by much, but the point is that it didn't shoot sky high either.
Overall Netflix has been able to explain away concern by blaming everything from COVID to a back-ended slate of content, but the most telling was it saying there was a rise in competition. Specifically, the team initially pointed more to services like YouTube and TikTok vs. Disney and HBO Max (NYSE:T).
It was a claim they doubled down on in Q4, but this time it got attention as they now had to admit other streamers were gaining steam.
Combined with the lull in subscriber count and the pessimism toward that changing in Q1 it seriously spooked the market, and you can see why. Remember in Q3 the company was so confident in itself and its future that Reed Hastings showed up in a Squid Game track suit to its pre-taped earnings video.
During that same video he talked about "entertaining the world" and the plethora of content it had in the next few months…while he was right and Red Notice, Don't Look Up, Emily In Paris and The Witcher all did well, the company still missed estimates when it all was totaled.
And while YouTube, TikTok and the like played a role, now it became clear that so did its streaming rivals as well as traditional cinema. While it doesn't mean theaters are out of the woods by any stretch, Spider-Man: No Way Home proved the old model still has legs.
Combined this is the new normal and investors have to get used to it.
Where we were pre-COVID, where we during its height and where we are now are all starkly different metrics and as Hastings said during that Q3 call - "you can't come off the craziness of Covid and be confident in the next two years."
Of course he was saying that during a positive report so naturally it got lost in the shuffle. Regardless, it's the truth and success looks radically different across all three timeframes.
Disney saw a similar reckoning of sorts during its last earnings call and it's one that still confounds me because everyone should have seen it coming because Disney's CEO effectively told everyone prior what was going to happen.
During a speech not long before earnings at Goldman Sachs' Communacopia Conference, Bob Chapek as part some surprisingly candid remarks spelled out for audiences the business model of streaming.
"What we're finding out, as you've seen from our last several quarters, is that these numbers tend to be a lot noisier than a straight line."
He also used the phrase we "hit some headwinds" and if that wasn't clear enough of a warning, he then went further by saying they were expecting to add "low single-digit millions" in subscriptions. The only thing he didn't do was a hold a big red flag while doing it and say "seriously listen to what I'm saying," which nobody did because we know what happened next.
Disney went on to do exactly that and add "low single-digit millions" in subscriptions and got raked across the coals. This was despite other parts of its business seeing 99% growth year-to-year. I understand the market's fixation on Disney+ and its numbers, but let's also be clear this is a service that is just two years ago and already at 118 million subscribers.
All in that's over $900 million a month in streaming revenue that wasn't there two years ago.
So yes, maybe it took in less new subscriptions than planned, but it's not exactly failing.
Like Netflix, Disney saw the same problems - it not only grew at a staggering rate, but it was seeing increased competition from both streaming rivals and theaters - the latter part Disney also was pulling profits from as well, which underscores why the tale of the tape can't be from just one aspect of a company.
Although that made no difference to investors as all they saw was a slowdown in its streaming rocket ship to the moon. This should not have been a surprise as the increased momentum towards streaming due to COVID lockdowns was eventually going to decline… it had to.
Yet while the bubble may have in some ways burst, it's not an end-of-the-industry type sign. Streaming will continue to evolve in new and interesting ways and continue to be a solid alternative to the traditional model.
Although if the market is going to lose its collective mind every time one of these streamers puts up lower subscriber counts it's going to lead to a panic that may actually do irreparable harm to the industry.
Investors need to be patient.
Take for example HBO Max.
AT&T botched that launch is ways that hadn't even been invented until they came along. Then to make the market even more angry, it threw out the rule book and championed a hybrid model.
But guess what? It still worked.
While HBO Max is not close to Disney+ levels it has slowly gone up and the hybrid model clearly helped, while also aiding them in getting over the growing pains of a new venture. It also helped them in molding a pattern where over Fri/Sat/Sun there was new "tier A" premiering content at least once a month ranging from its movies to new original series.
While the hybrid film model was only for a year those series such as The Flight Attendant, Gossip Girl and Hacks (which were all successful) will keep going and that base will keep coming back for new seasons.
The difference here is that AT&T/WB purposefully put the emphasis on sub count and viewership for that reason - this was how it was hedging its bets in a COVID-impacted market.
And slowly that viewership did eventually go up - and I mean slowly. This wasn't an overnight change and it got smacked around by analysts a lot in the interim, but eventually not only showed progress, but is a big reason why the theatrical model came back to life.
Seeing people willing to brave COVID and go to theaters when they could see the same movie at home for less money - at the same time - was the jolt the studios needed to open the floodgates. So instead of berating Warner Bros. and AT&T, many should be thanking them, but that didn't happen.
We get so wrapped up in subscriber count as the "end-all" that many lose focus of the bigger picture. You have to wonder if Netflix, Disney and Warner Bros. (in whatever form it ends up in post-spinoff) eventually just opt to do away with subscriber count as a focal point.
Comcast (NASDAQ:CMCSA) did.
During its last earnings call of 2021 its team said its Peacock service was "way ahead of where we expected to be" and just stopped there. It wasn't until this week and the first earnings call of 2022 that it decided to share with investors meaningful data.
And it was actually meaningful. Comcast's head Brian Roberts took analysts and shareholders for a deeper dive showcasing that the breakeven date for Peacock may need to be pushed until 2023, although the team was expecting "a significant step-up in revenue" over 2022. He also noted Peacock overall subs were up and finally revealed a breakdown of paid vs. free. Roberts in doing so was quick to point all paid subs had "much lower churn and significantly higher engagement."
Now it's different for Netflix because - as mentioned - streaming is all it does, but imagine how different the call would have gone if it focused on other areas and downplayed subscriptions. Yes, it may make for a rougher start but Netflix is known for making sweeping industry changes simply because it can.
Shifting the focus is one direction referenced by the LA Times which hit on the potential shift in an interesting recent piece looking at the overall issues with streaming in general.
"Netflix may be entering a period of slower growth for a while. That might mean analysts will put more emphasis on profits than they did during the years of torrid expansion. That's not necessarily a bad thing for Netflix. But it means people will be looking at Netflix's business differently."
And they should be looking at it differently - in this new normal, subscription count isn't as important as keeping your core base. Churn is a real thing and that's why Roberts mentioning it is so important. In Netflix's case reducing that churn and keeping its customers month-to-month allows it to fund all of its pricey ventures.
For Disney, there's a lot of room to grow and as it builds up Hulu and ESPN+ you will see increased and sustained growth but it comes at its own pace. It's not the type of thing where a CEO can put an exact date on it. Streaming is not a straight line and there will be ebbs and flows - not unlike the traditional box office which has always been seasonal.
Over the first three quarters of 2021 Netflix gained about as many subscriptions combined as it gained in the last quarter alone - largely off the four tentpoles I mentioned plus the residual Squid Game appeal.
That's also not sustainable.
Q1, which will have tentpoles such as Ozark and Bridgerton, won't come close to that level - nor is financially possible for it to do so. Netflix knows that and it has to space out its content while also keeping pace with rivals.
Part of that is why subscriber count has become the focal point is because subs help add to revenue - but so does a price increase and Netflix is also dropping that little surprise on customers in 2022.
In any case shareholders can't rely on a billionaire investor to come in every time as a way to calm their nerves. Bill Ackman's massive stock buy this week helped the stock rebound, but what happens next time?
Streaming as a business may have hit a wall, but as we saw this week with HBO Max and Peacock, it's not all doom and gloom. It's also not the type of barrier that should tear down a medium which in all honesty probably needed to be slowed down. We're years ahead of where people expected streaming to be pre-COVID and while we don't need to abandon hope, pumping the breaks and re-evaluating next steps may not be the worst idea to ensure a more stable future.