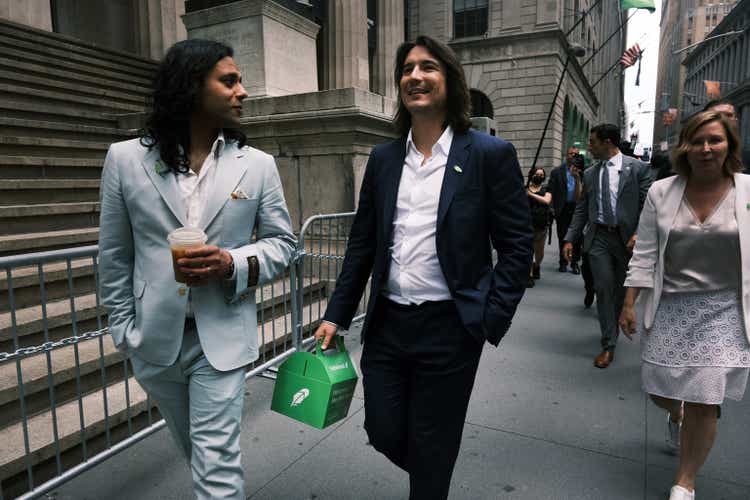 Investment Thesis
Robinhood (NASDAQ:HOOD) reported Q1 guidance that was worse than many expected. On the other hand, despite the stock being down more than 60% in the past 3 months, I strongly suggest that readers don't consider this investment.
As I appraise this investment from different angles, the message is clear, don't buy this dip.
Investment Sentiment Turns Grim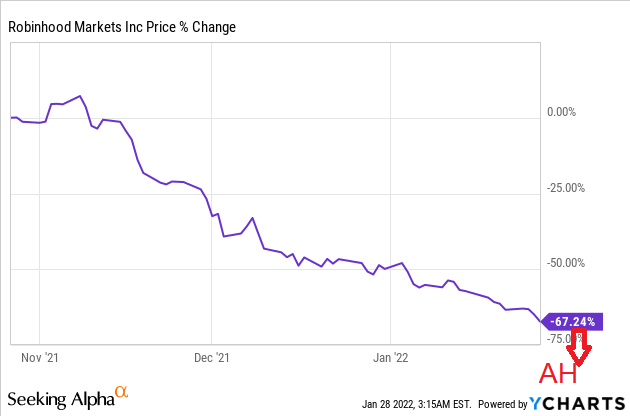 Anyone that's invested in Robinhood's stock in the past 3 months is holding a loss.
Please read the following title articles: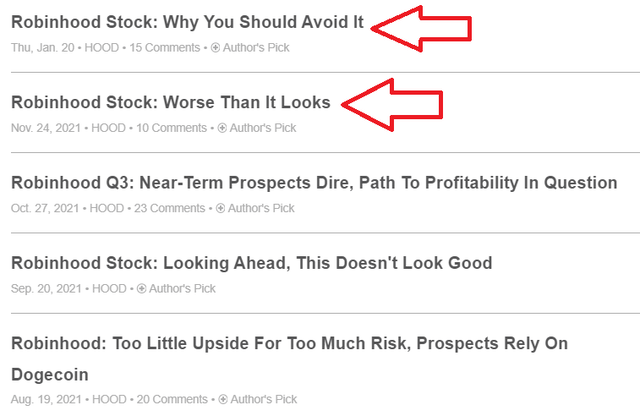 The two red arrows above cover the period above when the stock is down more than 65%.
Now, let's analyze what's at play.
Revenue Growth Rates, Guidance is the Problem

Last week I said,
Robinhood is about to announce its Q4 2021 results next Thursday after hours. Importantly, we are going to get its guidance for Q1 2021. Given that Q1 2021 was so strong last year, most reasonable minds will expect the guidance for Q1 2022 to be negative y/y. However, the question that remains outstanding is just how negative?
Now, we got our answer, Robinhood is guiding to be down approximately 30% y/y in Q1.
Like most companies, Robinhood is guiding lower than they truly internally forecast to give themselves a chance to beat the consensus.
That being said, the trend here is undeniable. Robinhood was a Covid winner. Robinhood's strongest revenue growth rates are now well and truly in the rearview mirror.
A lot of people reached out to me saying that I don't understand that Robinhood's customer is fully addicted to trading. Perhaps. Yet, the fact remains, the trend in Robinhood's revenue growth rates is also not that difficult to understand.
Robinhood's Near-Term Prospects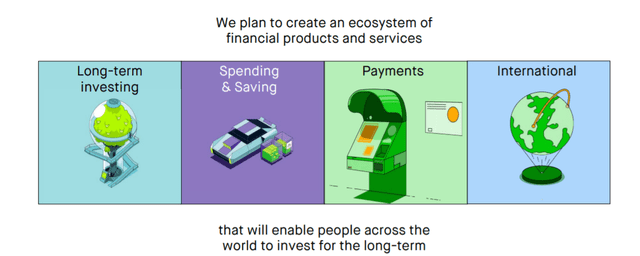 Robinhood has a very compelling narrative about democratizing finance for all. If you pay attention to their narrative you'll see that they are highly motivated to help investors think about their long-term prospects.
Furthermore, during their earnings call they spent time discussing their investments in their platform to ensure they are delivering high service reliability and uptime.
All that being said, if you've read my work before you'll have heard me say countless times follow the customer or user growth.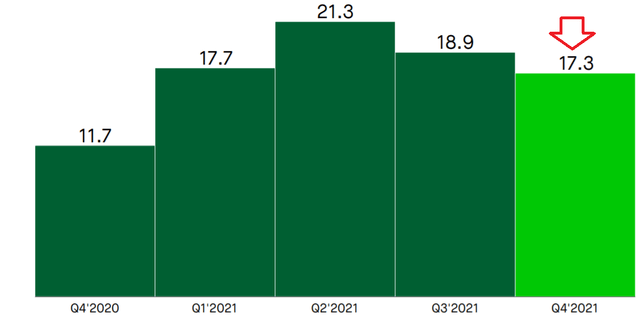 The customer knows best. The customer will only move towards platforms or products that make sense to them. And if your customers are leaving your platform, then it's no longer a growth story, but a value story.
And value stocks don't trade on anything but free cash flow.
Path to Profitability Remains an Issue
When Robinhood was growing at a very rapid rate it was reporting positive adjusted EBITDA figures. However, as its growth rates have dramatically slowed down, its adjusted EBITDA numbers have turned negative.

When seeking out an investment, in the ideal scenario you want to buy companies that have improving profit margins. Or at least stable profit margins.
What you see above is the opposite of what makes for a great business. And I don't think that the mantra of Robinhood is ''investing for growth'' is now a consideration. Because as discussed above, its growth rates are moving in the wrong direction.

After management receives more than $1 billion worth of stock during the past 90 days, and this gets added back as a non-cash expense, Robinhood's cash flow from operation was meaningfully worse compared with the prior year and is now at negative $1 billion.
With only $6 billion worth of cash on the balance sheet, there were obviously questions during the earnings call about whether or not Robinhood will need to raise more cash. Robinhood reassured investors that they are ''looking very solid''.
HOOD Stock Valuation -- Still Not Worthwhile Investing Here
If we account for the after-hours sell-off, Robinhood is priced at approximately 5x forward sales. The problem with this valuation is the following:
Investors are paying a premium valuation for a business where its fastest revenue growth rates are in the rearview mirror.
Stocks with poor visibility don't trade at a premium.
Robinhood's revenue growth rates are highly volatile and prone to negative surprises.
Robinhood is meaningfully unprofitable and burning from substantial cash flows.
The Bottom Line
Robinhood remains uninvestable.
I fully understand that for many readers, the fact that I'm bearish in this name frustrates or even angers them. But when there are so many truly remarkable businesses out there in the market right now that are making a ton of free cash flow and growing at really fast rates, I struggle to understand why anyone would be frustrated with my point of view?
I'm simply telling you what you already know. And if it makes anyone feel any better, we've all had investments go sour in the past and will have investments go sour again in the future. Investing is a very humbling profession.