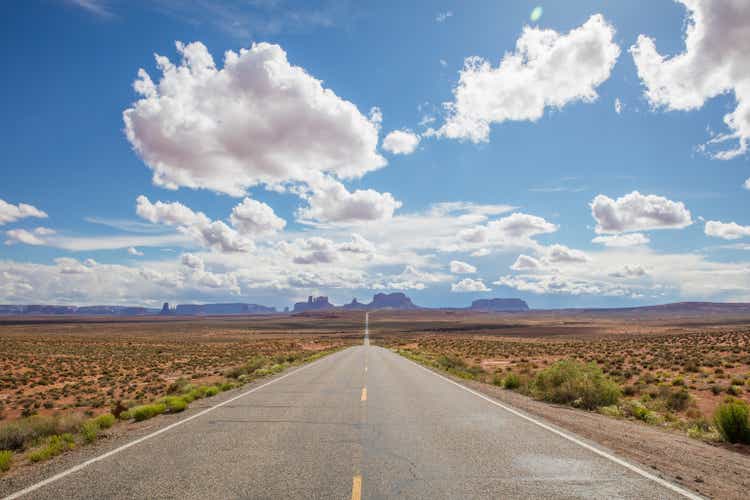 This article was coproduced with Wolf Report.
We're going to look at some companies that give us safe, growing, and impressive dividends. It's a popular theme and one very dear to us at iREIT on Alpha. Thus, our targeted readers are those people who are interested in various types of income investing.
They don't necessarily want growth stocks, if growth means they have to sacrifice safety or that quarterly/annual yield that helps them live their life. Despite not being retirees yet, most all of our investments at iREIT on Alpha have a dividend attached to the investment thesis.
In other words, if a company doesn't pay a dividend, we're usually not that interested.
To that end, in this article, we're going to look at two excellent companies.
They're very different companies, because:
One is American, one is European.
One is a REIT - another is a legacy-focused European Telco.
One has a very frequent dividend payout - the other one does it annually.
One has a highly predictable dividend - the other one might double in 2-3 years but is still good even if it doesn't.
On another perspective, however, they're also very similar, because:
Their dividends are safe.
Their payout ratios are well within safe parameters
They both have BBB+ or above in credit rating
Their customer base is well-diversified, with superb exposure in terms of tenant/customer concentration
Management is excellent
Their income isn't really dependent on any one macro trend - both of them have survived extensive downturns without breaking the dividend trend.
We firmly consider these businesses some of the most conservative investments to be made. That's why each of them is a large holding in Wolf Report's core portfolio (over 2.5% of each of these companies is found in his portfolio, at very appealing cost bases) and my portfolio (one of them is my largest stock holding).
Without further ado, let's look at candidate #1.
#1) Realty Income Corporation (O)
Probably not a big surprise here - but to our minds, you can't really do much wrong with Realty Income, if bought at the right valuation. For the company, anything below $70/share is what we would view as "fine" and anything below $60 is what we would see as a darn good buy.
Today's price is below $70/share.
There are a few things that make Realty Income such a good and safe investment.
Size is certainly one, with the company being a member of the S&P 500, and one of the businesses in the Dividend Aristocrat index. Its size and track record also mean it's one of the top 10 global REITs measured by market cap.
History is another big factor, with Realty Income boasting a 28-year annualized RoR of 15.1%, significantly beating any comparative or relevant market index. The company has raised the dividend 4.3% per year on average and has recorded 112 dividend increases during that time.
Fundamentals with a capital "F". The company has a beta that's 0.46 to the S&P 500, which is just insane when you think about it. 52 years of operating history and an ABR (Annualized Base Rent) of closing in on $2B power year. It's one of the very few REITs with an A-rating in terms of credit, and 50% of its rent is coming from clients with investment-grade credit or better.
It's global - European as well as NA (some European at least), and it has a 100% occupancy for its EU portfolio, with an average remaining lease term of 11 years.
If you don't fully yet understand how REITs like Realty Income operate, we would highly recommend that you read up on this - either by buying one of several excellent books or by reading some of the articles we have available on some companies, where we usually explain some of their fundamentals.
Simply put, Realty Income has most of its leases structured as so-called triple-net leases, meaning that tenant assume full responsibility for operating expenses of all kinds (taxes, maintenance, insurance). This vastly reduces O's operating risk to expenses and improves the predictability of company cash flows.
(By the way, the tenant absorbs all inflation costs, which is a plus)
Realty income has two main ways of growing its earnings, and therefore its dividends.
1. Increase the Real Estate Portfolio size.
2. Increase the rent on existing leases.
And Realty Income is very good at doing this, owing to its cheap capital costs (we compute a sub 4% cost of capital) as well as attractive lease yields, the difference of which creates what's called the Investment Spread.
Realty Income doesn't just beat 90%+ of other REITs in terms of price/risk/performance, it's up there with certain non-REIT companies, which is impressive.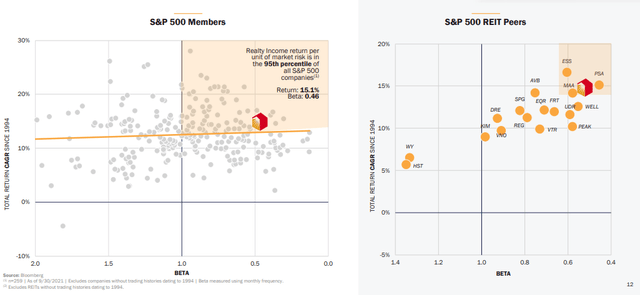 Not only did O keep its dividend during the pandemic - it increased it - with every single peer group - net lease peers, S&P 500 REIT peers and Retail REIT peers seeing earnings per share come cratering down. Realty Income instead saw continued earnings growth of 2.1% during the pandemic.
The company's safety and rewards you're getting is what's at the core here. Realty Income has a historically proven trend of showing the lowest operational/financial volatility during the recession in 2007-2009, as well as seeming as one of the best in this downturn.
With the company pushing into Europe, growth opportunities continue for the company, and there are very few risks that would slow the company here.
The company has recently made two big changes.
First, it closed the merger with VEREIT, increasing its scale even further, with a 4% expected accretion to 2022E FFO per share, after excluding the office spin-off FFO.
Second, and as mentioned, Realty Income spun off its Office portfolio into the Orion Office REIT (ONL), a good REIT in its own right. This article isn't about Orion, but it's worth mentioning and looking into if you're interested here.
The best and simplest way to describe Realty Income and why it's so attractive is: They're doing everything right.
It's growing, but not with too much risk. It has a good dividend in a monthly payout, but it's not excessive, and with an excellent tradition. It's A-rated. It's moving on a global scale. Realty Income is checking all those boxes.
Do risks exist?
Certainly.
The company does have exposure to sectors that were hit majorly by the pandemic - including fitness and cinema operators. We expect that most cinemas across the US will be closed within the next decade, with only a few major ones surviving as the market contracts in a continuation of the trends we've seen for years.
(Hence the reason we're bearish regarding EPR Properties (EPR))
For fitness - some have closed, but many have reopened. We're not as worried about these. The specific risks to keep an eye on are the clients AMC Theaters and Regal Cinemas.
However, it would be wrong of us to characterize these as any type of major risk. Realty Income has everything a conservative investor could want. It has a track record, record-low funding cost/WACC; it has a fortress-like balance sheet and a well-covered dividend.
We don't see it making you rich.
Realty Income will manage your invested capital and will pay you a healthy, potentially-market beating, but above all, safe return and dividend.
We believe the company fully deserves its 19-20X P/AFFO premium. Because of this, the company dropping below $70/share marks a potential investment opportunity with a double-digit upside based on a 20X 2023E.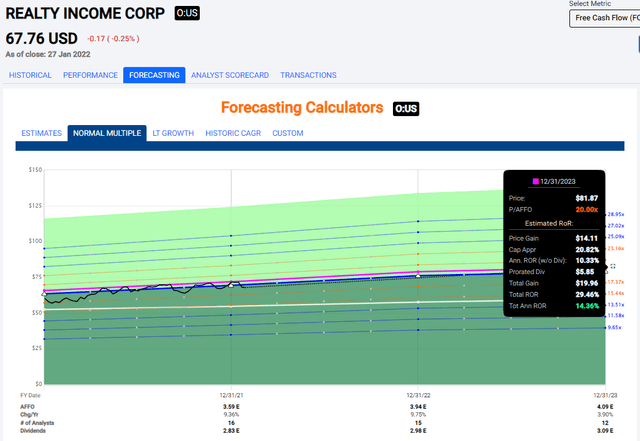 Even a somewhat lower premium multiple of 17-18X would entail what we view as a market-acceptable annualized RoR here. Viewing it historically, the biggest drop Realty Income has seen for the past 20 years was the COVID-19 drop from about $80 down to around $45. That's a massive drop to be certain, but you need only look at what has happened since then.
Current AFFO forecasts are what we would consider realistic based on historical accuracy. FactSet expects a 7.6% 3-year average AFFO growth from the company, and a dividend increase to $3.09/share, indicating a 4.56% yield on today's share price.
S&P Global gives the company a higher potential AFFO growth, around 7-10% for 2023E, with a near-identical dividend for 2023E, and a dividend forecast of $3.41/share for 2025E, indicating a 5% yield on today's share price.
S&P Global gives Realty income an 18-analyst average of $78/share, from a range of $70-$87. Over half of the analysts currently consider O a "BUY".
The implications are obvious - S&P Global analyst averages include a higher allowance for premium for the company due to its massive safety. We don't argue with this, we just think it shouldn't be as high as that.
Under $70/share, this is a "BUY". It's what we view as one of the safest good dividends you can buy, and we definitely consider it the safest monthly dividend out there.
It's one of the dividends we view as a "must-have" in a conservative retiree portfolio.

#2) Deutsche Telekom (OTCQX:DTEGY)
You could buy T-Mobile US (TMUS), but we would warn you here as it's only essentially a part of DTEGY at this point - and the timing for its dividend introduction is uncertain, as is the company's valuation.
So, we focus on Deutsche Telekom.
Deutsche Telekom Germany owns 47% of T-Mobile US, and it's therefore fully consolidated in the company's results. It also received call options to the tune of another 8% of so, which means that DT will likely end up with more than 50% control of the US Company eventually.
Wolf Report recently wrote a fairly fundamental article about the company, where he went through some of the upsides you can find here. To be clear, the company has outperformed the market since.
It's bigger than AT&T (T), it's larger than Verizon (VZ) - it's larger than many Telco's in the world, following its US operations. It currently pays a very well-covered dividend of around 3.5%.
So why is this so great a company to own?
The Safety. Its size, its market, its subscribers. It doesn't have a content-producing arm like AT&T. It's an asset-heavy Telco; its typical CapEx risks are mitigated by the fact that the company's services are fundamentally required in today's society. Hundreds of millions of subscribers pay their monthly bills to Deutsche Telekom. This dynamic creates a typical yield-friendly company due to the recurring income security from its subscribers, balancing with its CapEx ambitions.
It's BBB+ rated - and this is despite the current leverage being above its debt target corridor, with the markets acknowledging the company's overall safety.
It's an incumbent market leader in Germany, dominant in several European geographies, with its next targets being the Netherlands and above all USA. More importantly, Deutsche has already done what other Telco's are doing. Fixed-line assets and underperforming segments are divested. Deutsche Telekom doesn't do unprofitable M&As, content deals, or overpriced asset takeovers, as some Telco's have done.
They have consistently outperformed European peers.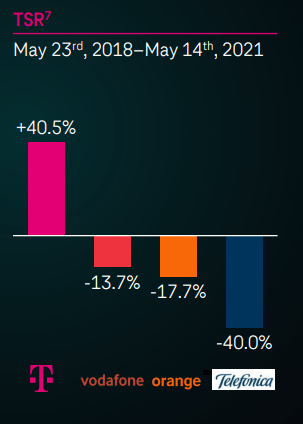 Deutsche Telekom has some incredible financials to go with its valuation. It averages a 40% EBITDA margin over time, and while margin improvements aren't really coming, declines aren't either.
Wolf Report wrote about the company's CapEx spend plans and other parts, but there's one core reason why he views Deutsche as a potential outperformer... drum roll... we're talking about a not-unrealistic 5-year RoR of 100% or more.
Now take a look at this: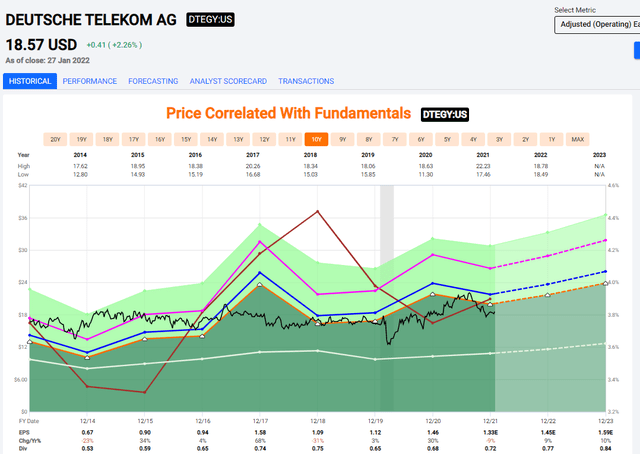 This goes hand-in-hand with a double-digit improvement in FCF as well, by the way, forecasted until 2023. The vast majority of these improvements are expected from legacy efficiencies as well as the big elephant in the room - the USA. With the US segment improving and being included, the potential growth for DTEGY/DTE is downright massive for a Telco.
Current FactSet estimates do not even consider the possibility of a dividend recalibration. And even under these very conservative estimates, there's a more than 17% upside based on a 2023E of $1.59 for the DTEGY ADR.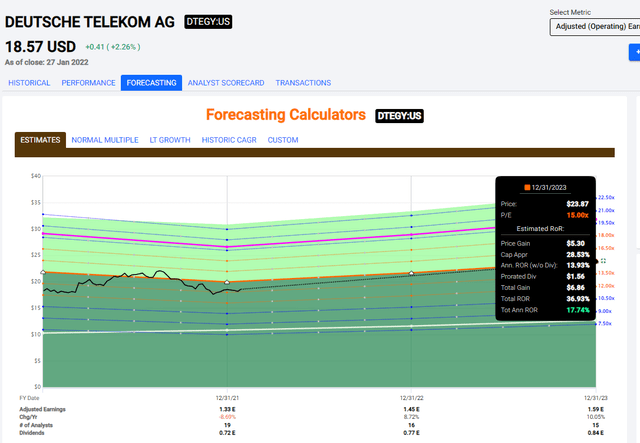 And once again, this does not include any potential dividend from the near-50% stake in TMUS. TMUS is a profitable business, and at some point, it will start paying a dividend, and once it does, Deutsche could be able to increase its own dividend in accordance with its policy.
The potential here is for almost a doubling of the current dividend, indicating a 5-7% yield on the company. This will of course also influence the valuation, making today's 17% potential annualized RoR look small.
What are the obstacles to this?
Really only two.
1. TMUS needs to start paying dividends first, and the estimate/visibility for this is low. Current analyst estimates do not give us any idea or timing here and looking over the company, it does not currently have plans to do so.
2. Even once it does, DT is first expected to address its debt corridor. Current native numbers put DTE at a net debt/EBITDA of just south of 2.9X - which means it needs to go down a bit, to the higher end of that corridor of 2.75X. Only once this is done, will the company likely increase or normalize the dividend growth.
So, dear reader. What you have here is a company that's a telco incumbent in many attractive geographies. The yield is excellent. It has a good, liquid ADR. There's potential growth, and massive FCF growth estimated. Current analyst estimates give DTEGY a target of $24.5, indicating an upside of almost 48%. We view this as a bit too positive.
Our view for Deutsche comes to a potential upside of around €22 for the native, meaning an upside of ~32% long-term.
Deutsche is over 2% of Wolf's core portfolio, and he's buying more, and expects to establish a 3%+ position in this company eventually, to enjoy the full journey of EPS expansion and dividend normalization. I'm also likely adding a position in the next 48 hours (as I disclosed).
Thanks Folks!
These are two superb businesses, as we see them.
Both of them are solid "BUY"s.
Both of them have significant upsides in the long term.
DT will make you "richer" (according to Wolf) and O will provide more capital safety and more immediate returns on your investment.
What's your choice?
As for Wolf, he owns both and will continue to buy both.
As for me, O is core to my portfolio and Wolf has convinced me to drop a few dimes into DT (likely adding a position in the next 48 hours).
We think it's crucial at this point in the market not to be spooked by market volatility, and not lose focus.
We work mostly with people interested in income generation, people with money, but people who cannot afford to lose money. Because of this, our approach is focused on capital preservation and income generation. Not just one, like some growth investors or income-focused investors with high yield-focus, do. Both.
It's what we want - and it's what we want for our followers, our subscribers, and our clients.
Let us know if you have any questions.
Note: Brad Thomas is a Wall Street writer, which means he's not always right with his predictions or recommendations. Since that also applies to his grammar, please excuse any typos you may find. Also, this article is free: written and distributed only to assist in research while providing a forum for second-level thinking.