Where To Buy NFTs: Top 10 Marketplaces
NFTs are digital assets that are rapidly growing in scope, popularity, and value. Learn where to find them and see the top 10 marketplaces where they are currently being bought and sold.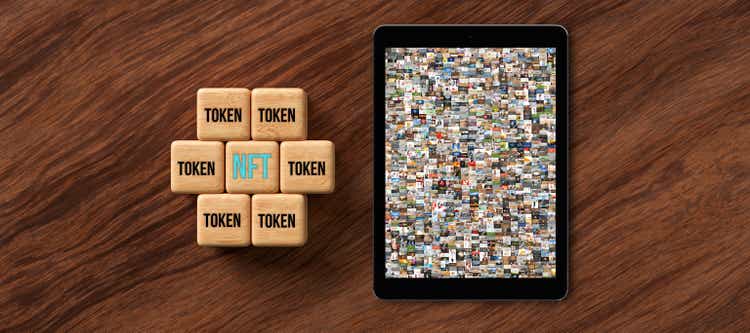 About NFTs & NFT Marketplaces
NFTs have become highly popular digital assets that almost anyone can create, buy, or sell. In just the last few years, they have gone from relative obscurity to a public obsession, aided by their novelty as assets, the ease of creating them, their broad appeal as collector's items, and a handful of high-profile sales in the millions of dollars. All that has created a feverish effort by many people and organizations to jump on the NFT bandwagon.
While you can purchase NFTs directly from a creator, a rapidly growing community of independent online platforms has emerged to serve as NFT marketplaces, where those looking to acquire NFTs can browse through different types. In addition, well-known entities such as Time, Inc., Fox Entertainment, the New York Stock Exchange, and Gucci have either issued NFTs or announced plans to set up their own marketplaces. Even Walmart has announced plans to offer NFTs.
Creators can be almost anyone – artists, musicians, public companies, trade groups, universities, etc. NFTs now provide a ubiquitous way for people and organizations to monetize both physical and digital assets that they already have or can easily create. Furthermore, once created (or "minted"), an NFT exists in digital form, making it easy to transmit over the Internet. Because there is no manufacturing or physical delivery, no licensing required, and no regulations, anyone can open up a "shop" on the Internet to sell NFTs.
Tips for Choosing an NFT Marketplace
If you are not sure what type of NFT you might be interested in acquiring, you should probably expect to peruse several marketplaces to get a sense of what they offer, the price ranges, and how purchases are made on that platform. The first step in choosing an NFT marketplace is to decide what type of NFT you are looking for. That will help you identify a relevant marketplace in which to begin browsing. When you identify a marketplace that has the right type of NFTs for you, it will be a good idea to read their disclosures and search for any third-party information on them you can find. Most are still non-public companies, precluding you from getting reported financials.
Some of the details you will want to look into are:
What safeguards exist to ensure that a buyer will have a legitimate transaction?
What is the required medium of exchange for the desired NFT? (Normally, it is a specific cryptocurrency)
What fees are involved in the transaction?
What other NFTs are available that might be similar to the one you are interested in? (They are all unique, but the creator may have issued many NFTs that have only slight differences.)
Where will you store the NFT after the transaction? (you'll need a digital 'wallet'.)
How and where will you be able to sell your NFT when you want to?
Tip: NFTs are created and verified on blockchains and the whole idea behind blockchains is to record all transactions and make them transparent to all members of that blockchain's network. That means it is possible, with access to the necessary blockchain, to verify previous transactions for any selected NFT, if there are any, and to verify your purchase as well.
NFT Marketplace Categories
NFTs and marketplaces that sell them vary in terms of style, format, and subject nature, appealing to a wide assortment of audiences, such as artists, musicians, sports fans, gaming enthusiasts, and collectors. For the sake of organization, I've categorized the marketplaces accordingly:
Open Marketplaces: a broad array from different sources
Curated Marketplaces: more specific or specialized sources
Collectibles Marketplaces: focusing on items like sports or movie collectibles
Games Marketplaces: providing NFTs specific to online gaming
Source: Cryptonews.com.
Top 10 NFT Marketplaces
There are no formal numbers available on the sales at these marketplaces to rank them by size, so those listed below are on this list as a result of extensive research across numerous sites. They are presented here in no specific order, but are organized by category with further details for each below.
OpenSea
Rarible
Mintable
Foundation
Nifty Gateway
SuperRare
Known Origin
NBA Top Shot
DraftKings Marketplace
Axie Infinity Market
Open Marketplaces
Acknowledged as the largest NFT marketplace in offerings and viewed as the "eBay" of NFTs.
Supports creators. One of the best for minting new NFTs.
Has the widest range of digital assets (art, music, sports, photo, etc.).
Supports more than 150 different payment tokens.
Community-driven and considered one of the best marketplaces.
Similar in scope to Open Sea (art, videos, collectibles, music).
Minting capabilities include multiple NFTs and portfolios that can provide NFT royalties to creators on future sales.
Need to use the Rarible token to buy and sell.
Home for major brand names like Yum! Brands, Taco Bell, and Adobe.
An open marketplace similar to OpenSea.
Backed by billionaire Mark Cuban.
Easy to use and supports minting of NFTs for creators of all types (from photographers to musicians) who want to sell their work as a digital asset.
Seen as the "Etsy" of NFT marketplaces.
Curated Marketplaces
Simple format. Was designed as a no-frills way to bid on digital art.
Launched in early 2021 and already sold more than $100 million of NFTs.
Artist curated. Artists are accepted by invitation. Buyers simply need a crypto wallet funded with Ethereum to start making purchases.
A curated art platform powered by the crypto exchange Gemini (controlled by the Winklevoss twins). The NFTs, known as "Nifties", are built on Ethereum.
Facilitated the sale of some of the most popular digital artists such as Beeple and holds the record of selling the most expensive NFT at $91.8 million.
Hosts NFTs for purchasers -- meaning the NFTs are stored for you by Nifty Gateway and Gemini.
Nifty purchases and sales also can be made in fiat currency.
Lots of 'celebrity' NFTs
Similar to Rarible, but higher-end and more selective with art gallery feel. The site includes art, videos, and 3D images.
Offers good benefits to creators.
Recently announced its own token.
Like Rarible, SuperRare NFTs can also be bought and sold on OpenSea.
Caters to artists and photographers for their own work.
Seen as the equivalent of an art gallery in the physical world.
More expensive selections are offered.
Collectibles Marketplaces
Sports-based NFT marketplace focusing on men's and women's professional basketball.
NFTs contain video clips and play highlights, sometimes combined into "packs" around significant historic games.
Does not allow participants to mint – just allows users to buy and sell what they is offered and authorized by the NBA.
Seeing substantial growth and is a billion-dollar marketplace.
Easy to buy and sell, with some NFTs offered for only a few dollars.
New sports-themed marketplace containing collectible artifacts from sports figures as varied as football stars, hockey stars, and race car drivers.
Builds on their existing sports betting franchise.
Games Marketplaces
A gaming-oriented NFT marketplace where the assets of the online gaming platform Axie Infinity can be minted or bought and sold.
Said to have more than a billion in market capitalization.
Very strong base in the gaming ecosystem.
Axie Infinity tokens (called Axie Shards) can be bought and sold on a variety of other NFT marketplaces, as well as on some cryptocurrency exchanges.
Other NFT Marketplaces
In alphabetical order:
Arkane Market
Async Art
BakerySwap
Binance NFT
Decentraland
Ether cards
Ghost Market
Larvalabs
Makers Place
NFT Showroom
Theta Drop
Treasureland
Viv3
Zora
Should I Buy NFTs?
NFTs represent an entirely new type of digital asset and are different than cryptocurrencies. Their uniqueness provides a degree of scarcity and authenticity, but they are still too new to make broad judgments about their merit as investment assets. Investors should be careful about concluding from the handful of NFTs that have sold for millions of dollars that very many other NFTs will reach that kind of value.
NFTs do represent a cool new medium in many respects and their digital nature makes them particularly attractive to younger generations sports fans, collectors, artists and others. Considering the number of prominent companies looking to enter the business of NFTs and their wide array of potential applications, one can expect that the field will very likely continue to grow and ultimately become a fixed part of our landscape.
As with cryptocurrencies, there will likely be public companies, funds, and ETFs that will enable investors to participate in the growth of NFTs as an industry. At present, however, none of those options exist yet and it is still too early to determine what the effect will be on existing public companies who are planning to enter the business. Therefore, the only viable option right now would be to purchase NFTs themselves.
While many people are doing that, and while some may realize significant potential appreciation, there is no way to evaluate that potential. Therefore, NFT purchasers should at this point consider themselves to be collectors rather than investors.
Tip: NFTs are an exciting new medium and a new way to own the rights to a piece of art, a collectible, a historic artifact, or a recorded moment in sports history. If these things have value to you, then purchasing NFTs may be for you. Whether these purchases turn out to be worthwhile investments should be a secondary consideration at this point, since their merit as investments is unproven and their future value highly unpredictable. Bear in mind that this may just be the beginning of the NFT phenomenon and that when there are millions available, their value may be seen differently by the markets.
How to Buy NFTs
Shopping for NFTs can easily be done through web browsing on marketplace sites, but buying NFTs requires opening an account with that marketplace and having their required tokens in your digital wallet ready to spend. Some will allow purchases using US dollars, but most require purchases in one or more stipulated tokens. To purchase an NFT, one will thus need to have a digital wallet with the appropriate type and amount of digital tokens in it to make the intended purchase.
That means knowing how much you intend to spend, setting up a digital wallet, and acquiring the necessary NFT tokens from one of the crypto exchanges. Armed with your wallet and an account with the marketplace, you can then effect an online purchase.
FAQs
OpenSea appears to be the largest marketplace for buying NFTs

NFTs range in price from a few dollars to a few million dollars. Their price is determined by supply and demand, and since they are each unique, the supply is limited, so excessive demand can drive the price of popular NFTs to whatever someone is willing to pay for it.
This article was written by
Adjunct Finance Professor at UCLA and UC Berkeley (18 yrs), author of three investment books, Wall Street veteran and founder of Informed Assets, PBC. Helping people understand and invest in equities, options, and alternatives such as Cryptos, NFTs, collectibles, private equity, real estate, venture capital, etc.
Analyst's Disclosure: I/we have no stock, option or similar derivative position in any of the companies mentioned, and no plans to initiate any such positions within the next 72 hours.
Seeking Alpha's Disclosure: Past performance is no guarantee of future results. No recommendation or advice is being given as to whether any investment is suitable for a particular investor. Any views or opinions expressed above may not reflect those of Seeking Alpha as a whole. Seeking Alpha is not a licensed securities dealer, broker or US investment adviser or investment bank. Our analysts are third party authors that include both professional investors and individual investors who may not be licensed or certified by any institute or regulatory body.