Two of China's online video industry giants, Youku (NYSE:YOKU) and Tudou (NASDAQ:TUDO), merged in a historic deal last Monday. ChinaScope Financial uses this merger as a window into this rapidly growing sector, and examines in this in-depth report who the leading industry players are, why they are competitive, and whether this merger is a wise strategic move.
Findings in the report include:
The online video market size was almost CNY 2 billion for the fourth quarter of 2011, with 325 million users.
The advertisement revenue of online video websites was CNY 4.25 billion for the whole year of 2011, which is the largest contributor to this industry's revenue.
In 2011 Youku received more than 21% of the online video market's advertisement revenue, and Tudou had more than 10%.
LeTV got more than 60% of its operating revenues from distribution of online video copyrights, boasting operating revenues of CNY 598.56 million and net profits of CNY 130.88 million in 2011.
Tudou was the industry leader in the growing mobile online video market and made 21.7 million from its mobile video services in 20114Q.
Data on iQiyi shows the importance of entry control; more than 40% of its users visited Baidu (NASDAQ:BIDU) immediately before entering iQiyi.
Analysis of Youku and Tudou's cash flow and income statements show that in the cash-strapped era of content base building, the merger is a wise and timely move.
Industry Brief: In the Eyes of 325 million Users
China's online video industry is a hybrid genre which unites user-generated materials and licensed contents, such as TV serials, shows and movies in one comprehensive platform. The industry consists of different types of companies; independent online video websites such as Youku and Tudou, video websites of portals such as Sohu (NASDAQ:SOHU) Video, and online TV channels such as CNTV with no user-generated material.
More than 60% of China's approximately half billion internet users watch online videos, equivalent to about 325 million users in the second half of 2011. As the number of China's internet users grows, so will the online video market.
In 2011Q4, the value of the online video market was almost CNY 2 billion, a number which comprises of three types of revenue generating activities: advertising on the video websites, income from sale of copyrights, and premium video services such as high definition (HD) dramas and films. Exhibit 2 shows the growing size of the online video market and also illustrates the industry's strong seasonality; during Spring Festival, the growth rate declined significantly and then peaked in the second quarter.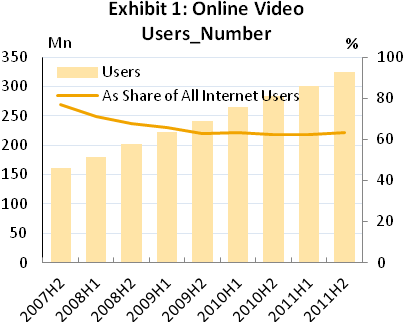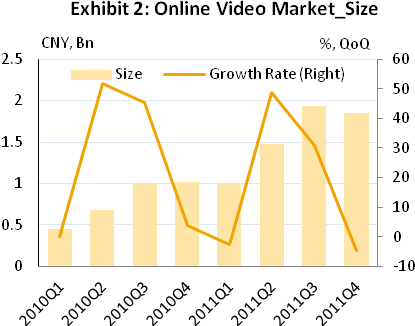 Industry players can be divided according to business models. A company like LeTV gets most of its revenues from reselling copyrights with a premium, whereas a company like Youku gets almost all of its revenues from advertisements. On an industry level we see that the bulk of revenues came from advertisements, CNY 4.25 bn in 2011. This market grows parallel to the online video market.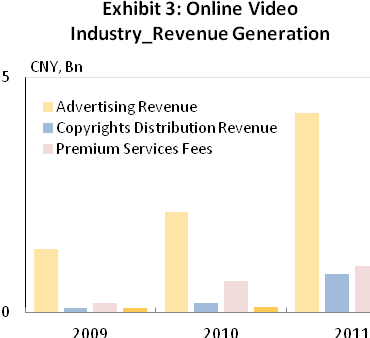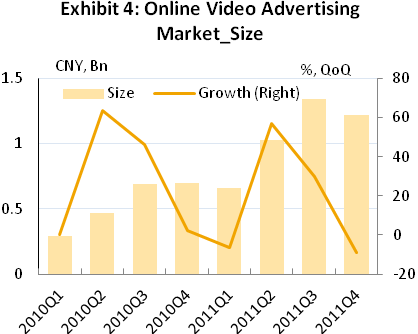 The value of China's internet advertisement was CNY 51.2 billion in 2011 and accounted for 28% of China's entire advertisement market. Online advertisement by independent video sites was growing in this market; in 2011, it was 7.1% of all internet advertisements.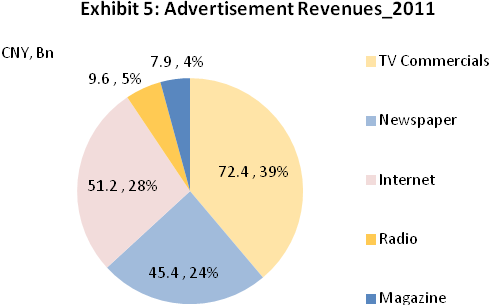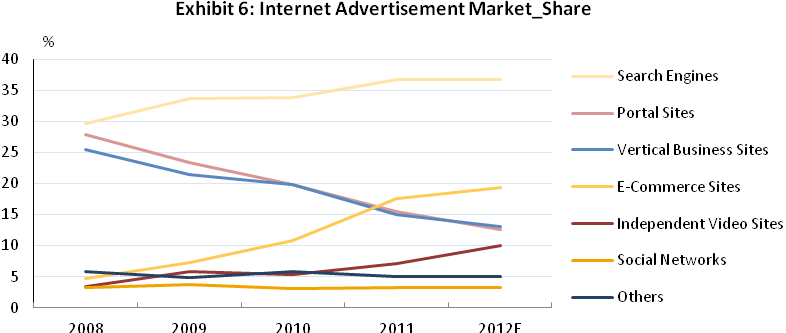 Strengths and Strategies: How Industry Players Make Money
In this section we examine the different revenue generating strategies, and how the Youku-Tudou merger will be able to capitalize on these.
- Online Advertisement
Online advertisements are shown every time a new window is opened, and data on pages viewed can therefore be used as an estimate of the company's revenue generating power. We see that Youku is leading the industry with 29 million pages viewed in January.
In measuring unique visitors, Youku is also in the lead with the largest user reach market share, and Sohu Video and Tudou coming in as second and third. After the merger, Youku-Tudou will have the largest market share by far, although it will be less than the aggregate of their current market share, due to overlapping users. With a greater market share, Youku-Tudou is expected to be able to increase their advertisement revenue significantly.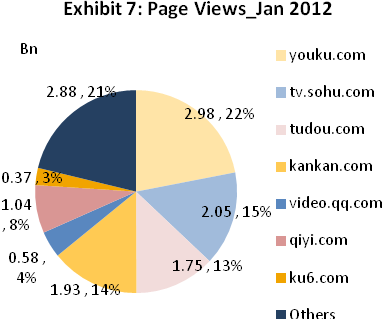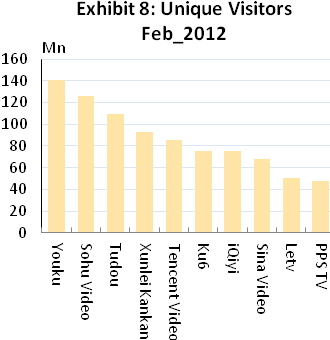 With its largest user base, Youku has strong pricing power. In 2011 Youku already accounted for more than 21% of the entire market's advertisement revenue, and Tudou for more than 10%. When considering the average revenue per advertiser (ARPA) we see that Youku has much stronger pricing power than Tudou. In 2011Q4 Youku's ARPA was CNY 1.2 million, Tudou's was CNY 500,000, this despite the fact that Youku only has about 10% more visitors than Tudou. When comparing quotation prices, we see that Youku's prices are always higher than those of other companies.
If the advertisement strategy of Youku can be extended and expanded in cooperation with Tudou, the new entity will be able to further increase their revenue.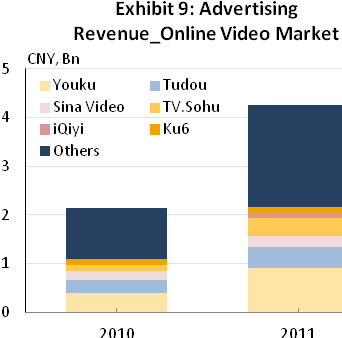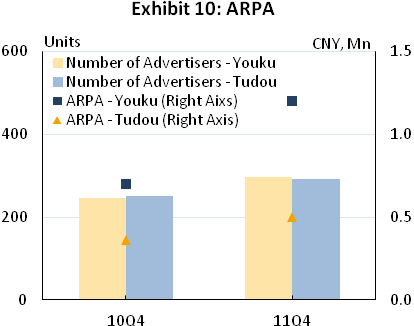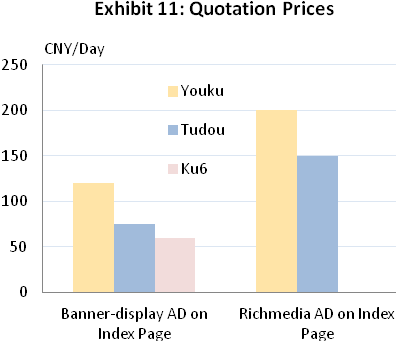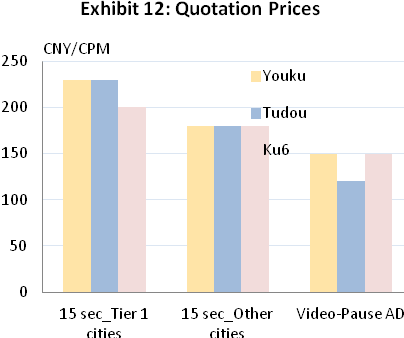 - Copyright Sale
Last week LeTV published its 2011 earnings, boasting operating revenues of CNY 598.56 million and net profits of CNY 130.88 million. From LeTV's 2011 income statement we see that almost 60% of the operating revenues come from distribution of online copyrights to other online video websites, with advertisement services accounting for only 19.12%. Of the entire copyright market, which was valued at CNY 821 million in 2011, CNY 356.16 million was made by LeTV, giving it a market share of 43.36%.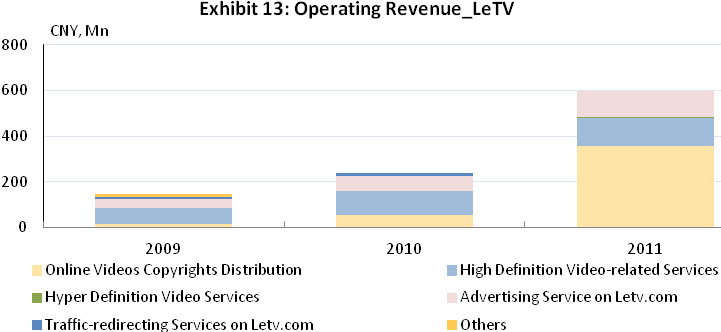 LeTV is currently the only profit making company in the industry. However, its performance is facing two potential challenges. The first challenge lies in its aggressive accounting treatment in revenue recognition and longer amortization periods. The second challenge is the direct purchases from copyright owners by other players in the industry.
When examining the content cost of Youku and Sohu Video, we see that only a minor share of their content costs is due to purchases from LeTV. The merger will increase the financial sway of the companies, and Youku-Tudou might increasingly choose to buy their contents directly from the original copyright holders.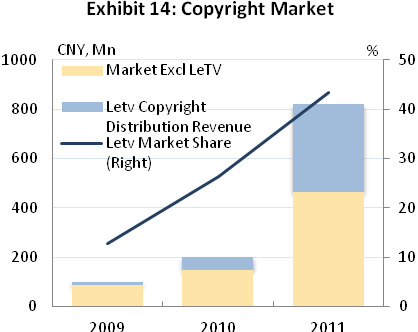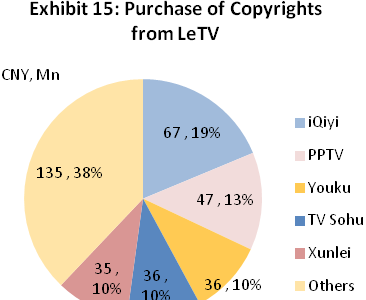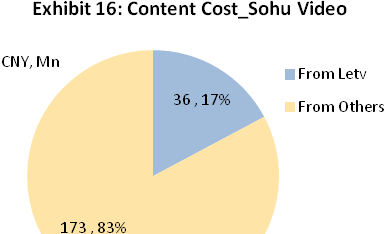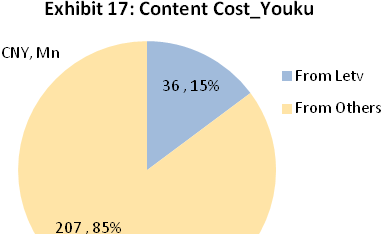 - Cost Control
The Youku-Tudou merger will combine the two companies' libraries during this initial period where the companies are building up their content base. We see that content cost of both Youku and Tudou is increasing, although as a share of revenue the growth has stabilized as revenues are increasing.
When breaking up the cost content of the two companies, we find that apart from bandwidth cost, content cost is the largest entry, accounting for 37% of Youku's, and 43% of Tudou's costs. The consolidation of the two companies' content library and the stronger bargaining power of the combined entry may increase the cost control power of the companies.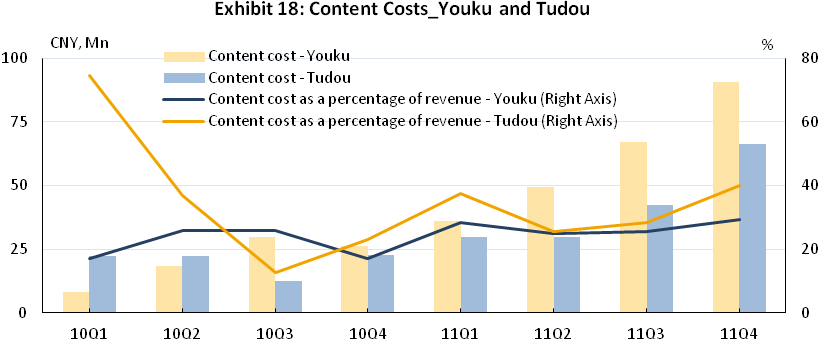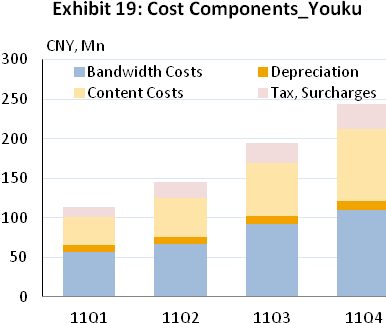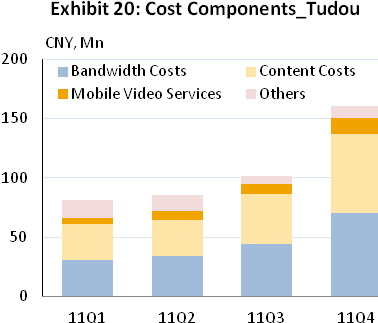 - Mobile Access
Tudou is the industry leader in the growing market of mobile online video. In 2011 4Q Tudou made 21.7 mn from mobile video services, accounting for approximately 13% of the company's total revenues, and the share is rapidly increasing.
Cisco (NASDAQ:CSCO) predicts that in 2016 more than 70% of global mobile traffic will be accounted for by mobile video traffic against the current share of 50%. Currently, China only accounts for approximately 5% of world wide mobile traffic, as Wifi services and 3G services are not yet fully developed. Cisco predicts, however, that China's global share of mobile traffic will increase to 10% by 2016. If capitalized, mobile online video will be yet another way the Youku-Tudou entity can improve its company performance.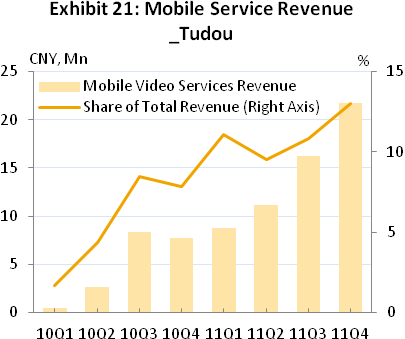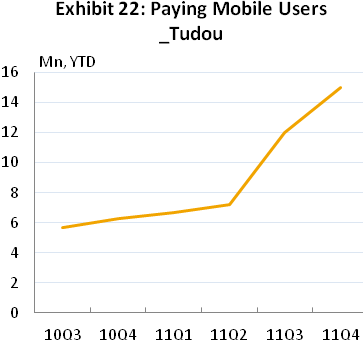 - Portal Control
Iqiyi is invested by Baidu, and therefore has the advantage in portal control. As shown in exhibit 23, most online video users, regardless of what platform, use Baidu as a search engine. 40% of Iqiyi's users visited Baidu immediately before entering Iqiyi. Recognizing the importance of entry control, Youku has developed its own search engine, Soku. Our research show that 13.29% of Youku's users visited Soku immediately prior to entering Youku.
It is possible that Youku-Tudou will invest in developing the Soku search engine further, but it is also probable that as Youku and Tudou combine and expand their content, their coverage will be so comprehensive that users will search directly on the platform and that search engines and entry control will be less important.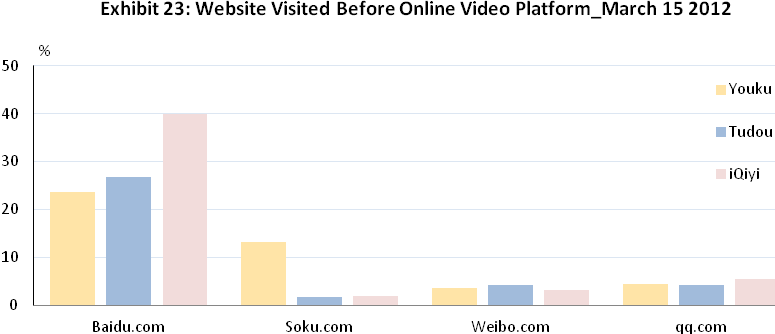 - Content Diversification
A final strategy in which to secure viewers and thereby revenue, is by ensuring exclusivity of content. Some companies have made exclusivity agreements. For instance, in April 2011, Sohu bought the exclusive online rights to show 34 episodes of "Designation Forever" for CNY 12 million. In the same time period, PPTV bought the exclusive online rights to show 32 episodes of "Romantic on the Left, Married on the Right" for CNY 10.5 million. In June 2011, LeTV bought 34 episodes of "The Happy Life of Jingtai Lan" for CNY 14.4 million.
Our data on March 14, however, shows that all platforms hold most of the top ten domestic dramas and entertainment shows, but that no one platform has an exclusive advantage in one genre.
The Youku-Tudou Merger: A Strategic Marriage
Based on the potential for traffic increase, pricing power, mobile access, entry control, cost control and content comprehensiveness, the marriage between Youku and Tudou seems to be a good strategic move. When considering the company's liquidity demand during this crucial period of content building, it seems like a timely move as well.
In 2011, Youku made CNY 897.62 million in net operating revenue, but made a negative net profit of CNY 172.1 million. In the same period, Tudou made net revenues of CNY 521.2 million, and a net profit of negative CNY 511.16 million. While Youku's scale is much bigger than Tudou's, its content and operating costs are smaller in relation to revenues, and are more stable than Tudou's, whose content and operating costs in 11Q4 almost equal net revenues. Tudou is clearly cash-strapped, which is why the Youku-Tudou move is, through most industry analysts' eyes, considered an acquisition more than a merger. Since Tudou and Youku both are independent online video sites, and not part of a larger media group like Sohu Video or Iqiyi, with potential for financial support from other business lines, liquidity is a prime concern and reason behind the merger.
When examining the cash flow of the companies, we see that they both have negative net margins. Tudou's positive margins in 11Q3 is due to gains from fair value change in warrant liabilities as Tudou's stock prices dropped in this period. We see that Youku's operating cash flow had moved into the positive in 11Q4, and it is likely that the free cash flow will be positive and that the company will be value generating in the future. We also see that the negative free cash flow closely tracks the investment cash flow, again supporting the hypothesis that the companies are investing heavily in building up their content base.
Based on the findings in this report, there is reason to believe that the result of the merger will put pressure on downstream and upstream industries, as advertisement costs are pushed up and content costs down. In time, users will enjoy a more comprehensive online video platform. While this is the first industry concentrating move, we believe it will set precedence.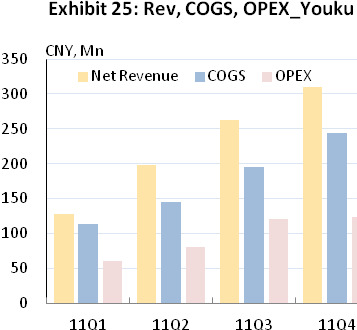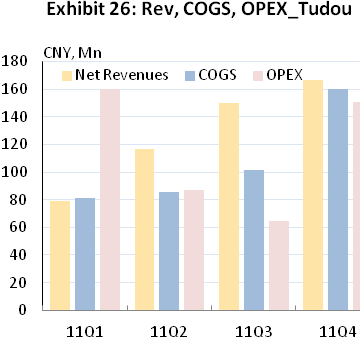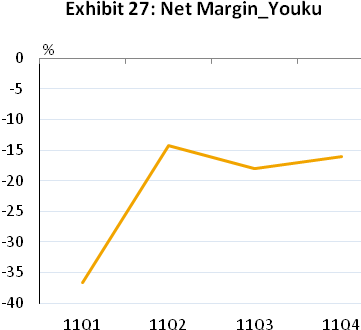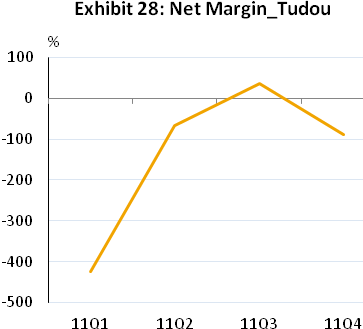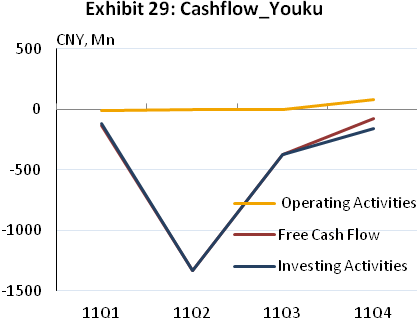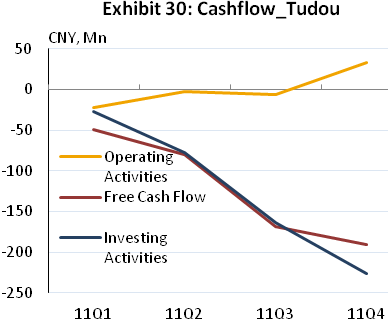 Disclosure: I have no positions in any stocks mentioned, and no plans to initiate any positions within the next 72 hours.