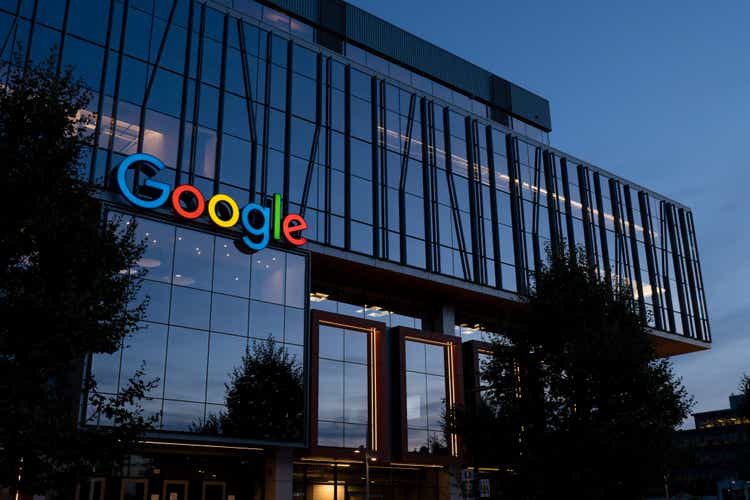 Investment Thesis
Alphabet Inc. (NASDAQ:GOOGL) (NASDAQ:GOOG) reported a robust FQ4'21 earnings card demonstrating its rock-solid Google Search business, coupled with YouTube's strength. While Google Cloud (GCP) is still unprofitable, it has reduced its losses. Moreover, GCP has not been optimized for growth, given its scale compared to AWS (AMZN) and Azure (MSFT).
It also demonstrates the resilience of its search business, which has "navigated" Apple's (AAPL) IDFA changes well. In contrast, Meta Platforms (FB) dropped its investors a bombshell as they parsed its adjustments to Apple's privacy changes.
Moreover, Alphabet also announced a 20-for-1 stock split, sending the stock surging post-earnings. We discuss why Alphabet is splitting its stock and what investors should consider.
Why Does Alphabet Want to Split its Stock?
Alphabet CFO Ruth Porat clearly communicated the company's intention of the proposed stock split. She said: "The reason for the split is it makes our shares more accessible. We thought it made sense to do." Therefore, it's clear that the move is primarily designed to bring more retail investors on board. Given that Alphabet stock would trade for around $145 per share (based on 3 February's price) post-split, its accessibility has undoubtedly improved. But, since investors can also buy fractional shares these days, it might have diminished the supposed benefit.
Nonetheless, we think that Alphabet may be looking at leveraging more activity from options traders. Based on Bloomberg data, US call option volume has surged tremendously over the last five years. For example, the average volume was below 10K per day in January'17. However, in January'21, the average volume went easily above 20K and almost reached 38K per day at the height of last year's speculative frenzy. In 2022, the average call option daily volume has still been above 20K so far, showing that options remain a resilient favorite trading instrument for investors. Bringing its price down to around $145 per share would significantly improve GOOGL stock access to these retail call option traders.
Does It Change Alphabet Stock's Long-Term Thesis?
We don't think that Alphabet's long-term thesis as an anchor growth stock has changed due to its proposed stock split. We have held GOOGL as a core portfolio stock for many years and took the opportunity to add more shares as the company grew its business.
Google Search is the #1 digital advertising leader in the US, with a market share of 28.6%, according to eMarketer. It's also ahead of Meta's 23.8%. Furthermore, the company has continued to see strong momentum despite the costs inflation, and supply chains disruption that affected ad budgets. In addition, Alphabet has seen broad-based gains across multiple verticals, as Google Chief Business Officer Philipp Schindler articulated (edited):
We're pleased with the growth in Google Services revenues in the fourth quarter. Year-on-year performance was driven by broad-based strength in advertiser spend and strong consumer online activity. Retail was again by far the largest contributor to YoY growth of our ads business. Finance, media and entertainment, and travel were also strong contributors. (Alphabet's FQ4'21 earnings call)
Readers can quickly glean that GOOGL registered a superb FY21, with revenue rising 41% YoY, reaching $257.6B. Nevertheless, it came off a lower base in FY20, given 2020's pandemic headwinds that affected its search business. Google Search, which accounted for 62.7% of Google Services revenue, led the way with a 43.1% YoY increase in revenue. YouTube was another consistent performer, as its revenue increased by 45.9%, even though growth decelerated from FQ4'21 to 25%, given more challenging comps against FQ4'20. Furthermore, GCP was another impressive performer, as its revenue rose 45% YoY in FQ4 and 47.1% YoY for FY21. Therefore, it was a magnificent broad-based performance for Alphabet, as it continued to gain leverage, with its operating margin reaching 30.6% in FY21.
Keep a Close Watch on YouTube and Google Cloud's Growth
Ad-supported streaming leader YouTube has been growing remarkably fast. YouTube CFO Martin Kon even managed to take the opportunity to emphasize that its ad revenue has surpassed subscription streaming leader Netflix (NFLX). He added (edited):
YouTube now has more ad revenue than Netflix has total revenue, even before considering the continued impressive growth of our DTC businesses like YouTube TV, YouTube Music+Premium, Channel Memberships, and Super Chat. And our success is directly linked to our creators' and partners' success, with over 2M creators making money and building businesses on YouTube, 40% growth in the past year in channels making more than $10K a year, and $30B paid out to creators, artists, and media partners in the last three years. (Martin Kon's LinkedIn)
Therefore, Kon has made it clear that YouTube has expanded its monetization engine beyond its ad business. YouTube CEO Susan Wojcicki also outlined in her recent letter that YouTube shorts has reached 5T all-time views, showing incredible momentum. Therefore, YouTube has been an excellent platform for building user-generated content (UGC) with a well-established revenue-sharing model. The New York Times carried a feature recently as it highlighted the competitive edge of its platform in sharing its earnings with its creators. It added (edited):
YouTube remains the only major digital service that systematically redistributes a big chunk of its revenue to people who make its products. Last week, the popular internet personality Hank Green made a video that compares what he is paid on YouTube (GOOD) versus what he is paid from TikTok (not so good), which has a shared lump sum of money for creators that the company doles out under a complex formula. Green's point was that as TikTok earns more, creators effectively earn a smaller share of what the company brings in. Implicit in his video was a question of why more companies don't do what YouTube does and share a sizable chunk of their advertising income. (New York Times)
Moreover, Wojcicki also emphasized that the company has diversified its revenue source into "YouTube Channel Memberships and paid digital goods," as indicated by Kon. Wojcicki stressed that there are now "10 ways for creators to make money on YouTube!" Notably, the critical highlight that YouTube has indicated is its move into NFTs, crypto, Web 3.0. She believes that such developments have "highlighted a previously unimaginable opportunity to grow the connection between creators and their fans." YouTube's robust and highly competitive creator base has certainly set itself apart from Instagram and TikTok. We believe that it faces less competitive pressure than Instagram due to YouTube's unique differentiators. And it has substantial advantages to monetize these new technological developments with its incredibly robust creator ecosystem.
Google Cloud under CEO Thomas Kurian has grown tremendously. Despite not being optimized yet for profitability, GCP's operating losses have reduced while it has scaled its revenue. GCP reported revenue of $19.2B in FY21, against 13.1B in the previous year. Furthermore, its operating margin improved tremendously to -16% compared to -43% in FY20. Even though it's currently #3 behind AWS and Azure, it has still managed to grow remarkably well since Kurian took charge. GCP's revenue is estimated to reach $26B this year, representing a 35.4% YoY increase. Notably, it's "about four and a half times what it made in 2018, the year before Kurian became CEO."
Alphabet CEO Sundar Pichai also highlighted a significant development that Google Cloud is exploring in the call. It's working on how the Cloud team can use blockchain further to support its customers' needs in this space. GCP has been astute in embracing the use of blockchain to differentiate itself in the cloud segment against AWS and Azure.
Insider also reported recently that GCP is banking on the interest from the financial industry vertical in the blockchain. It added (edited):
Google Cloud is looking to capitalize on the rising interest in decentralized networks by entrenching itself as the connector between financial firms and new troves of data found on blockchain networks. The cloud provider announced the formation of a new team solely focused on digital assets. (Insider)
Notably, Google noted that it is "seeing very serious interest from a number of the largest traditional financial firms that are looking at this technology as a way to unlock value, not only for themselves but their customers." It further underscored that these financial institutions are ready to invest long-term. VP of financial services at Google Cloud Yolande Piazza emphasized (edited): "The conversations have gone from, 'we're not going to do anything,' to, 'let's make sure that we're set up and prepared for the long haul. It's on everybody's mind right now."
Therefore, Alphabet is charting a very exciting course to differentiate itself in innovative technologies across its various business segments. As a result, investors should closely follow the opportunities in YouTube and GCP.
Google Stock is a Buy with a Caveat
Our fair value estimates point to an implied upside of about 25%. Therefore, we believe that the stock is still undervalued, despite the recent surge in price. Moreover, GOOGL stock is trading near its NTM EBITDA 3Y mean, and therefore does not seem expensive from this perspective as well.
Nonetheless, there seems to be a significant resistance level at around the $3k mark. Since November, it has continued to impede the stock's advance as sellers hovered around it. If you are more cautious and prefer a better entry point, you can wait for the recent surge to digest first. But, we don't believe that it's consequential to GOOGL stock's long-term thesis given its attractive valuation and strong fundamentals.
As such, we reiterate our Buy rating on GOOGL stock.