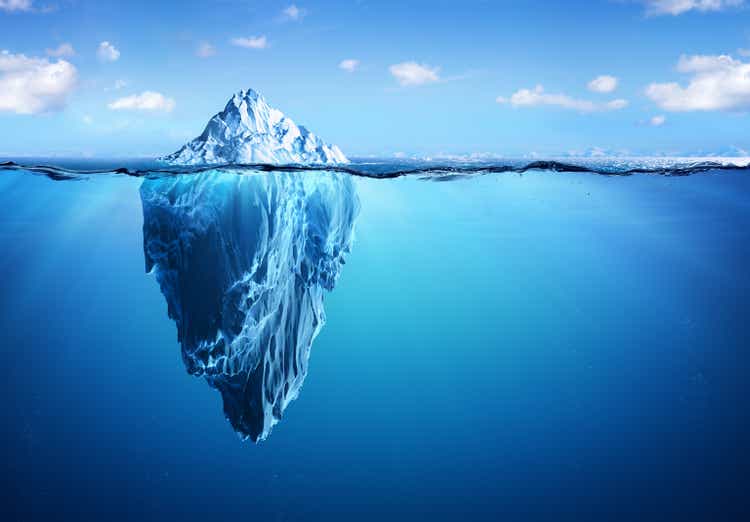 Amazon's (NASDAQ:AMZN) stock popped following fourth quarter results by almost 20% at one point. But those significant gains should melt faster than an ice cube on a hot summer day.
Amazon's reported weak fourth quarter results and gave weaker first quarter guidance. The stock rallied. It would seem on the appearance of a big earnings beat. Earnings came in at a jaw-dropping $27.75 per share vs. estimates of $3.53 per share. But, there was a lot behind that number which was overinflated due to non-operating gains.
The company had a fourth quarter operating income of $3.5 billion, better than estimates for $2.5 billion. However, the big boost to earnings was due to booking an $11.8 billion gain in their holdings of Rivian (RIVN). This non-operating gain helped to push their net income to $14.3 billion.

Weak Guidance For Amazon
The guidance the company gave missed all metrics. Revenue for the first quarter is forecast to be $115 billion at the mid-point of the range vs. estimates of $120 billion. Meanwhile, operating income is expected to be $4.5 billion at the mid-point of the range versus forecasts for $6.3 billion, a huge miss, which in itself should have sent the stock tumbling lower.

Amazon's Free Cash Flow
But more concerning is what's happening to the free cash flow from operations. The company reported an outflow of $9.1 billion over the last 12 months. Cash flow from operations came in at $22 billion vs. estimates for $31.8 billion, a massive 30.6% missed. It resulted in free cash flow from operations dropping to $46.3 billion over the last twelve months from $54.2 billion in the third quarter. More importantly, this metric has fallen for the third quarter in a row, from a peak of $67.2 billion in the first quarter.

It's a massive problem for the stock because it has been valued at a market cap to free cash flow operating metric for some time. With free cash flow on the decline, one would think the stock should trade at a lower multiple than it has in the past. The lower end of its historical range has typically been around 25 to 26.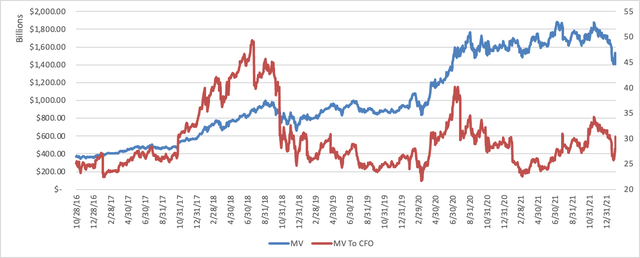 AMZN's Valuation
It was trading just at that lower range before it reported results, around 26. But now that the stock has reported results and we see the cash flow dropped, that multiple has risen back to 30. The market cap would need to drop to roughly $1.2 trillion, about 21% lower than its current market cap of approximately $1.5 trillion for the multiple to fall back to 26. With 516 million diluted shares outstanding, the stock would be worth $2,325.
What's Next For Amazon Stock
Overall, this was not a strong quarter for Amazon, and the guidance seems to be equally concerning. The free cash flow from operations should be a genuine concern to investors, and the after-hours rally seemed to be driven by automated algorithms that just read headlines and don't dive into the actual numbers. The weaker guidance alone should have been enough to send this stock even lower following results; the free cash flow numbers should have made that decline even steeper.
Instead, the stock rallied sharply on Rivian gains, which are very likely to get marked down when the company reports first quarter results, given that Rivian has been down more than 40% since the start of the year. Holdings in equity portfolios get marked to market every quarter. They can distort earnings when companies report results, particularly true of these mega-cap stocks with massive balance sheets.
So if Amazon melts lower in the days ahead or even turns red today, don't be surprised. At least now you'll know why.