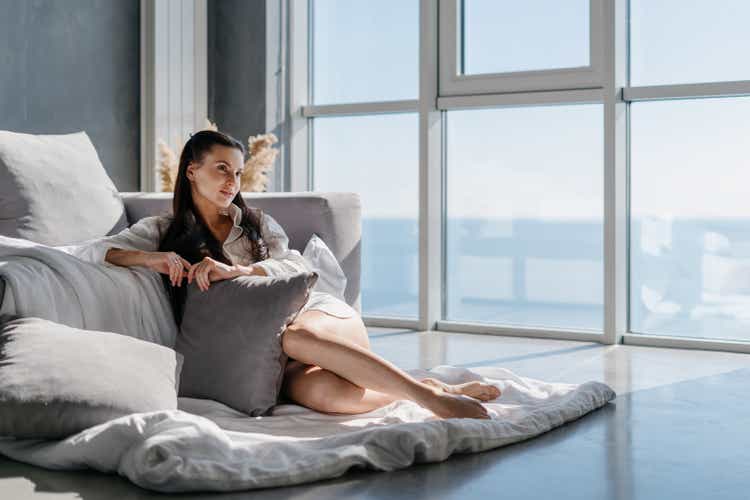 Airbnb (NASDAQ:ABNB) has been an unexpected COVID winner. The company initially suffered its share of struggles including having to issue debt at double-digit interest rates just to make it through the initial months of the pandemic. Yet since then, ABNB has seen a strong recovery in its underlying business and has even been able to tease its ultimate margin potential. The recent volatility in tech stocks has led to a pullback in ABNB stock, providing for an attractive entry point. I rate the stock a buy for long term investors.
Airbnb Stock Price
ABNB came public in late 2020, pricing its stock at $68 per share but ultimately closing just under $145 per share. After the recent slide, the stock is now priced at more or less the same level.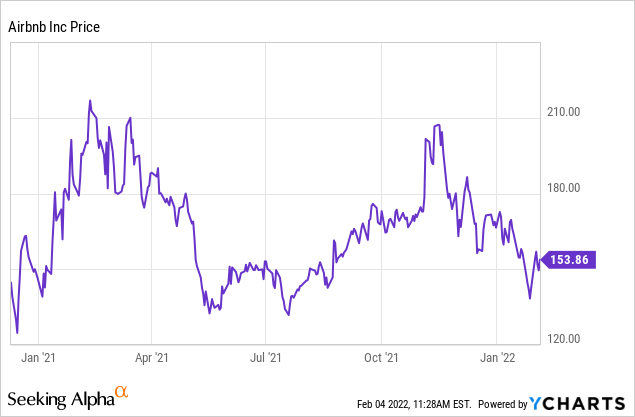 Airbnb Earnings
ABNB's latest earnings report showed a continued rebound from pandemic lows, as revenues grew 67% year over year and 36% over 2019 levels.

As we can see below, nights booked remained 7% lower than the third quarter of 2019, but the higher pricing more than made up for it.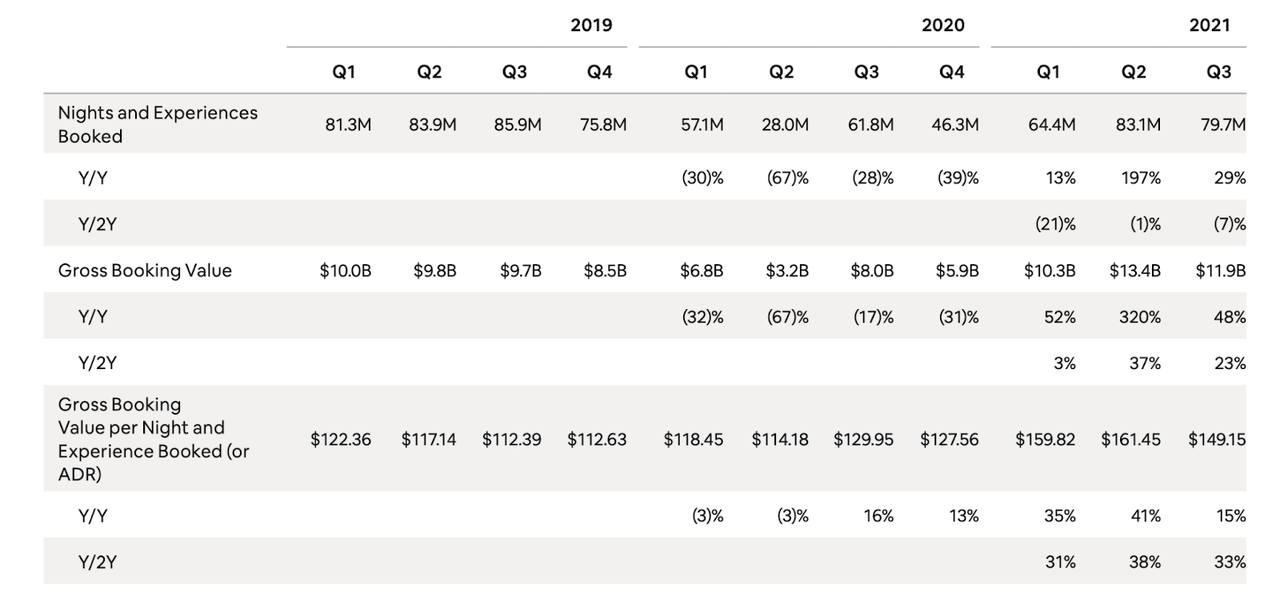 While there has been much coverage of the potential for higher oil prices, one must wonder just how strong ABNB's business will be over the next several years as consumers start traveling again. I expect the strong pricing to continue at least in the near term as demand may far exceed supply for quite some time.
The biggest surprise has been in profitability. ABNB generated an impressive 49% adjusted EBITDA margin in the quarter.

Because ABNB is a tech platform company, it does not have much in terms of capital expenditure spend - making adjusted EBITDA a close proxy for free cash flow. Don't like non-GAAP numbers? ABNB generated $834 million in GAAP net income, good for a 37% net margin.

I wouldn't count on the strong margins to persist for too long, as I expect the company to reinvest the profits in favor of growing market share. Nonetheless, the company has guided for the next quarter to see continued margin surprise. Further, my outlook may prove too conservative as traveling activity may pick up over the coming years as the public feels safe enough to travel again. I, for one, am dying to travel again.
Is Airbnb Stock A Buy, Sell, or Hold?
If we were to only look at consensus earnings estimates, the stock might not look so cheap. We can see that ABNB trades just under 14x 2030e earnings.

Based on the projected 18% exit growth rate, I could see ABNB trading at a 1.5x price to earnings growth ratio ('PEG ratio'), or around 27x earnings. That suggests only 100% upside over the next nine years, for annualized returns of 8%. ABNB's strong margin profile does arguably warrant a higher multiple, but 8% returns aren't going to cut it in the current environment. The key is to understand that the 2030 estimate for earnings represents only a 26% net margin relative to the 2030 estimate for revenues.

Considering the company just generated 37% net margins in the latest quarter, consensus earnings estimates appear to be too conservative.
ABNB has $7.9 billion of cash & equivalents on its balance sheet - making up over 8% of the current market cap. It also has $2 billion of 2026 convertible notes which have a conversion price of $360.80 per share (net of capped calls). I expect ABNB to eventually earn 50% net margins in the long term. Again using a 1.5x PEG ratio, I could see ABNB trading at 11x sales in 2030. That represents 13% annual returns, which may be a satisfactory value proposition considering the lower risk profile of the business. I see the growth persisting due to the company taking market share in the hospitality business, as well as making inroads in the long term rental business and, eventually taking market share from the "normal" hotel business as well. The main risk to the thesis involves competition from the likes of Expedia (EXPE) and Booking (BKNG), and more importantly, Alphabet (GOOGL). ABNB has historically spent far less than EXPE and BKNG on sales & marketing, perhaps due to its brand loyalty. Investors should keep a close watch on that metric because the high profit margins are critical in justifying the current valuation. Largely due to the prospects of elevated revenues and earnings over the next several years, I rate the stock a buy as the valuation offers attractive upside over the long term.