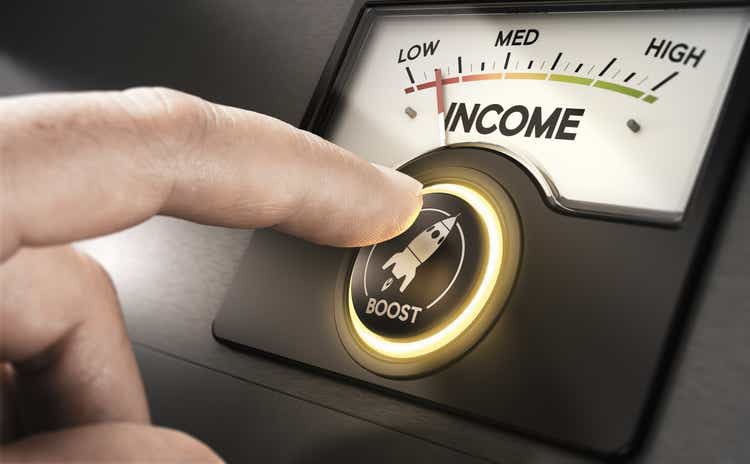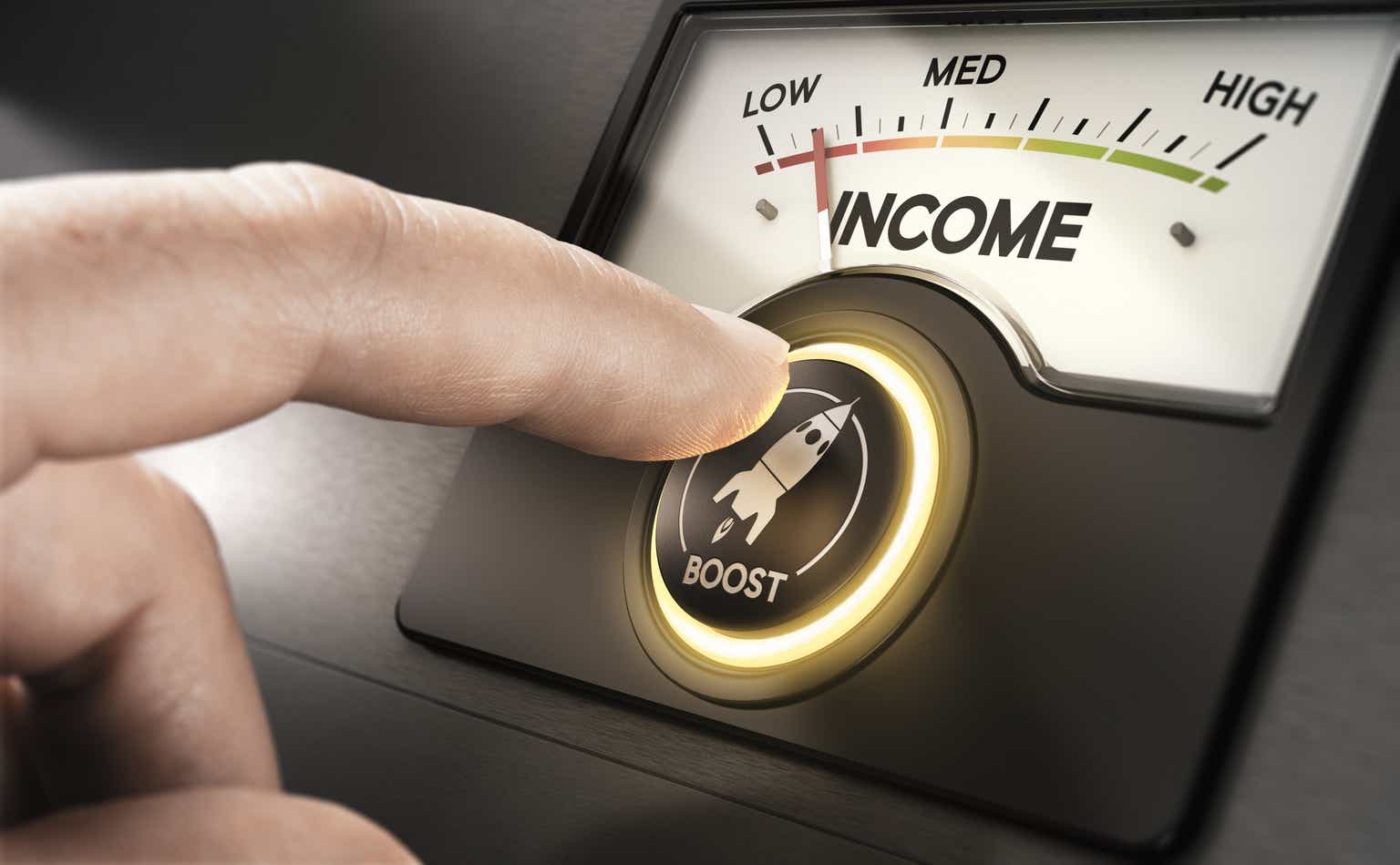 This article was co-produced by Williams Equity Research (WER).
So, you're looking for safe but high-yielding investment options?
That's the question WER and I asked last Saturday in "Winners and Losers in the High-Yield Landscape – Part 1." And we followed it up with this bit:
"That's completely understandable… just as long as you understand that the higher the yield, the less safe the investment will probably be.

"In the real world, tradeoffs are necessary. And balances are more often than not appropriate.

"Now, fortunately for us, there are investments out there that do manage this balance better than others. As in they offer higher yields than your average dividend-paying stock without automatically sacrificing quality.

"So let's work through the players, starting with the first option that comes to most people's minds…"
That was high-yield bonds, also known as junk bonds. And we also looked into higher-yielding preferred stocks. You can see what we said about both of them right here.
But as we also noted: "Obviously, there are more higher-yielding yet safer investment assets we can discuss." Those categories include:
Business development companies ('BDCs')
High-yield equity real estate investment trusts ('REITs')
Mortgage REITs ('mREITs')
Master limited partnerships ('MLPs').
So let's get into all of those without further ado…
High-Yielding BDCs Explored
BDCs are among the highest-yielding members of the high-yield category, which makes them instantly intriguing.

The chart above is a few years old, admittedly. But it remains surprisingly accurate today.
The only mainstream passive strategy for this asset class is the VanEck Vectors BDC Income ETF (BIZD). And if you look up its statistics, you'll inevitably see its sky-high expense ratio of near 10%.
We'll discuss our thoughts on passive vs. active exposure to BDCs momentarily. But first, it's important to realize that an SEC rule requires BIZD to report underlying fund expenses as part of its fund's fees.
Unfortunately, this makes for misleading conclusions at best.
In practice, BIZD's expenses are about average for what the fund does. And we wouldn't let that statistic alone lead your decision making.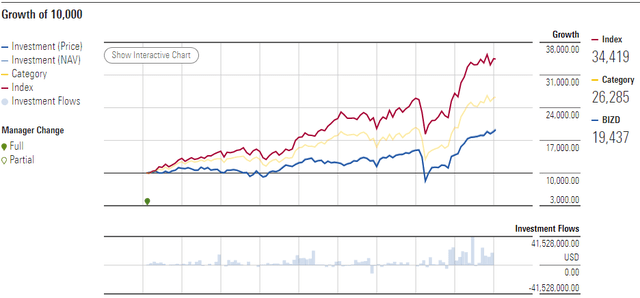 BDCs as an asset class are probably best represented by the MVIS U.S. Business Development Companies Index. As shown above by Morningstar, BIZD has dramatically underperformed the index used by Morningstar and category.
To be fair, to our knowledge there's no investable alternative (which is all that counts at the end of the day) to measure BIZD's performance against. The other so-called BDC ETFs also focus on private securities.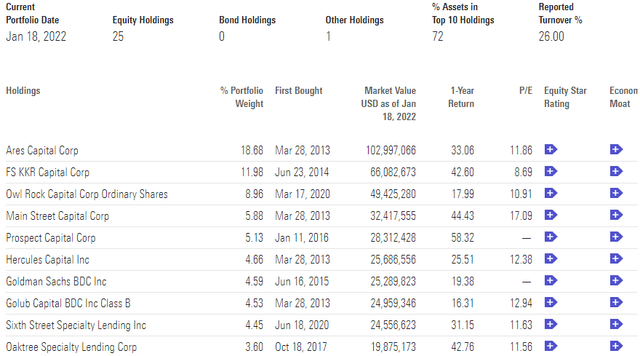 So… BIZD has about a 19% weight to Ares Capital (ARCC), 12% to FS KKR Capital (FSK), and 9% to Owl Rock Capital (ORCC). That's a high percentage to just three businesses.
Essentially, it's a concentrated portfolio that functions more like a BDC hedge fund than passive exposure to the asset class. Some might prefer that approach, which is fine. But the traditional benefits of an ETF an investor might expect – like broad diversification and not taking significant bets on individual securities – do not apply here.
In terms of credit quality, many BDCs have investment-grade credit ratings, including:
Ares Capital
Owl Rock Capital
TPG Specialty Lending (TSLX)
Golub Capital BDC (GBDC)
Oaktree Specialty Lending (OCSL)
SLR Investment (SLRC)
There are also many out there with smaller portfolios, less resilient balance sheets, and unfavorable loan performance that lack investment credit ratings or any credit rating at all. It's critical to underwrite each BDC individually, as their strategies and credit profiles vary dramatically.
To compare apples to apples, we need to classify BDC activity and exposures as a group. The best way to do that is through the direct lending category. This includes middle-market senior loans, broadly syndicated market senior loans, and second-lien/subordinated loans.
The historical loss rate for middle-market and broadly syndicated senior loans is 0.6% and 0.9%, respectively. These are small fractions of the preferred and high-yield bond markets we discussed last Saturday.
And better managers, like Ares, have a loss rate of less than 10 basis points (bps) on first-lien loans.
Even subordinated unsecured loans, the riskiest area of direct lending, have loss ratios of 2.7% annually, which is still far superior to high-yield bond averages near 4%.
It's also worth pointing out those subordinated loans yield over 10% on average. So the compensation for the risk is in an entirely different dimension from the investor's viewpoint.
In terms of duration and inflation risk, BDCs score well. Their loans are primarily of the floating rate variety and have maturities averaging three years or less.
The greatest challenge for this sector is identifying quality managers and investing strategically when their valuations are at least reasonable.
Key Takeaways From BDCs
The one passive investment vehicle for BDCs generates a class-leading yield of about 8.0%.
Now, most individual quality examples earn a BBB- rating with low-to-zero interest rate sensitivity. This is due to the mostly floating rate loans and equity investments on their balance sheets.
Relative to historical data, this yield is average and supported by full distribution coverage from cash flow for the vast majority of BDCs.
The larger category's historical default rates for direct lending are far superior to both preferred stocks and high-yield bonds. Top BDCs outperform even investment-grade U.S. credit indices from both a default rate and realized loss perspective.
Overall, we consider quality BDCs attractive compared to high-yield bonds and preferred stocks, and fairly valued against their own historical averages.
We recommend actively managed exposure to this category, recognizing that quality varies wildly within it while the one passive option, BIZD, isn't compelling.
Overall risk for this category is low to medium based on:
Very strong covenants, which are even better than those of investment-grade bonds
Below average default rates compared to other high-yield categories
Very low interest rate sensitivity.
Share prices can be volatile, however, and that needs to be incorporated into any BDC investment strategy.
High-Yield Equity REITs Explored
Most of the popular equity REITs – such as American Tower (AMT), Realty Income (O), and W. P. Carey (WPC) – aren't considered high-yield. And they don't necessarily generate a large premium over corporate bonds.
We'd argue that WPC's 5.5% yield is at least borderline high. But the most popular REIT ETF, Vanguard Real Estate Index Fund ETF Shares (VNQ), yields only 2.8%.
For that reason, we're limiting the constituents of the high-yield club to those with at least 5.5% yields. And we went ahead and aggregated subsector-level data to provide a detailed assessment of where high-yield REITs currently reside:
About 95% of mortgage REITs (mREIT)
About 15% of healthcare
About 50% of net-lease
About 10% of office
About 10% of industrial
About 25% of cannabis REITs
About 50% of gaming REITs
About 10% of diversified REITs
If your favorite category isn't mentioned, like billboards or multifamily, that's because it just doesn't qualify in this regard.

Despite its low yield, VNQ is a good proxy for real estate with minimal variance. It's heavily weighted toward publicly traded equity REITs. Though it does have modest exposure to other types of real estate companies, like CRBE.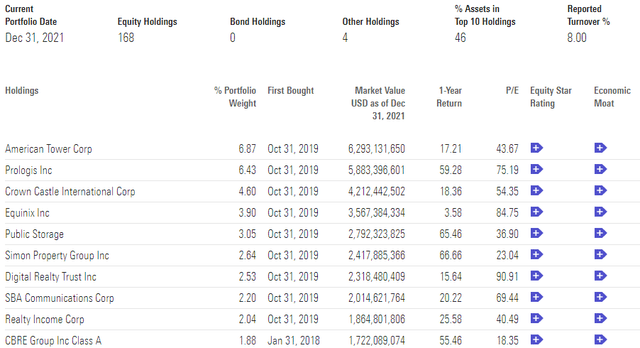 We have a problem, however, and it's related to VNQ's concentration in cell tower and digital REITs.
That 2.8% yield that simply doesn't get the job done for high-yield investors.
In fact, only a small percentage of VNQ's portfolio generates a yield above our 5.5% minimum.
Nuveen Short-Term REIT ETF (NURE) generates an even lower 1.4% yield. So does Pacer Benchmark Industrial Real Estate SCTR ETF (INDS).
And while Invesco S&P 500 Equal Weight Real Estate ETF (EWRE) negates some of VNQ's issues… its 2.75% is barely an improvement. Investors clearly need to assemble their own portfolio of high-yield equity REITs to generate income significantly higher than corporate bonds.
Based on our experience, this category of REITs slightly underperforms Nareit and other benchmark averages. But its long-term total return is still in the ballpark of the S&P 500's.
Now, that's considerably better than high-yield bonds and preferred stocks. And it's potentially better than BDCs, though that depends on which are selected. ARCC and MAIN, for example, have both outperformed the S&P 500 since inception.
This category's average yields of 5.5%-6.5% are also better than preferred stocks and high-yield bonds. But they significantly lag that of BDCs.
As a reminder, we're only considering equity REITs that yield above 5.5% for this exercise. Based on the same exhaustive data used to determine the yields per REIT subsector, the average credit rating for this particular group is between BBB- and BB+.
We can certainly conclude that it's relatively easy to build a high-yield REIT portfolio with significantly better income and credit metrics than high-yield bonds. And it's probably better on both counts than preferred stocks depending on the credit quality involved.
Equity REITs also tend to serve as excellent hedges against rising interest rates and inflation. As owners of physical real estate, their asset bases have risen alongside inflation consistently since data started being collected over 50 years ago.
If selecting a small number of REITs rather than building a diversified portfolio, it's critical to understand how their unique business models and capital structures respond to changes in interest rates and input costs.
Key Takeaways From High-Yield Equity REITs
There aren't any passive investment options specifically targeting higher-yielding REITs. Those that track the broader REIT or real estate market don't yield over 3%.
The high-yield equity REIT category that does yield at least 5.5% features low to medium interest-rate sensitivity. That's because physical real estate is a proven hedge against inflation.
At the same time, their moderate levels of leverage (higher rates mean higher interest expense) offset some of that benefit. Relative to historical data, this yield is slightly below average and supported by 90%-100% distribution coverage from cash flow for the vast majority of high-yielding REITs.
Investors must scrutinize distribution coverage for this type of REIT.
Overall, we consider high-yielding REITs attractive compared to high-yield bonds and preferred stocks. They offer a similar risk-adjusted profile to that of BDCs but much lower current yields and slightly overvalued against their historical averages.
We recommend actively managed exposure to this category, since quality varies wildly within the asset class. Plus, don't forget that there isn't a passive investment option exclusively for higher-yielding REITs.
Overall risk for this category is medium based on strong long-term performance and inflation protection that's offset by medium interest-rate sensitivity and acceptable but not fantastic credit quality.
mREITs Explored
Moving on to mREITs, these function more similarly to BDCs than equity REITs in the sense that they own diversified portfolios of loans backed by real estate. The vast majority are structured as floating rate loans offering good protection against rising interest rates.
There's no inherent inflation protection, however. Inflation without rising rates won't increase their income.
As counterintuitive as that combination may sound, that's exactly what's happened in the U.S. and many European economies over the past 18 months.
Equity REITs have undoubtedly seen appreciation of their assets on average. And in many cases, they've experienced much higher rents too.
mREITs, however, have to wait patiently for higher interest rates to boost their income.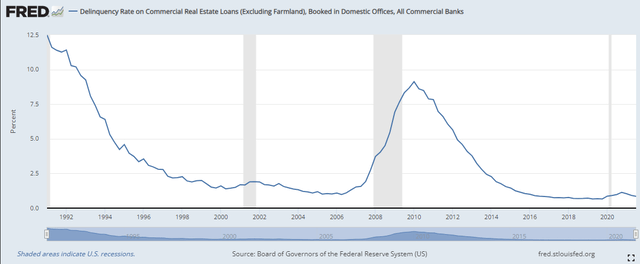 Default rates for mortgage loans are highly cyclical and exceeded 8% during the Great Recession. In the years since though, they've been very low and quality mREITs have generally performed well.
The challenges of 2020 had a negligible impact on some of them – like Arbor Realty (ABR) and Starwood Property Trust (STWD) – but did measurable damage to others such as Granite Point Mortgage Trust (GPMT).
While exposure to weaker real estate markets like lodging and hotels certainly dinged many an mREIT's portfolio - it was leverage and capital structure issues that really caused lasting issues. This reinforces a recurring theme that individual security underwriting is paramount.
As for passive options, VanEck's is once again one of the only games in town via VanEck Mortgage REIT Income ETF (MORT). The other is the iShares Mortgage Real Estate Capped ETF (REM).
MORT did quite well vs. its broad real estate benchmarks since 2012 – which is no easy task with a fund dedicated to just mREITs. But it significantly underperformed since the market crash in early 2020.
That isn't a surprise to anyone who follows these markets.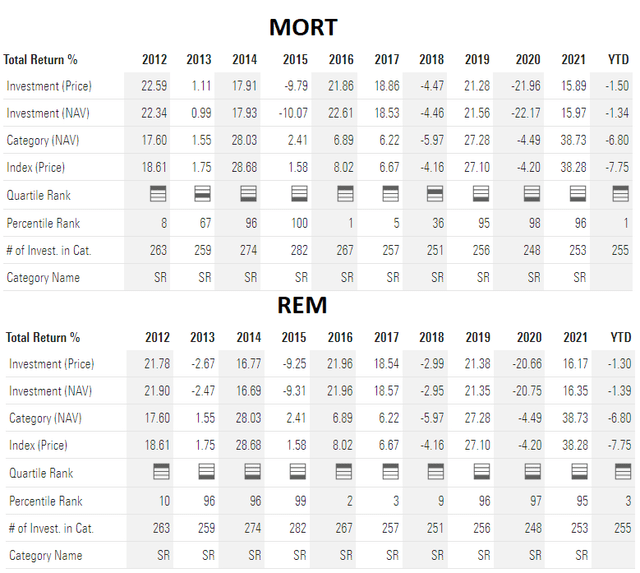 And REM didn't do any better. In fact, its long-term performance is almost indistinguishable from MORT.
MORT's current yield of 8.35% is, however, a full 1% higher than REM's. In either case, they're higher-yielding than everything we've discussed so far except BDCs' 8%.
As we've already touched on, mREITs tend to offer good interest rate protection but slightly less inflation protection. Interest rates are set by regimes (e.g., the Federal Reserve and European Central Bank) rather than market forces.
In recent times, central banks have artificially lowered interest rates to spur growth at the expense of companies with income tied to official benchmarks like LIBOR. As such, mREITs' duration risk varies by company but is overall comparable to high-yield bonds.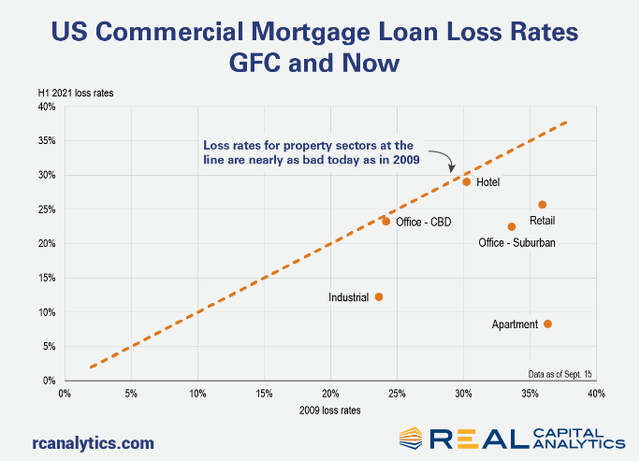 Realized loss ratios during the worst of 2020 depended almost entirely on the real estate subsector backing the mortgage loan. Apartments, for example, weren't materially impacted.
Hotels, on the other hand, took as big of a hit as the Great Recession in the early stages of the pandemic-panic. Outside of hotel and office loans in the harder hit geographies, commercial loan LTVs have recovered much quicker than during the last crisis and realized losses are subsequently lower.
Key Takeaways From mREITs
Passive investment options do exist for mortgage REITs but you don't have much to choose from. On the plus side, their 7.35% to 8.35% yields are superior to all other major areas of high yield with BDCs being the only exception.
Most quality mREITs are still two notches below investment-grade, which is superior to the risk associated with high-yield bonds but inferior to:
The preferred stock passive investment option we discussed
Quality BDCs
Most higher-yielding equity REITs
mREITs have low-to-medium rate sensitivity due to the primarily floating rate loan investments on their balance sheets. Investors must analyze each one's leverage structure to ensure a spike in rates won't increase borrowing costs more than income.
Relative to historical data, their current yields and overall valuations are slightly better than average and supported by roughly 100% distribution coverage from cash flow.
Historical default rates for commercial mortgage loans are highly cyclical. They're comparable to high-yield bonds over a full economic cycle but inferior to preferred stocks and BDCs.
Overall, we consider quality mREITs attractive to high-yield bonds and preferred stocks, marginally inferior to quality BDCs, and slightly undervalued against the sector's historical averages.
We recommend actively managed exposure to this category, since quality varies wildly within the asset class. But reasonably good passive options do exist.
Overall risk for this category is medium based on sector average loan-to-values below 70%. That and approximately average default rates compared to other high-yield categories and moderate interest-rate sensitivity.
MLPs Explored
MLPs used to include an array of midstream infrastructure-oriented companies and traditional upstream drillers. But various oil crashes took out all the upstream and a few of the midstream players.
Today though, the top midstream MLPs have among the strongest dividend track records of any publicly traded companies. This illustrates how critical it is to evaluate each company's portfolio, strategy, and balance sheet.
Unlike many other areas in the high-yield landscape, there is no shortage of MLP ETFs. For the purposes of this article, we'll select the popular and four-star-rated Global X MLP & Energy Infrastructure ETF (MLPX) as the passive investment of choice.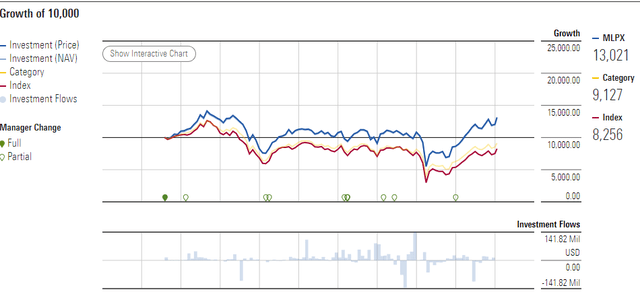 Performance on an absolute and comparative basis has been excellent – even without the portfolio managers taking outsized individual security risk.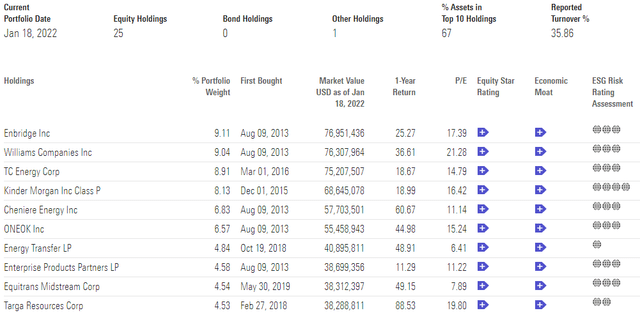 As shown above, while the concentration in the top 10 holdings is high at 67%, no individual company represents more than 10% of the portfolio. If WER was running this ETF, he'd also have Enbridge (ENB) at the top and with a near double-digit allocation.
Unlike the other ETFs we've discussed, MLPX doesn't have a consistent dividend as demonstrated by Nasdaq. Using actual payment history, 2021's $2.09 in distributions equates to a 5.5% yield on today's share price. And 2020's equated to a 5.9% yield.
This gives us a reliable range to work with, and we'll use the trailing 12-month distribution history to estimate its current yield.
MLPX just matches our equity REIT high0yield threshold of 5.5%. And it outperforms both preferred stock and high-yield bond benchmarks in the income-generation department.
MLPX is far behind mREITs and BDCs, but we need to evaluate it further to see if the risk-adjusted income and total return potential is favorable.
Like equity REITs' ownership of physical buildings and rent collection from tenants, MLPs own pipelines, refinery equipment, and storage facilities. Then they charge rents to customers for using their infrastructure.
Also like equity REITs, a well-run MLP can build a portfolio that generates increasing dividends over time.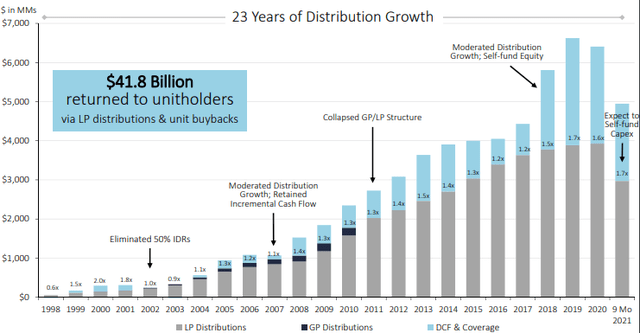 Enterprise Products Partners (EPD), for example, has not only paid but increased its distribution to investors for 23 straight years. The 6.9% compound annual growth rate (CAGR) of that distribution growth is also nearly unrivaled.
The company's historical 1.3-1.7x distribution coverage is comparable to the highest-quality equity REITs – the majority of which pay modest dividends compared to EPD, as demonstrated by VNQ's yield discussed previously – and superior to mREIT and BDC averages.
Preferred stocks and high-yield bonds wouldn't even show up to the competition, much less compete with EPD in these key areas.
So does this same stellar track record apply to MLPX?
No. But MLPX has managed to increase its dividends marginally every year on average. That's no fault of the manager and should be expected when comparing a top constituent to a diversified set of companies.
This is partially because MLPs, like equity REITs, can pass on a lot of costs to their "tenants." And their assets generally appreciate at the rate of inflation or higher.
In practice, due to increased scrutiny over new pipelines – and the incredible amount of regulatory approval needed to do just about anything new in this segment – quality MLP assets can rise in value at a meaningfully greater rate than inflation.
That said, MLP assets are subject to greater headline and regulatory risk than many other economic sectors. Cyber attacks are also a growing concern. And many investors simply avoid anything hydrocarbon-related for personal reasons.
Overall though, infrastructure MLPs are at least as resilient in a rising interest rate and inflationary market as broad equity indices. They're far superior to preferred stocks and high-yield bonds, and they're comparable to equity REITs and BDCs.
Potentially even a little better.
Quality MLPs also have reasonably good investment-grade credit ratings. This sector is a lot like BDCs, with the heavyweights all around BBB/BBB- and the rest is in junk territory.
So while it's possible to build a portfolio of investment-grade ETF exposure, you won't find it in an ETF.
Also like BDCs, it's entirely possible to build a high-quality portfolio of select MLPs with an average yield of 6.5%-7.5%. Equally weighting EPD, ENB, and Energy Transfer LP (ET), for example, generates a yield of 6.8% from only top-quality names with investment-grade credit ratings (albeit barely).
Key Takeaways From MLPs
There are plenty of passive investment options for the MLP sector. In aggregate, it has low-to-medium interest-rate sensitivity. That's thanks to physical real estate being a proven hedge against inflation and the higher-quality firms using responsible levels of mostly fixed-rate leverage.
The 5.5%-7.5% yield available through both passive and active strategies is significantly better than preferred stocks and high-yield bonds, in line with higher-yielding equity REITs and only modestly below that of BDCs.
Relative to historical data, MLPs' current yield is slightly above average. Plus, it's supported by strong distribution coverage from cash flow for the vast majority of quality examples.
Investors must carefully scrutinize:
Asset exposures (e.g. storage versus pipelines)
Geographical concentrations (e.g. geological basins and NGLs versus natural gas)
And balance sheets.
Overall, we consider quality MLPs attractive compared to high-yield bonds and preferred stocks. They offer a similar risk-adjusted and income profile to that of higher-yielding equity REITs and are slightly undervalued against their historical averages.
We recommend actively managed exposure to this category since quality varies wildly. As a reminder though, there is at least one passive ETF with a solid track record.
Overall risk for this category is medium based on reasonably good long-term performance and inflation protection. And there are multiple investment-grade-rated but high-yielding companies to choose from.
These are offset, however, by above-average regulatory risk and a lack of interest by many institutional and retail investors for a variety of reasons.
Warning!
Warren Buffett once said,
"Reaching for yield is really stupid. But it is very human."
As readers know, I write frequently on the "sucker yield" stocks that have a dividend payout ratio greater than 100%, that means they're paying out more than their earnings as dividends.
If their earnings don't recover promptly, dividends can become unsustainable because the company will be unable to reinvest, reducing its capacity to grow in the future.
Also, if the company is highly leveraged, and is having trouble meeting its liabilities, it's going to be a big red flag for the dividend.
This weekend I plan to focus on high yield value traps, I think this type of research is critical for investors because a high-yielding stock with poor fundamentals is often forced to cut its dividend and investors get hit with a double whammy.
As always, thank you for reading and commenting!
Disclosure: I/we have no stock, option or similar derivative position in any of the companies mentioned, and no plans to initiate any such positions within the next 72 hours.