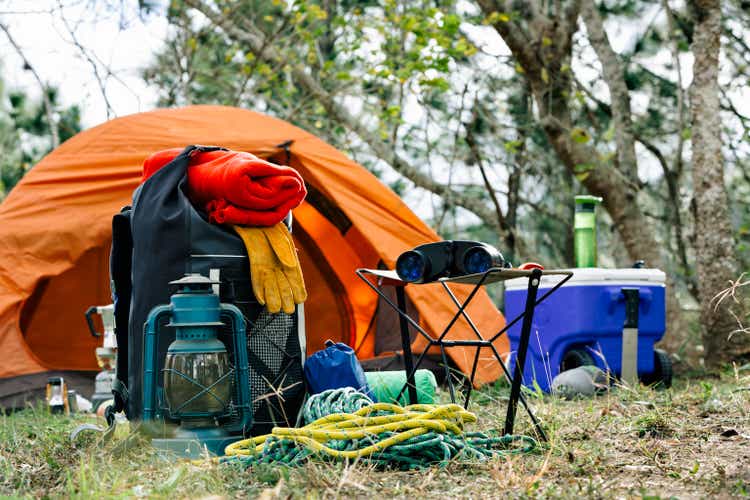 Introduction
After having surged in share price following the months of the Covid outbreak, the recreational lifestyle company Johnson Outdoors (NASDAQ:JOUT) has seen it shares slide in recent months. Investors expecting the sales to slow down as the lockdowns are lifted aren't expecting much of the company in the foreseeable future. Even though revenues and margins have already begun to show signs of faltering, and analysts expecting earnings to decline this fiscal year, I still believe there is value to be found.
Johnson Outdoors is a producer of outdoor recreational products, which includes products such as diving equipment, watercraft, camping gear and outdoor clothing. It has operations in 24 locations worldwide and employs 1,400 people. A large part of the company is still owned by the Johnson Family.
Fundamentals
The revenue of the company has always been consistent with little volatility. It has maintained a stable mid-single-digit growth rate over the previous 2 decades, driven by organic growth and a decent amount of smaller acquisitions. Recent years have helped revenues to reach new heights, which is likely to slow down as the lockdowns are being lifted.
Analysts are expecting the company to post revenues of $805m next year, indicating a 6% increase over the current fiscal year.
Despite operating in a low-margin industry, which points in the direction of the company having a low moat, it is the consistency of the margins that needs to be in focus. They have generally been stable, fluctuating in the single digits, but have in recent months reached double digits.
An important takeaway is how badly the financial crisis affected the company's profitability, but also how the Covid lockdowns did the opposite. The operation of the business appears to be very sensitive to certain events, which is common for businesses operating within the recreation industry.
The company struggled to make a profit after the financial crisis, which led to months of underperformance. Such events will always occur in one form or another. Choosing a company whose finances are strongly affected by such events further reinforces the importance of buying with a margin of safety.
A growing top line and an improving net profit margin with capital expenditures being kept at bey have resulted in likewise strong free cash flow growth.
Although the company pays dividends, it is quite modest with a current payout percentage of 11.3%. The company also does not buy back its own shares, which is a pity considering the valuation of the company.
It is a company that appears conservative with the use of cash, and one which prioritises a healthy balance sheet along with manageable acquisitions and a modest dividend.
Valuation
As with a majority of consistently growing companies, a 15 multiple is often a decent guideline to intrinsic value. This is certainly the case with Johnson Outdoors as well, which has averaged an 18.3 p/e.
The company has grown by 13.7% on average over the previous two decades, which is due to a growing top line, but also done through margin expansions.
Although expanding margins are good, they are not a sustainable source of growth for the long run. They can only expand so much before hitting a ceiling, which will eventually result in growth slowing down.
Using a 15 p/e as a guideline to intrinsic valuation, which I think is reasonable considering the growth and the balance sheet points towards it having upside potential of ~35% from current prices.
The company as of their Q3 2021 earnings is carrying $50m in total debt with $240m in cash, cash equivalents and short-term investments. What's left is $190m in surplus cash after all the debt has been paid off. That should certainly not justify a lower multiple, but more so a higher one, making their current valuation even more attractive.
Stock chart
Quick disclaimer. A technical analysis in itself is not a good enough reason to buy a stock, but combined with the company's fundamentals, it can greatly narrow your price target range before buying.
The stock chart for Johnson Outdoors seems predictable based on its previous history. The 50- moving average seems to be a good indicator of when the stock's movement is likely to change direction. This is not uncommon for stocks with similar growth characteristics as Johnson Outdoors.
I would consider a price under the moving average very attractive, which is currently sitting at ~$84. Earnings and the stock chart would then be aligned in suggesting the company to be undervalued.
Final thoughts
I believe Johnson Outdoors presents a reasonable investment opportunity with little downside. The valuation of the company appears attractive based on operating earnings and free cash flow, with approximately ~35% upside potential from current prices. The stock chart appears very usable in terms of further narrowing down the range of when to potentially buy.
The balance sheet is well managed with little debt and plenty of cash on hand, enabling them to continue to pursue growth through the use of acquisitions. Although the fundamentals seem stable, the company has shown a tendency to experience volatile earnings during certain events, which does reduce the quality of the business.
I believe that despite the volatile nature of the industry in which the company operates, it should be able to continue to grow at a modest pace. I believe that the company's earnings and its stock chart performance are both pointing in the direction of the stock currently being valued below intrinsic value.
I am therefore giving the company a "buy" rating.