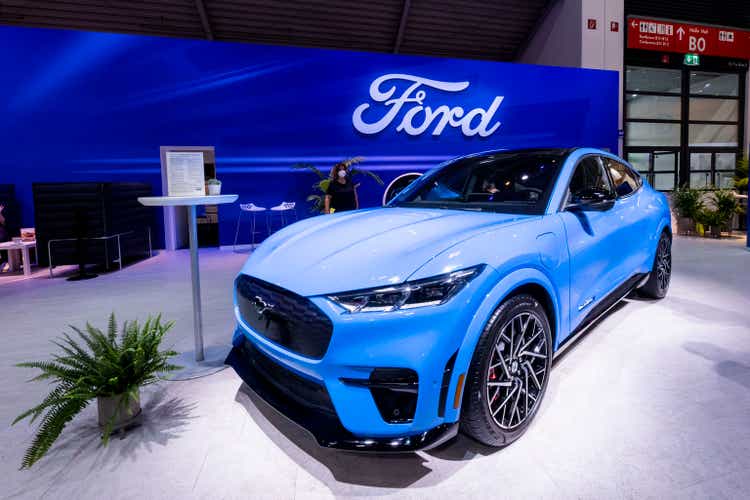 Shares of Ford (NYSE:F) went through a 30% drop in pricing in the last three weeks and Ford's Q4'21 earnings card added to increasing selling pressure last week. I believe investors should look past the recent drop and focus on Ford's massive electric vehicle transformation. The car brand's free cash flow will grow at least 20% this year and shares of Ford are undervalued again!
Ford's challenges in 2022
Ford's revenues, net income and free cash flow all increased strongly in FY 2021 due to a major post-pandemic rebound in the automotive industry. Ford's FY 2021 revenues increased 7% year over year to $136.3B while net income totaled $17.9B, reflecting a massive $19.2B improvement over last year. Free cash flow was $4.6B, showing 254% growth year over year. The car brand also submitted a strong earnings card for the fourth-quarter, which entailed a revenue increase of 5% to $37.7B and $12.3B in profits for the year. Ford did not meet predictions for the fourth-quarter.
The large increase in Ford's net income was not directly related to the car brand's commercial performance, however. Ford benefited from favorable comparisons to last year when performance was impacted by the COVID-19 pandemic. Ford's FY 2021 net income also included a massive mark-to-market gain related to its investment in electric vehicle startup Rivian.
Rivian had a huge initial public offering in the fourth-quarter 2021 and the EV firm, at its peak, reached a market valuation over $150B. Ford invested $1.2B in Rivian before the IPO and has a 12% stake in the company. Amazon (AMZN), another backer of the EV startup, has a 20% stake in Rivian. Because of Rivian's successful IPO and a surging valuation in Q4'21, Ford's net income included a $9.1B mark-to-market gain from its investment in the company. This number should not be taken very seriously, however, because the valuation of Rivian is subject to change and the gain is purely an accounting one. Rivian's valuation also continued to drop in FY 2022, meaning Ford's Rivian stake would be worth just about $6.2B today. Correcting for the gain on the Rivian investment, Ford's fourth-quarter net income would have been $3.2B.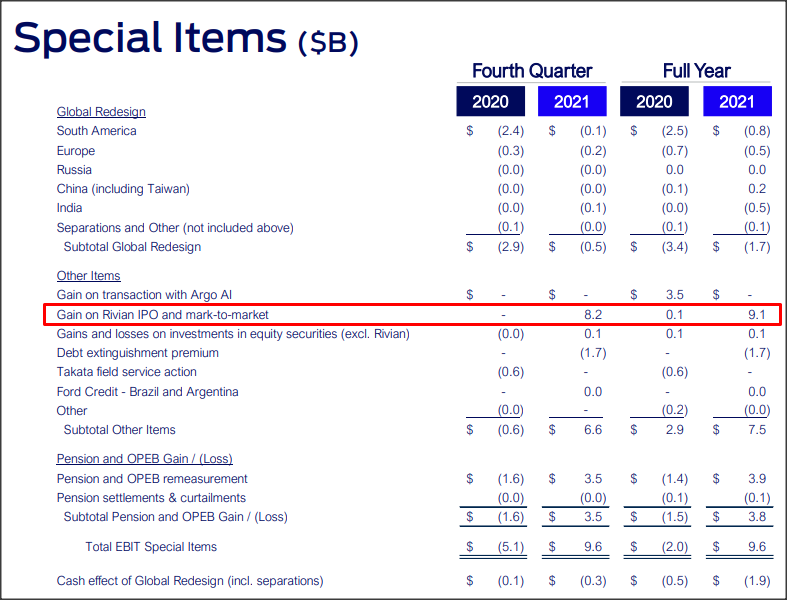 EV transformation, free cash flow and outlook
FY 2022 is set to be a major growth year for Ford, largely because the car brand is going to launch new electric vehicle products that will accelerate the car brand's transformation into a leading EV company. In 2021, Ford was already the No. 2 seller of EVs in the U.S., based on Ford's earnings sheet, after Tesla (TSLA).
Ford's free cash flow prospects rest on considerable momentum in the firm's EV lineup. Ford debuted the E-Transit van in January which is seeing growing customer interest: business customers have already placed 10 thousand orders for Ford's E-Transit, a release said in February, and Walmart (WMT) alone is said to have ordered 1,100 E-Transit vans.
Ford revealed last week that it has now amassed 275 thousand reservations and orders for its key electric vehicle products including the Mustang Mach-E sport utility vehicle, the F-150 Lightning pickup truck and the E-Transit commercial van. The F-150 Lightning now has more than 200 thousand reservations. This EV momentum will drive Ford's free cash flow higher this year.
The production rebound in the second half of 2021 as led to a material rebound in Ford's free cash flow. The car brand generated $2.3B in free cash flow in the fourth-quarter which helped bring total FY 2021 free cash flow to $4.6B. The rebound in Q3'21 free cash flow resulted from a normalization in factory output after the flow of semiconductors improved.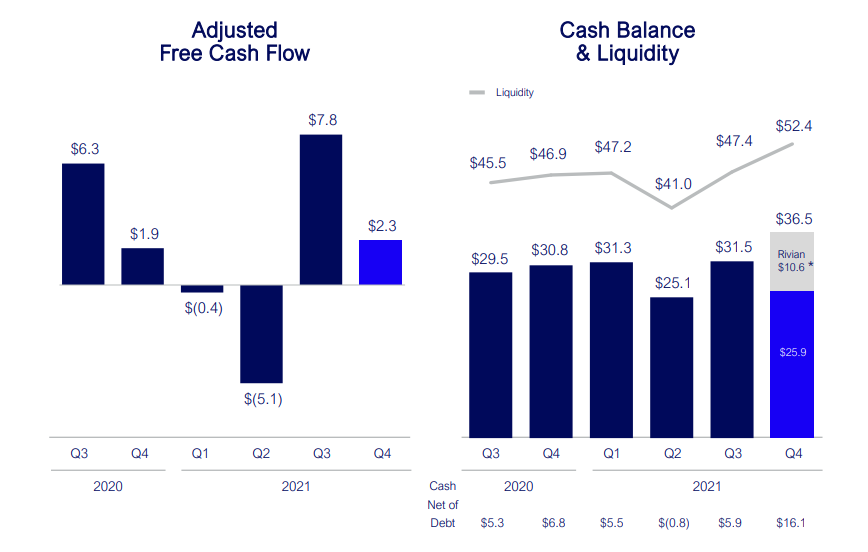 Ford's outlook for FY 2022, which is supported by a strong order backlog in the EV segment, calls for a 15-25% increase in adjusted EBIT to $11.5B and $12.5B. Capital spending, driven by Ford's electrification push and ramp in EV production capacity, is expected to be between $7.0B and $8.0B. Free cash flow is projected to grow at least 20% this year.

Ford's projection of $5.5B to $6.5B in FY 2022 free cash flow conforms with my FCF estimate of $6.5B that I used to justify a market value of $160B for Ford. I believe the car brand can add $1.5B in free cash flow annually in FY 2022 and FY 2023 due to momentum in EV sales and overwhelming demand for the F-150 Lightning pickup truck. To meet surging consumer demand, Ford is going to double production capacity for the F-150 Lightning to 150 thousand units. Ford is also ramping up global production capacity for battery-powered electric vehicles to 600 thousand vehicles by year-end 2023. Based off of FY 2022 free cash flow, Ford has a P-FCF ratio of 12 X.
Supply chain challenges
Ford continues to face limited chip supplies and has to deal with the fallout from supply chain disruptions which have been a major concern for the auto industry in 2021. The supply chain is still not running smoothly and, together with soaring inflation rates, Ford will continue to experience production headwinds in the first quarter 2022. Soaring inflation could materially impact Ford's raw material costs in FY 2022 and it poses a risk to Ford's margins.
Final thoughts
Shares of Ford went into a new upleg in November and then again in January. The current correction is healthy.
Ford is expected to have a record 2022 regarding EV output and free cash flow, although the supply chain crisis is still expected to impact Ford's business in the first quarter. Shares of Ford are cheap again, based off of free cash flow, and a new upleg could await the market soon!