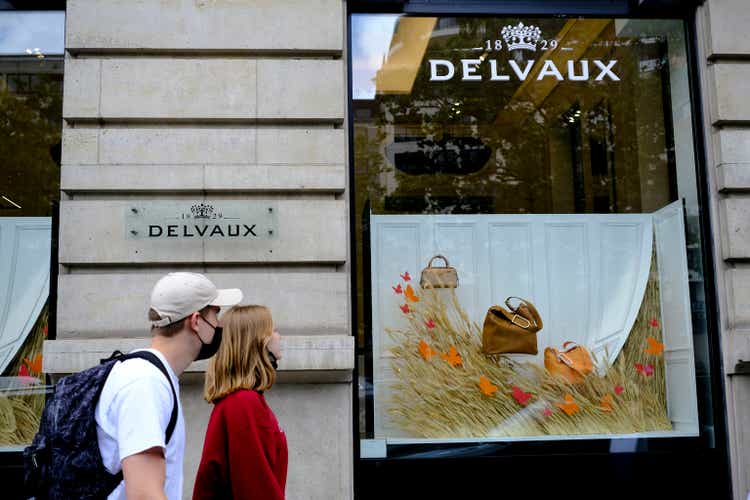 Luxury spending boomed during the pandemic, and the momentum appears to be accelerating, driven by "revenge spending" as countries gradually ease lockdown restrictions and economic activity resumes. Benefiting from this trend is Swiss luxury goods conglomerate Richemont (OTCPK:CFRHF) which reported strong numbers for the quarter ended December 2021. Sales grew 35% at actual exchange rates with all regions, all distribution channels, and all business segments reporting double digit revenue growth rates, and exceeding pre-pandemic level sales figures. For the nine months ended December 2021, Richemont's revenues are up 50% YoY, and 26.7% from the same period in 2019.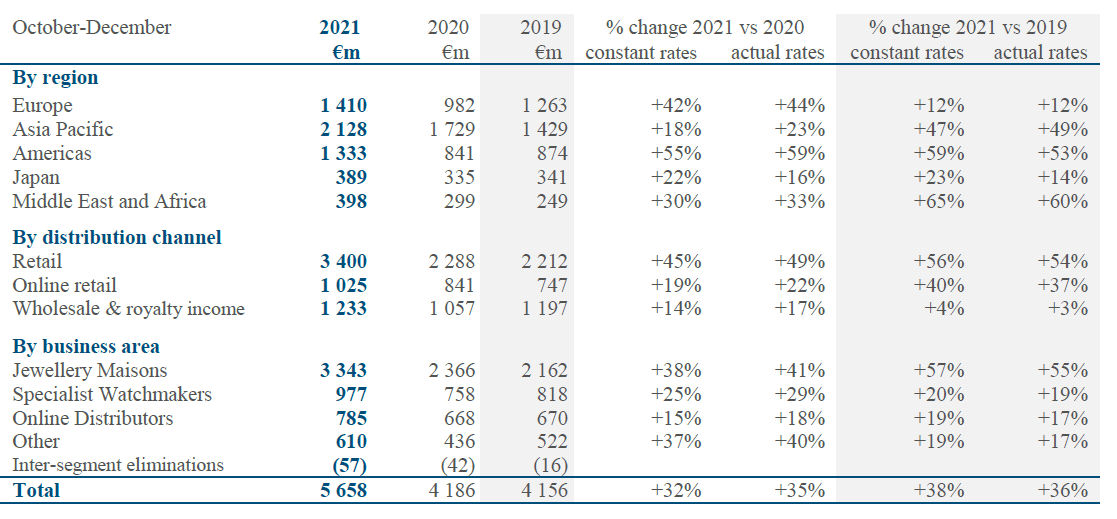 Source: Richemont Q3 2022 quarterly report (quarter ended December 2021)
This near term tailwind still has room to run; lockdown restrictions are still in place in varying levels in most countries around the world and while international tourism rose 4% in 2021, arrivals are still 72% down from pre-pandemic levels. The majority of pundits expect international arrivals to reach pre-pandemic levels around 2024.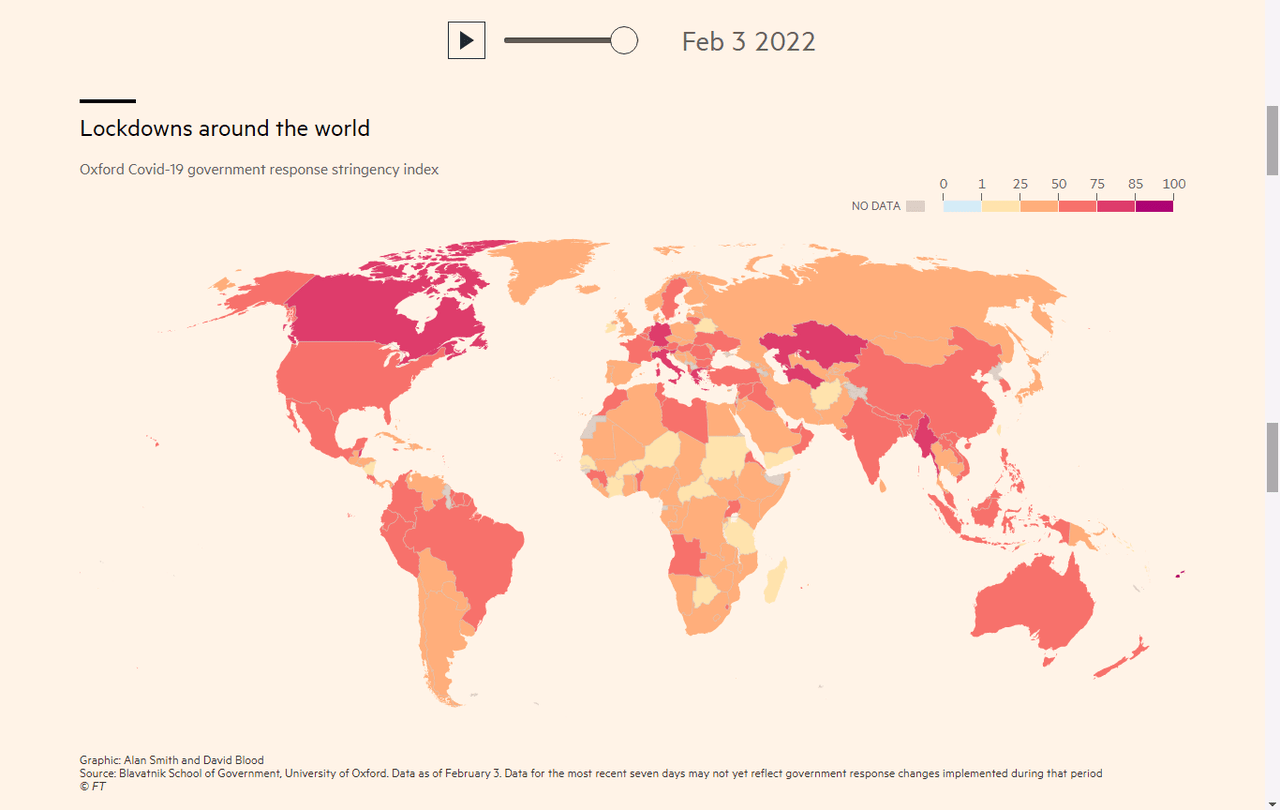 Jewellery Maisons continues to be Richemont's crown jewel
Richemont's jewelry business which includes some of the world's most renowned brands including Cartier and Van Cleef & Arpels was one of Richemont's least affected business segments during the pandemic and was also the fastest to recover. For the financial year ended March 2020 and March 2021, Jewellery Maisons' revenue inched up 1.9% and 3.4% YoY respectively compared with -4% and -21% for Specialist Watchmakers (which includes luxury watch brands including A. Lange & Sohne, Baume & Mercier, Piaget, IWC Schaffhausen, and Jaeger-LeCoultre), +15.3% and -9.5% for Online Distributors (which includes WatchFinder and Yoox Net-a-Porter), and -4% and -24.8% for Other (which includes Richemont's fashion and accessories brands such as Chloe, Mont Blanc, and Dunhill).
Jewellery Maisons, Richemont's most profitable unit was also the only segment to recover margins compared to other segments which saw margin declines; for the financial year ended March 2020 and March 2021, Jewellery Maisons reported operating margins of 28.8% and 31% respectively, compared with 10% and 6% for Specialist Watchmakers, -9.9% and -10% for Online Distributors and -8% and -18% for Other.
The segment continued to sparkle in FY 2022 with double digit revenue growth YoY for the three quarters until December 2021.
| | | |
| --- | --- | --- |
| | 2021 | 2020 |
| April - June | 142% | -41% |
| July - September | 30% | 3.6% |
| October - December | 38% | 9% |
Jewellery Maisons' glittering performance amid the pandemic reflects the strength of Richemont's portfolio of jewelry brands, a key competitive advantage in the luxury jewelry market which is expected to grow 4.2% annually between 2022 and 2025. The top two markets China and the U.S. will account for about 22% and 19% respectively. Richemont's jewelry business is well established in both key markets.
Over the past two decades the global luxury market has witnessed increasing consolidation with the leading brands accounting for nearly 33% of the global luxury market in 2021 versus 17% in 2000 according to Bain & Co. The pandemic appears to have done little to hinder M&A activity. In April 2021, Italian luxury conglomerate OTB acquired minimalist luxury brand Jil Sander from Japanese conglomerate Onward Holdings. Italian luxury brand Moncler acquired luxury apparel brand Stone Island, and Style Capital acquired Australian luxury brand Zimmerman.
Sector leader LVMH's (OTCPK:LVMHF) USD 15.8 billion acquisition of American jeweler Tiffany & Co in January 2021 was one of the biggest deals in the luxury space. A few months after the LVMH deal, Gucci-owner Kering (OTCPK:PPRUF) proposed a tie-up with Richemont to take on LVMH. The two would have made an ideal match to counter LVMH's increasing dominance - Kering with its strengths in fashion and Richemont with its strengths in hard luxury. Richemont reportedly rejected the offer but nevertheless, with increasing market concentration among the bigger players, barriers to entry are high, and the strength of Richemont's jewelry brands would indicate Richemont would remain among the leaders in this space rather than get left behind, and is thus well placed to capitalize on the market's growth going forward.
Watches and fashion segments improve
Low e-commerce penetration and a heavy reliance on offline retail channels heavily penalized the global luxury watch market during the Covid-19 pandemic, and Richemont's watch business suffered a similar impact with watch revenues dropping 21% YoY to EUR 2.2 billion and operating profit plunging 56% to EUR 132 million in FY 2021. However the watch business has been witnessing a stellar recovery over the past several quarters with revenue growing by double digits compared to the same period last year. For the nine months ended December 2021, watch business sales are up 54% compared to the same period in 2020, and up 22% compared to the same period in 2019.
Specialist Watchmaker quarterly revenue growth YoY
| | | |
| --- | --- | --- |
| | 2021 | 2020 |
| April - June | 25% | -7% |
| July - September | 35% | -18% |
| October - December | 143% | -56% |
It is also noteworthy that the watch business has been steadily improving its profitability metrics over the past few years, with operating margins climbing steadily from 7.8% in FY 2017 to 12.8% in 2019 before dropping to 10.6% in FY 2020 and 5.9% in FY 2021 in the thick of the pandemic.
Despite headwinds from smartwatches, the global luxury watch market is forecast to grow at 3.4% annually between 2022 and 2025. Smartwatches, notably Apple's smartwatch, have been eating into Swiss watch sales over the past few years, and according to Deloitte's Swiss Watch Industry Study 2020 about 34% of watch industry executives see smartwatches as a threat, up from 14% in 2017.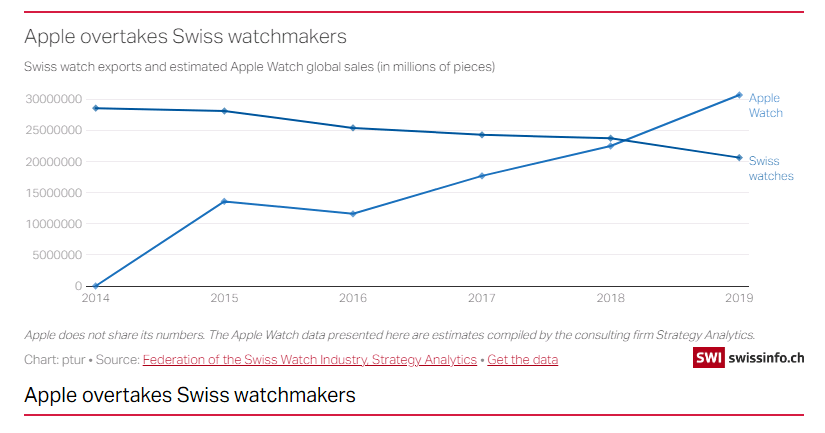 However much of the impact has been on entry-level watches such as those offered by Swatch. Luxury watch brands on the upper echelons including Richemont's IWC, and Cartier, which are among the biggest Swiss watch brands in the industry, are not expected to be as heavily impacted.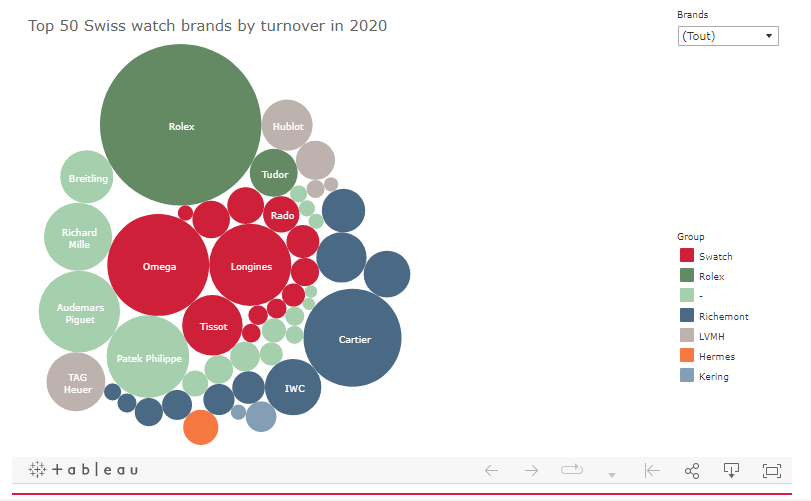 Richemont's fashion and accessories division - lumped into "Other" - has generally been a laggard however this segment reported strong results as well, with revenue growth of 37% YoY for the quarter ended December 2021 (and 19% compared to pre-pandemic levels), making it the second-best performing division after jewelry.
YNAP continues to drag margins and profitability but changes are in sight
Richemont's unprofitable luxury e-commerce platform Yoox Net-A-Porter has been a drag on profitability, and on Richemont's valuation.
Although the unit has so far posted double digit revenue growth rates in all three quarters until December 2021, it has lagged all other business segments in terms of revenue growth in those quarters.
Longer term, it is challenging to see YNAP fend off rivals including Alibaba-backed FarFetch which have been taking market share from YNAP. At one time Net-a-Porter was the only known player in the online luxury space but the pioneer now has to contend with numerous rivals including German luxury marketplace Mytheresa, and London-based MatchesFashion among numerous others jostling for a share of the online luxury market which is increasingly accounting for a greater share of the global luxury market; online luxury nearly doubled its share from 12% in 2019 to 22% in 2021 to reach EUR 62 billion and Bain expects it to reach 28% to 30% by 2025.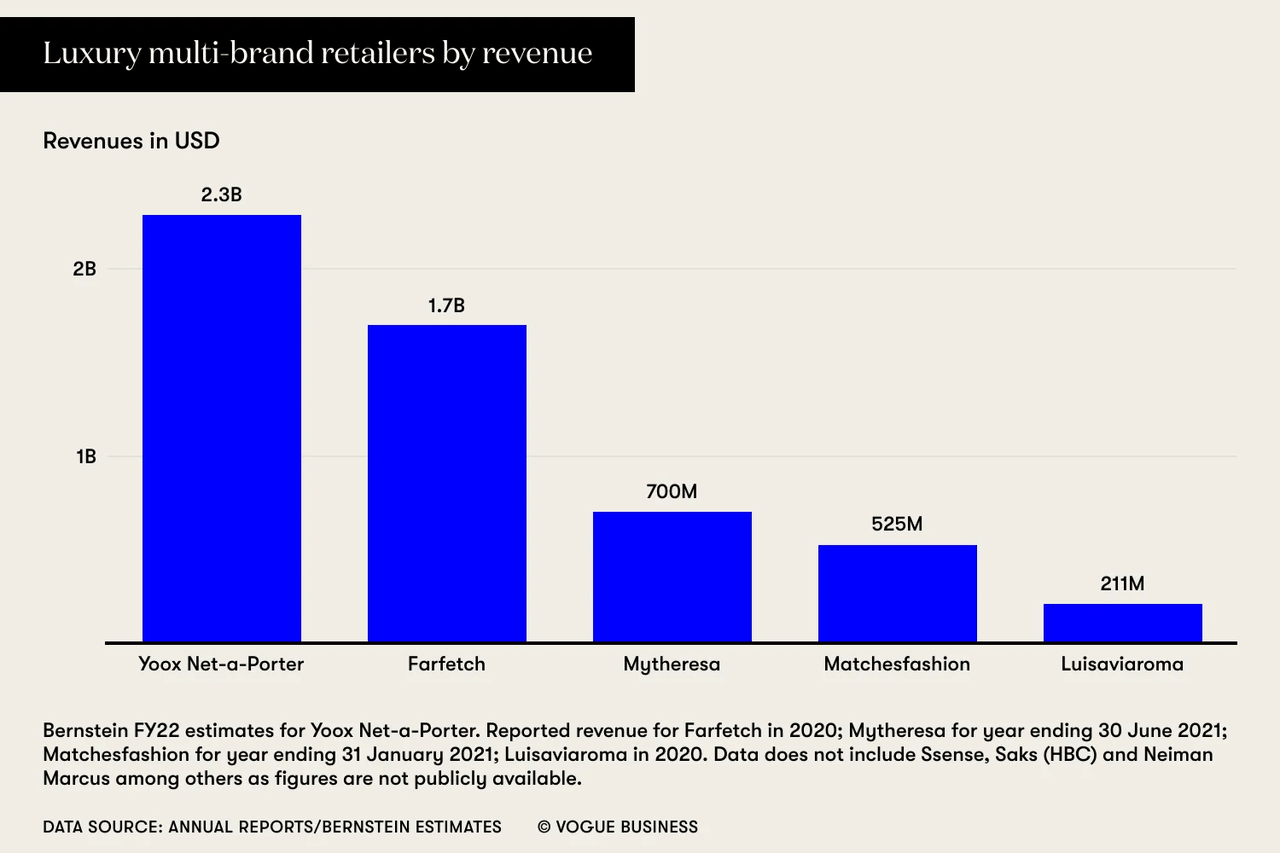 A marketplace is essentially a technology business but Richemont whose business is focused on hard luxury has little experience, expertise, or resources running a technology business. An organizational culture mismatch doesn't help either; hard luxury businesses like Richemont are generally cautious and slow to change (for instance it is well known that traditional luxury brands have long shied away from e-commerce), in stark contrast to tech companies which are more adventurous and quick to embrace change. This may partially explain YNAP's turnover of three Chief Technology Officers in as many years since it was acquired by Richemont in 2018. It is not just Richemont that has struggled to crack the online luxury code. Rival LVMH's multi-brand platform 24s has not gained significant traction either despite having the backing of the world's biggest luxury goods conglomerate.
Investor displeasure is brewing over the business's persistent losses; activist investor Dan Loeb is pushing Richemont to divest YNAP, while long-time Richemont shareholder Artisan Partners agreed with activist investors that Richemont's valuation was hampered by YNAP's lackluster performance. How far they could go remains to be seen given Richemont's dual shareholding structure which gives founder Johann Rupert 51% of voting rights despite holding 10% of equity. However, apart from investor displeasure, and growing competition from smaller but more technology-competent rivals, Richemont's problem child will soon have to contend with a bigger force - e-commerce giant Amazon (AMZN) quietly entered the online luxury market with the launch of Luxury Stores in 2020. Amazon may be a latecomer, but if Chinese tech giant Alibaba's (BABA) Tmall Luxury Pavilion - the go-to online platform for luxury brands entering China, which already boasts more than 200 luxury brands and counting - is anything to go by, Amazon is definitely a force to reckon with. Amazon has everything Tmall has that YNAP doesn't; experience, expertise, infrastructure, and an organizational culture geared towards running a technology and e-commerce business. Like Tmall, Amazon's Luxury Stores is invitation-only, a strategy that Tmall used to effectively segregate its mass market marketplace from its luxury marketplace.
This combination of factors may ratchet up the pressure on Richemont to speed up changes at YNAP going forward. Richemont was reportedly in talks to divest a stake in YNAP which could lift Richemont's margins if a deal is reached. In the meantime, taking a page from rival FarFetch, YNAP is partially addressing its profitability issue by transitioning from a traditional wholesale model into a hybrid e-concession/wholesale model which is expected to have a positive impact on margins by reducing inventory holding costs associated with the wholesale model. Towards this end, last month, Yoox launched its marketplace platform, which will operate alongside its existing wholesale business.
Conclusion
Richemont's jewelry business remains as its crown jewel and its market leading jewelry brands positions the company to capitalize on growth in the luxury jewelry market. Richemont's watches business is improving and its fashion and accessories business, which has generally been a laggard, reported strong results the past few quarters. YNAP continues to drag Richemont's margins as well as Richemont's valuation with Richemont's share price lagging rival LVMH significantly. Changes however are underway and recent developments including growing investor discontent, rising competition from smaller rivals, as well as the entry of e-commerce juggernaut Amazon may compel Richemont to speed up changes at YNAP and thereby unlock shareholder value.