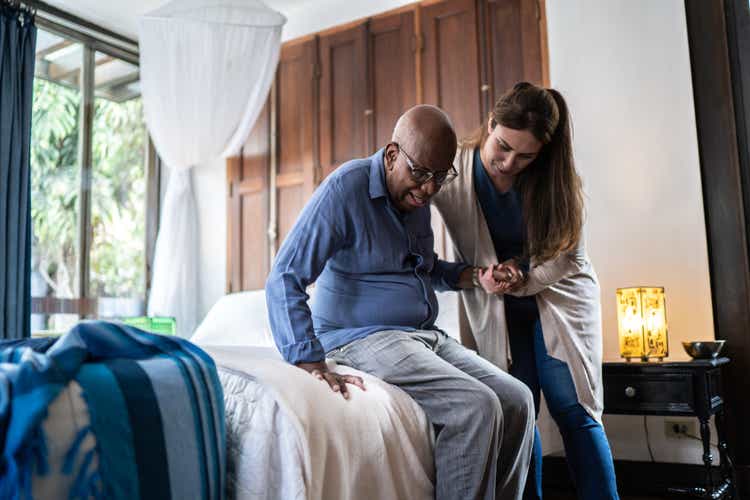 Investment thesis
National Health Investors, Inc. (NYSE:NHI) is a fairly valued Healthcare REIT with some short-term challenges such as tenant rental payments or the dividend cut. Despite these challenges, the company is facing right now, and I believe these challenges will only remain in the first half of 2022, the company's fundamentals are solid. Their portfolio is well-diversified and if the management can maintain the approximately 80% payout ratio then the company will be a hedge against inflation.
Business Model
National Health Investors is a REIT specializing in the sale-leaseback, joint-venture, mortgage, and mezzanine financing of need-driven and discretionary senior housing and medical investments which puts them into the REIT-Healthcare Facilities sector. NHI's portfolio consists of independent, assisted, and memory care communities, entrance-fee communities, skilled nursing facilities, medical office buildings, and specialty hospitals. However, the company's portfolio is more diversified than ten years ago. At the moment their assets consist of 31% Need-Driven senior housing, 32% Discretionary senior housing, and 34% Medical. Their income streams almost exactly match their asset allocation because 32.13% of NHI's income comes from Senior-Housing Need Driven, 30.16% comes from Senior-Housing Discretionary and 37.71% comes from Medical office buildings.
Financials & Earnings
Q3 results
The company reported bad earnings and will report its fourth-quarter earnings on February 21, 2022. In total NHI has 222 properties in 34 states. In 2022 from the 222 properties 7 of them will have lease maturities worth approximately 1% of the company's total revenue. However, in 2023 15 of them will have lease ends which count for almost 7% of the company's total yearly income. The company's recent investments in 2021 were mainly U.S. Treasury securities. NHI only made 2 investments into buildings a Senior Housing Facility in Tennessee and a new operating partnership with a hospital in Oklahoma in Q2.
In terms of operating figures, the company's both total revenue and rental revenue have been declining since the start of 2021. In Q3 2020 NHI's total revenue was $84.3 million and by the end of Q3 2021, the revenue shrank to $73.8 million. In Q3 2020 the company's rental revenue was $77.8 million and in Q3 2021 this figure was $67 million. Their total revenue declined by 12.46% and their rental revenue shrank by 13.88% in a year. Part of this decline is the Holiday Retirement home's non-payment. Well Churchill Leasehold Owner, LLC has not made contractual rental payments since the July 2021 transaction with Holiday, with total unpaid rent exceeding $16 million. NHI continues to hold an $8.8 million security deposit which it anticipates applying to past due rent in the first quarter of 2022. This has already caused rental income declines and NHI is trying to transition the remaining Holiday properties to new operators but this can be costly and time-consuming.
Valuation
NHI is fairly valued at the moment but investors should not calculate with fast price appreciation. As I see NHI it is a company that had some bad choices in 2021 part of that is external factors such as the tenants refusing to pay, some of them are internal such as the dividend cut due to short-term mismanagement of capital. But in the long term, they are in a good segment, their portfolio is well-diversified and CAGR rates are fine in the sector. The company's tangible book value has been growing with stagnating periods and from Q2 2021 till now this was the stagnating period.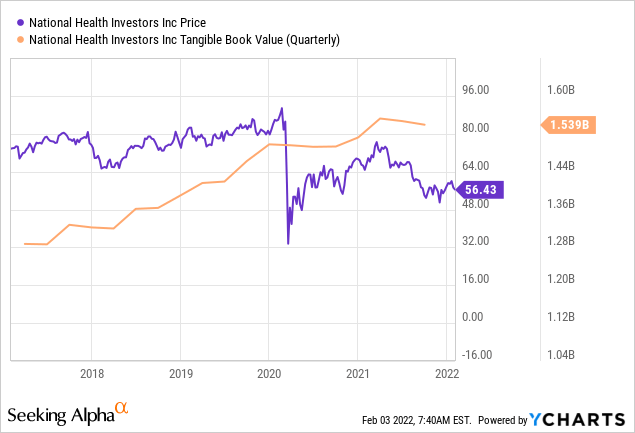 The company's dividend yield seems low compared to 2021 but actually, this is because of the dividend cut. In terms of valuation, we can buy NHI on a better valuation than in 2021. Its price to tangible book value declined from 2021's top figure of 2.33 to a more realistic 1.68 figure. This might seem overvalued but looking at NHI's peers their P/TBV valuation is approximately in the same levels between 1.4-1.98. I think NHI might be a good choice for income-investors thinking about long-term investments and will not be afraid if NHI drops another 5% because of a possible bear market fear.
Company-specific Risks
Income for NHI and revenues of their properties are primarily driven by occupancy, Medicare and Medicaid reimbursement, and private pay rates. Revenues from government reimbursement have, and may continue to, come under pressure due to reimbursement cuts resulting from federal and state budget shortfalls and constraints. This is why they had to lower the rent rates previously in 2021 but the management hopes they will be able to raise back the rents to "normal" levels by the end of 2022.
The other major risk factor is like with any other REIT: the tenants. Although the company's lease agreements provide them the right to evict a tenant/operator and demand immediate payment of rent and exercise other remedies. A tenant or borrower in bankruptcy may be able to limit or delay NHI's ability to collect unpaid rent in the case of a lease or to receive unpaid principal and interest in the case of a mortgage loan and to exercise other rights and remedies. The management desperately tries to lease out the Holiday properties and end the lease with Well Churchill Leasehold Owner. Approximately half of the company's total revenue is generated by four tenants: Bickford (15%), Senior Living (15%), Holiday (12%), and NHC (11%).
More expensive capital due to the rate hikes will be an issue in the future for NHI just for any other REIT and asset manager. NHI might need to refinance existing debt or incur additional debt in the future, which may not be available on terms acceptable to them due to the rising interest rates. This is not an immediate threat but in the longer term, this can cause some disruptions for NHI.
My take on NHI's dividend
Current dividend
NHI has been paying consecutive dividends for 19 years. The company had a 19-year consecutive dividend growth history until 2021 when the management had to cut the dividend by 18% from $1.1025 to $0.9. At the moment NHI is yielding 6.38% and pays a quarterly dividend of $0.9 per share.
Future sustainability
"I'd say we have a very high degree of confidence in our payout ratio being where we think it will be, which says low 80s to even below 80%." John Spaid, CFO. With the new dividend of $0.9 per share, he is right. It seems they can maintain this payout while the payout ratio remains around the 80% level. If they can solve the Holiday properties release in the first half of 2022 I believe there is room for dividend increase as well. A couple of analysts suggest that in 2022 NHI's management might be able to raise dividends by 3-5%. I think this estimate can be realistic in the last quarter of 2022 if the FFO numbers are in line with the estimates.

Summary
Despite the recent dividend cut, I believe that in the long term NHI is a solid company. I am not buying just yet, because the current market trend seems bearish for the beginning of 2022 at the moment and the rate hike in March could force NHI's stock price into the $50 territory. For income investors wanting to get exposure to the senior housing sector, NHI can be the right choice in the long term but they should be prepared for short-term volatility.