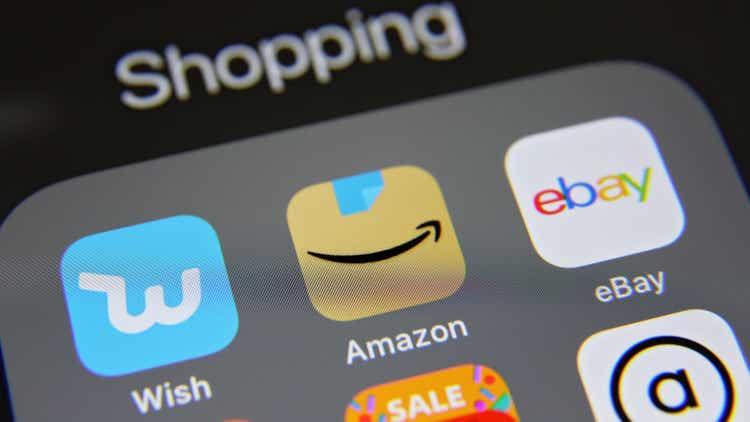 The Thesis
ContextLogic (NASDAQ:WISH), the company behind the infamous Wish platform was once valued at over $10 billion towards the end of January last year. At that time, it was trading at over 9x its 2020 full year revenue of $2.5 billion, while market leader Amazon (AMZN) was trading at a little over 3x revenue.
Today, its trading at a $2 billion valuation on roughly $1.7 billion on revenues. Now, this may seem like a good bargain at first glance, but with declining revenues quarter over quarter, falling monthly active users and weak turn-around strategies, Wish's strategy of becoming the market leading e-commerce site, fueled by "advanced" technology is nothing more than a wish.
The Business in 2020 Versus 2021
ContextLogic has 3 core revenue drivers that allowed it to drive revenue growth 34% YoY from 2019's level of $1.9 billion to 2020's reach of $2.5 billion.
Core MarketPlace 2020
Wish makes money in its core marketplace by collecting commission from each item sold. This commission structure ranges from 5%-25% depending on geographic location and item type.
At full year end 2020, the company had around 107 million monthly active users (MAUs). This was a 19% increase from 2019's level of 90 million. This high growth rate in active user base allowed Wish to collect more revenues from its increasing number of sellers.
MAU growth

2019

(millions)

2020 (millions)
90
107
Core marketplace revenues increased $354 million or 24% from $1.4 billion in 2019 to $1.8 billion in 2020. This was largely attributable to the general growth in the user base and the 50,000 local brick and mortar stores that sold products on the site.
Full year revenue

2019

(billions)

2020

(billions)

Core Marketplace revenue
1.4
1.8
Core marketplace growth (%)
24
The largest core marketplace revenue growth happened in Q2 of 2020, growing at 67% quarter over quarter from around 340 million in 2019 to 555 million in 2020. The annual report cites this was around the time China lifted lockdowns and the US was more online. Thus, there was increasing consumer demand globally, driven by greater mobile usage, online shopping and less physical retail.
Quarter over Quarter growth (Q2)

2019

(millions)

2020

(millions)

Q2 core marketplace revenues

340
555

Q2 core marketplace growth (%)

67
The report also cites that a large increase in core marketplace revenue in this quarter was attributable to the government stimulus program in the US, which increased consumer spending both locally and globally.
It is also important to note that this was one of the first times the company labelled shipping costs becoming an issue. The global logistics network problems were now starting to develop during this time, and the company faced this challenge. Therefore, they switched from air freight to ocean freight to deliver products. However, it benefitted them here because the increased consumer demand gave them the volume to absorb the higher cost and slower delivery time.
Core MarketPlace 2021
For the nine months ended 2021, Wish recorded $1.7 billion in revenues. This is pretty much in line with the same number reported a year earlier.
However, its core marketplace is reporting $1.03 billion in revenue generation, a 20% decline from its nine month value of $1.3 billion reported a year earlier.
| | | |
| --- | --- | --- |
| Revenue Breakdown | 2020 (billions) | 2021 (billions) |
| Full 9 month revenue | 1.7 | 1.7 |
| Core marketplace revenue | 1.3 | 1.03 |
| Core marketplace (decline) (%) | | (20) |
An even deeper look shows that Q3 revenues have declined 55% YoY from $405 million to $183 million in 2021.
Q3 YoY

2020

(millions)

2021

(millions)

revenues
405
183
(decline) (%)
(55)
This decline began happening around Q2 2021, when Wish's largest markets began opening back up from lockdowns. In essence, during Q2 2020, the company benefitted from an increase in mobile usage and less competition from physical retail, allowing it to grow. However, as vaccinations rolled out, the world returned to normal. So how bad is it?
Well, in Q2 2021, the company reports that they saw a 13% reduction in app installs and a 15% reduction in average time spent on the platform, compared to Q1 2021.
ProductBoost Revenue 2020
ProductBoost is Wish's advertising monetization strategy. This feature allows users to "boost" their offerings, exposing their items to a greater number of users. So how did it perform in 2020?
ProductBoost declined in all quarters over 2020, or 31% YoY, from $262 million in 2019 to $200 million in 2020. The company states that the first two quarters were the worst (36% and 34% declines, respectively) because of two reasons that are highly related.
ProductBoost Revenues

Q1 2020

(in millions)

Q2 2020

(in millions)

ProductBoost Revenues
44
45
Growth YoY (decline) (%)
(36)
(34)
The first is that in Q1 2020, countries began locking down, so there was always going to be that initial lag as people move digital, lowering engagement online, and thus, people wanting to boost products.
The second is that in Q2 2020, consumer demand increased exponentially (for reasons discussed before) and merchants did not find it necessary to boost their products.
In the remaining two quarters, the decline slowed a bit as countries opened and merchants began spending on digital advertising, fueled by the never-ending cycle of uncertainty, forcing them to revert to digital channels as a way to increase growth. This led to a resulting decrease in 32% and 24% declines respectively in each of Q3 and Q4 2020.
| | | |
| --- | --- | --- |
| ProductBoost revenues | Q3 2020 | Q4 2020 |
| ProductBoost Revenues | 49 | 62 |
| Growth YoY (decline) (%) | (32) | (24) |
ProductBoost Revenue 2021
ProductBoost revenue experienced its first sign of growth in Q1 2021, following 4 consecutive quarters of decline. A 14% growth in the revenue driver was reported YoY, from its Q1 2020 level of $44 million to $50 million in Q1 2021. This sign of growth was attributable to merchants returning to normalized levels of advertising spending (2019 levels).
ProductBoost Q1 Revenues

Q1 2020

(millions)

Q1 2021

(millions)

ProductBoost Revenues
44
50
Growth (%)
14
In addition, a new variant of ProductBoost, called IntenseBoost, had largely played a role in the growth. This variant allowed merchants to advertise specific products more aggressively over shorter periods of time.
However, by Q2, the company began seeing declines again.
MAUs declined 20% YoY to 90 million. ContextLogic believes the MAU decline was largely due to stay-at-home order easing and to a further extent, the increased cost of digital advertising.
The ProductBoost segment actually increased 11% YoY to $50 million from $45 million a year earlier, but saw no growth from Q1 2021.
ProductBoost Q2 Revenues

Q2 2020

(millions)

Q2 2020

(millions)

ProductBoost Revenues
45
50
Growth (%)
11
ProductBoost grew 1% from its level last year of the nine months reported, to $138 million, but fell 24% from $49 million to $37 million in Q3 YoY. The decline in revenue was partly attributable to the company pulling back on their advertising spend to address the operating challenges that began appearing in Q2.
As ContextLogic's Q2 report indicates, costs of digital advertising have significantly increased. One reason is that new privacy changes launched on iOS, causing more advertisers to shift to Android, creating increased competition for a limited number of impressions and driving up bid costs.
Logistics Revenue 2020
Logistics saw the largest segment growth in 2020. It grew to 20.2% of revenues, consisting of $514 million of the $2.5 billion reported. According to the 2020 annual report:
"Logistics revenue experienced consistent robust growth in 2020 as we continued to expand our logistics offerings around the world and more of our merchants adopted our logistics programs. In July 2020, in the United States, we launched our most comprehensive logistics offering, our A+ program, which manages first mile collection from merchants to warehousing operations all the way to last mile delivery to the buyer."

ContextLogic had a robust and efficient logistics network towards the end of the year. Furthermore, scaling logistics actually helped improve delivery times in Q3 and Q4.
On a YoY comparison, the segment experienced overall growth of 1,332%.
Logistics Revenue 2021
Logistics revenue in 2021 was experiencing growth at first, but has begun to decline by Q3 2021.
Logistic revenues in Q2 2021 was $228 million, representing a 126% increase from $101 million YoY. Management attributed the continued growth to continued merchant monetization improvements and end-to-end shipping solution success.
By Q2 2021, logistics were accounting for more than 87% of packages shipped through the Wish platform.
To better improve this, the company has stated they planned to expand their merchant network outside of China by growing its user base in China and the US. During Q2, they contributed to this goal by increasing its merchant network 235% YoY in Europe and 53% YoY in the US.
By Q3 2021, logistics revenues declined 3% YoY from $152 million to $148 million. The company attributes most of the quick change to global supply chain costs, affecting logistics across companies and industries in most sectors.
Profitability
The company is young in its life cycle, so I expect negative profitability as it scales. However, a number of factors which affect all core revenue driver accounts is forcing us to take a closer look. Due to this, this company's risk of turning profitable is incredibly high, and makes it especially risky for a rational investor's portfolio.
For the nine months ended Q3 2021, the company generated 3% in revenue growth, leading to $1.976 billion in revenue thus far for the year.
More importantly, the company has never turned a profit. ContextLogic is reporting a net loss of $300 million for the nine months ended Q3 2021, up from a loss of $176 million for the same period last year. Adjusted EBITDA has also grown from negative $99 million to $176 million within the same time frame.
The problems described in each of its core revenue drivers for 2021 are dragging these profitability metrics further down, and if their turn-around plan is not effective, it can further affect the company's future viability.
Likelihood of Profitability
Right now the company has $1.07 billion in cash, cash equivalents and restricted cash, but negative $900 million in Free Cash Flow. A year earlier the company had $2.1 billion in cash, and a larger negative number for free cash flow under its belt.
Right now, ContextLogic is facing decreased revenue growth, decreased MAUs and a balance sheet that won't stop bleeding. With this, there is a turnaround strategy in place. Let's see how viable the strategy actually is for the long haul.
Goal 1: Increasing Buyer Confidence In The Marketplace
The company recently launched Wish Standards, a merchant program that rewards merchants that provide exceptional customer experiences by prioritizing them in users' feeds. The exceptional customer experience criteria are judged on factors such as product quality, shipping and delivery experience and customer reviews.
So far, Wish has onboarded 12,000 new merchants through the program.
Problem
A large number of the decreased MAUs is highly related to the quality of the products on the company's platform. In turn, users have become highly disincentivized from purchasing products.
In November of last year, France decided to order search engines to remove Wish. This was because France cited that Wish was selling unsafe products. Now, governments won't ban websites unless they pose a serious threat to public safety. Logically, with the news of the banning, the government released official data, which was reported through the website Reuters:
"Out of a sample of 140 products, 45% of the toys, 90% of electrical goods and 62% of the jewellery items were dangerous, according to the watchdog. It said Wish removed items identified as being dangerous within 24 hours, but they often remained on the site in a different form."
With this news, and the growing number of users diverging from the site, there is a serious issue. Wish can try all they want to regain consumer confidence, but why should people shop there?
They offer lower prices, a more personalized experienced, but so does everybody else. You can trust that Walmart (WMT) or Amazon will provide you a personalized, high quality shopping experience. They have the technical know how and data to do so. With regards to the quality, the items you receive from these sites are a non-issue. Nobody shops on Amazon worrying about the quality, because even if, by low odds, your items are poor, Amazon will go above and beyond to rectify your situation.
Therefore, Wish can continue to onboard new merchants and work to rectify the poor quality items they launched on their site, but I am highly pessimistic they will regain confidence, especially since countries have decided to ban the platform.
Goal 2: Providing A Differentiated And Engaging E-commerce Experience
The competitive advantage that ContextLogic is selling is that each Wish user has a different experience because every user's feed is different. This "advanced" technology boasts greater user purchase and fast checkouts. However, the decline in MAUs and slower logistics is sending a different message.
Recently, the company launched "Wish Clips", cited by the company as a next-gen video-first shopping experience on Wish. To my own surmise, the Q3 shareholder letter is the only place I found information on this. Their own website has no information about this next-gen shopping experience, and clicking on items shows the opposite. Maybe I haven't discovered how to navigate it, but it sure isn't user friendly to new users.
Furthermore, the company has expanded Wish payment options for new users by partnering with Klarna, a leading global retail bank, allowing a buy now, pay later program.
Problem
Wish's chances of providing a differentiated e-commerce experience appears nothing more to me than another gimmick by the company. This "advanced" tech has been used by years by the likes of Amazon and Walmart, which, by the way, have thousands of times the data Wish has to provide unique experiences. How do you think Amazon is so profitable? It studies your habits and optimizes its website to maximize your willingness to pay.
Some may argue Wish is reaching a different market by selling low quality items, but the fact that its MAUs are declining points to the idea that their target market thinks the items are below "low quality". Instead, their gimmick approach to selling items forces the items to become sub-par in quality and build a reputation of words like "scammy" and "untrustworthy".
I don't believe Wish Clips will make much of a difference to the experience because bigger e-commerce sites like Amazon already have this feature. Furthermore, Wish Clips is only available for a small number of merchants right now, while over 90% of Amazon's massive merchant base can upload videos.
With regards to their buy now-pay later strategy, I truly don't see the point. A lot of their items are already "Free" and others are below $10. I don't see why users would finance such low purchases or even indulge the idea. Furthermore, I'm banking on the fact that Klarna only took the deal because it expects to make money on volume, not interest. However, a falling user base, decreased revenues and advertising spend is not pointing to much future volume in the near term.
New CEO
Wish's founder and CEO has stepped down. On January 31, 2022, Vijay Talwar was appointed new CEO. He brings a very strong background in operational excellence in growing digital channels. For one, he grew Foot Locker Digital to new heights, representing the fastest growing segment of the Foot Locker company.
However, taking into account the current financial position of the company, in addition to the slowed growth potential, I'm not super optimistic on Wish's turnaround strategy. In my opinion, the turnaround strategy has been sub-optimal thus far, and unless Mr. Talwar can execute on some new innovation, my hopes for the company are small.
Bottom Line
Wish had a pretty nice start, becoming a channel for merchants and shoppers that could not shop during lockdowns. This allowed it to quickly scale its revenue drivers, especially logistics. However, the quality of the products on the site have declined, deteriorating trust in its users.
Software is tricky because there is no face to face contact with sellers. Therefore, once trust is lost, it usually can't be regained.
With deteriorating trust and the reopening of economies, growth has slowed tremendously, and its MAU base is quickly deteriorating. It's nice to see Wish attempt new strategies like Wish standards, Wish Clips and a new CEO to incentivize re-use of the platform, but its competition are powerhouses in the e-commerce space, and these strategies aren't strong enough to create a real competitive edge.
The only real hope I see for Wish is through the operational expertise and success Vijay has possessed. Though, it will take some time to truly measure what he brings to Wish. Thus, for now, Wish isn't a very safe play for a diversified portfolio.