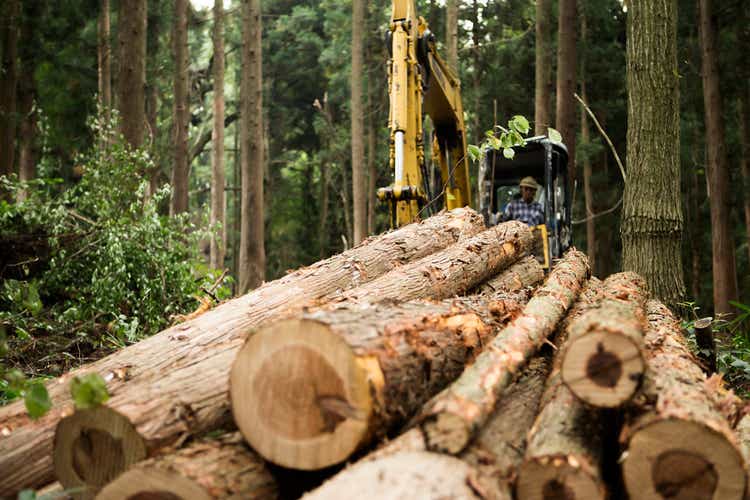 With a massive housing shortage in the US, it stands to reason that an interesting opportunity would be to buy into a REIT the focus is on providing timber for various end users. One intriguing prospect for investors to consider is a company called Rayonier (NYSE:RYN). Recent growth achieved by the business has been impressive. But it is unclear just how long strength in this market will remain. When you factor in just how shares are priced today, I think an investor might be able to make the case that they are more or less fairly valued. But it is difficult to say that they are undervalued, while it would be easy to make the claim that any return to prior years' results would make stock quite pricey. Due to this tilted of risk to reward opportunity, I would make the case that there are probably better prospects on the market to be had today. Though I do not believe that Rayonier itself is a bad investment for long-term investors, I just don't think it is anything special.
Results as expected
The last time I wrote about Rayonier was in an article published in June of 2021. In that article, I mentioned the company's historically bumpy ride, followed by a surge in revenue and profits driven by supply chain issues and high demand in its space. Ultimately, I rated the company a neutral prospect, even going so far as to say that it was 'nothing special'. Since then, shares have behaved more or less what I would have anticipated. Why are the S&P 500 has achieved a return of 8.1%, shares of Rayonier generated a profit for investors of just 2.8%.
You would think that such a lackluster performance would be indicative of weak fundamentals. But that's not exactly the case. In fact, Rayonier has been doing quite well for itself and its investors. Revenue in the full 2021 fiscal year, for instance, came in at $1.11 billion. That represents an increase of 29.2% compared to the $859.15 million generated one year earlier. The company continues to benefit from high demand for its offerings, driven by supply chain issues across the nation. But of course, as I mentioned in my aforementioned prior article, the fundamental condition for the business was not always great. Performance in prior years meandered about, and two years' worth of revenue increases are not strong evidence for a permanent turnaround for the business.
With revenue having risen, it shouldn't be surprising to expect profits to rise as well. After all, In such a capital-intensive enterprise, even small improvements in revenue can have a big impact on profitability. Take, as an example, operating cash flow. During the company's 2021 fiscal year, operating cash flow totaled $325.1 million. That represents an increase of 59.2% over the $204.17 million generated one year earlier. And it marks the first year compared to at least three prior to it that the company saw a year over year increase in cash flow. Net profits also fared better, hitting $152.6 million compared to the $37.1 million achieved in 2020. And finally, we arrive at EBITDA. This metric totaled $329.8 million in 2021. That's up from the $267.4 million achieved in 2020 and it is the highest the company has generated since reporting $337.7 million in 2018.
Taking a company like this and valuing it can be rather challenging. For instance, if we rely on 2021 figures, the company is trading at a price to earnings multiple of 34.6. That compares to the 142.1 figure we get if we rely on 2020 data. There are, of course, other profitability metrics that might be more important. The price to operating cash flow multiple, as an example, comes out to 16.2. This compares to the 25.9 we get if we rely on the 2020 figures. And finally, we have the EV to EBITDA approach. This gives us a multiple 19, down from the 23.5 we get if we rely on the 2020 figures.
To put the pricing of the company into perspective, I decided to compare it to three similar firms. Because the price to earnings multiple is not all that important when it comes to valuing a REIT, I will instead focus on other profitability metrics. The price to operating cash flow approach, for instance, is important. The range for the three companies I compared Rayonier to on this basis started at a low point of 7.2 and went to a high one of 9.6. Based on this data, our prospect was the most expensive of all of these firms. Using the EV to EBITDA approach, the range was 6.7 to 11.4. Once again, Rayonier was the most expensive firm.
| | | |
| --- | --- | --- |
| Company | Price / Operating Cash Flow | EV / EBITDA |
| Rayonier | 16.2 | 19.0 |
| Weyerhaeuser (WY) | 9.6 | 8.2 |
| PotlatchDeltic (PCH) | 7.2 | 6.7 |
| CatchMark Timber (CTT) | 7.9 | 11.4 |
Another important thing to take into consideration is leverage. After all, it wouldn't be uncommon for an asset-intensive company to have a great deal of debt. But this is not the case here. Based on data provided recently, gross debt on hand is $1.37 billion, while net debt comes out to $998.7 million. Using our 2021 figures, the net leverage ratio for the business would be 3.73, while the 2020 figures would result in a net leverage ratio of 3.02. This is not exactly low leverage. But it's not extraordinarily high either. For a company like this, it is certainly manageable, especially if the 2021 figure holds moving forward.
Takeaway
At this point in time, Rayonier is interesting. It is interesting for a couple of reasons. For starters, the business continues to expand at a rapid pace for the second year in a row. And second, it is the nature of the expansion, driven in large part by what could very well be a temporary surge in demand for its products, that makes it intriguing but difficult to analyze. At the end of the day, however, I would argue that the risks here are probably greater than the rewards. The company has a share price that is not exactly cheap. At least not on an absolute basis or relative to its peers. Add on to this the likelihood that some reversion back to prior pricing and demand is probably more likely than sustained strength and I don't see much appeal from the perspective of a long-term investor. So while the company may very well create value for its shareholders if the current environment remains like it has been for an extended period of time, I just think that the opportunity is unbalanced in the sense that I believe downside is more likely than upside.