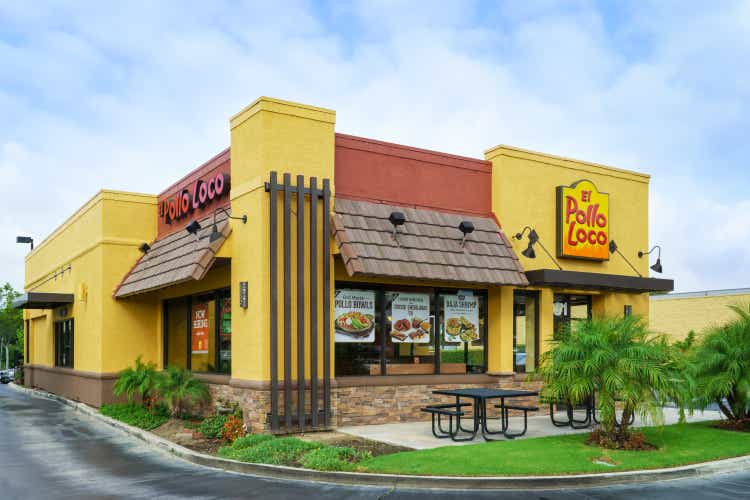 It's been a rough few months for the restaurant industry group (EATZ), which is down nearly 11%, with many brands seeing margin pressure from commodity inflation and wage increases. One name that's been hit especially hard is El Pollo Loco (NASDAQ:LOCO), which is down nearly 45% over the past year, massively underperforming its industry group. With the stock sitting at a slight discount to its historical earnings multiple (~16.1 vs. ~19.6), some investors might be anxious to buy the dip. However, with tough comps ahead in Q1 and industry-wide traffic trends weak in December, I think there are much more attractive bets elsewhere in the market.
I warned on El Pollo Loco [EPL] just over six months ago, noting that while the company was posting strong comp sales growth, inflationary pressures continued to be a major headwind. This suggested that there was no reason to pay up for the stock above $17.00, given that inflation was looking much less transitory than the Federal Reserve was guiding for, which could impact restaurant-level margins. Since then, the stock has slid nearly 25%, which would normally suggest a potential buying opportunity if the situation has improved. However, with staffing issues persisting at a portion of the store base as of Q3, the worst week for industry-wide traffic in a year, and many brands revising commodity inflation estimates higher for 2022, the situation actually appears to have worsened.
Inflation & Margins
During El Pollo Loco's Q3 Conference Call, the company guided for 3% commodity inflation for the year vs. 2% previously and revised its wage inflation guidance to 5% to 5.5% vs. 4.5% - 5%. Meanwhile, the company noted that commodity inflation could come in above 8% in Q4, suggesting an acceleration, not what investors wanted to hear. Since then, we've seen many larger brands also guide for higher inflation in 2022 than called out for in their Q3 Conference Calls, with companies like Domino's (DPZ) even moving to take two wings out of its $7.99 offering to combat inflationary pressures.
When we look at the increase in wholesale food prices on a year-over-year basis, which are off the charts, these revised inflation estimates are not surprising, and they're taking a bite out of margins. Some brands like Chipotle (CMG) have managed to offset these inflationary pressures, benefiting from higher average unit volumes superior staffing levels vs. some peers due to a wage-price increase to improve retention/attract talent and its Chipotlane success. However, smaller brands like El Pollo Loco may not have the same brand loyalty and regular menu innovation as a Chipotle (Pollo Asado, Vegan Chorizo, Brisket). This could make it more difficult to hold the line on margins without sales leverage & premium price points.
This has been made worse by the fact that EPL discussed staffing shortages at some of its company-owned restaurants in Q3, which led to reduced operating hours in some instances. This makes it even harder to grow average unit volumes when staffing is at sub-optimal levels and hours/service modes have to be adjusted, and it could also impact the guest experience in some cases. With the emergence of Omicron, it's possible that staffing continues to be a headwind into Q4 and much of Q1, with the high positivity rate of Omicron possibly leading to team member exclusions and a reduced number of new applicants. EPL's most recent update noted that staffing challenges impacted company-operated comp sales again in Q4.
Industrywide Traffic
If the worries about Omicron impeding traffic were anecdotal, this would be a different story and not a huge concern for brands like EPL. However, while some investors may have assumed that Omicron wouldn't be an issue for traffic, the data suggests differently. In fact, Black Box Intelligence has shared that December traffic was down 8.4% year-over-year, with the only reason comp sales were up being menu price increases at most brands. Meanwhile, restaurant sales were negative for a fifth consecutive week (week ending Jan 23rd, 2022), with traffic growth the lowest since late February 2021.
As many brands prepare to lap the effects of government stimulus in their Q1 2022 results, these traffic headwinds are not ideal and will make it much harder to hold the line on margins. This is especially true for companies that entered Q4 still dealing with some staffing headwinds like EPL, given that it's harder to beat system-wide comps when some restaurants are dealing with a slight reduction in operating hours. So, while some restaurants might eke out a decent performance in their Q4 results depending on their reporting period, I would expect to see more cautious commentary on Q1 and 2022 regarding inflationary pressures. Hence, we could see negative earnings revisions for some brands industry-wide.
For brands like Chipotle that have managed to increase margins on a two-year basis, I see much less risk, especially with the company continually investing to boost margins with its new Digital Kitchen plans and Chipotlane roll-out. However, for brands that have seen minor margin contraction, it's tough to be overly optimistic about the stock's 2022 performance.
This is especially true given EPL's lower unit growth rates vs. some higher-growth brands like Chipotle and Dutch Bros (BROS). In the case of BROS and CMG, these companies can still grow annual earnings per share meaningfully, even if comp sales come in a little lighter than expected. This is because they're growing their store count at 8% plus per annum, or closer to 20% in the case of Dutch Bros. Let's take a look at EPL's earnings trend below:
As shown in the chart above, El Pollo Loco is expected to grow annual earnings per share this year, but we have seen negative revisions in FY2022 and FY2023 estimates, which have slipped from $0.89 and $0.93, respectively. The updated earnings estimates have dipped to $0.81 in FY2022 and $0.89 in FY2023, projecting a much lower earnings growth rate and no earnings growth at all in FY2022. This is a negative development and is likely related to a more cautious outlook due to continued inflationary pressures, weighing on margins for most brands. So, while EPL is down 5% from my last update, it actually trades at a higher earnings multiple, given the negative revision in FY2022 EPS estimates.
Valuation & Technical Picture
Moving over to the valuation below, we can see that EPL has historically traded at ~19.6x earnings, which I would argue is generous for a company that has grown earnings at a compound annual growth rate of ~5.3% since FY2014 ($0.82 vs. $0.57). So, while the stock trades well below its historical earnings multiple, it's tough to argue that historical multiples are that valid post-COVID-19 given continued headwinds from a staffing and inflation standpoint. Based on what I would argue to be a more conservative earnings multiple of 16, this would place EPL's fair value at $14.25 (FY2023 estimates of $0.89).
While this price target points to some upside from current levels, it doesn't offer much of a margin of safety, especially in a turbulent market environment where it's less desirable to hold small-cap names. It's also worth noting that while the stock's historical earnings multiple is much higher (~19.6), the best time to buy the stock has been at 14x earnings or less. Assuming EPL had not seen negative earnings revisions recently, the stock would be trading right near this level. However, with annual EPS estimates sliding to $0.81, EPL trades at roughly 16x earnings and still above this low-risk buy zone.
Moving to LOCO's technical picture, this corroborates the view that this is not a low-risk buy zone, with the stock breaking a key support level at $14.00 in November. This has put a dent in the stock's reward/risk ratio, given that the next strong support level doesn't come in until $9.70. At a current share price of $13.10, this translates to a reward/risk ratio of 0.51 to 1.0, well below the 4.0 to 1.0 reward/risk ratio I prefer to enter new positions. The updated reward/risk ratio is based on $1.75 in potential upside to resistance ($14.70) and $3.40 in potential downside to support ($9.70).
Given the slight downgrade in the technical picture, I don't see any reason to rush in and buy the stock at current levels. This undesirable reward/risk ratio doesn't mean that the stock can't go higher, but I would not be surprised to see the stock run into selling pressure at $14.85 - $15.00, even if it does post a solid Q1 report. With this translating to less than 15% upside from current levels, I don't see the reward as worth the risk of holding a sub $500 million market cap name in a volatile market that still may have lower to go before the correction is over.
While EPL has done a decent job growing comp sales, it has not been immune from industry-wide margin pressure, and I would expect this to persist in 2022. This is because the labor market does not appear to be improving much in the hospitality industry, and inflationary pressures continue to hit items like poultry (26.2%), a key item in EPL's market basket. So, while a 45% correction would typically present a buying opportunity for a stock, I continue to remain on the sidelines. If I was looking for exposure to the restaurant space, I see Starbucks (SBUX) or Restaurant Brands International (QSR) as more attractive ways to buy the dip.