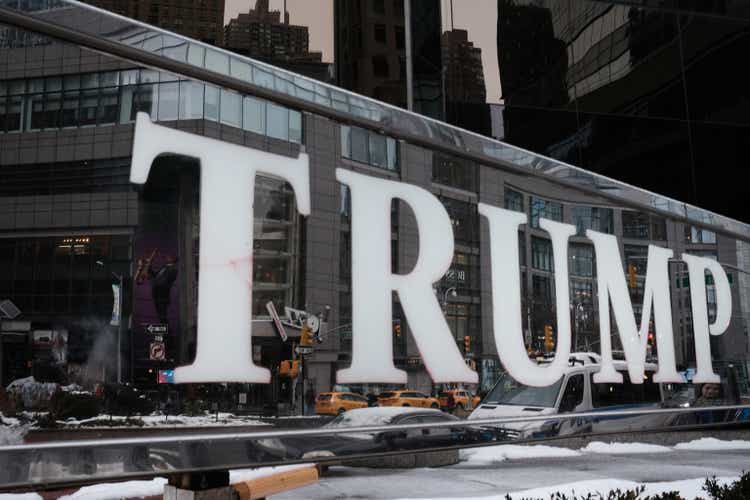 As we wait for Digital World Acquisition Corp. (NASDAQ:DWAC) (NASDAQ:DWACW) to file a Form S-4 with the SEC, the market seems to be shrugging off assertions that the merger deal with Trump Media & Technology Group is in trouble because of SEC issues. Market seems instead focused on the actual starting-up of the operations for his media company. This article is narrowly focused on trying to clarify SEC issues related to the proposed merger that have been subject to widespread rumors in the media.
Safe Harbor Protection and the SEC
There are many media reports that the SEC is trying to crack down on SPAC deals that involve merging a SPAC with a company trying to go public. One of the issues that gets most of the attention is the "safe harbor" protection for SPAC deals that allows them to make "forward-looking statements" about the newly merged company. There is no safe harbor protection for a traditional IPO. Under section 102 of the Private Securities Litigation Reform Act of 1995, forward-looking statements "made in the connection with an initial public offering" are excluded from safe harbor protection. It is interesting to note that issuing stock in "connection with an offering of securities by a blank check company" is also excluded from the safe harbor protection. For example, when DWAC had their IPO in 2021, they were excluded from the safe harbor protection because they are a blank check company and therefore, did not make forward-looking statements in their SEC S-1 filings.
What is Safe Harbor?
Safe harbor means under section 102 that:
a person...shall not be liable with respect to any forward-looking statement, whether written or oral, if the forward-looking statement is...identified as a forward-looking statement, and is accompanied by meaningful cautionary statements identifying important factors that could cause actual results to differ materially from those in the forward-looking statement; or...the plaintiff fails to prove that the forward-looking statement if made by a natural person, was made with actual knowledge by that person that the statement was false or misleading;"
What are Forward-Looking Statements?
A statement containing a projection of revenues, income (including income loss), earnings (including earnings loss) per share, capital expenditures, dividends, capital structure, or other financial item... plans and objectives of management for future operations, including plans or objectives relating to the products or services of the issue ...statement of future economic performance, including any such statement contained in a discussion and analysis of financial condition by the management or in the results of operations included pursuant to the rules and regulations of the Commission;
In other words, you can't sue them if the actual future results fall short of the numbers included in their forward-looking statements, unless you can prove they knew the numbers were false or misleading, which is often very difficult to prove. (Caveat Emptor.)
A key word is "projection". There is no safe harbor protection for current or historic results. The SEC did bring action against two companies that went public via SPAC mergers recently for false statements about their historic and current results. The music streaming company Akazoo, that went public via a SPAC, made false statements about their historic revenue and number of subscribers. They settled with the SEC in late 2021. In the other SPAC merger case, Momentus lied about their test results for space propulsion technology and settled with SEC last summer.
A major problem, in my opinion, with this protection of forward-looking statements is that according to section 102 "nothing in this section shall impose upon any person a duty to update a forward-looking statement". So after they file their S-4 they do not have to up-date their projections, even if there are meaningful changes in their numbers due to changes in their business operations or the economy. Given that there are often many months between the S-4 filing and the eventual vote by the SPAC shareholders, this could be a major issue, unless a company voluntarily updates their statements by amending their filing.
The SEC is considering changing this SPAC safe harbor protection because there have been complaints that too many forward-looking statements were way too bullish, which lured investors into buying the SPAC shares prior to the merger and shares of the newly merged company. As investors realized the numbers were not achievable, the share prices sank. Some people feel that the SPACs are abusing this "loophole". A final SEC decision is still pending, but investors need to remember that the SEC in April 2021 did issue a statement that impacted how warrants are to be reported in SPAC balance sheets. This change caused many SPACs to file amended financial statements with the SEC. So it appears that the SEC is very willing to make changes impacting SPACs.
So how does the safe harbor issue impact DWAC investors? First, the potential that current safe harbor protection for SPAC merger deals may likely be changed could encourage Trump to file their Form S-4 soon. (See below regarding S-4 timing.) Second, any figures or comments about current operations and subscribers by Trump would not have safe harbor protection, which should give investors confidence that the numbers are correct. Third, projections and other forward-looking items would have safe harbor protection. Investors, therefore, need to be much more cautious about relying on these.
SEC Information and Document Request
As most readers already know, there was an 8-K filing with the SEC late last year disclosing that the SEC and FINRA were investigating Trump's proposed deal and trading. The actual statement in their 8-K filing:
DWAC has received certain preliminary, fact-finding inquiries from regulatory authorities, with which it is cooperating. Specifically, in late October and in early November 2021, DWAC received a request for information from FINRA, surrounding events (specifically, a review of trading) that preceded the public announcement of the October 20, 2021 Merger Agreement. According to FINRA's request, the inquiry should not be construed as an indication that FINRA has determined that any violations of Nasdaq rules or federal securities laws have occurred, nor as a reflection upon the merits of the securities involved or upon any person who effected transactions in such securities. Additionally, in early November 2021, DWAC received a voluntary information and document request from the SEC which sought, inter alia, documents relating to meetings of DWAC's Board of Directors, policies and procedures relating to trading, the identification of banking, telephone, and email addresses, the identities of certain investors, and certain documents and communications between DWAC and TMTG. According to the SEC's request, the investigation does not mean that the SEC has concluded that anyone violated the law or that the SEC has a negative opinion of DWAC or any person, event, or security.
There is some speculation that SEC is looking into various communications because of a statement on page 94 of DWAC's amended S-1 that states:
We have not, nor has anyone on our behalf, initiated any substantive discussions, directly or indirectly, with any business combination target. From the period commencing with our formation through the date of this prospectus, there have been no communications or discussions between any of our officers, directors or our sponsor and any of their potential contacts or relationships regarding a potential initial business combination. Additionally, we have not engaged or retained any agent or other representative to identify or locate any suitable acquisition candidate, to conduct any research or take any measures, directly or indirectly, to locate or contact a target business
There seems to be inconsistent statements. The first sentence states "substantive discussions", but the next two sentences state "no" and "not". The first sentence seems to indicate there could have been some casual discussions. At this point it is critical to note that the SEC request for information and documents was voluntary. This was not a "formal order of investigation" by the SEC. Since everything is currently just speculation, it would be inappropriate for me to include my personal opinion on the SEC information and document request in this Seeking Alpha article. I plan to post my opinions in the comment area below.
SEC Trying to Block a Different SPAC Deal
Using the example of Bill Ackman's SPAC, Pershing Square Tontine Holdings (PSTH), as an example of the SEC potentially killing Trump's deal ignores the details of Ackman's SPAC deal. PSTH was going to buy only 10% of Universal Music Group via a tender offer. There was no proposed traditional SPAC merger between the two entities. PSTH shareholders were not even going to vote on the deal, unlike most SPAC deals, including Trump's deal that will require DWAC shareholder approval. In addition, there were some issues regarding if the structure of their deal "qualified under NYSE rules". The PSTH board decided to vote against pursuing the original proposed SPAC deal because of "issues raised by the SEC with several elements of the proposed transaction". (SEC letter sent to PSTH) Ackman's deal was nothing like Trump's proposed SPAC merger deal.
Timing of SEC Form S-4 Filing
Investors are patiently waiting for the S-4 filing. In an October 24 article I included a timeline to the effective date for the proposed merger. In the article I wrote "30+ days" before the S-4 filing. Clearly the "+" seems very appropriate for this SPAC deal.
Unlike many SPAC merger deals with the company going public that have been operating for a number of years already, Trump's media company is just a start-up with no current historic financial record. One, therefore, wonders if they are waiting until after their launch of a beta test of TRUTH to include some actual numbers in their S-4. Trump was not specific about an actual launch date in a recent press release supporting Canadian truckers. He just stated "coming very soon".
There is a very wide range for SPAC deals in the time periods between when a merger agreement was signed, the filing of Form S-4, and the date the SEC files a notice of effectiveness. There is a recent SPAC case of the coffee company Black Rifle whose parent company, Authentic Brands, is merging with SilverBox Engaged Merger Corp (SBEA). Their merger agreement was signed on November 2, 2021 and only about a week later they filed their S-4 on November 10, 2021. The effective date of their merger is expected to be the beginning of this week. In a different SPAC merger deal, Power & Digital Infrastructure Acquisition Corp (XPDI) announced a merger deal on July 20, 2021 and they fairly quickly filed a Form S-4 on August 11, but it took over four months for the SEC to finally file a notice of effectiveness on December 30. Their S-4 had many amendments/changes.
Some assert that the SEC will not "approve" Trump's merger with DWAC. A problematic assertion. I admit that I also frequently and incorrectly use the phrase "the SEC approves the S-4", but technically the SEC does not actually "approve" a S-4 filing. The SEC will just file a "Notice of Effectiveness" for the Form S-4. I would like to see actual case law on other SPAC deals regarding the SEC and Form S-4 to support their assertions that the DWAC merger deal with Trump will not happen. There is a very long list of SPAC merger deals that were terrible for investors after the merger, as the newly merged company's stock price plunged, but the SEC still filed S-4 notices of effectiveness for those disasters. I would also like to see them present documentation of SEC standards used that would make this DWAC deal problematic. In addition, do these potential issues rise to the level of being "material"?-that is a key variable. Those making these negative assertions need better evidence/proof, in my opinion.
This is my "guesstimate" of the new timeline:*Mid-March Form S-4 Filed*Early June SEC files notice of effectiveness*Minimum of 20 days for shareholder voting*Early July merger is effective
Quick Note On Rumble
While Trump Media & Technology Group is trying to build most of their technology to operate their business independently from other tech companies, they did sign a contract with Rumble last December. DWAC investors may want to follow Rumble because it is also involved with a SPAC merger deal with CF Acquisition Corp VI (CFVI). They also have not yet filed a Form S-4. Some people, including myself, consider CFVI a cheaper way to indirectly play Trump Media & Technology Group future potential success than DWAC.
Conclusion
DWAC investors need to face the reality that politics could impact various SEC issues because federal agencies are not as independent as we used to assume. At this point there is no actual SEC formal order of investigation. DWAC investors seem to be already looking past the SEC filing of S-4 and the merger. The stock is trading based on very high expectations for the various Trump media platforms, but investors should not completely ignore the SEC issues.
I continue to rate DWAC as neutral/hold until I see the detailed projections expected to be included in their S-4. While the forward-looking statements will have safe harbor protection, unless the SEC makes changes, any statements about the success of the launch of TRUTH contained in the S-4 must be accurate because they will not have safe harbor protection.