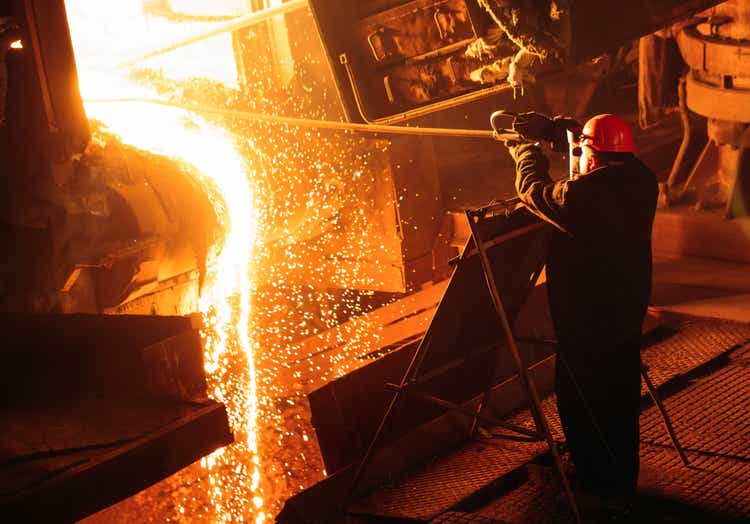 "Men occasionally stumble over the truth, but most of them pick themselves up and hurry off as if nothing had happened." - Winston S. Churchill
Today, we take an in-depth look at Cleveland-Cliffs (NYSE:CLF). The stock of this huge steel producer has done little since a spate of insider buying in late 2021 but appears very cheap on a P/E basis even as the shares seem to be forming a top. Which way is the equity likely to go in the months ahead? We attempt to answer that question via the analysis below.
Company Overview: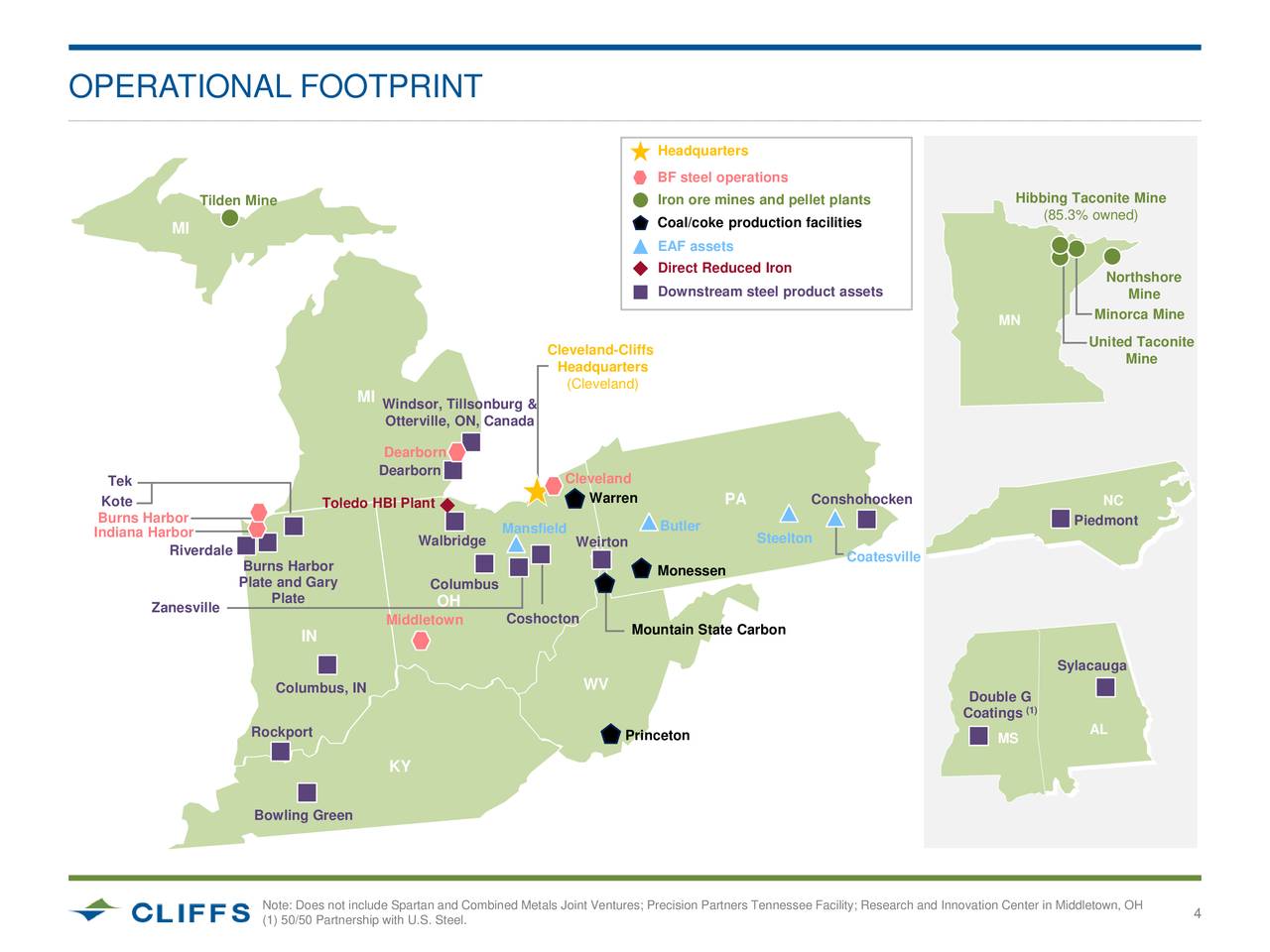 Cleveland-Cliffs is one of the largest vertically integrated, flat-rolled steel producers in North America. It also manufactures iron ore pellets and not surprisingly is based out of Cleveland. Currently, the stock trades for around $19.00 a share and sports an approximate market capitalization of just south of $9.5 billion.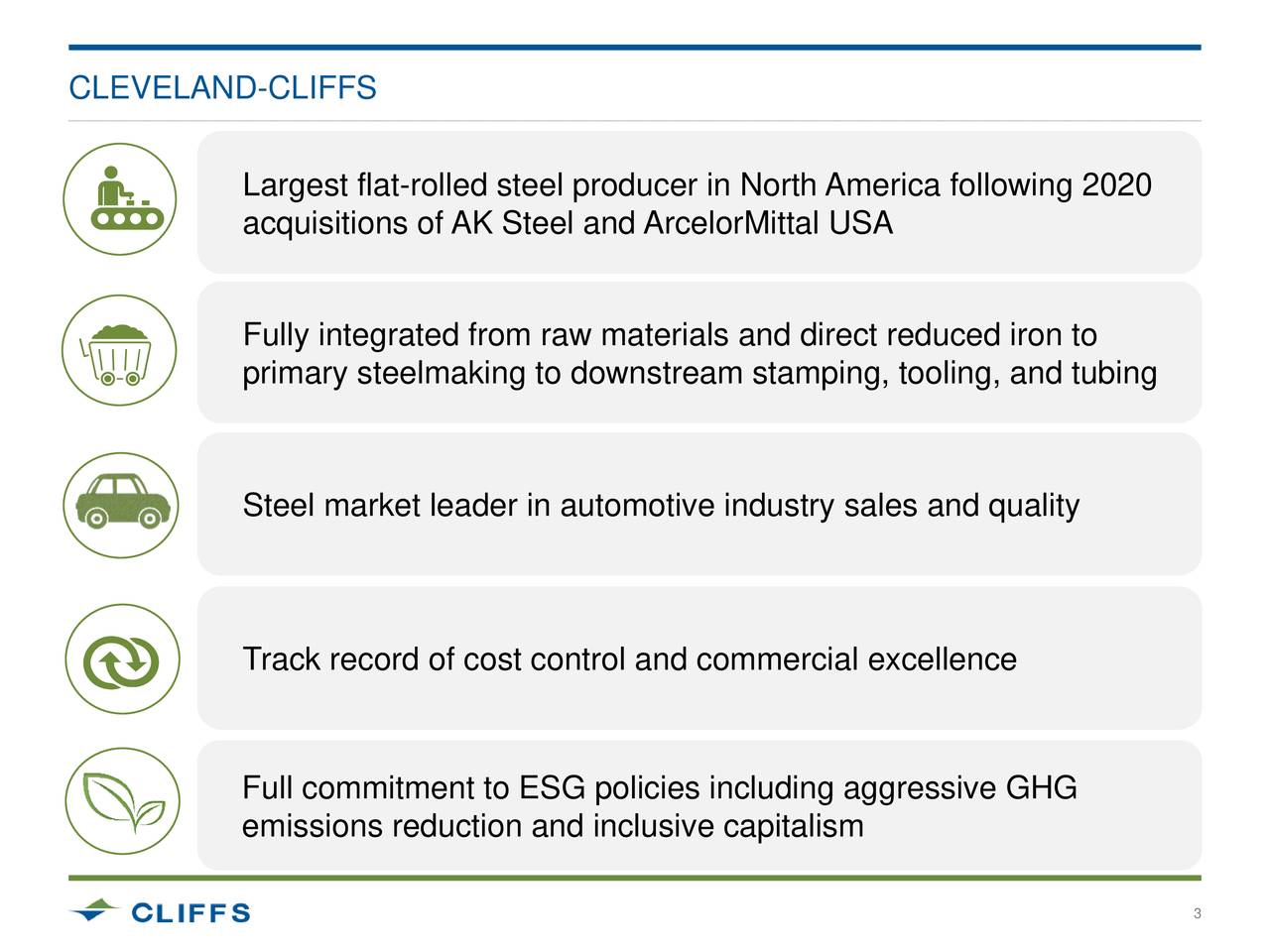 Third Quarter Results:
On October 22nd, the company last reported quarterly results. GAAP earnings came in at $2.33, nearly a dime a share above the consensus. Revenues rose by more than 250% on a year-over-year basis to some $6 billion, more than $350 million above expectations. Adjusted EBITDA came in at $1.93 billion for the quarter versus the consensus of $1.83 billion.
Three Months Ended

September 30,

Nine Months Ended

September 30,

2021

2020

2021

2020

External Sales Volumes

Steel Products (net tons)

4,153

1,115

12,502

1,926

Operating Results - In Millions

Revenues

$

5,869

$

1,506

$

14,710

$

2,866

Cost of goods sold

(4,098

)

(1,405

)

(11,472

)

(2,882

)

Selling Price - Per Net Ton

Average net selling price per net ton of steel products

$

1,334

$

1,000

$

1,122

$
The company obviously benefited from the easy comps from the third quarter of 2020 where much of the world was contracting thanks to Covid lockdowns. In addition, the company purchased all operations of ArcelorMittal USA (MT) and its subsidiaries, a transaction that was completed in late 2020, which formed the largest flat-rolled steel producer in North America. Just after the third quarter closed, Cleveland-Cliffs agreed to acquire Ferrous Processing and Trading in a deal with an enterprise value of approximately $775 million. Ferrous is one of the largest processors and distributors of prime ferrous scrap in the U.S.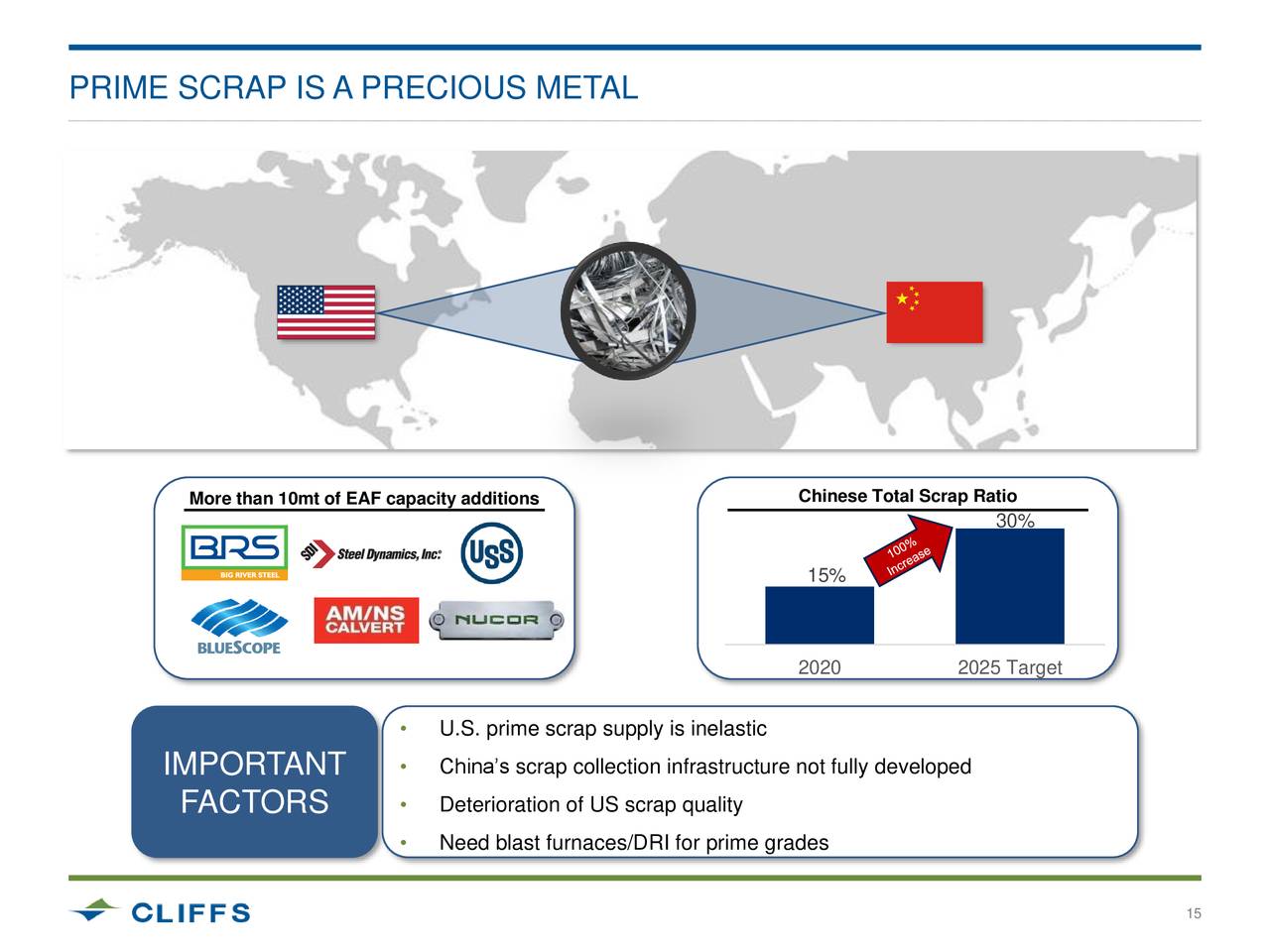 The breakdown of production during the quarter is as follows: 32% hot-rolled, 31% coated, 18% cold-rolled, 6% plate, 4% stainless and electrical, and 9% other, including slabs and rail.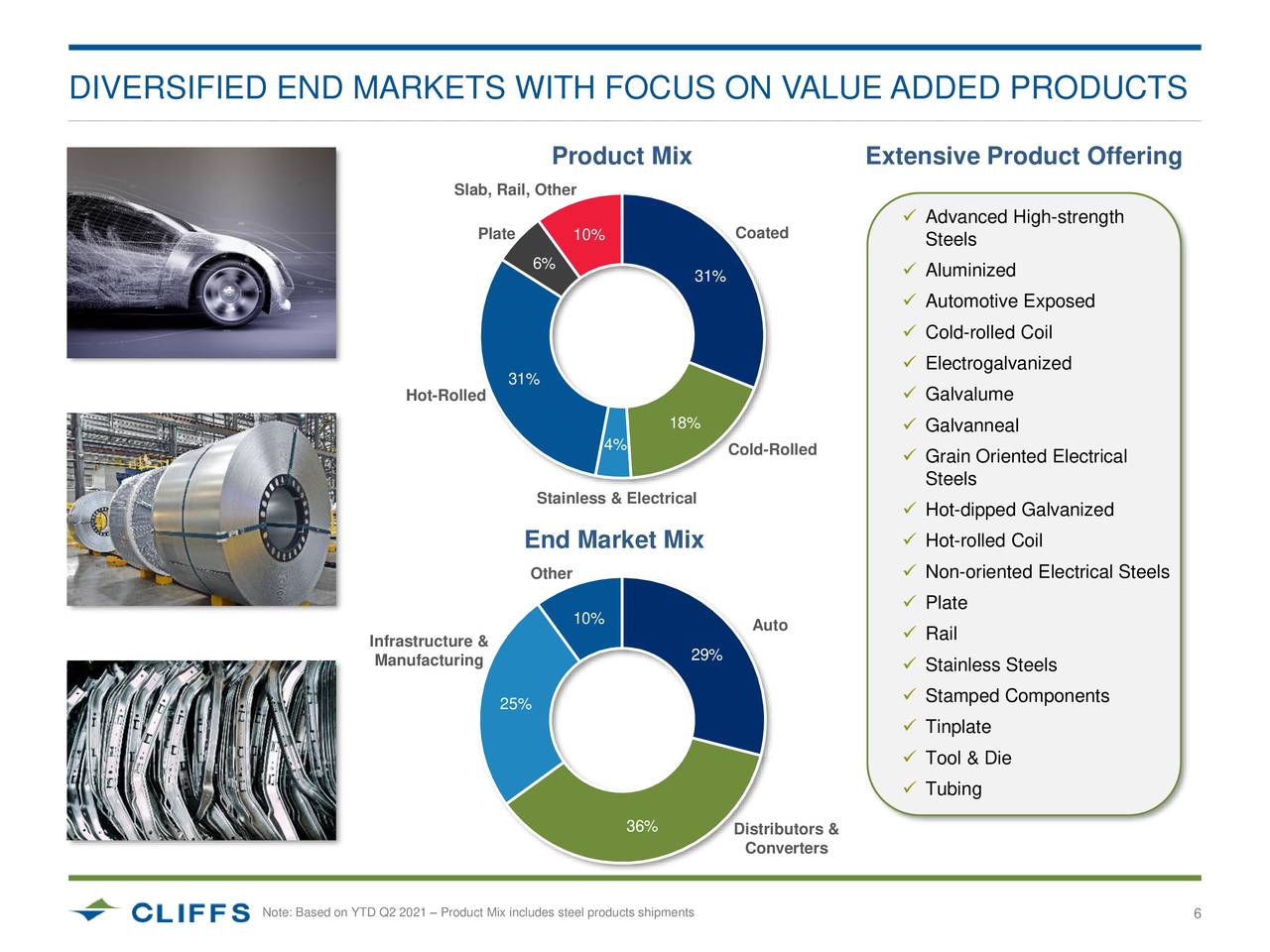 Analyst Commentary & Balance Sheet:
The analyst community is mixed on the company's prospects at the moment. Since November, three analyst firms including Citigroup have issued, reissued or downgrading this name to Neutral or Hold. Three analyst firms have reiterated Buy ratings in that time as well including JP Morgan. Price targets among the pessimists range from $23 to $25 a share. Price targets among the optimists are between $31 to $37 a share.
About one out of nine shares are currently short. Between November 19th and December 13th of last year, five insiders including the company's CEO and CFO purchased just over $1.7 million of shares in aggerate as prices ranging from $19.92 to $21.83 a share. They were the first insider buys in six months. As of the end of the third quarter, the company had approximately $2.2 billion in total liquidity. Cleveland-Cliffs also recently redeemed $294 million of its 1.50% convertible senior notes due 2025.
Verdict:
Leadership noted on its third quarter press release that it has 'concluded the renewal of several annual fixed price sales contracts with a significant number of our most important customers'. This makes the company not so reliant on spot steel prices, and the company's CEO expects Cleveland-Cliffs will see an average sale price per ton above that of FY2021 in FY2022. Steel prices have generally fallen across the board since those comments.
The company is trending to make nearly six bucks a share in profit in FY2021 on approximately $21 billion in sales. The analyst consensus currently calls for similar profits in FY2022 on a five percent increase in revenues although this is a fairly wide range for EPS ($3.70 to $7.90 a share). This means CLF is selling for just over three times earnings and just over 40% of annual sales.
Now, the steel industry always sells at a considerable discount to the overall market except in recessions when earnings drop dramatically or become losses. This is justified as steel production is a very cyclical industry. An article just came out this morning outlining some of the current risks for the company and sector.
The potential lifting of steel tariffs, prolonged semiconductor shortage, sustained increase in input prices, and broader impacts of rising interest rates."
That said, a lot of bad news seems priced in the stock and the shares trade below where company insiders were buyers in the back end of 2021. A recent assessment of the steel industry pricing dynamics concluded this way.
Our review of the near-term outlook for iron ore and met coke prices - all point to a declining steel price as year 2022 unfolds. Our assessment therefore is that steel prices will gradually fall during year 2022, declining to a trough towards mid-2023."
And as I concluded in a recent article about Caterpillar (CAT).
First quarter economic growth in the United States is set to slow dramatically in the first quarter. After an initial read of 6.9% GDP growth in the fourth quarter in the United States, the Atlanta Fed's GDPNow model is currently predicting just .1% growth in the first quarter of this year.

The IMF also recently ratcheted down its global growth forecast in 2022.
I continue to expect both domestic and global growth to come down substantially in the first half of 2022, which could erode steel prices further. However, I don't see a recession on the horizon currently, which is the one scenario that could really impact the sector. Therefore, I am going to take a small position in this cheap, cyclical concern via covered call orders for additional downside protection. Option premiums around this equity are liquid and lucrative. Fourth quarter results should be out shortly, which will give investors a more updated snapshot on how the company is doing managing through a slowing global economy.
"The truth does not change according to our ability to stomach it." - Flannery O'Connor
Bret Jensen is the Founder of and authors articles for the Biotech Forum, Busted IPO Forum, and Insiders Forum