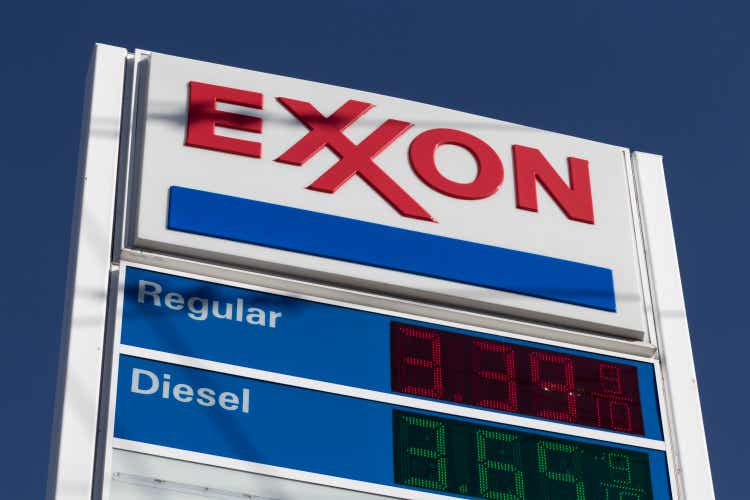 About a year and a half ago I wrote a highly controversial thought piece on why the Dow Jones dropout ExxonMobil (NYSE:XOM) would likely outperform the Silicon Valley's high flyer - Salesforce (CRM). Needless to say that the article was not of much interest back then as it likely sounded ridiculous to even think of such a scenario. I will leave the graph below to speak for itself on what followed since then.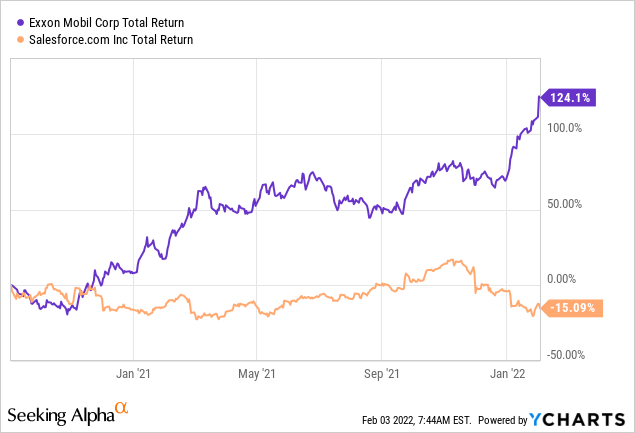 On top of purely market forces, I was very intrigued by the pessimism around XOM back then, given the company's solid financials, sustainable competitive advantages and management discipline. That is why just a few weeks later I took a deep dive into the company and oil & gas majors more broadly in an article called - 'Exxon Mobil: A Textbook Example Of Mean Reversion'.
So far my long-term investment thesis on XOM has played out even better than I initially expected. On one hand this is very good news, however, this sharp 'mean reversion' has also reduced future expected returns. For a company the size of Exxon, 150% return in about a year and a half is an extremely rare event, while the highly cyclical nature of the industry creates additional risk of repricing should the recent rally in oil prices cool off.
Where are we relative to fundamentals?
Return on invested capital is one of the most useful measures of Exxon's market premium on equity, since the two variables move in unison over the long-term.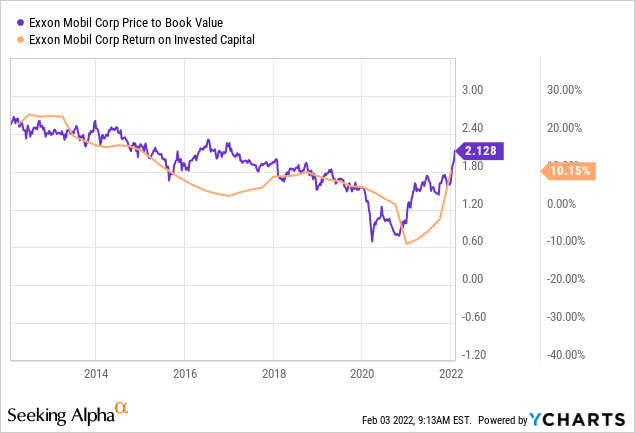 Although Exxon's main competitive advantage stems from its integration, most of the profits are derived from the company's large off-shore upstream projects, such as those in Guyana and Brazil.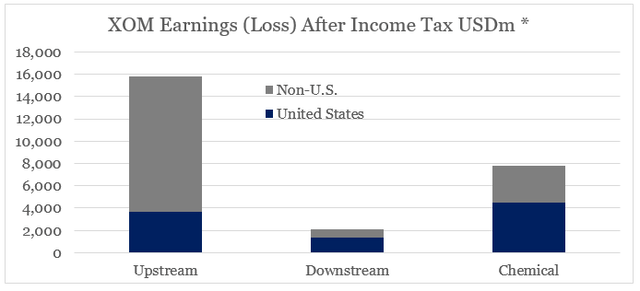 * for fiscal year 2021, excluding corporate and financing segment
Having said that, there are some important implications for the company's upstream profitability. To begin with, current and future projects are expected to generate high returns on capital even at very low prices per barrel.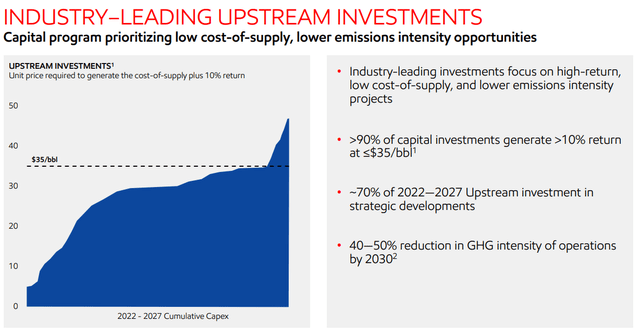 This is one of the direct consequences of the declining competition in the sector as less and less capital flows into oil & gas. Thus, large integrated players are able to focus on more profitable projects and forego those that are harder to justify at lower oil prices.
Even though XOM is becoming a more profitable and leaner organization, the company's share price still appears to be lagging behind improving free cash flow. Exxon still trades at significantly lower levels than it used to for the past decade, when free cash flow per share was far below the current number.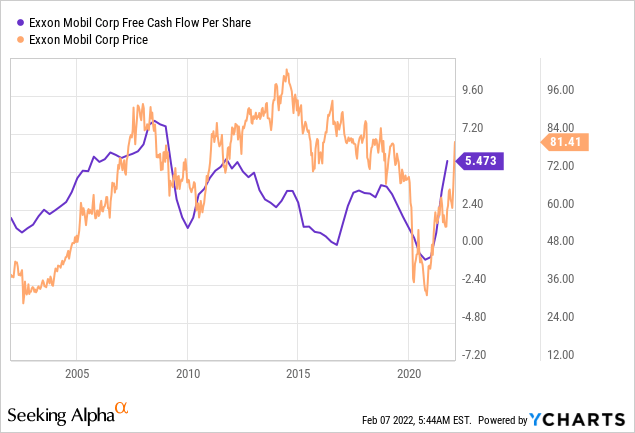 One of the major reasons for that has been the significant decline in capital and exploration expenditures in recent years, which stood at $16.6bn in fiscal year 2021. In relative terms, this puts Capex at around 80% of depreciation and amortization expense which is not sustainable over the long-term.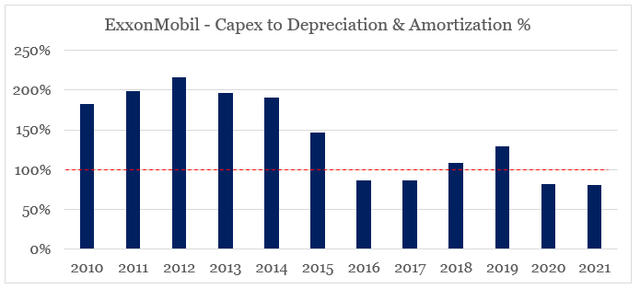 To get an idea of what free cash flow per share we can expect from XOM in the coming years, we should first recognize its sensitivity on oil prices. Since 2010, the R-squared between Exxon's cash flow from operations and the average WTI prices on an annual basis stands at around 82%.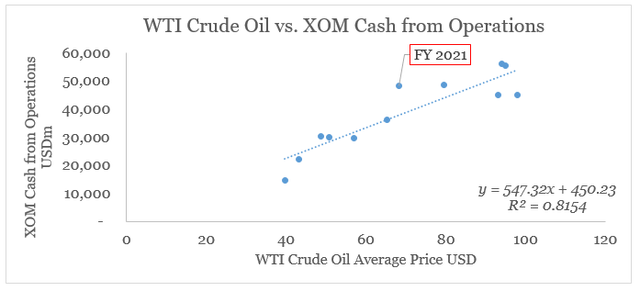 Fiscal year 2021 results were ahead of what the historical relationship would suggest mainly due to asset sales and favourable movements in working capital.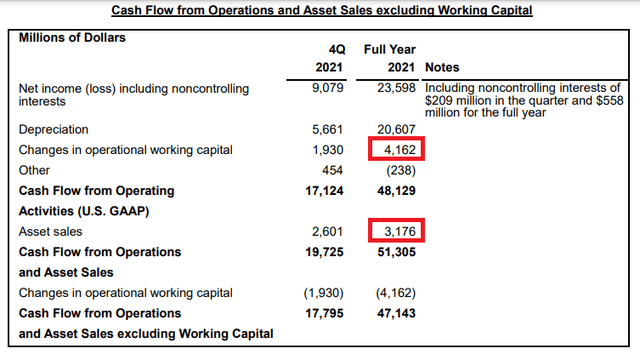 Therefore, should oil prices remain at the current average for 2022 at around $84, we could expect cash flow from operations for FY 2022 to be roughly $46.4bn (estimated based on the equation above).
Capital expenditure on the other hand is expected to increase from its current lows and stay within the range of $21bn to $24bn for 2022.
During the fourth quarter, ExxonMobil's board of directors approved the company's corporate plan for 2022, with capital spending anticipated to be in the range of $21 billion to $24 billion.

Source: ExxonMobil Q4 2021 Earnings Release
By using XOM's current number of shares of 4,275m and the high-end of the Capex range provided above, we end up with free cash flow per share for 2022 of $5.2. This gives us a forward free cash flow yield of 6.5%, which is still significantly higher than the historical average for the company, higher than the average for other S&P 500 sectors and last but not least is achievable even at significantly higher capital and exploration spending.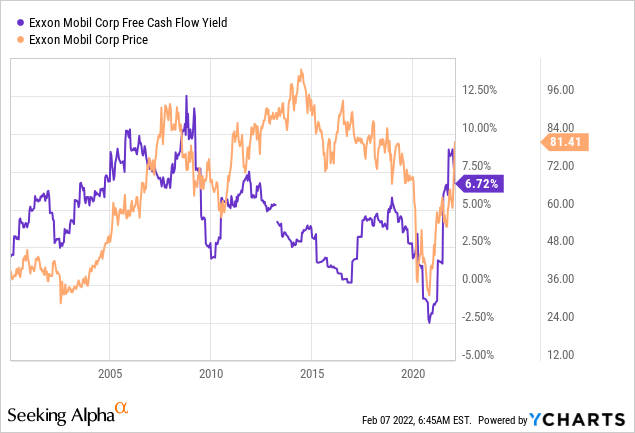 The Dividend - No Room for Complacency
Yet another reason for holding XOM has been the company's attractive dividend yield, which at the time of my first writing was gravitating around 10%. Fast forward to today and the dividend yield is now just slightly above 4%. This is still high on an absolute basis, however, it is nowhere near what it used to be just a year and a half ago.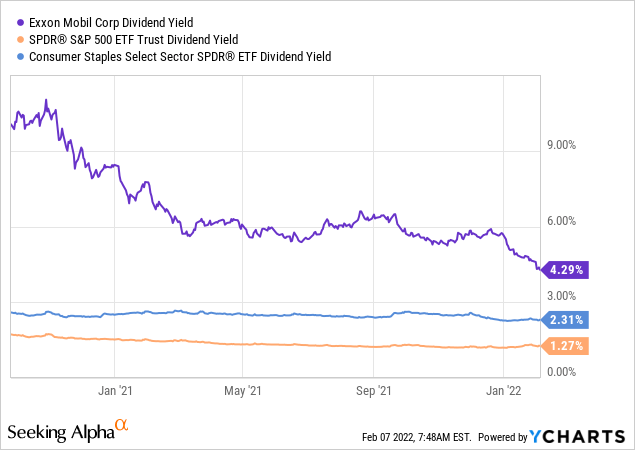 Having said that, however, my initial thesis was based on an event of a dividend cut as I did not expect such a violent move in oil prices to near 2014 highs.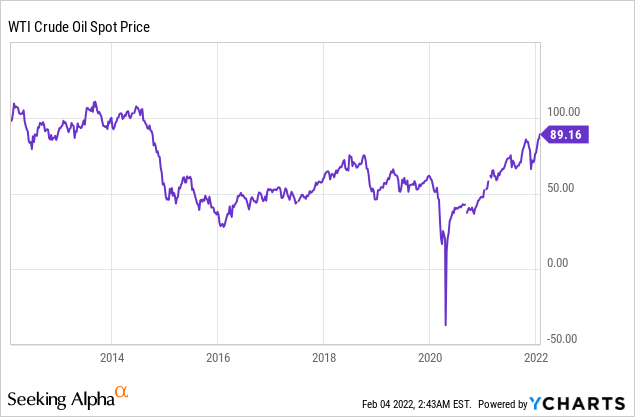 Higher capital expenditure on upstream projects and new hydrogen and carbon capture and storage initiatives (see below) would likely have resulted in a dividend cut in an event of oil prices remaining low.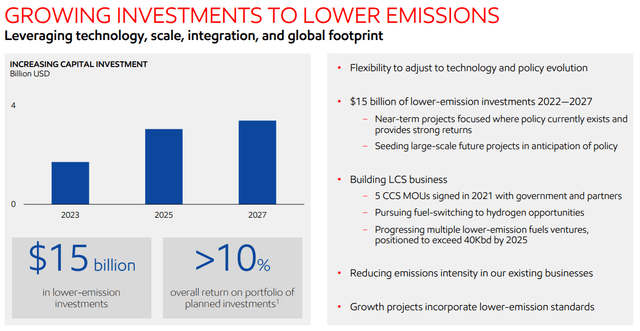 Instead, as oil prices propelled higher so did Exxon's upstream earnings, which now stand at their highest level since 2015.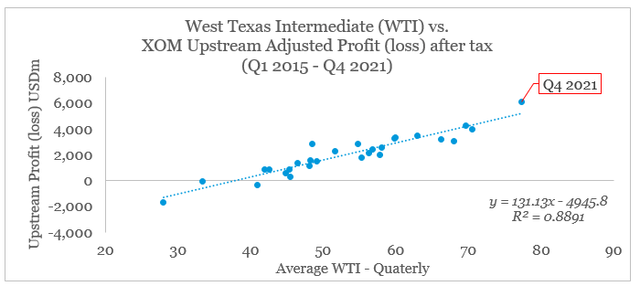 Performance of downstream and chemicals segments, on the other hand, has been far less spectacular. However, the latter remains highly profitable as pricing of petrochemical and polymer products remain high (see below).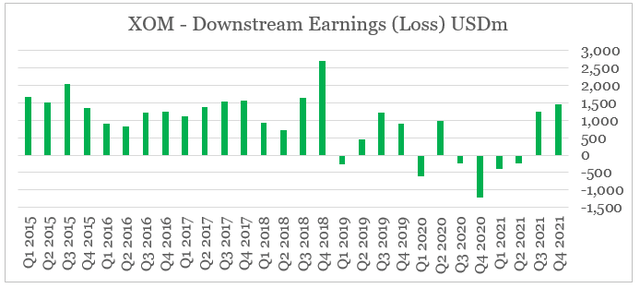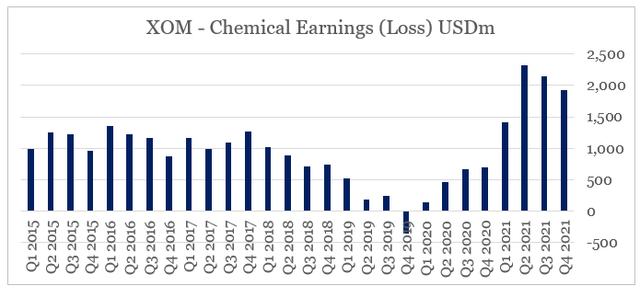 As a result, XOM avoided a potential dividend cut for the time being as the company embarks on a period of higher spend, while the dividend payout ratio remains relatively low.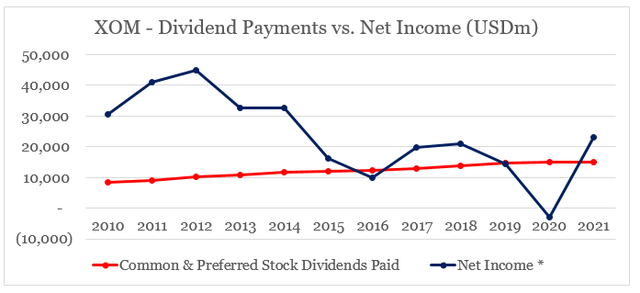 * adjusted for 2020 and 2016 asset impairments
So far 2022 appears to be another year of strong oil prices which will provide a significant tailwind for Exxon's dividend payout ratio. At present, the consensus EPS estimate for 2022 stands at $6.65.

Based on that estimate, Net Income is expected to be around $28.5bn which compares favourably to Exxon's annual dividend payments of roughly $15bn.
If we assume flat profitability of Exxon's downstream and chemicals segments and use the relationship above between upstream profits and WTI price, we could estimate that at roughly $55 WTI the divided payment will be at risk. Although this might seem like a long shot given the current oil prices, it is a risk that investors should be prepared to take.
Conclusion
Exxon Mobil has been among the best performing large cap stocks over the past year and a half, returning more than 150% since I laid out my investment thesis back in September of 2020. At the time the dividend yield stood at around 10% and the company's conservative valuation did not make any sense from a long-term investor point of view.
Following the stellar performance, however, XOM is far less attractive today even though the long-term opportunity remains intact. Given the highly cyclical nature of the industry, Exxon appears fairly valued at this point and well-positioned to further improve its return on invested capital. The dividend yield of around 4% still appears attractive, however, on a risk-adjusted basis there are far better opportunities in the consumer staples space for example.