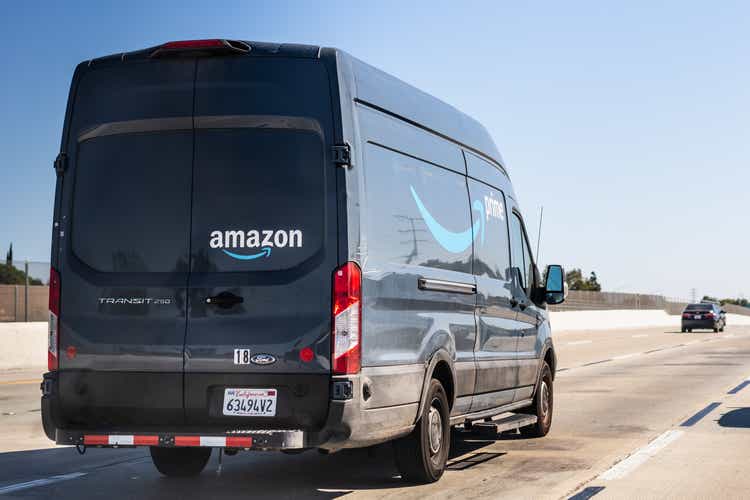 A few trading days after a polarizing holiday quarter earnings report, the market has started to send a clear message about Amazon (NASDAQ:AMZN). Despite mixed results, shares have climbed 15% from the pre-earnings price of $2,777 on February 3, rising each day since then and challenging (but not yet laying to rest) the thesis that the rally would be short-lived.
Today, I explain why I think that Amazon is still a top pick for 2022 within the Big Tech group — an idea that I defended as early as December, even before the stock corrected further and became more attractively valued last month.
Looking past the challenges
It is generally understood that the market looks forward about 6 to 12 months to price risk assets today. In my view, this is why Amazon is finally catching a bid in February, after months of stock price underperformance relative to the broad market and the FAAMG peer group.
Amazon's e-commerce challenges seem to be slowly unwinding, just as revenue comps become progressively easier starting in Q2 of this year — i.e., the quarter to be reported around late July 2022. See chart below, and notice (1) the YOY orange bars declining past Q1 of last year and (2) the two-year growth pace, in blue, starting to stabilize as supply chain headwinds peak.
The earnings call helped to shed some light on why Amazon's free cash flow has deteriorated so much (see chart below) since the height of the pandemic and the favorable stay-at-home consumption trends. On top of the normal and expected drag to e-commerce revenues caused by logistics issues and the cost impact of inflation and labor shortages — which I would argue could last many months, but not years — Amazon has been playing hardcore offense on capital investments precisely during this most challenging period.
The better news is that some of the cash deployments, at least in regard to fulfillment projects (which excludes investments associated with AWS and last-mile delivery) should start to taper off as 2022 progresses. Here is what CFO Brian Olsavsky had to say — I have removed some verbiage to better summarize the main point:
If I look to the future, we're still working through some of our plans 2022, but it's coming into focus a bit. On the fulfillment center side, we see [capex] moderating and that will probably now match growth of our underlying businesses.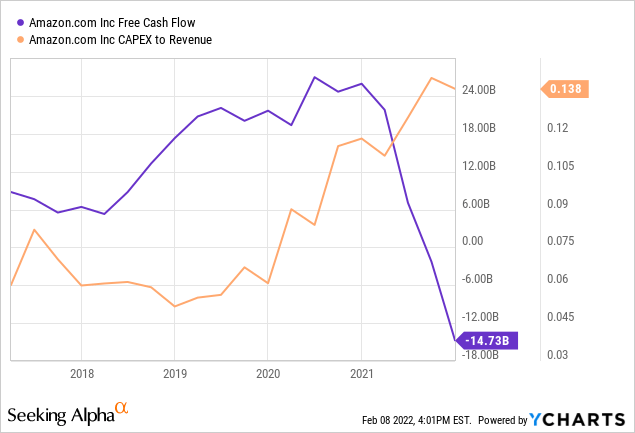 Then, of course, there is the cloud business. Q4 may not have been a pristine quarter for online sales. But in my view, the holiday period's earnings served to reinforce the idea that Amazon's highly profitable cloud segment continues to thrive, despite its enormous size and tough competition from the likes of Microsoft (MSFT) and Alphabet (GOOG).
The nearly 40% revenue growth posted was the highest since Q1 of 2019, when Amazon's cloud business was less than half the size of what it is now. The company's profit-producing machine seems to be humming as demand for cloud solutions picks up after a period of pandemic-driven uncertainty and conservative client budgets.
The price is still right
There are a few ways to look at stock price and valuation that, in my view, suggest that Amazon is a strong buy today. Current-year P/E is not one of them, since I believe that Amazon's 2021 and 2022 results have been or will be heavily distorted by the COVID-19 crisis.
The most important to me is the earnings multiple in the longer term. Assuming current analyst projections for earnings are accurate for the next three or four years (traditionally, they have been even too conservative), Amazon currently trades at a 2025 P/E of 20.4 times. At that point, EPS should still be growing at a still dizzying 35%, according to consensus on Wall Street.
I strongly believe that Amazon's long-term forward PEG of 0.59, which is derived by dividing the 2025 P/E by the integer of the EPS growth rate, is very attractive. In fact, as the chart below depicts, it is the lowest multiple of all FAAMG peers ex-Meta (FB) — which, in my opinion, runs the riskiest business model among the five Big Tech companies. Unless Amazon's fundamentals fall apart in the next few years, and I doubt that it will, I think that the stock price should climb into what I perceive to be very reasonable valuations over the next few years.
Worth mentioning, historical price behavior also tells me that owning Amazon today makes sense. First, buying this stock on a drawdown of 15% or more has produced one-year returns that are 13 percentage points better, on average, than buying shares closer to all-time highs. History does not have to repeat, but I think that it reminds us of the benefits of buying the dips.
Lastly, it is rare for a FAAMG stock to underperform its peers by as much as Amazon has in the past 12 months (see below) and not rebound in the short-to-medium term. For instance: since Meta's IPO in 2012 (the last FAAMG to go public), Amazon has produced forward one-year gains that averaged 38% on any given day. But when bought only on days when Amazon was the worst-performing FAAMG stock over the previous 12 months, as was the case only a few days ago, average one-year returns have historically been a significantly better 72%.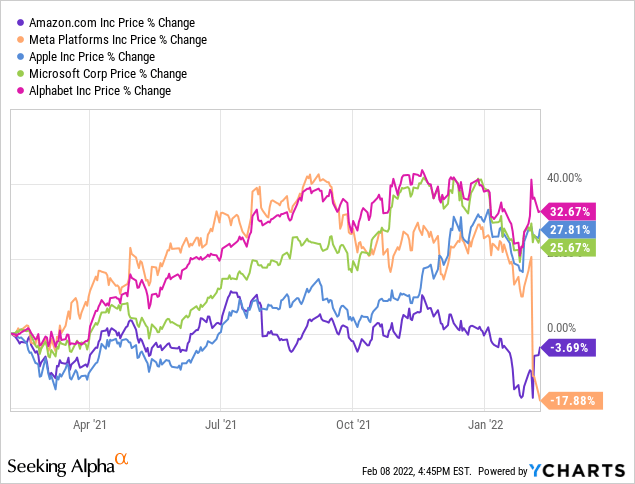 For all the reasons presented above, I continue to think that AMZN will be an outperformer in 2022, despite the stock having spun its wheels at the start of the new year.